May 6, 2000, by Gene Kira:

Let the record reflect, at four p.m. this afternoon, one of Baja California's most beautiful, accomplished and eligible young senoritas was married here to Robert Gregory George of the United States.

The bride was Marisol Verdugo Romero, eldest daughter of the family that has built the successful "Martin Verdugo's Beach Resort" in this tropical fishing village on the Sea of Cortez, Los Barriles, Baja California Sur, Mexico.
The record should also reflect: it had been an excellent fishing day. The six sport fishing cruisers belonging to the bride's Familia Verdugo were decked out in their finest for the nuptials, heavily festooned with tuna, dorado, and billfish release flags under the brilliant Baja California sun.

And the Verdugos' 29 new hotel rooms were filled with many of the hundreds of guests who packed the Holy Family Catholic Church of Los Barriles to overflowing, on a hill overlooking the sea and the historic twin villages of Buena Vista--Los Barriles, which half a century ago helped spawn the modern sport fishing industry of Baja California.

The guests in the church were about evenly divided between Mexicans and Americans, and among the norteamericanos present were many old friends of the Verdugo family who have--over the course of two decades--come to this place again and again to renew themselves.

In the earliest days, the "resort" was just a primitive campground with a chain gate, a few trash barrels, and little more to recommend it, except that it faced directly onto the southern Sea of Cortez and some of the world's greatest fishing waters.
It also had Marisol's papa, Sr. Martin Verdugo, who worked every day, from early dawn until the stars came out, to make sure the few guests who found his little campground were secure, comfortable, and happy.

Slowly, word about this hidden piece of paradise spread among Baja aficionados, and the campground became an RV park, then a small motel, then a hotel, and finally a full-blown fishing resort with its own fleet of boats. The Verdugo children were sent off to study business administration in La Paz and Guadalajara, which has helped to keep the cash flowing and the books balanced (and yes, the beans counted!), but what has really made this place successful is the dignity and respect that is engendered by the Verdugo family itself.

There was, of course, a blowout, once-in-a-decade reception held after the wedding mass, under the enormous Baja California stars and a big white pavilion that throbbed with the music of a hot band imported from La Paz.

As I sat at the table of son, Ronnie Verdugo, we spoke of marriages, fishing, and the family's future, and I was impressed by how far beyond his mere 25 years this young man's vision has grown. Here is a sense of measure, proportion, and the rhythms of life that I still strive for, even though I am more than twice his age. And here is a palpable sense of dignity and respect that is rare on either side of the border.

Feeling rather nostalgic, and full of myself, I said good night to the Verdugo family and thanked them for honoring me with an invitation to their first daughter's wedding, and I walked alone, under the midnight summer constellation, Scorpio, to my air-conditioned, second floor hotel room. Although it was very late, I got out this laptop and downloaded my digital photos to make sure I had the ones I wanted, and I sat down to write this column through the clarifying haze of too much music, too many Pacificos, and way too many rounds from Ronnie's bottle of Johnny Walker Red.

As I scrolled through my photos, I suddenly came to the ones of Marisol Verdugo at the door of the church, flushed with happiness as she accepted the best wishes, kisses, and hugs of us all.

Yes, she was a beautiful senorita indeed, and now she is a senora. Marisol, mar y sol, daughter of this beautiful place of "sea and sun", of warmth, of dreams and happiness and life.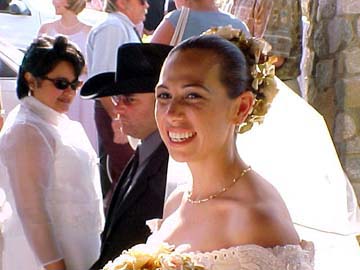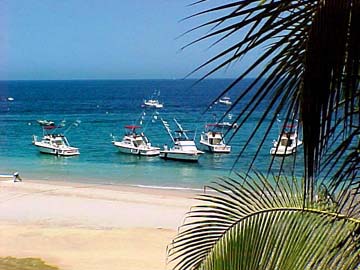 (Related Baja California, Mexico, articles and reports may be found at Mexfish.com's main Baja California information page. See weekly fishing news, photos, and reports from the major sportfishing vacation areas of Mexico including the Baja California area in "Mexico Fishing News.")