Oct. 23, 2000, by Gene Kira:

If you sit around a panguero campfire in Baja California long enough--anywhere on the shore of Mexico's Sea of Cortez--eventually some old codger will bring conversation to a stop by telling the story of "the naked American girls of Bahia de las Animas."

Sometimes it's only "a couple" of girls. Sometimes it's "dozens." Sometimes it's "thousands" of them, running wild on the beach with nothing on but their suntan lotion.
This strange event happens every single May, the story goes, and if you go to Bahia de las Animas at that time, you can see the girls playing games, singing, scampering up and down the beach, and just generally frolicking around joyfully in some kind of mysterious sybaritic rite.

But after just a few days, the story goes, the mysterious young mermaids are gone like a flock of beautiful birds, leaving nothing but their footprints to wash away with the tide.

I had heard this story told by Baja fishermen from San Felipe to Magdalena Bay for perhaps the past 10 years. I heard it so many times that I started to believe there might be some truth to it, at least a small kernel somewhere, that had gotten this legend started, and I filed it away in the back of my mind as another piece of Baja lore to keep tabs on.

And then one day recently, a big manila envelope arrived in the mail, and by golly! I found my Las Animas naked girls!

The envelope contained a beautiful, 24-inch by 11-inch color calendar titled "2001--A Baja Odyssey" and it was sent to me by a remarkable high school biology teacher named Marv Sherrill.

Marv teaches at Dana Hills High School in Orange County, and every May, for many years, he's been taking classes to camp at Bahia de las Animas. To help finance the operation, he pays out of his own pocket to print the annual Las Animas calendar, lavishly illustrated with his own photos, and he and his students sell them to raise enough pesos to make the trip happen.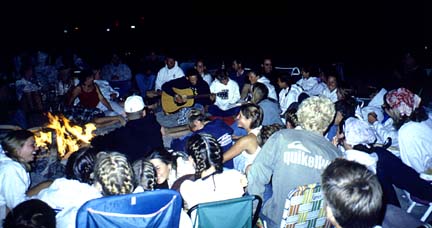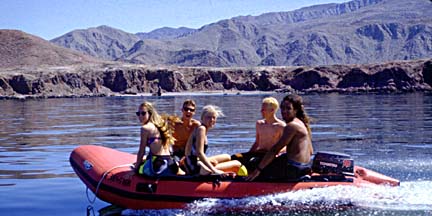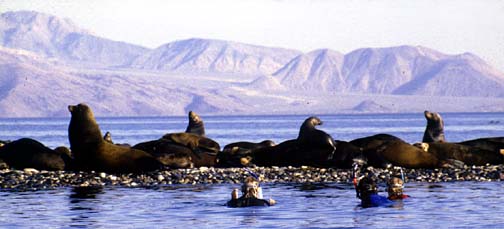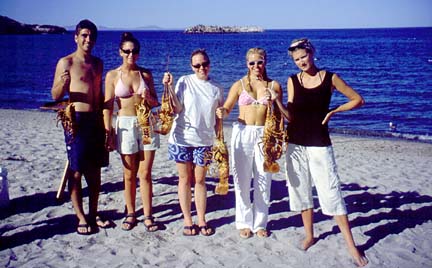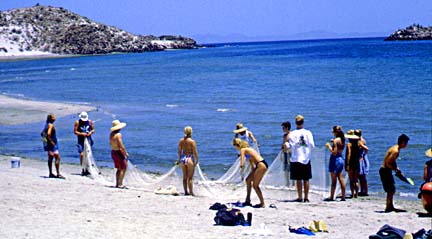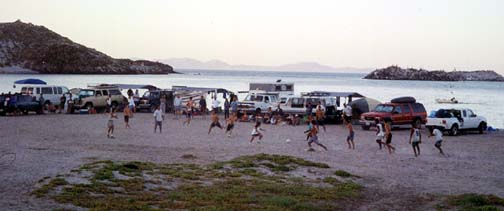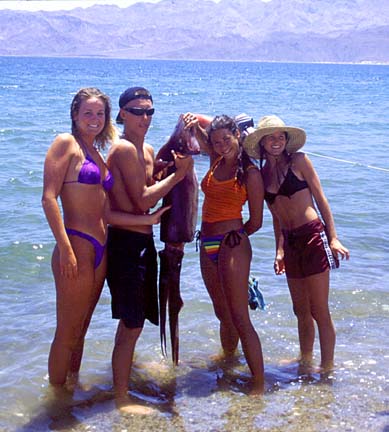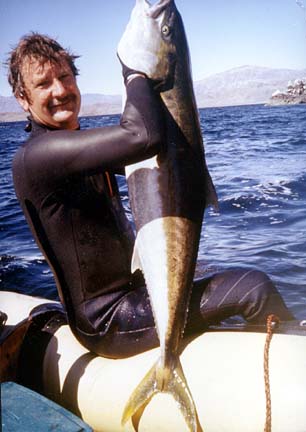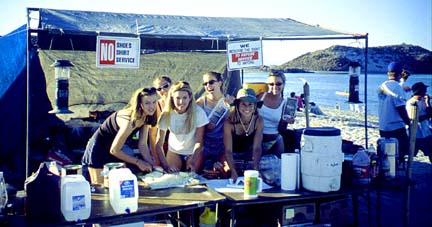 Scenes from Marv Sherrill's trips to Bahia de las Animas, Baja California, Mexico.
Every May, Marv takes about 75 people to Bahia de las Animas, just south of the Midriff Area's main settlement of Bahia de los Angeles, including students, teachers, and parents, and they set up camp near a small mangrove estuary on the shore of the bay. In addition to teaching the usual biological stuff (the students are rotated through five different habitat studies during the trip), Marv sees the Bahia de las Animas adventure as an unforgettable, life changing coming-of-age experience for his students. He says:

"Students get caught up in the Baja mystique after about four days. They mellow out, slow down, and concentrate on the more important things in life such as self-reflection and less on the material things that permeate their minds back in the real world. They mature about two years in their week on the beach. Their lives are changed--parents often remark after we return, 'I don't know what you did to my kid, but it's great!'"
Marv emphasizes that the students are responsible for running the trip: "They must prepare and clean up three meals per day for about 75 people. We eat like kings! Fresh fish every day (we don't bring a main dish for dinners)--grilled yellowtail, deep fried calamari, baked red snapper, smoked grouper--catch of the day!... After the morning studies, lunch is served, and the students have the rest of the afternoon to explore. We do not allow radios, footballs, walkmen, etc. To experience Baja is the purpose.

"It's also a great learning experience for the parents that go--seeing their son or daughter in a totally different light... Nighttime is time for poetry reading, story telling, recanting the different experiences each group had (like having killer whales one foot from your 12-foot inflatable boat, dolphins, whales, rattlesnakes, etc.) and of course lots of guitars and singing Jimmy Buffet and original songs, falling asleep by the dying campfire, under the countless stars with a newly found friend.

"Teachers become real people too. The students become culturally sensitive and develop a great amount of self-confidence. One of my female students told me she was afraid to go away to college, but after the trip she didn't think she would be afraid of anything again."

But, what about those legendary "naked girls" running up and down the beach? Is it possible that on such a tightly organized and chaperoned trip anything like that could really happen?

Says Marv, "I did have a trip with 48 girls... We have had pangueros from as far away as La Paz come up and camp. When pressured they admitted they came up just to look..."

But...but... do the girls ever really run down the beach naked, like the pangueros say?

Sorry! I ain't telling! That's one Baja legend that will just have to work itself out.

(Related Baja California, Mexico, articles and reports may be found at Mexfish.com's main Baja California information page. See weekly fishing news, photos, and reports from the major sportfishing vacation areas of Mexico including the Baja California area in "Mexico Fishing News.")