By Gene Kira, Nov. 5, 2005, as published in Western Outdoor News:

Southern Baja's hurricane-inspired foliage has now developed to the extent that additional rainfall probably could not make it any greener or taller. There are places where twenty-foot-high cardon cactuses are being smothered by trees and vines so that only their tips are showing, and the desert San Miguelito (mountain bougainvillea) and copa de oro bushes are turning some stretches of Mex 1 into a continuous show of fuchsia and bright yellow flowers.
The best of this rare Baja foliage display can be seen on the intensely verdant eastern slopes of the Sierra de la Giganta mountains south of Loreto, and the Sierra de la Laguna mountains south of East Cape. Both of these ranges have covered themselves with such massive tonnages of plant life that walking through the bush is virtually impossible now, except on established trails or in very rocky areas.

Although this is truly the chance of a lifetime for a look at what desert plants can do if given the opportunity, anyone who heads south during the next few months should also be sure to take plenty of insect repellent; Baja is about as beautiful--and as buggy--as it ever gets.

As you drive down Mex 1, you may think the local people have suddenly become more friendly toward foreigners. It looks like they are all waving at you as you pass by. Actually, they are trying to wave away the clouds of persistent, non-biting gnats, or bobos, that always seem so intent on flying up your nose or in your ear.

Right now, the bugs are definitely "thick as fleas" in Baja, and you really don't want to camp or walk in the bushes without a good coating of protection, especially on your feet and legs.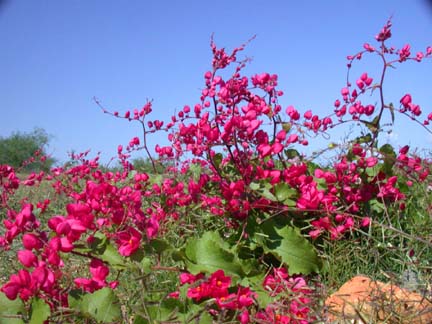 The San Miguelito, or mountain bougainvillea, near Santiago, East Cape, Baja California Sur, Mexico.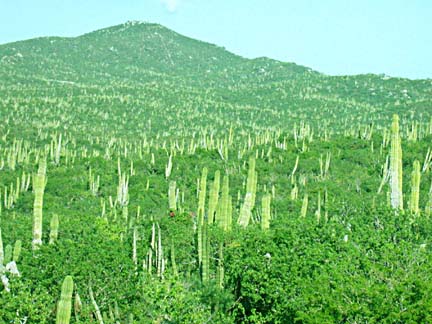 Cardons with just their tops showing, near Todos Santos, Baja California Sur, Mexico.
In some marshy areas, if you park your vehicle near a mangrove salt flat around sunset and turn off your engine, you will see whispy grey clouds of mosquitoes gently surging against your windows, inviting you to open the door and just try to pitch your tent before your ankles explode and your eyes swell shut.

One group of Baja campers, caught without insect repellent in these conditions near Mulege, ended up throwing their sleeping bags into the water, pulling them up onto the beach, and crawling into them until it got too hot inside, and it was time to repeat the process. This went on through an entire, unforgettable night.

Right now, there are also plenty of no-see-ums (jejenes and the even smaller sancudos) around the beaches and bushes, many scorpions of all kinds, big and small, spiders up to tarantula size, biting horseflies, giant tropical cockroaches, and scads of an enormous, very slow-moving beetle so big and heavy that you can hear it rummaging around at night. This creature has an impressive appendage on its front end that looks disturbingly like a pair of Vise-Grips, but luckily, it does not seem inclined to use this tool for unkind purposes.

None of the foregoing should be construed as a reason not to experience Baja's amazing show of hurricane-foliage, since a generous slathering of insect repellent and an adventurous spirit can make the bug show just as fascinating as the plant life.

In fact, I'm writing this on the shore of Bahia Magdalena, where I just spent a warm night under the stars with nothing on except a tee-shirt, a pair of swimming trunks and a very carefully-applied triple coating of Cutter's Pleasant Protection (possibly the best and most "pleasant" bug stuff ever made). No problems at all. After a night of listening to a lot of humming, buzzing, whining, and scurrying, all I've got to show for it is this big Vise-Grip beetle thing clamped to my leg. (Just kidding.)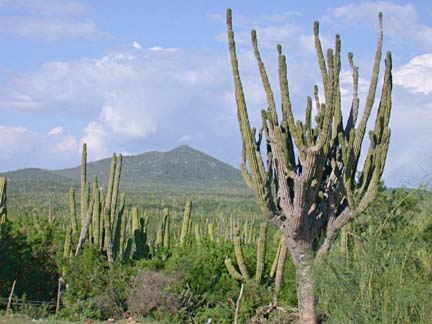 Cardons near Todos Santos, Baja California Sur, Mexico.
(Related Baja California, Mexico, articles and reports may be found at Mexfish.com's main Baja California information page. See weekly fishing news, photos, and reports from the major sportfishing vacation areas of Mexico including the Baja California area in "Mexico Fishing News.")