By Gene Kira, Jan. 21, 2002, as published in Western Outdoor News:

It's always fun to encounter Baja California's gray whales because they are so tame and awesomely huge, and although you see scads of them while fishing during the winter months at Magdalena Bay and Laguna San Ignacio, very few Baja anglers see the "big show" at Scammon's Lagoon, simply because hardly anyone fishes there except commercial pangueros.

Well, on this run down Baja California's Transpeninsular Highway, Mex 1, it so happened that I pulled into Guerrero Negro right at 11 a.m., just as they were ringing the "All Aboard!" bell for the whale tour at Malarrimo Eco-Tours. On impulse, I grabbed my camera, jumped into the van, and--holy Nantucket Sleigh Ride!--I was on my way out to Scammon's.
Gotta confess. It wasn't really an accident. I had purposely stayed the night at Cataviña to make the schedule work. Although I had been on whale tours at San Carlos and Laguna San Ignacio's La Fridera camp, I had never done the main event at Scammon's. In fact, I had never even been out on this huge body of water, except for poking around the edges, and I really wanted to see what its super-remote outer shore looked like.

We enjoyed a rare sunny day with almost no wind, as our van took us on a fascinating 30-minute ride through the ESSA salt works, past dozens of osprey nests with little baby ospreys poking their heads up, past a big mountain of salt waiting to be shipped to Isla Cedros and around the world, and finally to a neatly-turned little landing, complete with boarding docks and portable toilets.

My Baja whale watching group included a couple from Holland and a family from Colorado, and we all donned life jackets and jumped into a big center-console panga equipped with a fixed-mount compass, a VHF radio with mast antenna, and new, six-inch-thick Naugahyde-upholstered seats (impressive!).

We zipped out across the dead flat lagoon, headed for "Area 1," the official viewing area that is closest to the boca, where there were reputed to be about 70 whales in residence, as opposed to a peak lagoon population of over 1,000 which will be arriving during the next several weeks.
We passed sandbars awash to port and starboard, passed the mile-wide boca with its line of surf and some pangas diving for clams, and we crossed another couple of miles to the far side of the lagoon and its lonely, wind-blown shore of sand dunes. At last! The far side of Scammon's Lagoon! The shore was unmarked, except for a few dark bushes, and the sand dunes were remarkably high, and obviously very active, as evidenced by the many narrow "ski runs" coming down their slip faces.

Way out here in remotest coastal Baja, where few tourists ever come, the lagoon is awe-inspiring in its vastness and lack of perspective, and all is silence and wind. There are few natural landmarks, save for the distant mountains to the south and the huge pile of salt visible on the horizon back in Guerrero Negro.

Oh yes, almost forgot the whales. They were all around us, peacefully cruising, spy-hopping, blowing, and circling the panga with their calves. Sometimes they came right up to us for a good look, and then swam slowly away. Just about every group had young ones, and I learned something new: the calves have great big wrinkles on their foreheads, just like little Klingons. Cute!

Our four-hour excursion came to an end, as we arrived back at the famous Malarrimo seafood restaurant in Guerrero Negro, and my tour-mates headed for their rooms at the motel, as I jumped into the old Toyota for a drive south to Loreto.

At last, I had seen the lagoon discovered by Charles Melville Scammon in 1857, and I had seen the whales that are the survivors of the century of slaughter that followed. With protection, the whales now seem to be doing quite well, thank you, and as for the lagoon itself? It looks just as it did when Charles Scammon discovered it so long ago.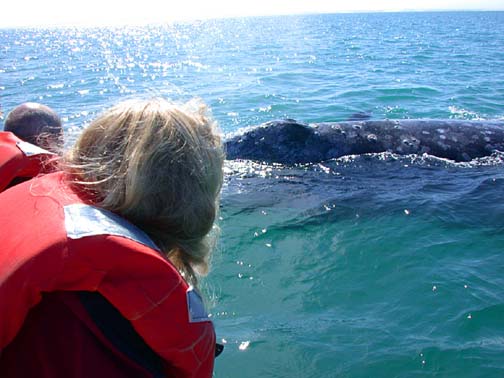 Up close with California gray whales at Area #1 near the boca of historic Scammon's Lagoon, Baja California Sur, Mexico.
(Related Baja California, Mexico, articles and reports may be found at Mexfish.com's main Baja California information page. See weekly fishing news, photos, and reports from the major sportfishing vacation areas of Mexico including the Baja California area in "Mexico Fishing News.")