By Gene Kira, October 6, 2003, as published in Western Outdoor News:

Given the almost unbelievable situation this week--with two more hurricanes threatening Baja California, Mexico, within about 24 hours of each other--perhaps this is a good time to consider these storms in some kind of perspective.

September is typically Baja's stormiest month, and the third week of September marks the transition from a generally northwesterly storm track towards Hawaii, to a higher probability that hurricanes will swerve northeastward and strike the peninsula.

Even for the traditionally windy "September season" though, these past several weeks have been exceptional, with two earlier hurricanes and at least three significant tropical storms hitting Baja, and now, two more hurricanes on the way.
¡Hombre! We're not ready to say it's literally biblical, but it's definitely starting to feel like it. Never before in recorded history has Baja been hit by more than one hurricane in a season, and now we might have four of them in seven weeks. Thankfully, the two new hurricanes, Olaf and Nora, are somewhat weaker (so far) than our most recent hurricane, Marty, and there is a chance that one or both of them might swerve east and miss Baja.

The waterfront damage caused by Hurricane Marty was massive, with scores of yachts damaged or sunk on the Sea of Cortez and the historic Marina de la Paz heavily damaged. But nevertheless, the fact of the matter is that Baja has not within recorded history suffered a really strong hurricane.

Hurricane Marty packed winds of about 100 to 120 m.p.h, spectacular enough, but still only a Category Three hurricane on the Saffir-Simpson Scale.

Hurricane Lisa of 1976 is acknowledged as Baja's worst and deadliest recorded storm. During Lisa, a collapsed dam caused fatalities in La Paz variously estimated at between 600 and several thousand people, but even this hurricane was most probably only of Category Three.

On the Saffir-Simpson Scale, the criteria for hurricane categories are: Category One, 74 to 95 m.p.h.; Category Two, 96 to 110 m.p.h.; Category Three, 111 to 130 m.p.h.; Category Four, 131 to 155 m.p.h.; and Category Five, 155+ m.p.h.
It is illuminating to study the type of damage that could be expected from a Category Five hurricane: complete roof failure on many residential and commercial buildings; all shrubs, trees, and signs blown down; complete destruction of mobile homes; major damage to lower floors of all structures located less than 15 feet above sea level and within 500 yards of the shoreline.

It should be noted that the storm surge, or rise in ocean level, caused by a very intense hurricane can be more than 20 feet above normal high tide, and wind speed can exceed 200 m.p.h.

This is indeed a potentially horrendous year, with a possible four hurricanes hitting Baja in quick succession.

But thankfully, Baja has so far escaped a really heavy hitter. According to U.S. government statistics, out of roughly 165 hurricanes to make landfall on the Continental U.S. in the past 100 years, only three have done so as Category Five storms: the Florida Keys Hurricane of 1935 (423 fatalities), Hurricane Camille of 1969 (200 m.p.h.), and Hurricane Andrew of 1992 (165 m.p.h., $25 billion in damage). The deadliest U.S. storm of all was the Galveston, Texas Hurricane of 1900, which killed an estimated 6,000 to 8,000 people.

"Closer to home," Hurricane Kenna of 2002 hit San Blas, Mexico with winds as high as 167 m.p.h., and in 1998, truly biblical flooding and mud slides from Hurricane Mitch (155 m.p.h.) killed an estimated 10,000 people in Honduras and Central America.

No, Baja, has never in recorded memory experienced a storm anything like these, and that's a very good thing, considering the semi-protected, semi-sacrificial waterfront infrastructure that has been built in many locations.

Since 1945, about 21 storms have made landfall (or very near landfall) on the Baja peninsula as mid-range hurricanes, and prior to this year's Ignacio-Marty double whammy, never before had two hurricanes struck in the same year. Contrary to some reports, there was one other hurricane that when right up the Sea of Cortez, on a path virtually identical to Marty's. This was Hurricane Diana of August 1960, and that storm was thought by some to have caused a heavy silting of Mulege's Río Santa Rosalía that killed off the giant black snook that once lived there.

But even with a possible four hurricanes in one year, thus far Baja has escaped "the big one" that mathematical odds say must surely arrive someday--most likely during the month of September.

It's all part of the never-ending adventure.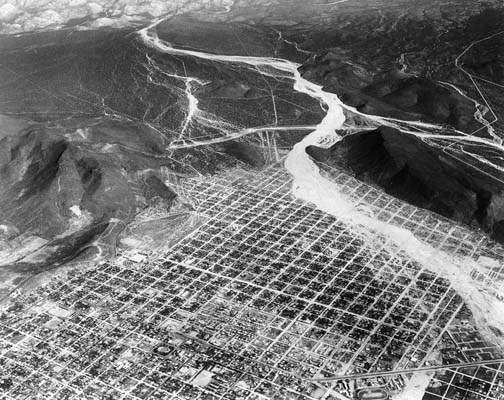 DEADLY HURRICANE LISA--The fantastic flood damage caused when 1976's Hurricane Lisa broke a dam above La Paz, Baja California Sur, Mexico. Deaths were estimated at somewhere between 600 and "thousands." Reprinted from The Unforgettable Sea of Cortez. Photo courtesy Harry Merrick.
(Related Baja California, Mexico, articles and reports may be found at Mexfish.com's main Baja California information page. See weekly fishing news, photos, and reports from the major sportfishing vacation areas of Mexico including the Baja California area in "Mexico Fishing News.")