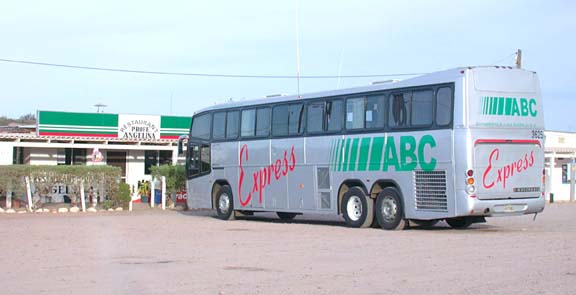 DINNER BREAK--Just before sunset, the 10 a.m. La Paz-Tijuana ABC bus stops for dinner at Profe. Angelina's restaurant in Mulege, Baja California Sur, Mexico, next to the Pemex station just south of town. Photo by Gene Kira.
By Gene Kira, February 27, 2004, as orginally published in Western Outdoor News:

For the Baja California angler on a budget, the peninsula's efficient Mexican bus system is a realistic way of getting quickly, comfortably, and quite cheaply to most of the major fishing destinations.

In fact--while Baja busses might not be as fast as flying--they are actually much faster than driving yourself. On a high-flying Mex 1 bus, you can snooze and relax, and still get from Tijuana to Cabo San Lucas in about 24 hours.

In today's Baja, getting up and down the Transpeninsular Highway by bus is safe, easy, and convenient, and amazingly enough, U.S. tourists can tap into the entire system right at the main Greyhound bus terminal in downtown San Diego.
Greyhound runs frequent daily busses from this facility at First & Broadway directly to Tijuana's main bus terminal, the Central de Autobuses de Tijuana, for only $5.

From here, you can head down Mex 1 on Baja's main overland bus line, Autotransportes de la Baja California (ABC). Other runs take you across the peninsula to Mexicali and south to San Felipe, or in fact, anywhere in Mexico.

There are four ABC busses per day going south on Mex 1 and four returning. The fares are quite reasonable, and you can pay at the terminal in dollars at a good exchange rate.

Here are some approximate one-way fares for destinations on Mex 1: Ensenada, $8; San Quintin, $19; Mulege, $64; Loreto, $72; and La Paz, $93.

From La Paz, frequent Aguila busses depart for various Baja Sur destinations at the following approximate one-way prices: San Carlos (Magdalena Bay), $14; Puerto Lopez Mateos (Magdalena Bay), $15; Los Barriles (East Cape), $6; San Jose del Cabo or Cabo San Lucas, $11.

As if these fares weren't already low enough, you can get a 10 percent discount for buying a round-trip ticket. However, these do not allow stopovers, so if you'd like to visit, say, Loreto, on your way to Cabo, you'll need to pay full price for a series of one-way tickets.

You are allowed 25 kilograms (about 55 pounds) of checked baggage, plus any amount of reasonable carryon luggage. Ice chests and rod tubes are allowed.

For the approximately 24 road hours needed to get from Tijuana to Cabo San Lucas, here are some useful tips:

--If you haven't had a chance to learn Spanish, give yourself some extra time to make your reservation and buy your tickets, etc. The bus lines are not particularly oriented toward tourists, so you might need to ask for help.

--The busses are air conditioned, with a restroom in the rear, and the seating is very comfortable, something like an airliner, but with a tad more leg room.

--Take a baseball-style cap. The side windows of the bus go very high, and the sun can pour down on you if you leave the curtains open to enjoy the view.

--Take a good set of ear plugs. You will want to sleep during an overnight run, and several "in-flight" movies are played very loudly, one after the other. Be prepared for movies of such interesting subject matter as animated turtles and dancing lemurs, or norteño music featuring songs that rhyme "pollos" with "arroyos."
--Try to sit between seats 20 and 30, about in the middle of the bus. Too far up front, and you can't see much because of curtains going entirely across the front of the passenger deck. Too far in back, and you're subject to engine noise and sometimes heady fumes emanating from the restroom toilet.

--In addition to your identification, fishing license, etc., make sure you have a valid tourist card. You will need to show it several times during your trip. No exceptions.

--Keep track of your baggage claim check. You will definitely need it.

--Pack your baggage so it can be easily inspected. On northbound runs, at least, you may be asked to open your bags several times at military checkpoints.

--Take some light snacks and drinking water.

--Except for holiday periods, busses typically run with plenty of spare seats, but if you want a window, it's best to make a reservation, which you can do when you buy your ticket at the station.

--After you return to Tijuana, Greyhound again comes to the rescue in getting you across the border. Frequent runs go from the Central de Autobuses directly to the following Southern California locations, with transfers to virtually anywhere: San Ysidro and Downtown San Diego, $5; Oceanside, $9; San Clemente, $17; Santa Ana, Anaheim, Norwalk, Long Beach, East Los Angeles, Los Angeles, $15.

For information: Greyhound, San Ysidro, 619-428-1194; ABC bus company office, Central de Autobuses, corner of Calzada Lázaro Cárdenas and Rió Alamar, Tijuana, Baja California, Mexico, 011-52-664-621-2424, Ext. 121; La Paz bus station, corner of Av. Jalisco and Av. Heroes de Indepedencia, Baja California Sur, Mexico, 011-52- 612-122-4270, Ext. 112/113.

(Related Baja California, Mexico, articles and reports may be found at Mexfish.com's main Baja California information page. See weekly fishing news, photos, and reports from the major sportfishing vacation areas of Mexico including the Baja California area in "Mexico Fishing News.")