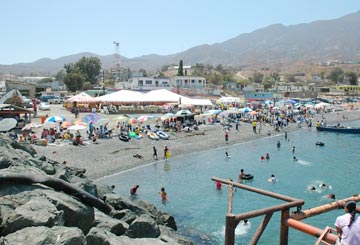 AT CEDROS ISLAND--The scene of the Torneo de Pesca Isla de Cedros benefit yellowtail tournament held July 3, 2005, with 51 anglers competing in 18 teams. Photo courtesy Mike Kanzler.
BIG FISH TEAM--The winning team for biggest single yellowtail, at 44 pounds, in the Torneo de Pesca Isla de Cedros benefit tournament July 3, 2005, on Cedros Island were (from second left) Ricardo Duarte, Genaro Ibarra Mitchel and Rual Zuñiga. Photo courtesy Mike Kanzler.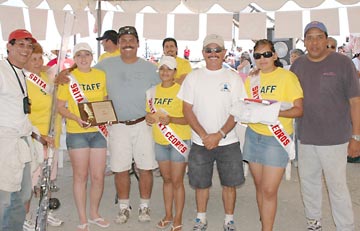 HEAVY DUTY YELLOWTAIL FISHING--Scoring first place for total weight with a massive 727.5 pounds of yellowtail donated to charity during the Torneo de Pesca Isla de Cedros benefit yellowtail tournament held July 3, 2005, were anglers (from left), Toshikazu Kawabe, Rafael Vizcaino, Daniel Lopez, and Carlos Garces. Photo courtesy Mike Kanzler.
A RARE LOOK AT A LOCAL FISHING TOURNAMENT
SPONSORED BY THE RESIDENTS OF ISLA CEDROS
July 6, 2005, Mike Kanzler, Isla Cedros fishing tournament, Baja Calfornia, Mexico:
This year, instead of trolling plugs, which drives me nuts by the way, we started with surface and heavy iron and it took about, let's see...first cast and I was bit!

The whole morning saw nothing short of excellent yellowtail fishing. Yellows of 20 to 30 pounds where caught and lost, along with a big 34 pound halibut and a small black sea bass on the other boat, as well calico bass, sheephead and pesky log-size barracuda.

I had mentioned earlier that this was Aya Yokose's first fishing trip. Yellowtail are not the best fish to break one into the world of sport fishing With some help from me, Aya did just fine and had a wonderful time. It made my trip helping someone catch their first fish.

After a great day of fishing we all headed back to the guest lodge. Some took siestas and others went on walks, but around 4 p.m. more planes were landing and everyone was at the lodge and back to festive drinking and eating.

I was asked if it would be possible too do some sashimi and sushi. Of course! With the help and interest of Aya we made plates of Hamachi and Hirame and endless Hamachi Maki rolls. Somewhere around 1 a.m most decided to turn in for the night and get a little rest before Sunday's tournament.

This year's Torneo de Pesca Isla de Cedros 2005 tournament was promoted by Cedros Island's 24 Club, headed by Jose Meneses Garcia, to raise funds for a boulevard road to welcome tourists entering the town of Cedros. This year's tournament was very well organized and had twice the participants, with a total of 51 people for 18 teams. Like last year, there where two winning categories: biggest yellowtail and total weight for all yellowtail caught. All the fish caught in the event were donated for food, and extra fish where sold for funds to start the road project.

The fishing for the tournament could have not been better. A very high number of fish where caught during the allotted time slot from 6 a.m. to 3 p.m., and nearly every team was in double digits on Yellowtail.

Our team had 26 fish of 20 to 27 pounds, and the other team had 44 yellows in the same weight class! None or little bait was used in the two days we fished. Everyone was either trolling plugs and fishing both surface or heavy yo-yo iron.

Once all the boats reported in, we started to fill the tables under the big tents where we were presented fresh yellowtail spiced and then deep fried with all the fixings, and a great Cedros-style ceviche.

The final standings: First place big fish, 20 kilos (44 pounds), Capt. Jose Arce, Genaro Ibarra Mitchel, Ricardo Duarte, Rual Zuñiga. First place total weight, 330 kilos (727.5 pounds), 44 fish total, Capt. Martin Muñoz, Daniel Lopez Romero, Rafael Garcia Vizcaino, Toshikazu Kawabe, Carlos Ivan Garces.

All winning teams received two complete rod and reel combos, $200 cash, plus other prizes.

The team I was on came up short, but did catch 220 kilos of Yellowtail. I don't care so much about competing in such events, never have. It's all about meeting new and old friends and having a wonderful time just fishing for the love of fishing.

It was without any question the best trip I'll have this year. I would like to finish this story with a very special thanks fro all those at Cedros Island, ESSA, and COMSA for inviting me, Michael Kanzler, "Kid Jurel."