By Gene Kira, January 20, 2003, as published in Western Outdoor News:

Last Saturday, another political fisheries conservation ballyhoo erupted at Cabo San Lucas in Baja California Sur, Mexico, and this one has the potential to make the recent Shark Norma battle look tame by comparison.

This latest screw-up by the Mexican Department of Fisheries (CONAPESCA) carries such political risks, it is difficult to see how the federal government can afford to be associated with it.
To set the scene, the word got out among the people of Baja Sur that CONAPESCA had unilaterally issued somewhere between 38 and 48 new commercial fishing permits authorizing longline fishing along the Pacific coast of Baja California. The exact details of these permits were not available at press time, but the word on the street was that these were not the phony "shark research" permits used earlier, but were frankly fishing permits. In effect, the impression was that CONAPESCA was saying "screw the Shark Norma, go ahead and fish."

Well, on Saturday, all hell broke loose--again.

About 4 p.m., a nationally-televised protest rally was held at the Cabo San Lucas marina, fomented by about a dozen political functionaries led personally by Jorge Gonzalez Torres of the national Environmentalist Green Party of Mexico.

As it turned out, we got a first-person report from none other than our very own Eric Brictson of the Gordo Banks Pangas sportfishing service of San Jose del Cabo, who happened to be present with his wife Mely.

"Mely and I went to the event," Brictson said, "which turned out to be a huge protest. The turnout was big. Over 130 cruisers participated in gathering around where Torres and others were speaking.

"Others on the dock were holding various signs. The main topic was the marlin permits that were recently issued for 50 miles out. They discussed many other issues as well. Seemed to get a big local response. People want to see action and have these permits revoked.
"I seemed to be the only gringo around and ended up being in a spot where the guy put the microphone in front of me so that I could give a speech about our situation at La Playita. Then after that, I found myself being interviewed by Mexican TV, Televisa.

"What was kind of funny was that I had just gone to check it out, and then I get put on the spot of having to be interviewed. Just never know what to expect! Next week these people are planning a much bigger protest, Saturday, January 25, at 4 p.m. They really want fleets of boats to come. This might be something."

By Sunday night, it was becoming apparent that something big might be brewing, not only in Baja Sur, but once again at the national level. As happened during the Shark Norma fight, CONAPESCA again may have vastly underestimated the uproar that this latest environmental faux pas will cause, especially with the Environmentalist Green Party now jumping into the fray.

There is so much grassroots momentum building in Baja Sur, I don't see how this one is going to go quietly into the night. It's looking to be another major embarrassment for the federal government, and the question is, how many times can CONAPESCA bring this kind of humiliation upon itself before President Fox decides it's time to clean house?

The familiar script is playing itself out again, and we'll likely see the televised protests, the quick raising of money for national newspaper ads, and this time, the vehement support of a national political party and an even greater percentage of the state and national electorates.

As some people are saying, this time, it just may be the end of CONAPESCA as we know it.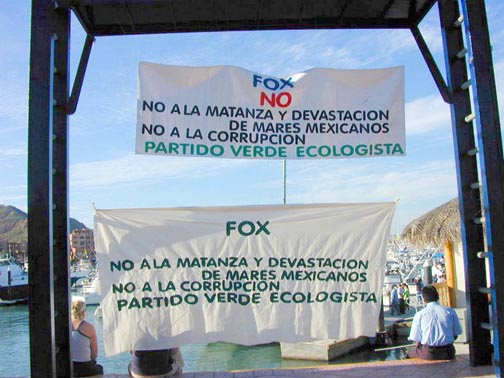 Signs protesting "killing...devastation of the seas...and corruption" at Cabo San Lucas.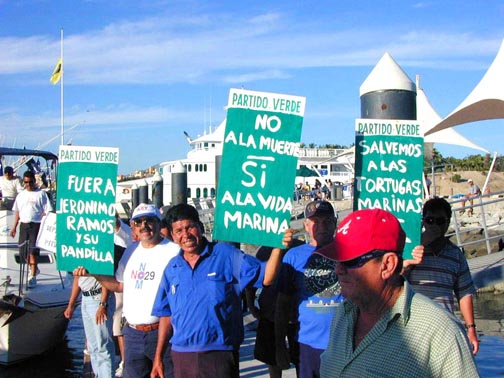 Signs protest the policies of fisheries chief Jernomino Ramos.
Protests against the killing of protected sea turtles.
(Related Cabo San Lucas articles and reports may be found at Mexfish.com's main Cabo San Lucas information page. See weekly fishing news, photos, and reports from the major sportfishing vacation areas of Mexico including the Cabo San Lucas area in "Mexico Fishing News.")