When Luis Bulnes Molleda, owner of Cabo San Lucas' magnificent Hotel Solmar at the very tip of Baja California, looks you straight in the eye and tells you something is true, it gives instant credibility to any story, even wild "Baja stories" so outrageous that Ray Cannon might have hesitated to write about them.

So, when Don Luis tells you about the first marlin he ever laid eyes on, one believes him, even if he says it was caught and landed by a handline from the famous cannery pier at Cabo San Lucas, B.C.S., Mexico, when today's world famous luxury resort was still just a small village.

The year was 1955, and Don Luis, a native of Ribadesella, Spain, had just arrived at Cabo San Lucas to assume his new job as manager of the Impresas Pando tuna cannery, at that time the largest in Mexico, producing about 75 percent of the nation's output of canned seafood products.
One day, he was walking down the cannery's famous wooden dock, and he saw something splashing out in the water. At first he thought it was a bird or seal, but then he realized that it was a large striped marlin, caught by a handline held by one of the boys on the dock, Adolfo Ruiz, whose nickname was "El 40."

At that instant, Don Luis was transfigured by the grace, power, and natural beauty of that magnificent fish. Although he didn't realize it then, years later that love would motivate him to establish one of Baja California's most important sport fishing resorts, and use its influence and financial resources to establish a legal foundation that is intended to preserve billfish for future generations.

One also believes Don Luis when he says he will save the billfish, because he is a serious man, "formal" in Spanish, owner of the Solmar Suites resort complex at the very tip of Baja California, a man of reputation who can be depended upon to do what he says he will do. He has seen it all, in a half-century career during which he has become one of the most important leaders of the peninsula.

But in 1955, Don Luis was just a young tuna cannery manager, and he had to conceal his astonishment at seeing a striped marlin caught from a pier. He never admitted to anyone that it was the first billfish he had ever seen; after all, he was the company "jefe," and he was supposed to know all about fish.

The abandoned shell of that tuna cannery still stands at the harbor entrance of Cabo San Lucas, but no one would dream of catching a marlin there today. Like the ghosts of a time gone by, the fish have retreated year by year, and today's fleet of modern charter fishing boats must go farther and farther to find them.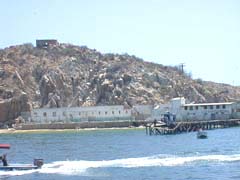 The old fish cannery and dock at Cabo San Lucas.
Before he ever became a hotelier and business leader, Don Luis had watched this steady retreat of the fish as he rose through the ranks of the commercial tuna industry.

"We must be very careful," he said. "Here's an example of how bad things can get."

"In the 1920s, the sailing ships anchored in the outer bay here, and they could make money with a total capacity of about five tons. They could make a profit doing all their fishing within a couple of miles of the Cabo San Lucas arch.

"During the 1940s, there was the Yoshino a Japanese ship that was confiscated during World War II and renamed the Punta Redondo. It held about 20 tons.
"Then, larger and larger boats came into service, and they had to go farther and farther to catch fish. There was the 40-ton boat, the Mercador. In the 1950s we had 11 American boats of about that size.

"Then we began building boats of 80 to 100 tons capacity, and finally we built one in Spain, the Calmex, with a capacity of 1,000 tons.

"I saw this transition from a few tons to 1,000 tons. Why? The fish were farther and farther away. Today, you can't imagine having a tuna business fishing from a small boat only a couple of miles from the arch. That's how much things have changed.

"The same thing has happened to the sport fishing fleets here at Cabo San Lucas. When the Finisterra opened, it had 26-foot boats, and that was all they needed. Today, we have a need for much larger boats that can do 20 or even 25 knots. You can't catch marlin from the dock anymore."

"I have a special love for billfish that began at that magic instant in 1955. I feel everyone should have a chance to see such beauty. We should preserve them for future generations. They are so beautiful. Did you know that when a marlin dies, it dies with its eyes looking down?"

On April 30, 1993, Don Luis established a Mexican billfish foundation--Fundacion Para La Conservacion De Los Picudos, A.C.--with board members from Baja California and the west coast of Mexico, and with key support from Luis Coppola Joffroy, Julio Berdegue, and Guillermo Alvarez. Using their considerable personal influence, these board members have expanded the Foundation's contacts throughout Central and South America and established ties in the United States and in Mexico City, working to develop and disseminate information for the preservation of billfish and other species, and for the benefit of the sport fishing industry.

One of the core missions of the Foundation is the monitoring of commercial fishing.

"Commercial fishing must be properly regulated," said Don Luis, with an insight born of the days when he lived in the opposite camp. "The only way to do that properly is with good information. We must know exactly how many fish we can catch, and not catch one more than that. The long-lining, especially, has to be stopped. I know that some people will be upset with me for saying this, but long-lining is just too destructive. It kills whatever happens to swim by."

"At this moment, there is a new awareness in Mexico of our need to protect the fish here, and it reaches to the highest levels of our government. But, we still have a big fight ahead of us. Commercial fishing is still a big business.

"Sport fishing will always be important to tourism here, as long as we take good care of it. Between Cabo San Lucas and the Revillagigedo Islands south of us, we have more striped marlin than anywhere in the world. That is totally unique and irreplaceable. You can build a golf course anywhere, but these marlin are only here."