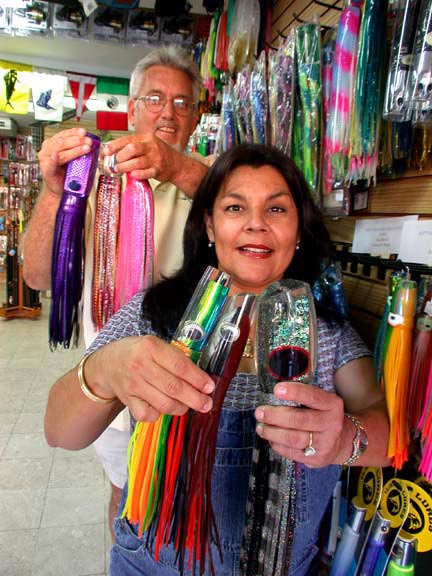 This is what's working today at Cabo San Lucas? Minerva and Bob Smith with the hot colors of Zukers and Allure trolling feathers. "We don't have to sell the good ones," says Bob. "They just sell themselves. They work."
A LANDMARK PORT OF CALL FOR CABO ANGLERS IN NEED OF THE "RIGHT" TACKLE
In a town as crawling with "local characters" at Cabo San Lucas, Mexico, Minerva Smith still manages to stand out in the crowd, even though she's only a little over five feet tall.

Energetic and very articulate, her bright eyes and cheerful smile are a fixture in the Cabo San Lucas' landmark tackle shop known to one and all simply as "Minerva's." It isn't a big place, but it's located right on the main waterfront boulevard, only a short walk from the marina, and it's jammed with the right stuff. No junk. This is where Cabo tourists shop cheek-and-jowl with the charter fleet skippers that will take them fishing the next day.

Minerva's massive inventory of trolling feathers fills an entire wall, looking something like a giant Jackson Pollock painting, and Minerva or husband Bob can walk right up to it and pick out what's working best right now on Cabo's spectacular roster of offshore glamour fish, the marlin, tuna, dorado, and sometimes wahoo that make this world-class fishing resort hum the year round.
The Smiths' advice on tackle isn't just idle talk. They also operate three Minerva's Fleet charter fishing boats ranging from 31 to 38 feet, and in a few weeks, the 40-foot Minerva IV will be added. Real-time information from their boat crews makes lure selection at Minerva's about as close to "guaranteed" as you can get.

If Minerva is the high-energy half of this successful team, it's husband Bob who provides the easy-going "comfort-zone" in the crowded shop that makes it a pleasure to just hang around and shoot the bull, even if you're not necessarily buying anything. Tall and soft-spoken, Bob loves Baja, and he has a million great stories about its people, from Ensenada to Cabo.

But careful! Don't get Minerva Smith talking about the Bisbee's Black & Blue Tournament unless you've got a lot of time! That's because a few years ago, a nearly $1 million prize was forfeited by their boat, Minerva III, when mate, Hector Romero Carballo, was accused of touching the line illegally while leadering a 534-pound blue marlin.

The weighing of that fish on the Cabo San Lucas sportfishing docks was the stuff that Baja legends are make of, with a crowd estimated at over a thousand people cheering wildly for the popular local winners, and the controversial disqualification reverberated through the Cabo community with a certain bitterness, as does the resulting lawsuit that is still winding its way through the courts.

"There's no financial incentive for us," said Minerva about the lawsuit. "But our captain and mate lost their $100,000 share of the prize money, and that's just not right. We can't let this slide by. It's bad for them, and it would be bad for sport fishing in Cabo."

Minerva herself also happens to be (together with Luis Bulness Molleda of the Solmar Suites resort, and Gary Graham of East Cape's Baja On The Fly) one of the representatives for Baja California of the International Game Fish Association, the international body that sanctions and maintains world records. So, regardless of how the issue is ultimately settled, nobody is questioning her integrity or that of her crews.

Meanwhile, life is good for the Smiths, and business is good at the tackle shop, which also maintains a separate repair facility that caters to Cabo's bustling fleet of sport fishing cruisers and pangas. The repair business specializes in Penn equipment, and the Smith's maintain a big inventory of parts.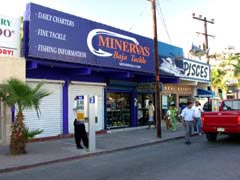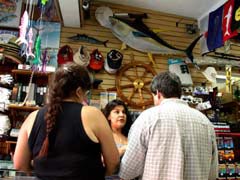 Minerva's Baja Tackle in downtown Cabo San Lucas, B.C.S., Mexico.
"It's hard to get stuff down here, so when we buy, we buy a lot," said Bob, as he held a Penn International that was literally splitting apart from salt and corrosion. "With fishing of this caliber, the equipment takes an incredible amount of abuse. We do a good part of our business repairing tackle for the fleets."

And Minerva Smith's sincere smile and ready embrace speak volumes about the happiness and inner contentment that the girl from Sonora, Mexico has found here at the very tip of Baja California. She was born Minerva Saenz Valenzuela in the city of Navojoa, where her father was a teacher and photographer, and her mother's family owned the local "molino" or flour mill. The family moved to the U.S. in 1962, and Minerva was educated in California, where she and husband Bob were married in 1978.
They moved immediately to Cabo San Lucas, where Bob had already established himself in the sport fishing community, and they began working together to build the business. Today, they have the tackle store, the four-boat fleet, the repair business, and their son, 18-year-old Justin, whose skill as a golfer allows him to work as a summertime golf pro in Cabo. Minerva's mother, Josephine, now owns the Tamale Factory restaurant in Riverside, California, which Minerva says has "the guaranteed best Mexican food in the whole world! Especially the orange blossom tamales!"

It is clear that the Smiths care passionately about Cabo, its people, and the beauty of the sea on which it all depends.

"Sometimes I just walk on the beach and give thanks for how lucky I am to live in this beautiful place," says Minerva. "When we arrived in Cabo," adds Bob, "you couldn't even get salad greens here. Now we have some of the finest restaurants in the world. As someone who lives here, I appreciate that."

But the Smiths also are concerned that development may get out of hand, such as with the proposed cruise ship pier that threatens to destroy Cabo's famous view of the arch at land's end. They are very concerned that Cabo's fantasy world of surreal beauty, incredible fishing, and big money, are disorienting to the people who come here to live with their families.

"Kids renting yachts with their parents credit cards, being picked up by chauffeurs for birthday parties, it's hard to keep things in perspective, it's hard to grow up normally here," said Minerva, "and that includes both Mexicans and Americans." The Smith's son, Justin, was sent to live with family in California for his secondary education. "That was tough," Bob said, "but we had to do it."

What does the future hold for Cabo? "Sport fishing will remain a big part of the picture here," Bob said. "It's too good to ignore. We just have to realize that there are limits, and keep things from getting out of hand." But, whatever happens in the future of Cabo San Lucas, one thing seems certain: Minerva and Bob Smith will be a big part of it.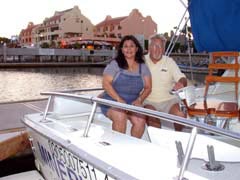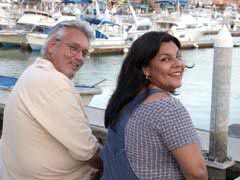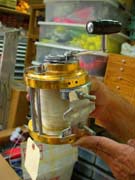 Minerva and Bob Smith, at the world famous sportfishing marina of Cabo San Lucas, B.C.S., Mexico.
(Related Cabo San Lucas articles and reports may be found at Mexfish.com's main Cabo San Lucas information page. See weekly fishing news, photos, and reports from the major sportfishing vacation areas of Mexico including the Cabo San Lucas area in "Mexico Fishing News.")