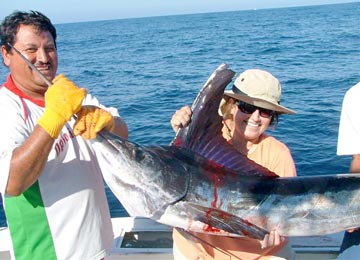 PACIFIC SIDE AT CABO--Patricia Coleman and her husband Art Coleman fished three days with Gaviota Fleet on Cabo San Lucas's Pacific side and landed Patricia's first marlin, five more marlin, and "all the dorado we wanted." Photo courtesy Art Coleman.
GAVIOTA FLEET CHARTER FISHING AT CABO
SCORES 6 MARLIN IN 3 DAYS
Oct. 23, 2005, Art Coleman, Cabo San Lucas, Mexico Fishing Trip Report:
I just got back from Cabo San Lucas, with 3 days of fishing on the Gaviota V.

We fished the 15th, 16th and 17th. The fishing was great! Cabo San Lucas weather was great! The air temperature was 92 degrees, with light wind and calm seas.

We fished all 3 days on the Golden Gate bank area and ended up with 6 striped marlin, all released, and all the Dorado we wanted. My wife Patricia caught her first Marlin, about 150 pounds. It took her about a hour to get it to the boat on 40 pound test with 100 pound leader. All marlin were caught on bait. I can't say enough about the Gaviota crew.