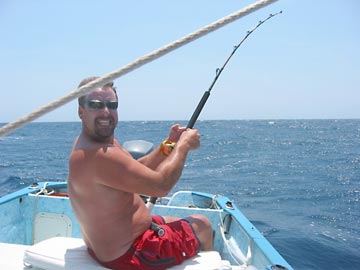 HOT EAST CAPE MARLIN--Gene Fritz got a good dose of Baja marlin action with five stripers in five days out of East Cape's La Ribera. Photos courtesy Russ Fritz.

NINE STRIPED MARLIN CAUGHT IN FIVE DAYS OF FISHING AT EAST CAPE
July 23, 2005, Russ Fritz, La Ribera, East Cape, Mexico Fishing Report:
My nephew Gene Fritz of Fresno, Calif., caught and released 5 East Cape striped marlin in 5 days. His largest was estimated at 150 pounds. I also caught and released 4 marlin in 5 days, and had to keep the 5th one who tail-wrapped himself during the struggle. He was the largest weighing in at 226 pounds. Most of the fish were taken from either my panga "Soplado", or my cruiser "Morning Star".

East Cape fishing area water temperatures varied from 79 degrees to 84 degrees, and we worked the area between the lighthouse and Rancho Leonero at the 100 fathom curve.

Several striped marlin were taken on the way home, in as little as 160 feet of water. We had 3 double strikes in the last 5 trips out, landing and releasing all fish. All were taken on 30-pound line, and all on lures, the favorite being a Sevenstrand Mardigras.