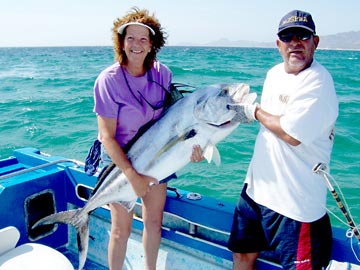 FIRST MEXICO TRIP--Patty Hronec and her husband Alan picked East Cape's Hotel Punta Colorada for their first trip to Mexico, and they did real well on six roosterfish in one morning with the hotel's Capt. Alonzo (right). Photo courtesy Patty Hronec.

FIRST MEXICO FISHING TRIP FINDS GOOD ACTION AT BAJA'S HOTEL PUNTA COLORADA
July 22, 2005, Patty Hronec, East Cape, Baja California Sur, Mexico Fishing Trip Report:
We have just returned from our first trip to Mexico. My husband Alan and I are from Amherst, Ohio, and we stayed at the Hotel Punta Colorada, in East Cape, from June 29 thru July 7 and fished for 6 days. There was only one day we were skunked. I would say that was really great odds! The first day we fished on a Super Panga called the Bohemia with Capt. Alonzo. My first fish was a very large roosterfish that Alonzo estimated to be over 70 pounds. We released him. What a thrill that was! It was larger than the rest of what we caught that day, a total of 6 and very large compared to one my husband had caught.

It was just off the lighthouse area, and close in. We had fresh mullet, there were still no sardinas. When we fished for the roosters, the winds were really bad and it was rather rough. We only fished until 11:30 a.m. But 6 roosters isn't bad for a half-day. The water temperature I think they said was about 78-80 degrees.

We did catch 3 Marlin, 2 for me and 1 for him. 2 Dorado for him. The Tuna bite was very good about 30 miles out the days we fished, and we caught more than we wanted, so we kept some and gave away some. They say the fishing is little off this year. Well, even in an off year it appears to be a really great place to fish. I traded Hawaii this year to try Mexico. To say this was a great time is an true understatement. We are already making plans to go back next year. What's not to love in Mexico, and it is a lot closer too.