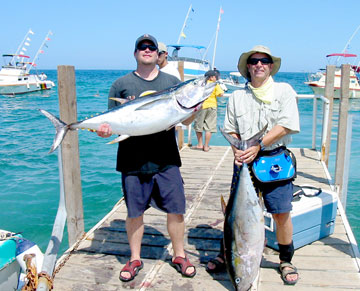 BIG FISH ROUND UP TOURNAMENT--Gary Cox and his son David of Cypress fished in the recent third annual Big Fish Round Up Fishing Tournament out of East Cape's Hotel Palmas de Cortez, and caught a couple of nice yellowfin tuna of 58 and 57 pounds. Photo courtesy Richard Castaneda.
CASS TOURS LEADS BIG FISH ROUNDUP FISHING TOURNAMENT
AT EAST CAPE'S HOTEL PALMAS DE CORTEZ
Aug. 19, 2005, Richard Castaneda, Cass Tours, Big Fish Round Up, East Cape, Baja, Mexico:
The third annual Big Fish Round Up Fishing Tournament was once again held at Hotel Palmas de Cortez in the village of Los Barriles on Baja's East Cape from August 11 to 15, 2005.

This is a fun tournament format with no rules except for using rod and reel. One-hundred five anglers consisting of 2, 3 and 4 man teams fished 3 days on 34 cruisers and experienced great fishing for Marlin, Yellowfin Tuna, Dorado and Wahoo.

They released 145 billfish consisting of 31 Blue Marlin, 41 Striped Marlin and 73 Sailfish. Also in the catch were lots of Yellowfin Tuna ranging in size from footballs to 62 pounds, Bull Dorado to 49 pounds, and a couple of Wahoo to 48 pounds.

On the first day of their arrival the hotel hosted a cocktail reception where each participant received a custom embroidered tackle bag filled with Braid lures, Penn fishing line, Eagle Claw hooks, Penn fishing hats and Shimano "Croakies" eye glass holders, and I.D. lanyards. Participants also received a tournament tee-shirt and a Cass Tours hat.

On the last day of the tournament the hotel hosted an awards cocktail reception where winners in each of the four categories received trophies and prizes consisting of Cal-Star fishing rods, Diawa fishing rods and reels, Okuma fishing reels, Penn reels, Braid Products gift certificates and Accurate fishing products. The beautiful Pacifico/Corona girls were on hand to assist in the presentation and to take pictures with all the participants.

Results of the tournament:

Most Bill Fish released: First Place *1600 points, Harvey Jacolick, Carol Jacolick, Jason Jacolick. Second Place *1600 points, Don Sparkman, Larry Rogers. Third Place *1500 points, Dan Dorval, Don Berry, Rick Berry.

Yellowfin Tuna: First Place *62.4 lbs, Michael Williams, Richard DeLeon, Ralph DeLeon. Second Place *59.4 lbs, David Dang, Madison Dang. Third Place *58.4lbs, Dave Delmotte, Jeff Boynes.

Dorado: First Place *49.8lbs, Gil Alejandre, Raul Alejandre, John Perez, Oscar Magana. Second Place *38.8lbs, Gary Cox, David Cox. Third Place *35.8lbs, Carol Jacolick, Harvey Jacolick, Jason Jacolick.