By Gene Kira, Aug. 19, 2002, as published in Western Outdoor News:

It's been just over a year since Western Outdoor News Baja Editor Fred Hoctor passed away, and last week, I spent a pleasant day in Fred's honor, fishing around the tip of Ensenada's Punta Banda with his old and good friend, Ivan Villarino.
It was on August 12, 2001, that Fred's ashes were scattered over the calm waters of Bahia Todos Santos from Ivan's panga, the Vonny I, and last week, we had an almost identical, overcast but warm and calm day, as we launched over the beach and put-putted our way quietly, westwards toward the point.

As it turned out, we could not take the Vonny I because Vonny Fleet had clients fishing in it with guide Beto Zamora (it was Beto who ran the panga on the day Fred's ashes were scattered), so Ivan and I took the smaller, wooden Vonny III, which somehow felt even more fitting to the purposes of the day.

We passed slowly along the bluff where Fred's house sits, resplendent with its summer riot of red bougainvilleas. Soon we were among the rocky outcroppings and boilers that cluster around the tip of Punta Banda like small islands, and we were surrounded by the spirits of Mexicans and Gringos who have fished this place since Ensenada was just a village.

Like the day itself, our fishing was quiet and somewhat introspective, as Ivan stood at the oars and maneuvered the honestly-built Vonny III over the bajos and holes, and among the kelp fronds. Ivan's friend, Jay, dropped cut squid to the bottom, and I explored the midwater possibilities with a silly little Luhr Jensen Stinger jig that had Ivan asking, "What kind of lure is that?" when it started to bring in a bunch of olive rockfish, followed by lingcod, chilipeppers, and a starry rockfish.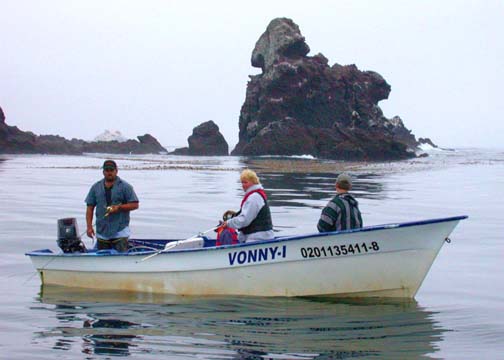 The Vonny I, with Beto Zamora at the tiller at the tip of Punta Banda.
Jay's squid was bringing up more of the same from a bottom that rose and fell from about 60 to 120 feet, and he also brought in some candy-striped treefish, which stubbornly ignored my Stinger. We spent a lot of time discussing and enjoying the merits of Ivan's delicious egg-onion-potato burritos (which luckily, he had made 18 of), and we soon made them all disappear.
All morning, a light, vaporous fog hovered around us, inspired by the amazing water temperature gradient here that was first described to me by Neil Kelly many years ago. Straight at the point, I measured 56 degrees, and only a few hundred yards on its north side, 66 degrees--a full ten degrees difference, just like Neil said is typical for midsummer. More spirits of old fishermen, looking over your shoulder and nodding approval.

In about an hour and a half of easy, muy flojo, effort, we had 15 fish in the boat, enough, and we chugged slowly back toward Fred's house, trolling a couple of wobbling plugs, but all we caught was a lone barracuda that hit my "old reliable" blue-silver Rebel Fastrac.

In the other panga, Beto was working a lot harder for his paying clients, and he more than doubled our catch, including 3 firecracker yellowtail that he somehow found against the cliffs about halfway back to the beach. Good for Beto. He's a hell of a fishermen.

Back at Ivan's Vonny Fleet tackle store and parking area, we waited for the clients to say their good-byes and depart with their fillets, and then Ivan carefully carved around the bones and made a big bowl of his special soy sauce-lime-olive oil ceviche. We sat around that bowl and ate with our fingers, like a bunch of hungry seagulls, until every scrap of fish was gone.

As I got up to leave, I stopped and photographed a small snapshot pinned on Ivan's tackle shop wall. It was a fading picture of Fred Hoctor, shaking hands with a young girl perhaps eight years old, who is holding a fishing rod much taller than herself, right here at Ivan's house. The day looked sunny and warm, and Fred seemed to be wiping his brow as he looked down and shook the young lady's hand.

It was a small moment in time, a fine summer day preserved for just a while longer on Ivan's wall.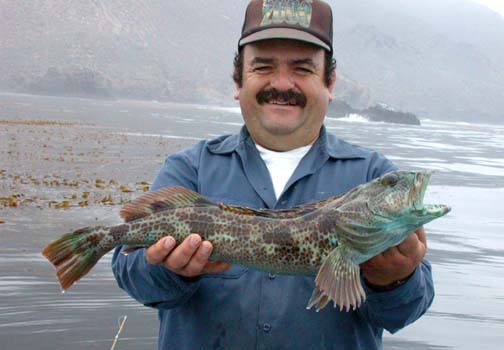 Fred Hoctor's old friend, Ivan Villarino, and a small lingcod caught among the boiler rocks at Punta Banda.
(Related Ensenada articles and reports may be found at Mexfish.com's main Ensenada information page. See weekly fishing news, photos, and reports from the major sportfishing vacation areas of Mexico including the Ensenada area in "Mexico Fishing News.")