By Gene Kira, March 24, 2003, as published in Western Outdoor News:

After many lucky miles of flirting with the gas gauge on remote Baja pavement and dirt, I finally ran out of gas recently, and it had to happen right on the dumb old Ensenada toll road, with the whole world passing by in full view... and with a professional photographer and a writer from the Los Angeles Times on board.

¡Qué tonto! Man, it was not a proud moment for The Great Kee-Rah.
Actually, I've run out of gas plenty of times before, but it's always been sort of half-intentional, where you either had a spare can in the back, or you were in a nice spot and didn't mind waiting for help to come along.

This time, it was a total shock, and on a tight schedule, with no time to spare.

I was with Pete Thomas of the Los Angeles Times and marine photographer Richard Herrmann, and we were in a hurry to get to Conal True's Universidad Autonoma de Baja California (UABC) totoaba hatchery in Ensenada, Baja California, Mexico, where a team of biologists was waiting to get into a tank and take tissue samples from 80-pound fish to see if they were ready to spawn.

We'd been promised a chance to get into the tank ourselves, and we were anxious to arrive in Ensenada on time, especially Richard, who was hoping for an opportunity to take the world's first underwater photographs of live totoaba.

As we tooled happily down the toll road, near the El Mirador viewpoint, I happened to glance down at the gas gauge, and my eyeballs just about fell out. From long experience with that needle, I knew--with a sinking sensation in my bowels--that we had, at most, about five miles to go.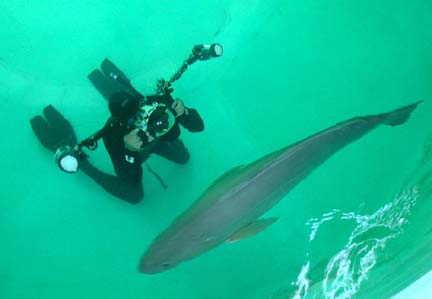 FIRST UNDERWATER PHOTOS--Photographer Richard Herrmann gets the world's first underwater shots of live totoaba at the UABC hatchery in Ensenada.
As casually as possible, I let Pete and Richard know we were basically screwed, and I thought they took the news quite calmly--at least nobody called me a dumb S.O.B. right on the spot.

Sure enough, the old pickup's six-cylinder fire winked out at the south end of Bahia Salsipuedes, and we coasted to a safe stop on the top of the cliff, well off the road, and about 20 miles north of Ensenada.

Total silence.
Richard walked over to the edge of the cliff and occupied himself by tossing rocks into the magnificent view. Pete just kind of wandered around in circles, wondering why he let me talk him into this stupid trip, while I stood at the edge of the blacktop, waving my hat at passing vehicles.

"Don't worry, guys. No big deal. This is Baja. Somebody will stop. We'll make it on time."

"Uh-huh."

A couple of people stopped right away, but had no gas or hoses. I had visions of gigantic totoabas going into a mating frenzy without us.

Then, Pete spotted a work truck on the opposite side of the toll road, and we scrambled across the median divider. Eureka! They had a whole barrel of gas! Within a couple of minutes we had found some empty bottles in the bushes, siphoned a couple of liters, and we were on our way--also with a tiny amount of beer and something that looked like a small stinkbug in my tank, but hey, I wasn't complaining.

We slid up to the Ensenada hatchery exactly three minutes before our appointment with Conal True's pregnant totoaba, and Richard Herrmann got some magnificent photographs.

Pete Thomas got a great story for the Los Angeles Times after standing in the shallow water and trying to get the massive totoabas to swim through his legs (they wouldn't). And me, I got another lesson in why Baja is always interesting and memorable, no matter how much you mess up. Another great day!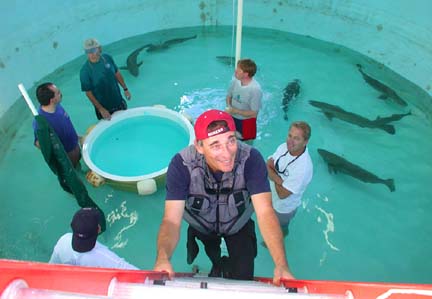 ENSENADA TOTOABA LAB--Richard Herrmann climbs out of the totoaba tank. At right is Pete Thomas of the Los Angeles Times. And behind Herrmann is Ensenada totuaba program director, Conal True.
(Related Ensenada articles and reports may be found at Mexfish.com's main Ensenada information page. See weekly fishing news, photos, and reports from the major sportfishing vacation areas of Mexico including the Ensenada area in "Mexico Fishing News.")