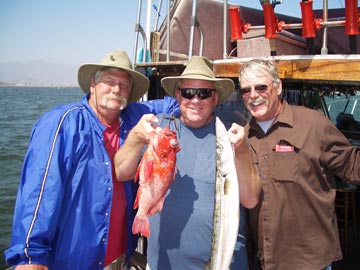 THREE AMIGOS--Joe, Bill and Rick Ludka (left to right) had a great time fishing out of Ensenada on the Top Dog with Jon Strickland, but found fairly slow action due to a red tide condition and lack of live bait. Photo courtesy Joe Ludka.
TWO ENSENADA FISHING DAYS ON THE BOATS TOP DOG AND CLIPPER II
July 1, 2005, Joe Ludka, Ensenada, Baja California, Mexico:
My brother Bill from Carlsbad, brother Rick from Phoenix, and friend Tim, and I fished at Ensenada on Tuesday and Wednesday.

On Tuesday, we fished with Capt. Mario on the Clipper II, out of Sergio's Sportfishing Center, at Punta Banda. Because of the red tide, Mike's bait was dead and we used frozen squid.

The fishing was very slow and nonproductive, with just a couple of barracuda and snappers being put in the sacks.

On Wednesday, we fished with Capt. Jon Strickland, on the Top Dog. We fished Punta Banda and off the Isle of Todos Santos, including 55 miles of trolling, once again using squid and lures. We got the same results as Tuesday, with the exception of a couple extra smaller whitefish and a sculpin.

We metered a ton a fish deep, and saw numerous bait balls on the outside, but no one was biting.

When removing the hook from one snapper, the fish was literally stuffed with little anchovies, so many that they were hanging out of his mouth.

Jon is a great captain, with a nice cruiser, loaded with a ton of rods and reels, Penn and Newell, and all kinds of lures. He is also very reasonably priced. Our group left our gear in the hotel room and just used Jon's.

The water temperature off Ensenada averaged 70 degrees and was not clean until you were all the way out by the Isle and the Three Brothers Rocks. While the fishing was slow, the cantinas were not. If you haven't been in Ensenada on a Tuesday night, it's definitely worth going. The El Palmar restaurant/cantina really hops on Tuesdays, packed with locals and a live band.