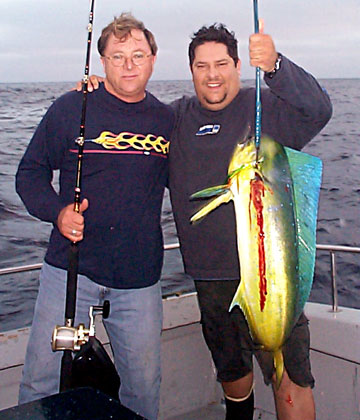 ENSENADA GOLDIE--Anglers fishing out of Ensenada last week with Capt. Gerardo Sanchez of KCHTS Sportfishing scored on a total of four dorado averaging 30 pounds on Tuesday and Friday, plus one yellowfin tuna and one yellowtail of about the same size. Photo courtesy Gerardo Sanchez.
ROUGH WATER ENSENADA FISHING FOR BOTTOM FISH
LIMITS WITH KCHTS SPORTFISHING
Sept. 3, 2005, Gerardo Sanchez, KCHTS Sportfishing, Ensenada, Baja California, Mexico:
Last Sunday, we fished south of Ensenada at San Jose reef, in bad and windy weather. It was rough. I had one passenger, and we got limits on bottom fish, 20 red rockcod, eight lingcod, and some whitefish.

On Monday, I went on a tuna fishing trip offshore, below the 238 spot about 18 miles southwest, and we saw a lot of fish on the kelp paddies, but they would not bite.

On Tuesday, I went back fishing at the same area, and we got only one dorado of 15 pounds.

On Friday, I went fishing again on a tuna trip with four passengers, and we got three dorados average size 30 pounds, 1 yellowfin tuna 12 pounds, and 1 yellowtail the same size. We lost a lot of fish, but other boats got a lot. We got those fish trolling Mexican flag feathers.