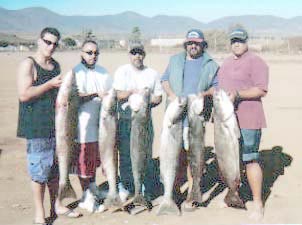 CROAKERS GALORE!--Richard Bartow's group caught their first ever white seabass with Capt. Conrado at Erendira last week. Photo courtesy Richard Bartow.
CASTRO'S CAMP FISHING GROUP SCORES FIRST-EVER WHITE SEABASS TO 40 POUNDS
Aug. 26, 2004, Richard Bartow, Erendira, Baja California, Mexico:
I took the family for the week to Ensenada. Wednesday morning the guys slipped down to Erendira to fish with Conrado. We caught "Corvina" White sea bass up to 40 pounds. It was the first white sea bass for my all of my friends. I have been there many times and never been disappointed. I try to bring somebody new every time because they always want to come back. I hope that in return they will bring me back.