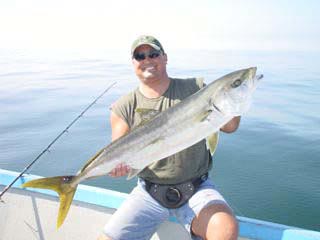 CASTRO'S FORKIE--Rick Welter with a nice 30-pound class yellowtail caught out of Castro's Camp at Erendira. Photo courtesy Robert Everett.
BREEZY FISHING CONDITIONS AND LOTS OF ROCKCOD
CAUGHT DURING CASTRO'S CAMP TRIP
Oct. 6, 2004, Robert Everett, Castro's Camp, Erendira, Baja California, Mexico:
Castro's Campo, Oct 2-3, clear skies both days with very breezy afternoons, produced approx 200 rockfish, 8 barracuda, 7 sandbass and 1 very big yellowtail that the fish fillet station guessed to be between 30 and 40 lbs. the yellowtail was the biggest fish caught all weekend. Rick Welter got that fish to take a Krocodile just under the surface. We had good action on bottom fish using blue and white jigs with squid. Also in my Castro's Camp group was Rick's brother Ron and his coworker Ray all of Las Vegas. They all said it was the most fish they ever caught and want to make another trip to Castro's.