By Gene Kira, May 12, 2003, as published in Western Outdoor News:

After well known panguero Luis Maciel handed me a beautiful, slim chrome jig--possibly the only one of its kind--on the dock at Zihuatanejo, Mexico, last year, I wrote two columns in Western Outdoor News about it and a series of leads poured in, but nobody knew the source of Maciel's elegantly sculpted and deadly effective "S&G VK3" original jig.

One-by-one, all the leads turned to dust, and we were left with Luis's final, battered jig, the last example of an extinct species that we suspected was perhaps the best yellowfin tuna casting lure ever invented.
About ten years ago, Luis had been given a precious handful of these super-jigs by a long-forgotten client, possibly from New York or New Jersey. Luis--one of the Ixtapa Zihuatanejo sportfishing area's top pangueros--discovered the jigs' remarkable power over yellowfin tuna. But gradually, he lost all of those jigs, except for this last one, and despite all our efforts, no more could be found.

And so it remained...

Then, three weeks ago, a fantastic, once-in-a-lifetime coincidence finally led us to the maker of the Maciel Mystery Jig. And...he's a New York City accountant!

The breakthrough occurred when another visitor arrived at Ixtapa Zihuatanejo, to fish with local guide Ed Kunze. On his first morning at the dock, this client, who had never fished at Zihuatanejo before, opened up his tackle box and showed Ed the lures he had brought.

His box was full of Mystery Jigs! And nothing else!

As it turned out, his jigs were not exactly the S&G VK3s, but some very good copies that he had special ordered from a private lure maker. He also had some close knock-offs under a different name.

This miracle client was New Jersey dentist, Jay Gladstone, and he gave us his present source of these supremely rare jigs: Alex's Bait & Tackle in Point Pleasant, New Jersey.


LAST SURVIVOR?--Luis Maciel's original S&G VK3 jig, possibly the last of its kind.
I spent the next couple of weeks frantically following leads up and down the East Coast, and a few days ago, I found myself actually speaking to the present day maker of the real S&G VK3 jigs.

He is an accountant living on Staten Island, and he's a descendant of one of the jig's inventors, Bob Sparta, whose partner was named Gary Goldstein.

Sparta and Goldstein ("S&G") made the jigs in Brooklyn, NY, beginning in the early 1970s, when Sparta was a printer working for the New York Times, and the two friends moonlighted as commercial fishermen along the shores of Long Island, trolling for blue fish, striped bass, and so forth.
Sometime about 1990, they stopped making the jigs, and about five years ago, the present maker came into possession of the molds and started up again on a part-time basis.

I requested samples from the maker, and also from a source in Brooklyn that had some old S&G jigs made about ten years ago.

Anxious days passed, and finally the jigs arrived.

But what a disappointment!

They were the S&G jigs all right, including the talismanic legend "S&G VK3" molded into the lead, but a quarter-century of molten metal had taken its toll on the molds; the present-day S&G jig is only a rough version of the jewel-like original. Close inspection also revealed that sometime prior to about 10 years ago--during the Sparta and Goldstein era--a new, less elegant mold had been made, creating a lure that was straighter and clunkier than the original.

Like a forensic examiner perusing old bones, I carefully compared Luis Maciel's original jig to the 10-year-old example from Brooklyn and the new version fresh from the mold.

The cumulative damage was unmistakable, as the jig lost its beautiful S-curve, became awkward and rounded, and grew in weight from 76.0 grams, to 80.3 grams (new mold), and finally, 82.0 grams.

Sadly, the S&G jig's inheritor has no plans to make new molds, so it seems that Sparta and Goldstein's original design is no longer available. However, if you'd like to see the present-day version, you can buy them from Alex's Bait & Tackle, Point Pleasant, NJ, 732-295-9268.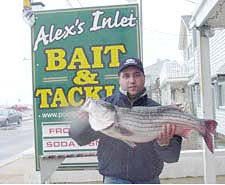 MYSTERY JIG SOURCE: Alex's Bait & Tackle in Point Pleasant, NJ.
(Related Ixtapa Zihuatanejo articles and reports may be found at Mexfish.com's main Ixtapa Zihuatanejo information page. See weekly fishing news, photos, and reports from the major sportfishing vacation areas of Mexico including the Ixtapa Zihuatanejo area in "Mexico Fishing News.")