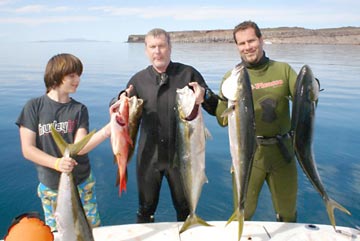 GOOD SPIRITS--Spear fishers Eric, Shane, and Andrea Tomba of La Paz enjoyed some super flat winter sea conditions and good action on yellowtail at Isla Espiritu Santo last week. Photo courtesy Jonathan Roldan, Tailhunter International.
YELLOWTAIL CAUGHT IN SEVERAL SPOTS BY LOCAL BOATS
Feb. 27, 2005, Jonathan Roldan, Tailhunter International, La Paz, Mexico Fishing Report:
For the La Paz vacationing anglers, yellowtail came on strong in several places. The southeast side of Espiritu Santo Island in the coves as well as off Bonanza Beach produced, as did El Bajo and El Bajito.

La Paz fishing conditions have been perfect with generally flat waters between 62 and 68 degrees. Even more exciting was that we got more dorado (mahi-mahi) off Bonanza and incredibly, the striped marlin of the season that I've heard of so far was taken late in the week and released on El Bajo where surface feeding hammerhead sharks were also cruising, eating baits and not afraid to bite the rods. All hammerheads were released.

On the Las Arenas side, the first roosterfish were taken, mixing it up with a brewing pargo season up the side of Cerralvo Island and more dorado as well making for some real early season surprises.

(See "Mexico Fishing News" online for current fishing reports, photos, weather, and water temperatures from La Paz and other major Mexican sportfishing areas. Vacation travel articles, fishing maps and seasonal calendars, and fishing related information for La Paz may be found at Mexfish.com's main La Paz page.