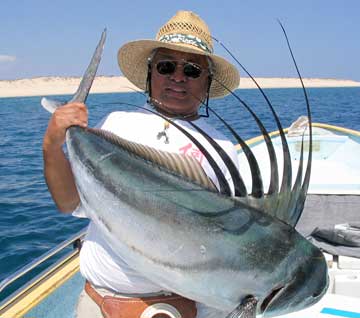 LAS ARENAS ROOSTERFISH--Fred Benedicto of New York fished six days on La Paz' Las Arenas side with Capt. Jorge Lucero of Tortuga Sportfishing and landed this 42-pound roosterfish, plus dorado, tuna, pargo, and marlin. Photo courtesy Gerardo Hernandez.
ROOSTERFISH SHOW UP IN HOT CALM FISHING WEATHER
Sept. 17, 2005, Dos Hernandez, Tortuga Sportfishing, Las Arenas, La Paz, Mexico Fishing Report:

There haven't been any significant changes in the weather or fishing on the Las Arenas side of La Paz this week. The fishing weather has been hot and extremely calm, with air temperatures of 98 degrees during the day and down to 75 degrees at night. With no wind or rain, and just a few clouds, it was a marvelous week for everyone who came fishing with us.
Fred Benedicto of New York, who fished at Las Arenas for six days, caught various dorado, tuna, pargo, marlin, and roosterfish, with Capt. Rigo L. The dorado, of 15 to 20 pounds, came from the Las Cruces fishing area north of Las Arenas, and the tuna, of about 15 pounds, were caught at Punta Perico.

Pargo, or huachinango, of 6 to 10 pounds were caught south of Isla Cerralvo, and also at the north point of the island, and a nice 42-pound roosterfish was caught south of Las Arenas.

Sardina bait is available on the back side of Isla Cerralvo, and we are using this for the tuna. Also, squid is being used for the huachinango and dorado.

During the last few days of fishing, we have seen some tuna of 40 pounds north of Las Arenas, but so far we haven't caught any of those. Yellowtail are also being caught by commercial fishermen around El Sargento and La Ventana.

(See "Mexico Fishing News" online for current fishing reports, photos, weather, and water temperatures from La Paz and other major Mexican sportfishing areas. Vacation travel articles, fishing maps and seasonal calendars, and fishing related information for La Paz may be found at Mexfish.com's main La Paz page.