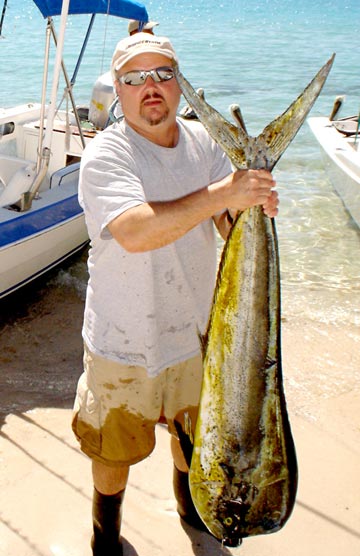 LA PAZ DORADO--Brian Higgins of Mission Viejo made his first trip to La Paz and caught this nice bull dorado with Tailhunter International. He shared it that night with his amigos for dinner. Photo courtesy Jonathan Roldan.
MAHI-MAHI STILL PRODUCING LIMITS FOR LA PAZ CHARTER FISHING BOATS
Oct. 30, 2005, Jonathan Roldan, Tailhunter International, La Paz, Mexico Fishing Report:

Dorado continue to rip it up for our La Paz fishing boats with limits or near limits most days despite the late season. There are still quite a few dink fish, but there's certainly some quality mixed in there too with some 30-40 pound bulls willing to eat the slab or live baits. Sometimes the biggest problem is getting through the punks to the larger fish.
Marlin are fewer, but it's still not surprising to have them also feeding in the dorado (also mahi-mahi)dorado schools. The bite isn't far, still at the southeast corner of Espiritu Santo Island and around Las Cruces and Coyote.

For our Las Arenas boats, fishing has gotten slower. Some days, the bite is pretty nice then the next day for no apparent reason, we really have to scratch. However, I can tell the season is changing because there's more variety of warm and cooler water fish available for Las Arenas.

In addition to the occasional tuna, dorado and pargo, we're also getting jack crevalle, some yellowtail, amberjack, snapper and cabrilla as well as still some of those giant squid too.

What a nice time to be in La Paz right now. Temperatures are in the mid-80's and just a bit of breeze in the morning. There are not many tourists in town and the water temperatures are great for the divers and snorkelers in the low 80's. Whale sharks have been frequenting the area so everyone wants to swim with them and the El Bajo Seamount has been great for the divers since schools of hammerheads have been at 60-130 feet.

(See "Mexico Fishing News" online for current fishing reports, photos, weather, and water temperatures from La Paz and other major Mexican sportfishing areas. Vacation travel articles, fishing maps and seasonal calendars, and fishing related information for La Paz may be found at Mexfish.com's main La Paz page.