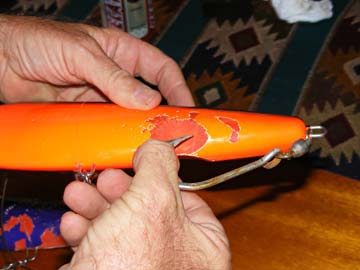 The Yo-zuri Bonita, a favorite lure for wahoo. Notice the deep gouging that results as the hook digs into the body of the lure while trolling. Bill Erhardt's swivel replacement to fix this problem shown below.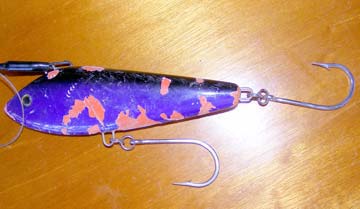 Yo-zuri Bonita with split rings replaced. The hooks track without damage to the lure body. Bill first makes this modification to the lures before using them.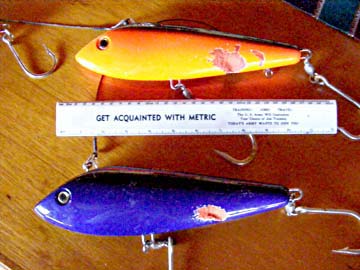 Wahoo lures in black-and-purple or orange-and-black work great. "I really think the fish are attracted to the orange. Anything with orange. I rig these up with cable. Maybe 12 to 14 inches of 225-pound test cable."
"Wire rigged feathers are good for wahoo as well. The old Doorknob pictured in the center hooked the biggest wahoo I've caught this year. The petrolero pictured at the top rigged with wire leader is heavy. It stays down for wahoo while I'm trolling fast."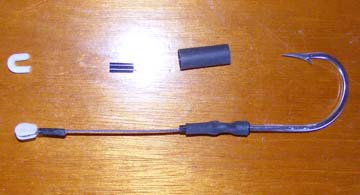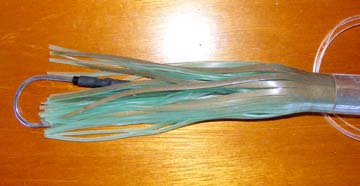 I rig my feathers with a Mustad 7732 9/0 hook, 470-pound stainless steel cable, and 200-pound mono. I use about 7 inches of cable, as it brings the hook in the position I like with the skirt. I like the hook in this position for presentation."
"These are regular rigged marlin feathers. I've got a thing about marlin. It's just something I love. I do like marlin. The top feather is an ALLure marlin feather. Arturo Locht in Mexico City was first to develop the petrolero, or motor oil, color. It has an orange inner skirt and a silver, black-and-brown outer skirt. Day-in and day-out, the petrolero will catch more marlin on the Sea of Cortez than any other lure. Second down is a Flyer, after flying fish, a good one. Numbers 3 and 4, are green and Mean Joe Green, and number 5 at the bottom is a calamari. All are good choices. The vertical number 6 is pink and has been good this year. The website for Arturo is ALLure.com.mx. His feathers are the best. I use a short marlin leader. Fishing alone, I need to draw the marlin up tight with me. With a short leader, I can film, drive, hook and release. After every 2 or 3 marlin, I replace my leader. I prefer Jenkai, 200-pound test. At any sign of chafing from the bill, or if the line gets white or chalky, I change it."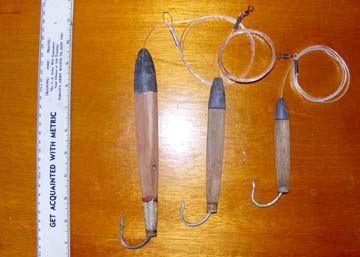 "Tuna like nothing better than cedar plugs. The older and nastier they are, the better they work. Whatever color they come, I think it is the shape, the way they run through the water, not the color, that the fish like. Illustrated are 4, 6, and 8-inch favorite cedar plugs. The 8-inch illustrated is stabilized with an old fish line repair."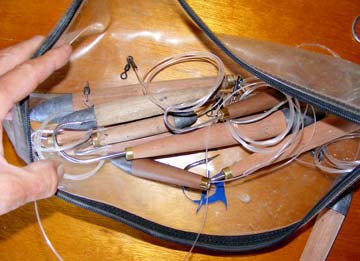 A bag of Bill Erhardt's tuna cedar plugs.
A larger petrolero blue marlin lure with a single 10/0 hook rig. PHOTOS COURTESY OF JEFF PETERSEN. DESCRIPTIONS BY BILL ERHARDT.