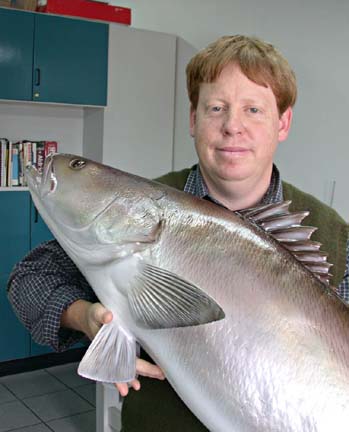 WORLD'S ONLY TOTOABA MOUNT--Totoaba program director, Conal David True, with a medium-sized totoaba mount, at the Universidad Autonoma de Baja California, Ensenada, Mexico. The mount, donated to the university by Robert Munoz of Robert's Fish Mounts, is the only one in the world known to exist. It was molded from a fish that died at the laboratory a few years ago. Photo by Gene Kira.
UNIQUE ENSENADA FISH BREEDING LAB STRUGGLES FOR FUNDING
By Gene Kira, July 14 2003, as published in Western Outdoor News:

Last year, I wrote about a plan to help Ensenada's Universidad Autónoma de Baja California (UABC) make a series of survey fishing trips to the northern part of Mexico's Sea of Cortez for the purpose of counting and tagging the endangered fish, totoaba, a relative of the white seabass which can grow to over 200 pounds in weight.

Hundreds of people wanted to go on these survey trips aboard Tony Reyes' San Felipe mothership, the Jose Andres, and their contributions would have amounted to more than a quarter-of-a-million dollars to help count how many giant totoaba are left in their only habitat, from the mouth of the Colorado River to the Midriff Area of the Sea of Cortez.

I'm sorry to say, that idea is dead, at least for the present.
The UABC's totoaba program director, Conal David True, just informed me that a $1.2 million grant request to keep the laboratory operating over the next several years has been turned down flat by Semarnat, Mexico's federal department of natural resources. Not one centavo was earmarked for this endangered fish, even though about $25 million was given to roughly 200 other projects in Mexico.

The Ensenada totoaba lab will not disappear, but its four major research projects--genetics, nutrition, aquaculture, and population survey--are now in limbo.

The Tony Reyes trips, at least eight tag-and-release voyages over the next two years, have been rendered unnecessary, simply because there is no longer a survey program to evaluate the data.

The irony of this situation is that very little can be accomplished unless the size of the surviving totoaba population is known, and nobody in the various government bureaucracies involved with Mexico's commercial and sport fisheries has even the foggiest idea how many totoaba are left.

Even more ironic, is that the only available data today comes from the Mexican poachers who are killing tons of totoaba every year. The best available estimates are that somewhere between 50 tons and 400 tons of totoaba are poached annually and sold illegally as "white seabass." Some of this officially endangered species is even said to find its way into the United States. Since the meat is of excellent quality and the air bladders are still worth about $100 each on the Chinese black market, this illegal fishery has a wholesale value estimated at up to about $2.5 million per year.

(Piling irony upon irony, it is estimated that these very same totoaba, if harvested as a sport fishery, would bring in at about three times that much to the Mexican economy.)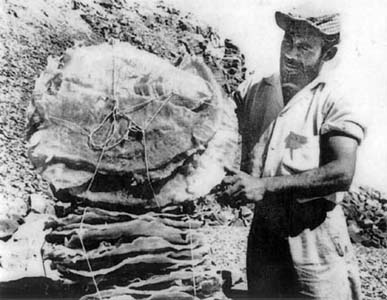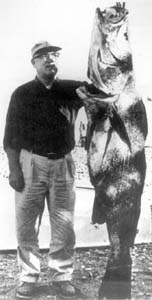 STILL VALUABLE--Dried totoaba bladders, used in a Chinese soup called Seen Kow, are still worth about $100 apiece on the black market. They were the original motivation for taking enormous numbers of totoaba from their only habitat in the northern one-third of the Sea of Cortez, Mexico. Photo courtesy Conal David True.

A BIG ONE (right)--A large sport-caught totoaba caught near San Felipe, Baja California, Mexico, in the late 1950s or early 1960s. Photo courtesy Conal David True.
But no, totoaba appear to be another species that is being sacrificed in the Mexican federal Department of Fishery's all-out program of short-term commercial fishing.

If there's any consolation that can be dredged from this sad situation, it is that many sectors of Mexico's wildly mismanaged commercial fishing industry are on the verge of collapse anyway, with population after population now falling under the level of profitability.

Even such scorched-earth, last-stand measures as reef fish traps are in decline, as the last remnants of some reachable resident populations are virtually wiped out and even the fish trappers are finding it's no longer worth it.

Once Mexico's era of uncontrolled commercial fishing has run its due course, it will not return again, for the starkly simple reason that there are no more "unlimited" fish populations to serve as fertilizer. Then, perhaps, there will be reason, and logic, and a government willing to invest money for such things as an endangered species unique to Mexican waters--totoaba, Cynoscion macdonaldi--the magnificent croaker that grows to the size of a marlin.

But for now at least, the world's last remaining totoaba--however many that may be--have been left high and dry, and that's a shame.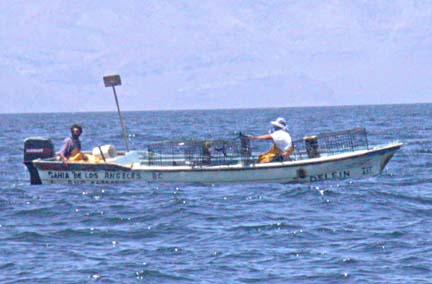 SCORCHED EARTH FISHING--Fish trappers at Bahia de los Angeles, Baja California, Mexico, putting themselves out of business, as they wipe out their own fishing locations. Photo by Gene Kira.
(Related Mexico articles and reports may be found at Mexfish.com's main Mexico information page. See weekly fishing news, photos, and reports from the major sportfishing vacation areas of Mexico including the Mexico area in "Mexico Fishing News.")