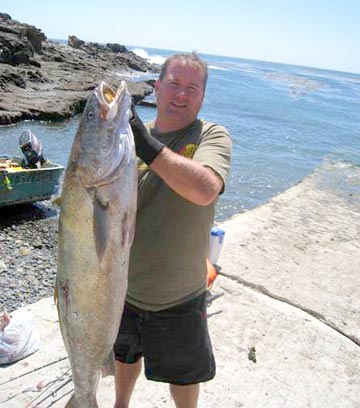 SPEAR FISHING FOR WHITE SEABASS AT PUERTO SANTO TOMAS -- Mark Debolski's big white seabass taken while free diving out of Puerto Santo Tomas Resort south of Ensenada on the Baja California northern Pacific coast. PHOTO COURTESY OF SAM SAENZ.
FEW TOURISTS PRESENT IN NORTHERN BAJA COASTAL AREAS
PUERTO SANTO TOMAS, B.C., MEXICO, SAM SAENZ, SEPT. 10, 2009 -- Free diving spear fishermen caught several large sheephead this week in the 20-pound category, while Mark Debolski from Santa Cruz, California, hit the jackpot with a white seabass. This largest white seabass taken while spear fishing at Puerto Santo Tomas was about 45 pounds.
The ocean was alive with lots of birds and boils this week.
Over the weekend, surface fishing around the Soledad Reef got hot with yellowtail, bonita, barracuda and white seabass. Seth Brown and his family from the Los Angeles area landed full Mexican sportfishing limits of bottom fish plus bonita and barracuda and some yellowtail.
The bottom fishing was excellent. We had three groups come into Santo Tomas during the week. Some were spear diving while others were trolling and bottom fishing.
Even though tourism business has been slow in this part of Baja, we are still here running the show at Puerto Santo Tomas Resort. However, I can only receive limited email at this time. The Mexican internet providers, or someone else, has shut off my satellite provider.
Please forward and pass the word around to send all emails not only to realbaja@starband.net but also to sarahk@prodigy.net.mx in Ensenada where I get most of my email. I am looking for another satellite provider that is acceptable here in Mexico.
In the meantime the full summer season is here at Puerto Santo Tomas and the fishing has been good.