Puerto Santo Tomás is located so close to Baja California's northern city of Ensenada that from the top of the hill, you can look straight north at the city's landmark promontory, Punta Banda, and see it clearly, looming low and blue on the horizon only twelve miles away.

Yet, Puerto Santo Tomás--a tiny coastal fishing settlement that is even a village in the usual sense--exists in a completely different Baja universe. Puerto Santo Tomás takes you back to an earlier time, when the world was simple and quiet, and men made their living from the sea in small boats.

Here, the water is cold, and very clean and clear, and the daily rhythms of life are governed not by clocks, but by the rising and setting of the sun, and the moon, and the tides.
No electrical or telephone lines come down the dead-end, 20-mile long dirt road. Cell phones don't work here either, and even radio contact is difficult because of the high mountains surrounding the little bay.

Early each morning, the fishermen of Puerto Santo Tomás leave their shacks and board their pangas, mostly to dive for sea urchins, and in the afternoons, they return, exhausted, to unload their catch and moor their boats for the night.

Beyond that, very little happens in Puerto Santo Tomás. You can walk the quarter-mile length of the fishermen's row of houses, and perhaps you'll meet someone, or perhaps not. If you sit beside the road for a couple of hours, perhaps a car may come by, but probably not.

But despite its remote feel, and despite that sometimes washboard-infested dirt road, the almost completely unspoiled landscape and surrounding waters of Puerto Santo Tomás are, in fact, only about five easy driving hours south of the border, and only about an hour-and-a half south of Ensenada. And most surprisingly, there is a full-service lodge here--Puerto Santo Tomás Resort--with clean, comfortable, ocean-view kitchen cabins, space for at least 30 or 40 people, excellent meals, and pangas available for sportfishing.
Puerto Santo Tomás Resort is operated by Sam Saenz, a retired aerospace electrical engineer originally from Alice, Texas, and his wife, the former Juanita Casas Martinez, originally of Monterrey. Saenz graduated from Michigan State University and worked in the Minuteman and MX missile programs. Energetic and inquisitive of mind, he recently turned 70, but still hikes over the surrounding mountains, finding solitude to read his Bible, and he still likes to drive his welded-tube dune buggy around the puerto's deserted, semi-abandoned trails like the proverbial bat-out-of-hell.

Saenz made his first visit to Puerto Santo Tomás in 1966, moved here in 1991, and through a happenstance chain of events, ended up as the majority stockholder of a Mexican corporation, Real Baja, that owns most of the land around the bay.

Recently, Real Baja was awarded a federal concession to develop the bay's beach front strip, or zona federal, as a tourist facility, and Saenz is planning to add a sheltered launch ramp, a small pier to accommodate a couple of cruisers, and some other modest improvements, without displacing the scruffy but picturesque commercial fishermen's shacks, and without appreciably altering the quiet, pristine feel of the bay.

In truth, the views and spectacular seascapes surrounding this diminutive and sparsely populated fish camp are so beautiful, one cannot help but envision a community of palatial homes filling the hillsides here someday. But until that happens, Puerto Santo Tomás endures as Baja's closest, easiest to reach destination with an authentically remote feel and--even today--almost totally unspoiled fishing.

Although the history of this area goes back to 1791 when the first Misión Santo Tomás de Aquino was established nearby, commercial activity at the puerto itself got started much later, in the 1920s when a fisherman named Jesus Amador homesteaded the tight little bay tucked into the south side of rocky Punta Santo Tomás. (Considering the state of the roads at that time, and the easy fish catches made right in the bay of Ensenada, the only major population center, 50 miles away, one wonders who Amador's customers might have been.)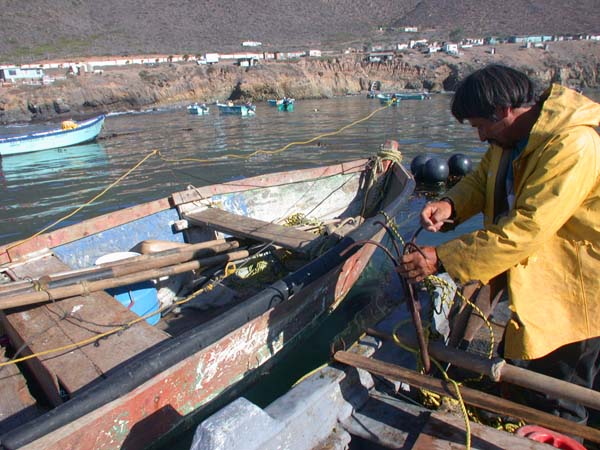 Commercial and sportfishing pangas are moored in the small bay south of the point at Puerto Santo Tomas, Baja California, Mexico.
Beginning about 1971, the Japanese market for sea urchins was developed, and a commercial fleet of panga divers began living on the low bluff that circles the bay, eventually organizing themselves as a 42-member cooperativa in 1986. They dived for urchins, lobster, abalone, and other bottom life, and also did some fishing during the off-seasons, but the puerto never developed into a major commercial center. No permanent buildings were built, no cannery, electrical lines, or any other facility at all, except for a row of rickety shacks clinging to the edge of the cliff and a wandering dirt road leading back to the blacktop 20 miles away.

Even today, some 80 years after the first permanent settlement here, only a few dozen sporadic residents live at Puerto Santo Tomás. A few American homes can be seen on the distant shore, the Saenz' resort has its cantina and cabins at the tip of the point, the fishermen's shacks still perch precariously on the bluff, and their pangas float like a flock of colorful seabirds on the bay--and that's about all there is here, except for the rugged, eye-popping Pacific seascapes and the almost untouched fishing.

For today's Baja traveler and angler, Puerto Santo Tomás offers not only very good fishing, but an authentic glimpse at a world that is now disappearing, the world of the artisanal Mexican fisherman, relying for his living on luck, his panga, and the bountiful sea.

FISHING PUERTO SANTO TOMAS

The sport fishing around Puerto Santo Tomás can be divided into two general categories: the obvious and the almost completely unknown.

The obvious opportunities here include typical Pacific cool water zone panga fishing, which can be booked through Puerto Santo Tomás Resort, or arranged on the spot by finding a local commercial fisherman who may take you out if he is not too busy.

This reliable and productive "ice chest fishing" is mostly for a heavy supply of resident bottom species such as mixed rockfish, lingcod, whitefish, sheephead, halibut, calico bass, sandbass, sculpin, and various perches. Also caught during the warmer months is a short list of surface and semi-migratory fish including white seabass, yellowtail, bonito, and barracuda. During very warm water, El Niño summers, true offshore migrators such as albacore, yellowfin tuna, and dorado may come within reach of pangas launched here, but that is the exception.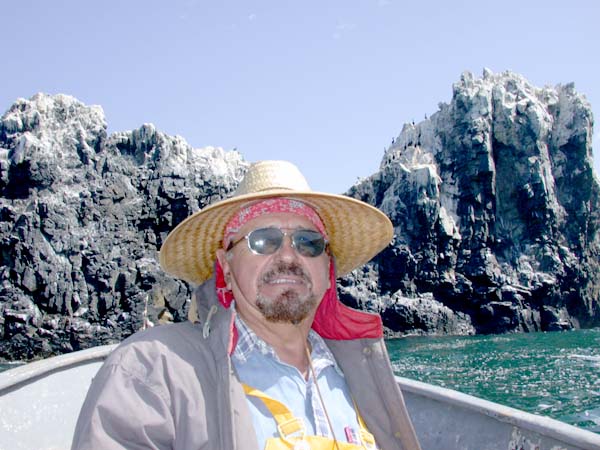 Sam Saenz of Puerto Santo Tomas Resort, fishing north at nearby Piedra Blanca.
Puerto Santo Tomás is blessed by being located within the very cool, nutrient rich upwellings that stream south from shoals and rocky points just to its north. It is very close to several excellent bottom fishing grounds so productive that they are often visited by boats coming down the coast from Ensenada. These include the Soledad and Maximino reefs just around the point to the north, several spots around Roca Soledad only a mile out, and around nearby Punta China to the south. Rarely, pangas may also venture out to the offshore San Jose and Soledad tuna banks, but usually they stay close to the inshore locations, for reliable, safe bottom fishing.

(As an example of how easily these famous bottom fishing spots may be accessed, here are some approximate distances, measured from the Puerto Santo Tomás Resort's concrete launch ramp: Punta China buoys, 3.7 miles; Soledad Reef, 1.4 miles; Maximino Reef, 4.5 miles.)

Bottom fishing here is available all year-round, but is best accessed during the summer and fall months, when sea conditions are most favorable.

THE UNKNOWN SHORE FISHERY

Although there are almost unlimited good bottom fishing locations within a few miles of Puerto Santo Tomás, there are many days on the open Pacific that are not suitable for any small boat. Even during calmer periods, there are many days when no boat should venture too close to the picturesque, but very dangerous surf crashing against the cliffs and boulders here.

Swell refraction around nearby points and underwater high spots causes breaking waves to pop up unexpectedly and from all kinds of crazy angles, sometimes even with two combers breaking against each other, and commercial boats wisely keep their distance from shore. Both sport and commercial fishing pressure--from the rocks, outwards for perhaps two-hundred yards--is therefore very light, and shore casters, or kayakers in good sea conditions, can enjoy a paradise of almost untouched close-to-shore fishing in this area.

Here, even small boys casting from the boulders with handlines can catch assorted rockfish, sheephead, lingcod, cabezon, bass, opaleye, blacksmith, and a big grab bag of "mystery" species, some of them too weird-looking to touch without pliers. (Years ago I saw a boy catch something right from the launch ramp that looked like a gelatinous, foot-long fish embryo, except that it had a head and mouth full of teeth just like the monster from the "Alien" series of science fiction movies. Ugly. Way ugly.)

Kayakers may put in right at the Puerto Santo Tomás Resort launch ramp, and in truth, they don't need to paddle much farther than a hundred yards around the first rocky point for good action on a kaleidoscope of species, including, all of the above, plus possible yellowtail and white seabass.

But it is for shore casters, especially, that the rocky cliffs and bluffs going northwards from Puerto Santo Tomás offer a fantastic selection of almost limitless shore casting platforms--in crystal-clear pools among very close kelp beds and weeds--that one could fish for years and never fully explore.

During periods of rough surf, these spots are not usable, of course, but when when it's calm, this is a place where the kelp comes to within about 25 feet of shore in some spots, and the pure, healthy water is just loaded with all kinds of sea life.

THE HIKING TRAIL

Access to Punta Santo Tomás' beach casting locations is by two routes. One is by climbing northwards along the sheer cliffs going around the punta, right from your cabin door. The other is by motorcycle, dune buggy, or four-wheel drive vehicle (or a very long hike) on the roughly graded dirt road going over the top of the point and down its north side.

Due to the hazards of the cliff hiking trail, most anglers will want to take the road. However, for the very experienced and athletic willing to take some serious risks, the cliff trail does lead to some interesting spots, and judging from the well-defined wear on the path, it seems to get a fair amount of traffic from the locals. At the resort, Sam Saenz can tell you about this route. If you decide to attempt it, you should be prepared for dangerous, slippery, six-inch-wide ledges overlooking high drops onto nothing but big boulders. Definitely not for me.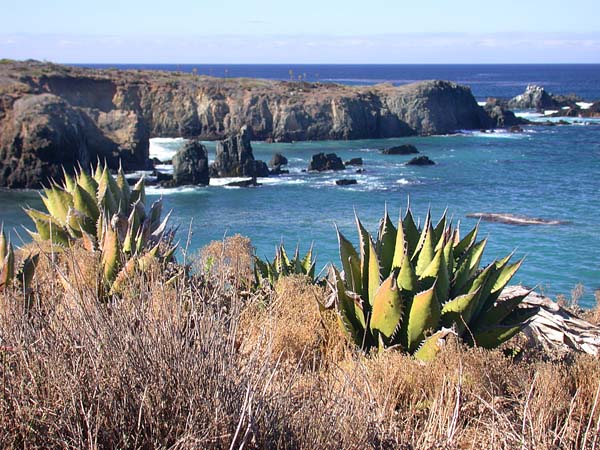 The rugged coast trails north of Puerto Santo Tomas offer unlimited shore fishing opportunities.
THE NORTH ROAD

This short road, less than three miles long, gives much easier and more practical access to the exceptional shore casting areas on the north side of Punta Santo Tomás.

From the resort's concrete launch ramp at the tip of the point, go back up the road half a mile and look for a narrow, concrete-paved exit on your left. This is the beginning of the winding road going over the point, and down to Bahía de Soledad on its north side. This road is infrequently maintained, so you will do best with four-wheel-drive. At times, it may be impassable, depending on recent storms. The worst part is getting to the top. Once you reach the ridge, it gets much easier.

0.5 Miles--The top of the ridge, with vertiginous views of the puerto below you, Punta China to the south, and Punta Banda in the north. Below to the northwest, you see the road leading out toward a small, low rocky point just inland of large Soledad Reef. This narrow rock spit marks the south end of Bahía Soledad, and it also marks the spot where the famous Soledad Reef almost comes to shore, so we'll just call it Punta Soledad.

0.7 Miles--Crossing a shallow arroyo, descending toward Punta Soledad. The road splits shortly thereafter. Take either branch. They merge again later.

1.8 Miles--The tip of Punta Soledad. Notice Soledad Reef running straight out from shore, with possible boats fishing on it. After turning around, take the road going north along the shore of Bahía Soledad. Go past two abandoned houses.

2.3 Miles--Nice, low, rocky fishing spots into very clear water. Punta Banda, near Ensenada, is seen in the north. About a quarter-mile offshore is small Roca Pintada, standing off a small point.

2.7 Miles--Bitter end of road. Nice cul-de-sac, fishing and camping spot.

Along this entire stretch of coastline, going both north and south of the small rocky spit of Punta Soledad, you can see trails and roads going in every direction, with rocky fingers, little coves, rock arches, and superb shore casting platforms every few dozen yards, amid spectacular rocky seascapes, some easy, and some requiring caution.

The entire area is covered with of every description. It's a rocky shore Garden of Eden, where the kelp comes very close in and there are patches of clear water of various depths everywhere you look. In places, the kelp fronds will actually brush against the rocks.

For Baja Catch-type campers, there are an unlimited number of beautiful camping spots throughout the area, and almost nobody comes here. During the several trips I've made to this area, I've seen one fisherman gathering seaweed, and another time a group of three SUVs came over the mountain for a few minutes and then turned around and disappeared. That's it.

This unspoiled area is only a couple of miles from Puerto Santo Tomás, but it is so remote feeling, some people will get the "willies" and elect to take a room at the resort. For any shore anglers, whether they camp or not, this place offers perhaps Baja's easiest access to a beautiful, unspoiled rocky coast, and excellent fishing on a wide range of cool water species--with comfortable rooms only a few minutes away.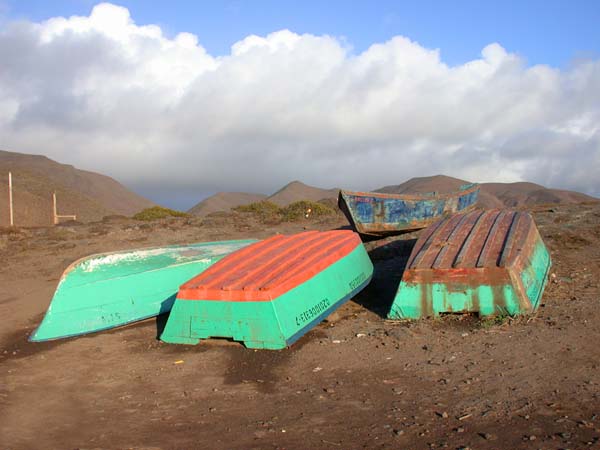 Commercial fishermen's pangas near the open Pacific launch ramp of Puerto Santo Tomas.
ACCESS

Puerto Santo Tomás is reached by driving south about 25 miles out of Ensenada and taking the signed turnoff about 2.5 miles before reaching the small town of Santo Tomás. The dirt road winds through an attractive valley of small farms and ranchos for about 17 miles, splitting often in a rather confusing manner. Usually, the "lower" option, along the riverbed, is smoother and faster. But if there's been any heavy rain recently, this route may be washed out or flooded, and the high road to the right is to be preferred.

There is a surprising amount of agricultural traffic on this road in the mornings and evenings, so caution should always be exercised. Figure about an hour and a half to reach the puerto, in good conditions.

About 17 miles in, you pass a sign for Punta China on your left, and enter the small village of La Bocana on the coast. Keep bearing right, and make a sharp, steep, potholed, climbing turn northwards after you pass several houses, but before you get to the water.

Follow the beautiful coast road three miles north, around the bay, and right to the end, where you'll see the high, pink arch of Puerto Santo Tomás Resort on your right.

Note: As you leave La Bocana, you pass several American houses before reaching the long empty stretch going around the bay. The second to last house is the "God and Mr. Gómez" house immortalized in the book of that name by Jack Smith.

PUERTO SANTO TOMAS RESORT

This quiet little cluster of small buildings is the only business enterprise at Puerto Santo Tomás. Beautifully situated on a low bluff overlooking the sea, it has water views in every direction, and the sun sets right in front of you. The resort offers clean, very reasonably priced, comfortable cabins with various sleeping arrangements, hot showers, stoves, and limited supplies. Any size group up to about 30 or 40 people can be accommodated. Ocean front campsites are also available. Excellent Mexican and seafood meals are served, either in the tienda restaurant for large groups, at the Saenz family home for smaller groups. Electricity is solar, so there are lights at night, but not enough power to operate appliances, refrigerators, and freezers. Visitors should bring their own ice and bait. Reservations should be made in advance, to ensure availability of all services.