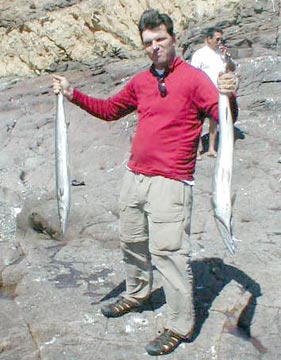 BIGGER THAN THEY LOOK--Chris Gessel's barracuda caught at Puerto Santo Tomas don't look that big against his 6 foot 5 inch frame. Photo courtesy Ken Jones.
FUN BAJA PANGA FISHING OUT OF THE RESORT
Aug. 31, 2004, Ken Jones, Punta Santo Tomas, Mexico Fishing Report:
Went over the weekend to Punta Santo Tomas with my friends Bret Hambrick and Chris Gessel. The waves were pretty brutal and Sam at Puerto Santo Tomas Resort said there was an undertow condition so we didn't get any shore fishing in. Everywhere we looked/tried it seemed you couldn't cast farther out than the crashing surf and foam.

So, did the panga 'thang' and didn't have amazing success, but certainly had a blast. It seems (and we didn't know) that we were not using enough ENOUGH weight to get to the VERY bottom because of the strong current. Never have seen anything like that where the wind is howling one direction, waves are coming that direction, and then you drop your line and it goes AGAINST the wind and waves. Ended up catching some Ling Cod, Rockfish and the like bottom fishing and then trolling 3 Barracuda, 1 Bonito, some mackerel and one huge something that fought and fought and fought and finally snapped an old Penn reel in half. We tried dragging it in by hand but it got away. Spencer Tracy would have been proud of us...

Sam was great and the Puerto Santo Tomas place is just fantastic. Will be going back for sure. I had read somewhere that the Barracuda roe is tasty and I saved it from two of the ones we caught. I took a chance and pan sauteed it with some soy sauce and a touch of olive oil...pretty tasty! Certainly not the most attractive thing I have ever eaten but proud that I took the plunge.

(See "Mexico Fishing News" online for current fishing reports, photos, weather, and water temperatures from Puerto Santo Tomas and other major Mexican sportfishing areas. Vacation travel articles, fishing maps and seasonal calendars, and fishing related information for Puerto Santo Tomas may be found at Mexfish.com's main Puerto Santo Tomas page.