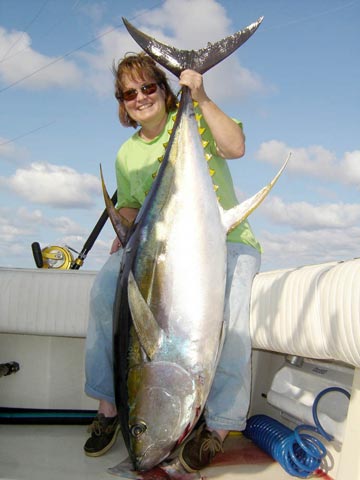 ON THE TINKNOCKER--Sandy Vath scored on this 130.6-pound yellowfin tuna while fishing out of Puerto Vallarta with husband Stan on their boat Tinknocker. Photo courtesy Stan Vath.
THREE DAYS OFFSHORE FISHING ON THE BOAT TINKNOCKER
Nov. 2, 2004, Stan Vath, Tinknocker, Puerto Vallarta, Mexico Fishing Trip Report:

This is our first dedicated fishing trip to Puerto Vallarta and we love it. Such a variety of big fish. We are due for a cow any day. We came through here two years ago when we brought our boat from Florida thru the Panama Canal. Loved this place and the people. Had to come back.
Oct. 29, 2004: Friday our trip was postponed because our bait guy flaked out. Kawi set it up and claimed the guy drank too much tequila, but we think Kawi drank too much. Jason and Bob headed for the pool to drink Margaritas and check out the scenery. I am having a stressful day as I couldn't make a bait connection and it was a full moon and really tough to make it on our own. Late in the day I finally spoke with Danny Osuna on the MARLA II and he set it up for the next morning at 0300 hrs. It arrived and Larry met the guy Rafa and loaded the tanks.

Oct. 30, 2004: Saturday we all slept in to rest up for the all nighter we are doing today. Jason and Bob headed to Tulum for the breakfast buffet. Everyone tried to nap while we made on our way to the fishing grounds in anticipation of tonight's fishing. Left the dock at 12 noon and put out the Wahoo rigs. Jason made a pargo enchilada casserole for tonight and before he was done the rods were going off but nothing stuck. We got to Roca Corbetena and started trolling for Skippy's. The Skipjack started biting and soon the tuna tubes were filled and we were ready for business. The first biter was a YFT on a Skipjack. Sandy fought the fish and it turned out to be a 130.6 pounder her best yet. Then Bob got a knock down and landed a 50.3 lb. Dorado our largest to date. We trolled into the darkness with no more strikes and headed up to El Banco to spend the night drifting.

Oct. 31, 2004: Sunday--Happy Halloween---Fished all night until 12 noon. Don caught a 60 and a 100 LB. Yellowfin Tuna which we released at 0200 hrs. Later on at 0430 hrs. Don caught a 55 lb. Wahoo on a large chunk. Jason ran it up to the bow as we did not think it was a tuna. I ran up to help him and all of a sudden a huge Wahoo appears. I ran back and yelled to hand me a gaff then stuck the fish and we hauled him back and into the cockpit. Bob had him filleted in short order and in the refer. Jason caught a sailfish and released it about 0930 hrs. About noon we wrapped it up and headed back in but not before three boats coming from Cabo decided to do donuts in and out of the few boats fishing out at El Banco. As we pulled back into Paradise Village Marina guess who had moved into the slips near us. The "Cabo Mental Retards." Dinner was at the Jungle and then to bed.

(See "Mexico Fishing News" online for current fishing reports, photos, weather, and water temperatures from Puerto Vallarta and other major Mexican sportfishing areas. Vacation travel articles, fishing maps and seasonal calendars, and fishing related information for Puerto Vallarta may be found at Mexfish.com's main Puerto Vallarta page.