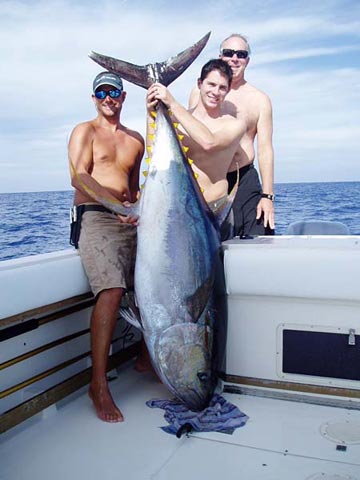 PUERTO VALLARTA MOO MOO--Anglers landing huge yellowfin tuna last week with Capt. Josh Temple of Puerto Vallarta's Prime Time Adventures included Chris Broyles (red shirt) with a 255 pounder, and Hunter Heatley (center) with a 301 pounder. Hunter's father John Heatley also landed a 329 pounder. Photos courtesy Josh Temple.
COW TUNA OF 255 AND 301 POUNDS CAUGHT BY THE FISHING BOAT PRIME TIME
Nov. 27, 2004, Capt. Josh Temple, Prime Time Adventures, Puerto Vallarta, Mexico Fishing Report:

The water temperature here in Puerto Vallarta has begun to cool and is now in the neighborhood of 80 degrees. Puerto Vallarta fishing water continues to be deep blue outside the bay, although we did see a short push of green-blue water one afternoon this week. Winds are more often than not from the northwest at an average speed of 8 knots.
This last week after the tournament has been a blur. Trev and I are healing nicely thanks to Mexican antibiotics, kind of like napalm for the innards...but effective.

Puerto Vallarta fishing has been insane. I'm kind of at a loss for words, I'm so tired.

Chris Broyles fished with us on Wednesday, the morning after he proposed to his lovely...and very tough...fiancee. The water was definitely not pretty. I'm not sure what his fiancee was thinking on the ride out, but it appeared she wasn't too happy about the sea state. After turning several shades of green I have to admit I was thinking she was going to pull the plug...lucky for Chris she didn't.

ZZZZZZZZZZZ! went the rigger and Chris was firmly embedded in a Puerto Vallarta cow. To make a long story short, 2.5 hours later a 255 pounder hit the deck.

Thursday we met Hunter and his dad John out here in Punta de Mita, and off we went. Hunter caught two nice baits right away and out they went. Not five minutes later, ZZZZZZZZZZZ! went the rigger and 21-year-old Hunter was about to learn the hard way what Puerto Vallarta fishing for giant yellowfin tuna means.

At first we thought it was around a 100 pounder. By the end of the first hour, I was pretty sure it was 200. By the end of the second hour, I knew it was over 200. By the end of the third hour, who knew how big it was? By the end of the fourth hour, I was checking the drag to make sure it was where it should be. By the end of the fifth hour, I was waiting for Hunter to pass out. By the end of the sixth hour...well, I just couldn't believe it was six hours. I'll let Hunter post the details, but his epic battle with his 301-pound giant yellowfin tuna will go down in the history books as one of the toughest battles on stand-up I have ever seen. Hunter did not sissy this fish. He pulled as hard as anyone, with over 35 pounds of drag, for 6.5 hours and beat the behemoth...300.6 pounds...what a fish!

Today it was dad John's turn, and back out we went, not really expecting things could get any better. Big mistake. This is Puerto Vallarta. Anything can happen.

Lines in, and lots of action right away on the big baits. No solid hookups, but at lunchtime we got what we were looking for.

I didn't see the hit because I was watching the rigger clip vibrating frantically, almost as if the big bait knew what was coming. Trev and John did see what happened, and what they saw was a giant yellowfin catapulting over 6 feet in the air and landing on our right rigger bait.

The radio lit up as two boats called us to ask us if we saw the fish. "Yes," we said, over the screaming Tiagra 50W.

John was stoked. He was hooting the whole time and it's just so amazing watching someone pull on these fish and have such an awesome time doing it.

During the fight, I asked Trev if he could tell how big the fish was when he saw it leap out of the water. His eyes got real wide and he just shook his head.

John pulled hard, and in 2.5 hours had the fish to color. A few minutes later the fish hit the deck and we couldn't believe it. He had gotten a bigger one than Hunter's 301. We weren't certain, but we figured it was bigger than the 318 we caught in October.

Back at the Puerto Vallarta dock, and our hopes came true. We had a new season record...329.7 pounds!!! We have one more day tomorrow with John and Hunter and to be quite honest I'm afraid to put a bait in the water with these two...father and son 300 pounders...pretty incredible.

I'm probably too tired to realize what kind of fishing...or for that matter what kind of season we've been having, but I do know one thing, I feel like it's all a dream and that's probably a very good sign.

(See "Mexico Fishing News" online for current fishing reports, photos, weather, and water temperatures from Puerto Vallarta and other major Mexican sportfishing areas. Vacation travel articles, fishing maps and seasonal calendars, and fishing related information for Puerto Vallarta may be found at Mexfish.com's main Puerto Vallarta page.