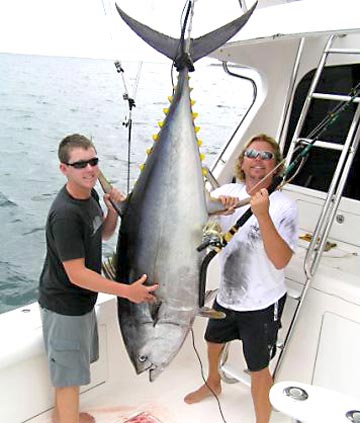 HONEST WEIGHT COW--Kyle Manroe (left) and his father Bob Manroe with a 271-pound yellowfin tuna caught on their boat KW's Karma at Puerto Vallarta's Roca Corbetena, and weighed on their IGFA-certified scale. Photo courtesy Kyle Manroe.
FISHING BOAT KW'S KARMA CHECKS IN WITH 271-POUND TUNA
July 22, 2005, Kyle Manroe, Puerto Vallarta, Mexico Fishing Report:

I am submitting a picture of a 271 pound yellowfin tuna that my dad, Bob Manroe, and I caught off Puerto Vallarta last week. We were fishing aboard our boat, the KW's KARMA, a 43 ft. Cabo yacht, when we caught the fish at Corbetena.
The fish slammed one of our trolled skipjacks that was around five pounds. My dad fought the fish on a Tiagra 30W that was spooled with 60 lb test with 180 lb fluorocarbon leader.

He beat the hell out of the tuna and the fish came to the side of the boat in the middle of his "death circles". When I gaffed him there was no struggle. I gaffed him right in the heart so more blood spewed into the water than I have ever seen, even though it took us only around 20 seconds to get the fish in the boat after the first gaff. The fish continued to lose lots of blood on the deck. We weighed the fish three hours after it hit the deck on our IGFA certified scale. The scale read 271 pounds but we figured the fish weighed around 280 before the tremendous amount of blood the fish lost and sitting in the Puerto Vallarta sun for 3 hours.

Attached is also a picture of a 51 lb pargo that I caught while we were fishing off of Corbetena as well. I caught him on an 50W with 80 pound test. It ate a 5 lb skipjack also and only took about 3 minutes to get him in.

In regards to last week's 500 pound Tuna caught off Puerto Vallarta, I did the general formula for tuna (length times girth squared divided by 800), the same formula which gave us 280 pounds for the yellowfin we caught.

When you do this same formula with the measurements provided in the article (88 inches long and a 60 inch girth) you come out with a final weight of 396 lbs. The formula is normally very accurate. However, it could be incorrect. Another thing is that my first instinct when I saw the picture of the fish was that it wasn't even 350 lbs. However I am famous for underestimating weight; I thought our tuna was around 220 when it hit the deck. I am not trying to down play Ted Cohen's catch. A 396 lb yellowfin tuna would make my fishing career.

(See "Mexico Fishing News" online for current fishing reports, photos, weather, and water temperatures from Puerto Vallarta and other major Mexican sportfishing areas. Vacation travel articles, fishing maps and seasonal calendars, and fishing related information for Puerto Vallarta may be found at Mexfish.com's main Puerto Vallarta page.