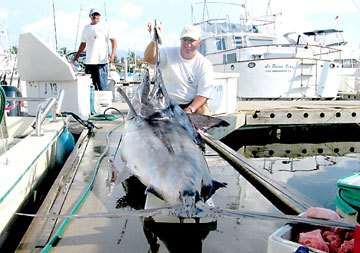 CORBETENA BLACK MARLIN--Dennis Champ fished at Puerto Vallarta's Roca Corbetena last week with Esperanza Sportfishing and landed this 350-pound black marlin, plus a slew of rainbow runner and a sailfish released. Photo courtesy Kurt Hjort.
SUMMER RAINS WASH DEBRIS INTO LOCAL FISHING WATERS
Aug. 20, 2005, Kurt Hjort, Esperanza Sportfishing, Puerto Vallarta, Mexico Fishing Report:

This fishing week in Puerto Vallarta has seen sunny, with hot days and some heavy afternoon rains that have put a lot of debris in the water.
Puerto Vallarta fishing has been very good for all species, but our normal push of large dorados hasn't yet arrived in force. Fishing reports out of Mazatlan have been good, so maybe they are moving down.

At Puerto Vallarta, some dorados have been caught north of Punta Mita near the Sayulita area and scattered elsewhere.

Sailfish have been caught just outside the bay and near El Morro pinnacle along with schools of yellowfin tuna in the 15-30 pound range.

Corbeteña and El Banco have been producing good catches all week on yellowfin tuna and marlin.

Dennis Champ fished with us out of Puerto Vallarta for 3 days last week and had good luck with one black marlin of 350 pounds, 10 yellowfin to 40 pounds with one near 100 pounds, 3 sailfish released, and numerous rainbow runners that were taking the goggle eyes meant for some dorados, but they just didn't show.

Puerto Vallarta sportfishing waters are near 85 degrees, and blue water has returned to the normal areas after a current brought some off-colored water last Sunday and Monday to the El Banco and Corbeteña. Roosterfish have been reported but I haven't fished for them lately so hopefully we can target them this coming week. We are starting to see some heavy debris lines forming and this should congregate some fish and get thing really happening.

(See "Mexico Fishing News" online for current fishing reports, photos, weather, and water temperatures from Puerto Vallarta and other major Mexican sportfishing areas. Vacation travel articles, fishing maps and seasonal calendars, and fishing related information for Puerto Vallarta may be found at Mexfish.com's main Puerto Vallarta page.