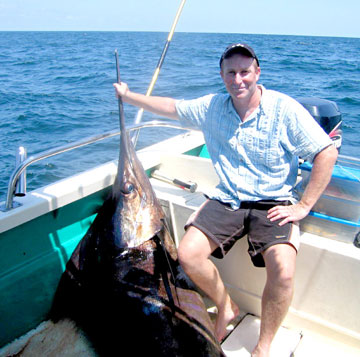 COMPLEAT ANGLER--John Catchpole from England with a blue marlin caught at Puerto Vallarta with Esperanza Sportfishing last week. Photo courtesy Kurt Hjort.
HEAVY SPORTFISHING ACTION FOR ANGLERS FROM ENGLAND
Sept. 11, 2005, Kurt Hjort, Esperanza Sportfishing, Puerto Vallarta, Mexico Fishing Report:

The fishing here in Puerto Vallarta has ranged from great to fintastic. Closer in has been tough fishing because of the influx of dirty water runoff from the areas rivers and some heavy afternoon thunderstorms. Even the bank and Corbeteña have seen very dirty water all week, but that hasn't affected the fishing much.

All week has seen excellent fishing at Puerto Vallarta for the huge yellowfin tunas and very steady action on marlin from 250-? Who knows how large that sucka was!
Puerto Vallarta charter fishing boats such as the Yolaray, Magnifico, Prime Time, and honestly, just about anyone making the trip offshore had good results this last week.

Our friends from England found out just how hard a giant yellowfin can pull when on Tuesday we hooked up early and suffered through a 3 hour battle to lose the fish boat side as the line touched one of the motors and simply broke right before the gaff shot! WHAT A BUMMER. After a much needed 2 day rest, they decided to try again and were rewarded with a shorter fight and an equally nice fish as they now have a blue marlin to the list of pelagics they have caught here in Puerto Vallarta. They will fish 3 days this week before returning home with some great stories of epic battles, and photos to back it up.

Bait has been a little tough to come by on some days, but Saturday saw huge schools at Corbeteña and that should help things out a little.

A public thank-you goes out to Capt. Freddy of the 30 feet Bertram Magnifico who unselfishly offered a live skipjack to us from his tuna tubes when we couldn't get a midday bait, and this culminated with a tuna of about 120 pounds for a very appreciative client. THANKS FREDDY!

Fishing closer in, the roosterfish have been showing up north of Punta Mita and any of the rocky points near sandy beaches scattered up the coast can produce at any time.

Capt. Steve of the HIGH MAINTENANCE fished Saturday for the medium sized roosters just north of Punta Mita and reported his clients had a blast catching numerous roosters to 30 pounds and I saw one being skinned for a mount at the marina that would have gone close to 50 pounds. It was a very nice sized fish, caught aboard the BARBARA.

Not too much dorado or sailfish fishing action was seen this week at Puerto Vallarta, with only spotty catches made, but this could change any day and it should break open soon.

I think when the water offshore changes again to the blue stuff, Puerto Vallarta will see a big improvement in the catches of these guys.

Puerto Vallarta fishing weather has been stable with sunny days around 92 degrees and some afternoon and nighttime thunderstorms, and calm seas.

(See "Mexico Fishing News" online for current fishing reports, photos, weather, and water temperatures from Puerto Vallarta and other major Mexican sportfishing areas. Vacation travel articles, fishing maps and seasonal calendars, and fishing related information for Puerto Vallarta may be found at Mexfish.com's main Puerto Vallarta page.