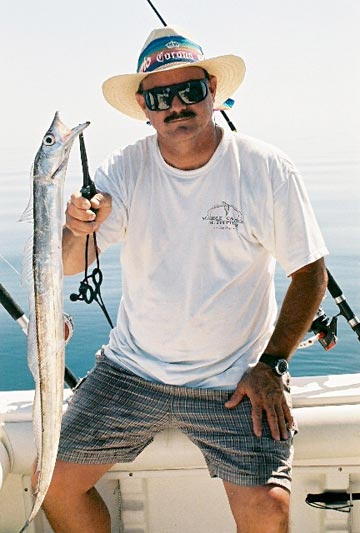 RARE CUTLASSFISH--Mike Sexon fished out of Rocky Point on Shawn Gustafson's boat Murphy Girl, and they caught a big bag of mixed species, including this unusual Pacific cutlassfish. Photo courtesy Shawn Gustafson.
UNUSUAL PACIFIC CUTLASSFISH CAUGHT
April 22, 2005, Shawn Gustafson, Murphy Girl, Rocky Point (Puerto Penasco), Mexico Fishing Trip Report:

On Friday, April 15th, 2005, we drove down to Rocky Point (Puerto Penasco) with our buddy Mike Sexton from Phoenix and our two dogs.

On Saturday morning we launched my 24-foot Wellcraft named "Murphy Girl" at Safe Marina at about 8 a.m. and headed east to look for bait. The weather and sea conditions at Rocky Point were fantastic, with almost no wind, water like glass, and water temperatures at about 76 degrees. With perfect conditions, the boat topped out at just under 34 m.p.h.
It took us awhile to find bait. We started fishing in 30 feet of water and eventually worked our way out to a depth of 50 feet, where we caught a variety of Sierra Mackerel, Bonefish, Sardines, Pacific Mackerel (only one), Grunts, Lizardfish, and Spotted Bay Bass for bait using Sabiki rigs.

At about 9:30 a.m., we headed to a reef 50 miles south. At about 20 miles from shore we saw a pod of Finback Whales and headed closer to them before cutting the motor. As we watched in awe, the group of four whales slowly swam around us and along both sides of the boat. They were curious and were around us for quite awhile as we took photos and videos. I found out later that Finback Whales are second in size only to the Blue Whale, reaching a length of about 80 feet and a weight of up to 70 tons. It shares with the Blue Whale the distinction of having the deepest voice on earth. Seeing these magnificent whales was a great experience, but only the first of many that day.

Later, as we again headed south towards our fishing destination, we encountered three or four more pods of Finback Whales. Because the ocean was so flat, we could seen them breaching the surface from about a mile away, and could see them spouting water from their blowholes high into the air.

We eventually made it to the fishing reef at 11:30 am and drift fished on the bottom with both cut and live bait in about 280 feet of water. However, since it was the first quarter moon and there was no tide movement at all on Saturday, we drifted very slowly and only covered a small area of the vast reef. We started catching small 2 to 6 pound Gold Spotted Bass, which were nice, but I was growing impatient with thoughts of catching bigger fish.

We saw some large predator fish working the surface about 100 yards from the boat and watched in amazement as they slowly cruised towards the boat. They were swimming just below the surface of the water and we could see the water rippling as they approached. When they got within 10 feet of the boat, we could see there were dozens of Yellowtail Jacks, probably 10 to 20 pounds each. They swam under and around the boat for awhile before moving away. We tied up some lures and later free-lined a live bait, but couldn't get them interested in anything. Other than catching some small Yellowtails at Bird Island last December, it was the first time we had seen or heard of Yellowtails at Rocky Point.

Another Rocky Point fishing boat with two men pulled up near us and then anchored. I recognized the owner of the boat as Mike Auditore along with Mike Doukas. We watched them pull up two nice 10+ pound Red Snappers as we continued to catch Gold Spotted Bass. I decided it was time to move, so we drove two miles to try another reef.

At that reef, we immediately started catching larger 8 pound Gold Spotted Bass and a 10 pound grouper called a Gulf Coney. We also caught a variety of other fish including a Stone Scorpionfish, Red Snapper, Ocean Whitefish, and a Pacific Cutlassfish. The Pacific cutlassfish are long, skinny, chrome-plated eel-like fish, with big fangs. It was the first time we had caught one and it was very interesting. We then got a hookup on our live bait rig and struggled to reel in a 20 pound Gulf Coney. At about 3:30 pm we decided we had had a full day and headed back to the marina.

At about 40 miles from Rocky Point, we saw a large fin slowly cruising the surface. We knew it had to be a large shark and headed closer to get a look. As we cut the engine, the shark turned and headed straight towards our boat, and swam right under us. Although we haven't seen many sharks, it was by far the biggest one we had ever seen. We got a good look at it and it was about 15 feet long. It was breathtaking as it slowly cruised along the surface and then in an instant and a burst of speed it would turn and disappear, only to show up again 50 yards away. We watched it for a long time, but it grew shy and we decided it was time to leave. We're guessing that it was too big to be a Mako Shark, so maybe it was a really big Silky Shark.

Along the way we saw several more pods of whales and were thoroughly enjoying the trip back to the marina. At about 15 miles from shore we saw a large flock of birds circling over a big patch of "rough" water. As we headed over to see what it was, we discovered an enormous school of Saddleback Dolphins, too many to count, but possibly a thousand or more. They were swimming together to the west at about 6 m.p.h., so we motored with them for a long time as they raced with us and surrounding us for a hundred yards or more in all directions. They were jumping and playing all around us, and we could tell they were enjoying our company as much as we were enjoying theirs. Tina reached down and touched the dolphins as they swam beside our boat. We snapped rolls of film and video, and were all lost in the moment. It was surreal and beautiful and incredible all at the same time. Tina said to me that, other than our wedding day, it was her favorite day of all time. Thinking about it now gives me the chills.

When we pulled into the harbor, we saw Mike Auditore and pulled up to ask how they did at the reef after we left. It turned out that they caught a bunch of those large Red Snappers, a White Sea Bass and a 100 pound Black Sea Bass.

We finally arrived at the marina and pulled into our slip. We had our fish filleted, showered, and went out for dinner at a very nice restaurant called Hacienda Las Fuentes.

On Sunday morning we decided to fish closer to Rocky Point and headed to a nearby reef to try bottom fishing for awhile. The wind had picked up, but the sea conditions were still good and Rocky Point weather was hot and sunny. We drifted the reef several times and caught Spotted Bay Bass on every pass, but it got old pretty fast. We wanted to catch bigger fish again and decided to try trolling for awhile. We headed towards shore and trolled deep diver lures in 25 to 35 feet of water. After awhile, we got the first of what we thought were snags. We backed the boat up to retrieve the lure and it eventually came free, with one of the treble hooks straightened. We trolled some more and got another snag, so we backed up towards it to get it free. As we got closer, Mike felt that there was a big fish on the line. We had hooked it on a light rig with only 20 pound test line and couldn't get it off the bottom. Every now and then it would swim and strip line, and Mike said that it felt like a 50 pound fish. After about 10 minutes the lure came free. The lure was destroyed. It had huge teeth marks right through the plastic and the entire back end of the lure and treble hook were gone, with only the wire support sticking out.

We never got to see the fish, but we were learning. We put out a heavier rig and a bigger lure and trolled around the area again to see if we could get another bite. It wasn't long before we got another snag, except this time Mike was able to get the fish off the bottom. The fish was hooked hard on both trebles and couldn't fight much at all. Mike reeled it in slowly and we could see it was big. When we got it near the boat, I gaffed it and dropped it into the boat where it flopped all over the place. It was a beautiful 20 pound Grouper with large brown spots. It was the perfect ending to a perfect weekend. We headed back to the Rocky Point marina not long afterwards, cleaned and stored the boat, and drove home to Chandler in record time at about 7 p.m.

My wife and I have traveled far and wide to beachside vacation destinations, including Maui, Kauai, Tahiti, Bora Bora, Aruba, Cabo San Lucas, Jamaica, Bahamas, and throughout the Caribbean islands. We would rate this past weekend at Rocky Point as one of the best experiences that we have ever had.

(See "Mexico Fishing News" online for current fishing reports, photos, weather, and water temperatures from Rocky Point and other major Mexican sportfishing areas. Vacation travel articles, fishing maps and seasonal calendars, and fishing related information for Rocky Point may be found at Mexfish.com's main Rocky Point (Puerto Penasco) page.