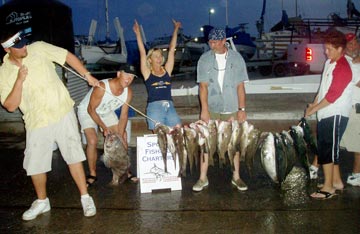 GOOD ROCKY POINT FISHING--Arthur Pina's group celebrates their catch aboard Curtis Grant's boat Bonus Time about 48 miles south of Rocky Point. Photo courtesy Arthur Pina.
YELLOWTAIL AND ESTRANJEROS FOR BOATS OUT OF PUERTO PENASCO
May 17, 2005, Arthur Pina, Rocky Point (Puerto Penasco), Mexico Fishing Trip Report:
On Saturday, May 14, 2005, I went fishing at Rocky Point (Puerto Penasco) with a friend of mine and he took his boat since I am still looking for one. My friend Curtis Grant and his boat BONUS TIME and Jon Kay and his dad went fishing out to a reef south of Rocky Point on a heading of 180 degrees, 48 miles, and the water temperature was approximately 74.5 degrees.

About 12 miles out of Rocky Point we stopped and loaded up on greenbacks and proceeded to our destination where the fishing was great. Jhon Kay caught a yellowtail and some nice estranjeros and his dad caught 4 yellowtails of about 12 pounds and some real nice estranjeros, and then Curtis caught the biggest yellowtail of the bunch, about 20 pounds, with numerous estranjeros. I was the first mate and everyone kept me pretty busy taking fish off and baiting. Along with the great fishing, the sea around Rocky Point was beautiful, like glass. A great time was had by all. Along with us was a friend of Curtis, and his girlfriend caught a 35 pound cabrilla.

(See "Mexico Fishing News" online for current fishing reports, photos, weather, and water temperatures from Rocky Point and other major Mexican sportfishing areas. Vacation travel articles, fishing maps and seasonal calendars, and fishing related information for Rocky Point may be found at Mexfish.com's main Rocky Point (Puerto Penasco) page.