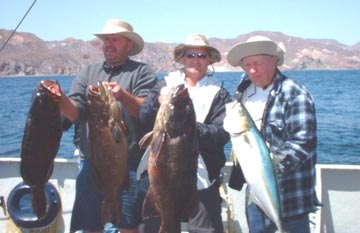 ABOARD THE ERIK--Rick, Jim and Marvin Hawkes fished off Isla San Luis aboard the San Felipe panga mothership Erik, and got into a nice bunch of leopard grouper, and a yellowtail too. Photo courtesy Dana Kerby.
LIVE BAIT IS VERY SCARCE AT THE
SEA OF CORTEZ MIDRIFF ISLANDS
April 30-May 5, 2005, Dana Kerby, Erik, San Felipe, Baja California, Mexico Panga Mothership Fishing Trip Report:
The Erik fished the Midriff Islands, Sea of Cortez, Mexico, for the week.

The boat visited the following fishing areas: Animas, San Francisquito, Salsipuedes, Ensenada Grande along the coast of mainland Baja, the Encantadas. They tried fishing at the Golden Reef on Wednesday, but had not been able to get live bait. It has been very scarce this year, so they did not catch a lot there. They returned to another area to try to get bait, but again couldn't find it. But the catch was good nonetheless:

Yellowtail 137; Pargo 31; Cabrilla 162; White Seabass 13; Grouper 5, including one of 45 pound and another 35 pounds, caught in the Ensenada Grande area. There were 200+ miscellaneous smaller fish.

The weather was good, although the water is still cool. There was some wind during the week.

(See "Mexico Fishing News" online for current fishing reports, photos, weather, and water temperatures from San Felipe and other major Mexican sportfishing areas. Vacation travel articles, fishing maps and seasonal calendars, and fishing related information for San Felipe may be found at Mexfish.com's main San Felipe page.