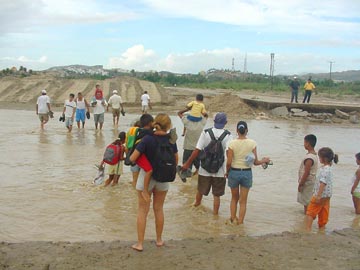 CLEARING WEATHER--Hurricane Howard was already clearing on Sunday afternoon (lower photo). Photo courtesy Jim Tolbert.
RAINY WEATHER KNOCKS OUT SPORTFISHING FOR LA PLAYITA PANGAS
Sept. 5, 2004,San Jose del Cabo, Mexico, Hurricane Howard washout report, Jim Tolbert:

?Que tal in la Playa?

No fishing action but plenty of weather.
While San Jose del Cabo fishing action was nonexistent this week, there was plenty of excitement over the weekend with the passing of Huracán Howard . Although rains were light in La Playa and San Jose del Cabo, runoff from downpours in the mountains of the Sierra de la Laguna flooded the San Jose arroyo. This deluge washed over the paved road through the arroyo and resulted in the washout and closing of the road.

For the last couple of weeks Puerto Los Cabos work crews had labored to dig a channel in the center of the arroyo with the idea of directing the river flow. They later added culverts in the roadway. The torrent of rainwater through the two small culverts resulted in the washing out of the roadway Saturday afternoon. Workers, local residents, and surfers seeking storm swells were stranded on both sides of the riverbank. While the river had subsided by several feet by Sunday, the road was still closed.

The San Jose del Cabo-East Cape road from Zacatitos to the Palo Escopeta road fared no better. Those attempting to reach San Jose del Cabo via this route were thwarted by numerous washouts.

Skeletal road crews were assembling Sunday a.m. Culverts that had washed away were recovered and plans to fill in the road were underway. Prediction is that it will be at least two days before the road is reopened. Upstream crossings at San Vicente and Santa Rosa were also washed out and it is hoped that four-wheel drive vehicles may be able to cross later in the day Sunday or Monday morning barring any more rain in the mountains or upriver.

La Playa pangueros had no plans to launch boats on Monday although it is expected that the Palmilla fleet will go out.

San Jose del Cabo anglers planning to fish Los Cabos this week should keep an eye on the weather and check in with local sportfishing fleets for updates.

(See "Mexico Fishing News" online for current fishing reports, photos, weather, and water temperatures from San Jose del Cabo and other major Mexican sportfishing areas. Vacation travel articles, fishing maps and seasonal calendars, and fishing related information for San Jose del Cabo may be found at Mexfish.com's main San Jose del Cabo page.