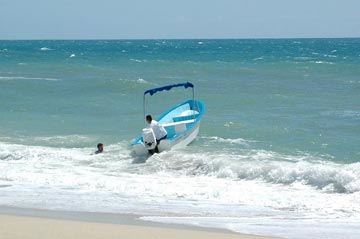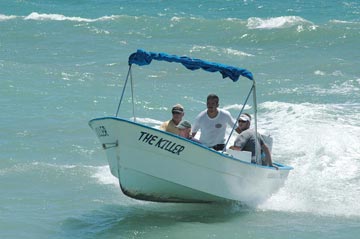 HI HO JAVIER!--Distant Hurricane Javier made over-the-beach launching and retrieving a bit dicey last week for the La Playita panga fleet at San Jose del Cabo. Photos courtesy Jim Tolbert.
SCATTERED, MIXED CATCHES AS LARGE SURF ARRIVES AT LOS CABOS
Sept. 19, 2004, Jim Tolbert, Baja Books & Maps, San Jose del Cabo, Baja California Sur, Mexico Storm Fishing:
Not much San Jose del Cabo fishing action again this week as Huracan Javier has been threatening us for the past several days. Currently the storm is about 200 miles southwest and past San Jose del Cabo. A few San Jose del Cabo pangas (small catches of tuna, snapper, and grouper boated) ventured out early in the week, but the storm swell and morning high tides have kept boats out of the water. The pangueros have yanked their boats off the beach and the few remaining pangas have been hauled well above the high tide mark.

San Jose del Cabo has been under a tropical storm watch, but curiously enough, no rain (arroyo road still intact) has fallen in La Playa this week. Great news for celebration of Dia de Independencia, the fireworks in San Jose del Cabo Wednesday night were spectacular from this side of the arroyo.

It is doubtful that any San Jose del Cabo sportfishing pangas will be launched this weekend. We will probably have some debris to clean up and the boats will have to trailered or trucked back down to the beach first. An empty beach with gray sky is about all so far.

(See "Mexico Fishing News" online for current fishing reports, photos, weather, and water temperatures from San Jose del Cabo and other major Mexican sportfishing areas. Vacation travel articles, fishing maps and seasonal calendars, and fishing related information for San Jose del Cabo may be found at Mexfish.com's main San Jose del Cabo page.