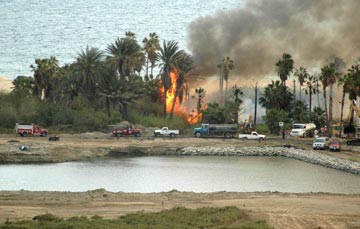 SAN JOSE FIRE--A fire of suspicious origins at Estero de San Jose. Photo courtesy Jim Tolbert.
ESTUARY AREA FIRE AT SAN JOSE DEL CABO
Nov. 14, 2004, Jim Tolbert, San Jose del Cabo sportfishing, Baja, Mexico:

¿Que Tal in La Playa?
The Eastern Pacific hurricane season has officially ended and Los Cabos and Baja as a whole survived unscathed by any serious storm damage. All in all, a light chubasco season.

Fishing so far this month has been great. Good numbers of yellowfin tuna, dorado, and wahoo are still being boated. The weather has been in the mid 80s and the water temperatures is still warm enough to keep the bite on.

The Puerto los Cabos project surges ahead with the inner harbor dredging almost completed. The breakwater work is slated to begin in December. How this will affect the fishing and panga fleet remains to be seen.

This past week portions of the San Jose estuary were aflame as a fire swept through this protected natural oasis starting around 2:45 p.m. Monday. The local Mexican press stated that the fire was of suspicious origin. Puerto los Cabos occupies much of the land adjacent to the estuary and local opinion is that the project's work crews started the fire. Fire crews were called in from as far as San Lucas. Some bomberos were felled by smoke inhalation and damage to this bird sanctuary and wildlife habitat was extensive. When I first observed the fire just before 3 p.m. from the second floor of my home directly across from the Puerto los Cabos sales office, it was evident that this fire had begun in more than just one spot.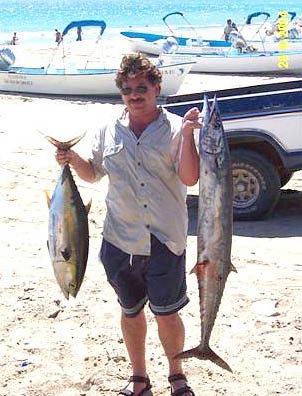 LA PLAYITA CATCH--Jim Weil of Moraga, Calif., with a 40-pound class wahoo and a football yellowfin tuna caught off San Jose del Cabo last week. Photo by Anita Weil.
(See "Mexico Fishing News" online for current fishing reports, photos, weather, and water temperatures from San Jose del Cabo and other major Mexican sportfishing areas. Vacation travel articles, fishing maps and seasonal calendars, and fishing related information for San Jose del Cabo may be found at Mexfish.com's main San Jose del Cabo page.