By Gene Kira, March 3, 2003, as published in Western Outdoor News:

When you find yourself driving home from Baja with the ice chest on "empty," here's a reliable fishing place to keep in mind that can usually remedy the situation: San Quintin.

At 200 miles south of the border, plus three easy dirt miles off Mex 1, San Quintin bay is the perfect distance from home for one last morning's fishing--and you can still make it home for dinner that night.
So...on my last drive home, with no fish on board, I started planning from Cabo San Lucas to arrive in San Quintin on the final evening of the trip, catch a few fish the next morning, and still arrive home on schedule.

I'd been fishing in Baja a couple of weeks, and I wanted a perfect last stop: a good night's sleep and a panga the next morning, with absolutely no hassles or screw-ups.

So from Loreto, I phoned ahead to reserve a room at Jim and Nancy Harer's historic Old Mill Hotel, right on the shore of the bay, and I also reserved a fully-equipped panga from Pete Hillis' charter service, Pedro's Pangas.

But...Baja columnists being Baja columnists, I got side-tracked a few times, and arrived in San Quintin way late, completely missing the Old Mill Hotel's evening patio campfire. Not to worry! Nancy Harer was still in the office, waiting up for me with a huge ham sandwich and a couple of cervezas!

A good, hot shower later, it was lights out, and I slept like a dead man until the next morning, when it was time to walk over to the boat and meet Pete.

If you've never fished with Pete Hillis before, you're missing some fun with a genuine Baja fishing guy. Pete started out running boats from near the Hotel Serenidad in Mulege, and over the years he's acquired plenty of good Baja stories. Also coming along with us were Pete's son, Pete Jr. from Riverside, his friend, Brian Bunting, and our affable captain, Hector "Lilo" Villavicencio. It was nothing but good-natured laughs all morning long--and a heck of lot of fish.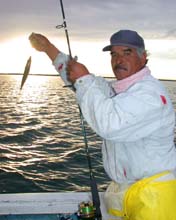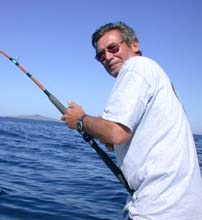 FISHING FOR BAIT AT SAN QUINTIN: Left: Capt. Hector "Lilo" Villavicencio making mackerel at the mouth of San Quintin bay. Suspiciously, Hector uses GPS instead of the traditional "MPS" (Mexican Positioning System) of sighting from landmarks, but he seems to be able to find the hotspots anyway. At San Quintin, GPS is handy in the early morning fog that can be so thick even pangueros can get lost.

PEDRO'S PANGAS: Right: Pete Hillis of San Quintin's Pedro's Pangas sportfishing operation, with Isla San Martin on the horizon, started out chartering boats near Mulege's Hotel Serenidad in the old fly-in fishing days. Pedro's Pangas' current fleet includes pangas, a cruiser, and the 24-foot diesel super panga Rommy with a live bait well and head.
We Lucky Joe'd a bunch of mackerel baits near the bay entrance and ran out a few miles to hit the usual bajos--the 6 Spot, 25 Spot, 240 Spot and Ben's rock--plus one of Lilo's spots that I swear was only about three rod lengths deep (ay...ay...ay! That was a surprise!).
Lilo made some jokes about my 9-foot, 3-piece, Graphite USA spinning rod, but I had an absolute ball trying to break it (couldn't) on the constant flow of lingcod and other nice bottom fish that we found everywhere.

This rod looks wimpy, but it's incredibly strong and has amazing feel; there's something wonderfully satisfying about fishing with a high-modulus stick bent 180 degrees.

The action was beautiful, and I even caught a new species, a blacksmith on a Luhr Jensen Stinger. Suffice it to say that the boat loaded up in a very short time with full (and I mean full) Mexican limits, including the biggest two ocean whitefish I'd ever seen, that were caught by Pete Jr.

We were back at the Old Mill Hotel by about noon, where I showered, loaded the truck in the beautifully manicured courtyard, and said "hasta la vista" to Jim and Nancy and their friendly dogs who sleep at night by making little nests in the volcanic gravel ground cover.

The water of San Quintin's placid bay is still so pure and clear that oysters are farmed here. It's a reliable, quiet, historic, Baja place to visit and catch yellowtail (often), offshore tuna (in season), and bigger-than-average bottom fish (almost always).

As planned, I was home well before dark, with an ice chest of fresh fish--and memories of another great fishing day in Baja. Perfect.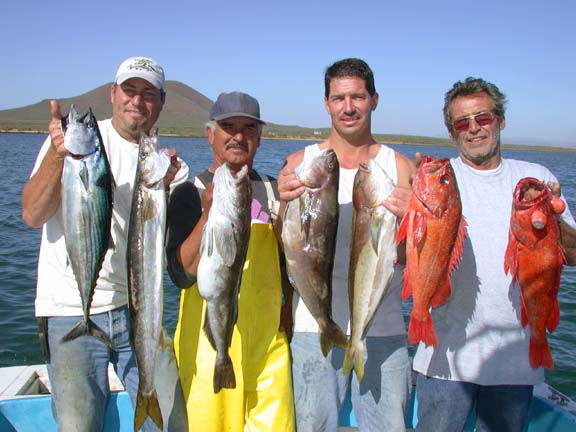 SAN QUINTIN CATCH--A typical, rapid-fire catch of mixed species, shown against the volcanic cones on the north shore of the inner bay, by Brian Bunting, Capt. Hector "Lilo" Villavicencio, Pete Hillis Jr., and Pete Hillis of Pedro's Pangas.