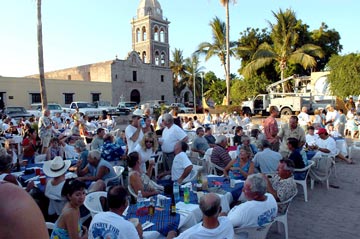 AWARDS DINNER--Participants in Loreto's Fishin for the Mission tournament are treated to a great time each year right in front of the mission. Photo courtesy Kristian Pallesen.

FISHIN' FOR THE MISSION TOURNAMENT RESULTS
July 18, 2005, Kristian Pallesen, Loreto, Mexico 14th Annual Fishin for the Mission Tournament Report:

This year the Loreto Fishin for the Mission Tournament was revised into two divisions to allow the teams to try for some of the small game species that Loreto has always been known for.

Jim Duggin and Tom Watson, who started this whole project 14 years ago to support the Loreto Mission, this year featured a division for Dorado and a new "Game Fish" division that included any Wahoo, Yellowtail, Yellowfin Tuna, Roosterfish, Amberjack, or Jack Crevalle (Toro) caught. The rules are very simple in that you count your largest two fish in each division over the two days the tournament takes place.
Awards were given to 1st and 2nd place in each division, with all monies raised from the entry fee and raffle tickets going the padre from the mission and the director for the Ranchero School that houses the ranchero kids while they attend school during the week in Loreto.

The week began with boats arriving into Loreto, and getting ready for the Friday and Saturday fishing days. Everyone was searching for the fish, and trying different baits and finding that the water and air temperatures were cooler than normal for the season.

By Friday morning there were 52 boats entered and local bait suppliers had their hands full coming up with enough mackerel.

The town of Loreto really has come to support this event, as it brings upwards of $45,000 to the local economy for hotels and services. One part of this tournament includes a giant raffle for "all" local captains that work out of Loreto. Suppliers include Berkley and West Marine just to name a few who contribute the 70 plus gifts given away to support these hard working captains. It is just another way of saying "Thank You" from all the participants that come into be part of this.

Results for this year's tournament:

Dorado Division: 1st place team La Tijereta, with Capt. Jorge Davis, 59.5 pounds total; 2nd place team The Rocket, with Barry Wilkerson, 58.3 pounds total; Largest Fish, 38.5-pound Dorado, went to Buena Suerte, caught by William Boyce.

Game Fish Division: 1st place team Pajaro Loco, with Tom Bird, and a 35 pound Roosterfish, plus a 32 pound Yellowtail; 2nd place team, La Tijereta, with Capt. Jorge Davis, with a 53.2 pound Yellowfin Tuna; Largest Fish, 53.2 pound Yellowfin Tuna, went to La Tijereta, caught by Kristian Pallesen on a dead mackerel.

The awards party is traditionally held in front of the Mission. Barbecue "tri-tip" and ice cold Pacificos are provided by the Duggin/Watson group for all to enjoy. This year the stage was filled with over $15,000 in prizes to raffle off to the participants. The monies raised included $6,500 to the mission to restore an original chapel that was built next door and $4,500 given to the Ranchero School for new mattresses and needed construction services.

The purpose behind this whole tournament is to have fun, and everyone who took that approach came out winners. The fishing was tough, but the Game Fish division was a big success, as all the species listed were caught and weighed at the scales each day.

Personally, this was great see the schools of Yellowfin Tuna coming back to the Loreto area and the opportunity to land such a nice size tuna using a new Shimano Torium 30 with 40-pound test. I encourage everyone to checkout their website, and contact them to get involved in next year's tournament. Every team that pre-registers can have their boat name added to the tee-shirts given to them as part of their entry fee.

(See "Mexico Fishing News" online for current fishing reports, photos, weather, and water temperatures from Loreto and other major Mexican sportfishing areas. Vacation travel articles, fishing maps and seasonal calendars, and fishing related information for Loreto may be found at Mexfish.com's main Loreto page.