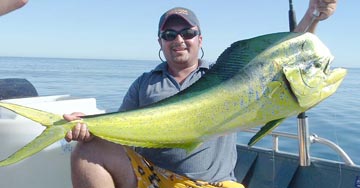 LORETO GOLD--Jose Lopez with a beautiful dorado caught at Loreto, Baja California Sur, Mexico. Photo courtesy Jose Lopez.
Loreto fishing articles, maps, fishing reports, peak seasons, hot spots, and vacation travel information for the top sportfishing locations of Loreto, Mexico.

Sitting astride latitude 26 north on the Sea of Cortez, Mexico's famous Loreto sportfishing area enjoys an enviable geographic position, very close to the northern limit of what you could think of as Baja California's truly "warm water" fishing zone, while only 80 miles north of Loreto--near Punta Chivato--the fishery changes significantly as water temperatures begin to transition more and more toward the cooler ranges of the Midriff Area.
Loreto's geographic location, sandwiched between the cooler waters of the Midriff Area to its north and the warmer waters of the southern Sea of Cortez, gives it two very pronounced fishing seasons on two very different and highly-prized game fish: dorado in the summer months, and yellowtail in winter.

In summer, the annual northward dorado migration up the Sea of Cortez gets started off East Cape about mid-May. By mid-June, the main mass of dorado is centered in the remote Juanaloa archipelago north of La Paz, and guess what happens in July?

Loreto's famous July dorado fishing run is a reliable blast of nearly idiot-proof surface action as the always-hungry, golden-hued predators crowd into the channels and just outside the many islands between Punta San Marcial in the south, and Punta Pulpito in the north.

As the Loreto sportfishing area's water temperatures climb into the low and middle-80s, many of these dorado will actually be headed farther north, up to the Mulege area, and some even penetrate into the Midriff's cooler waters, but most years, Loreto gets the lion's share of the catch. Troll live bait if you must, as is the local tradition, but really, almost any method of surface fishing, with almost any kind of lure, will get you dorado limits at these times. If you really want to catch dorado, you can't do any better than Loreto in July.

By mid-November, though, the summer dorado have largely abandoned Loreto's sport fishing waters (you'll still snag a few stragglers), and they are in turn replaced in the local fishing action by cool water-loving, deep-dwelling yellowtail, as water temperatures fall back down into the mid-70s and then the mid-60s by January. This Loreto yellowtail "run" is composed of both "home guard" resident fish, and fish that have migrated south from the Midriff and Mulege areas, and it will persist through the winter and into spring, finally tapering off in mid-April.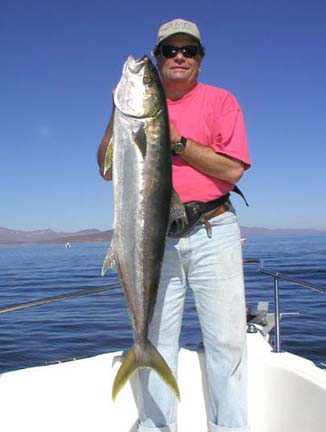 LORETO YELLOWTAIL--Mitchell Rose with a nice 40-pound yellowtail caught while fishing deep using live bait off Isla Coronado with Capt. Juan Pablo Martinez of Loreto, Baja California Sur, Mexico. Photo courtesy Mitchell Rose.
Fishing for Loreto's yellowtail is a very different proposition from summer dorado fishing for two reasons: wind and depth. By mid-November, the winter "norte" winds can make getting out to the fishing grounds tough or nearly impossible about three or four days per week, and once you get there, the yellowtail are rarely frolicking on the surface like the "easy" dorado, but are down deep near the rocks, where their short but supremely powerful runs cause a lot of lost tackle and cussing among Americans and Mexicans alike.
Unlike the free-swimming dorado, yellowtail are oriented to rocky underwater structure, so, winds permitting, Loreto's best yellowtail spots tend to be both north and south of town, and around the rocky points on the north, south, and east sides of large Isla Carmen, about 12 miles straight out from the beach. Some yellowtail are also caught around near shore Islas Coronado and Danzante, but these are less abundant and usually smaller, so they are fished mostly when the wind is blowing too hard for longer runs.

As with the dorado, the northern limit for Loreto's charter fishing pangas is at about Punta Pulpito, roughly 40 daunting miles up the coast. To the south, few sportfishing boats will run farther than Punta Candeleros, about ten miles past Puerto Escondido.

In addition to its famous summer dorado and winter yellowtail, the Loreto vacation area offers seasonally good fishing for a very wide spectrum of species, including offshore marlin, sailfish, and distant yellowfin tuna, and inshore roosterfish, giant needlefish, sierra, pargos, cabrilla, and a host of miscellaneous fish.

But really, these other fine game fish are not the main event for anglers who travel to Loreto, where dorado and yellowtail are the foundation of a large sportfishing fleet of experienced pangueros, well-equipped pangas, and even a few charter fishing cruisers that operate from town and from nearby Puerto Escondido.

Loreto, setting for the first Spanish mission of the Californias established in 1697, is today a well-developed vacation destination for the traveling angler, with a full range of charter fishing boats, hotels, excellent restaurants, an international airport, and services for vacation activities of all kinds, except for night clubs and such.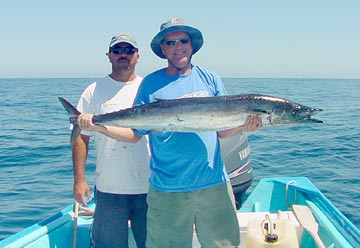 LORETO WAHOO--Dean Mitchell fished out of Loreto, Baja California Sur, Mexico, with Juncalito's Capt. Manuel Torres (left) for this nice wahoo. Photo courtesy Dean Mitchell.
"Mexico Fishing News":
Weekly reports and photos from Loreto and other Mexican vacation spots.

Other Mexican Vacation Fishing Spots:
Travel and fishing information for Loreto and other major Mexican sportfishing destinations.

Related Loreto Articles & Information:
Loreto Panguero Spaghetti.
Loreto: Ray Cannon's "Juanaloa" is Still an Enchantress.
Loreto's Alfredo Ramirez Remembered.
Loreto's Sportfishing Panga Tradition.
Saquicismunde.

Fishing Maps for the Loreto Area:
Bahia Agua Verde Fishing Map.
Bahia San Nicolas Fishing Map (Punta Pulpito, San Sebastian).
Juncalito Fishing Map.
Ligui Fishing Map.
Loreto Area Fishing Map.

Archived Loreto Sportfishing Reports:
March 11-15, 2007, Big spring yellowtail go off in fishing north of town.
Feb. 28, 2007, Remote San Nicolas Camp Baja yellowtail fishing trip.
Feb. 16, 2006, Yellowtail found in scattered bites between windy fishing periods.
Feb. 3, 2007, Fishing boats catch yellowtail limits on calmer days at Isla Coronado.
Jan. 28, 2007, Calm period up-and-down Baja yellowtail fishing for local boats.
Jan. 15, 2007, Windy winter fishing conditions for yellowtail and sierra.
Jan. 14, 2007, Winter winds and cappuccino for Baja Big Fish Company.
Jan. 4, 2007, Tough winter winds blowing steadily.
Nov. 26, 2006, Yellowtail and winds showing up for Loreto's winter fishing season.
Nov. 26, 2006, Dorado and sailfish still biting at Bajo Mercenarios.
Nov. 18, 2006, Dorado are moving to warmer near shore fishing areas.
Nov. 3, 2006, Sierra, Dorado, and Sailfish Top Windy Surface Fishing at Loreto.
Oct. 24, 2006, Warm water game fish are still present at northern fishing locations.
Oct. 12, 2006, Sportfishing Capt. Jesus "El Cuate" Murillo.
Oct. 15, 2006, Dorado still biting off San Bruno bajo.
Oct. 14, 2006, Very heavy sailfish concentration found at Bajo Mercenarios.
Sept. 6, 2006, Pam Bolles, Baja Big Fish Company, Drying Out From John.
Aug. 31, 2006, Bracing For Heavy Tropical Weather In Loreto, Mexico, Pam Bolles, Baja Big Fish Company.
Aug. 26, 2006, Dorado still super-abundant near town, Don Bear, Loreto, Baja California Sur, Mexico.
Aug. 23, 2006, Tin boat mixed fish species at Juncalito Cove, Joe Cameron.
Aug. 19, 2006, Pam Bolles, Baja Big Fish Company, Summer sportfishing report.
Aug. 10, 2006, Randy Langley, Dorado fishing with Loreto's Capt. Pedro Davis.
Aug. 5, 2006, Patty Zapata, Hotel Oasis, Loreto fly fishing anglers still scoring on dorado.
Aug. 5, 2006, Don Alley, Dorado fishing goes wide-open again after Emilia passes.
July 29, 2006, Patty Zapata, Hotel Oasis, Big dorado week for fly fishing anglers despite tropical storm Emilia.
July 27, 2006, Alejandro Rosas, Super dorado fishing at San Bruno reef north of Loreto.
July 21, 2006, Bill Currie, Good summer fishing with Hotel Oasis Capt. Valente Murillo Davis.
July 17, 2006, Arturo Susarrey, Arturo's Sportfishing, Good dorado fishing at Loreto for the past 3 weeks.
July 16, 2006, Patty Zapata, Hotel Oasis, Few anglers but plenty of dorado in local waters.
July 8, 2006, Don Bear, Fast-paced fishing for dorado continues at Loreto.
July 8, 2006, Patty Zapata, Hotel Oasis, Excellent summer dorado fishing continues.
July 7, 2006, Arturo Susarrey, Arturo's Sportfishing, Very good dorado fishing continues for Loreto boats.
July 1, 2006, Excellent fishing for dorado just east of Isla Coronado, Patty Zapata, Hotel Oasis.
June 28, 2006, Dorado, marlin, and sailfish plentiful in Loreto waters, Pam Bolles, Baja Big Fish Company.
June 25, 2006, Don Bear, dorado fishing still hit-or-miss, regulations being enforced at Loreto, Mexico.
June 18, 2006, Pam Bolles, Baja Big Fish Company, mixed-size dorado at Baja de las Boyas, Loreto, Mexico.
June 18, 2006, Don Bear, football tuna and some dorado caught at Loreto, Mexico.
June 17, 2006, Patty Zapata, Hotel Oasis, Loreto, Mexico, sailfish and big dorado catches.
June 10, 2006, Don Bear, Loreto, Mexico, slower dorado fishing.
June 9, 2006, Bill Sumner, Hotel Oasis 4-Day Trip, excellent for sailfish.
June 1, 2006, Pam Bolles, Baja Big Fish Company, Loreto, Mexico, Dorado Fishing Report.
June 4, 2006, Don Bear, Dorado Bite at Loreto, Mexico, Breaks Open.
June 4, 2006, Bill Erhardt, Loreto, Mexico, Dorado Holding on Weed Paddies.
Jan. 29, 2006, Pam Bolles, Baja Big Fish Company, Loreto, Mexico Sportfishing Report.
Jan. 25, 2006, Jeff Petersen, Baja Californian, Loreto, Mexico Baitsellers and Sportfishing Report.
Jan. 15, 2006, Pam Bolles, Baja Big Fish Company, Loreto Mexico Sportfishing Report.
Jan. 14, 2006, Wendy Wilchynski, Villas de Loreto, Loreto, Mexico Sportfishing Report.
Jan. 6-13, 2006, Patty Zapata, Hotel Oasis, Loreto, Mexico Sportfishing Report.
Jan. 11, 2006, Pam Bolles, Baja Big Fish Company, Loreto, Mexico Sportfishing Report.
Jan. 10, 2006, Mike Sheffer, Loreto, Mexico Oarfish Observation Report.
Jan. 10, 2006, Thomas Cox, Loreto, Mexico, Sportfishing Trip Report.
Jan. 7, 2006, Arturo Susarrey, Arturo's Sportfishing, Loreto, Mexico Fishing Report.
Jan. 6, 2006, Mitch Rose, Helena, Loreto, Mexico Sportfishing Report.
Jan. 1, 2006, Bob Meyer, Loreto, Mexico Sportfishing Report.
Dec. 28, 2005, Pam Bolles, Baja Big Fish Company, Loreto, Mexico Sportfishing Report.
Dec. 24, 2005, Patty Zapata, Hotel Oasis, Loreto, Mexico Sportfishing Report.
Dec. 23, 2005, Pam Bolles, Baja Big Fish Company, Loreto, Mexico Sportfishing Report.
Dec. 18, 2005, Jeff Petersen, Baja Californian, Loreto, Mexico Fishing Report.
Dec. 13, 2005, Pam Bolles, Baja Big Fish Company, Loreto, Mexico Sportfishing Report.
Dec. 6, 2005, Pam Bolles, Baja Big Fish Company, Loreto, Mexico Fishing Report.
Dec. 3, 2005, Arturo Susarrey, Arturo's Sportfishing, Loreto, Mexico Fishing Report.
Dec. 3, 2005, Steve Dastych, Loreto, Mexico Fishing Trip Report.
Dec. 2, 2005, Patty Zapata, Hotel Oasis, Loreto, Mexico Fishing Report.
Nov. 21, 2005, Pam Bolles, Baja Big Fish Company, Loreto, Mexico Sportfishing Report.
Nov. 19, 2005, Don Bear, Loreto, Mexico Sportfishing Report.
Nov. 12, 2005, Don Bear, Loreto, Mexico Fishing Report.
Nov. 3, 2005, Pam Bolles, Baja Big Fish Company, Loreto, Mexico Fishing Report.
Oct. 28, 2005, Pam Bolles, Baja Big Fish Company, Loreto, Mexico Fishing Report.
Oct. 21-28, 2005, Patty Zapata, Hotel Oasis, Loreto, Mexico Fishing Report.
Oct. 23, 2005, Pam Bolles, Baja Big Fish Company, Loreto, Mexico Fishing Report.
Oct. 14, 2005, John Migeot, Loreto, Mexico Fishing Report.
Oct. 6-9, 2005, Bill Sumner, Loreto, Mexico Fishing Report.
Oct. 9, 2005, Pam Bolles, Baja Big Fish Company, Loreto, Mexico Fishing Report.
Oct. 8, 2005, Patty Zapata, Hotel Oasis, Loreto, Mexico Fishing Report.
Oct. 8, 2005, Bill Erhardt, Loreto, Mexico Fishing Report.
Oct. 1, 2005, Bill Erhardt, Loreto, Mexico Fishing Report.
Sept. 30, 2005, Don Ritter, Loreto, Mexico Fishing Trip Report.
Sept. 29. 2005, Pam Bolles, Baja Big Fish Company, Loreto, Mexico Fishing Report.
Sept. 18, 2005, Pam Bolles, Baja Big Fish Company, Loreto, Mexico Fishing Report.
Sept. 9-16, 2005, Patty Zapata, Hotel Oasis, Loreto, Mexico Fishing Report.
Sept. 12, 2005, Pam Bolles, Baja Big Fish Company, Loreto, Mexico Fishing Report.
Sept. 10, 2005, Don Bear, Loreto, Mexico Fishing Report.
Sept. 4, 2005, Gary Phillips, Loreto, Mexico Fishing Trip Report.
Aug. 29, 2005, Pam Bolles, Baja Big Fish Company, Loreto, Mexico Fishing Report.
Aug. 23, 2005, Pam Bolles, Baja Big Fish Company, Loreto, Mexico Fishing Report.
Aug. 23, 2005, Randy Langley, Loreto, Mexico Fishing Trip Report.
Aug. 21, 2005, Pam Bolles, Baja Big Fish Company, Loreto, Mexico Fishing Report.
Aug. 20, 2005, Gregorio Segoviano, Loreto, Mexico Baitfishing Report.
Aug. 14, 2005, Don Bear, Loreto, Mexico Fishing Report.
Aug. 9, 2005, Pam Bolles, Baja Big Fish Company, Loreto, Mexico Fishing Report.
Aug. 7, 2005, Chuck Bayard, Loreto, Mexico Fishing Trip Report.
Aug. 6, 2005, Don Bear, Loreto, Mexico Fishing Report.
July 31, 2005, Pam Bolles, Baja Big Fish Company, Loreto, Mexico Fishing Report.
July 23-29, 2005, Patty Zapata, Hotel Oasis, Loreto, Mexico Fishing Tournament Report.
July 25, 2005, Tom Bird, Loreto, Mexico Fishing Report.
July 21, 2005, Thomas Wares, Puerto Escondido, Mexico Fishing Report.
July 21, 2005, Jeff Petersen, Loreto Carnaderos, Mexico Bait Fishing Report.
July 20, 2005, Pam Bolles, Baja Big Fish Company, Loreto, Mexico Fishing Report.
July 18, 2005, Larry Parker, Loreto, Mexico Remote Beach Restaurant Report.
July 18, 2005, Kristian Pallesen, Loreto, Mexico 14th Annual Fishin for the Mission Tournament Report.

More Archived Loreto Sportfishing Reports:
[1] [2]

(See weekly online fishing reports, news, photos, and weather and water conditions in "Mexico Fishing News." See the Mexfish.com home page for sportfishing and travel information for Loreto and other Mexican fishing vacation destinations.)