By Gene Kira, Nov. 10, 2001, as published in Western Outdoor News:

The boat "launch ramps" you'll discover along the coasts of Mexico's states of Baja California and Baja California Sur range from the ridiculous to the sublime, and the first question to consider about them is probably "what--exactly--do I mean by launch ramp?" This can mean any of a wide variety of things, depending mostly on the kind of boat you are attempting to launch. Travel around Baja enough, and you'll find everything from modern, high-capacity, concrete ramps to some places where you launch by sliding your boat down a couple of long pipes, or even by lowering it over a cliff at the end of a long boom.
For a kayak, small inflatable, or aluminum boat up to about 13-feet, a "ramp" can be thought of as virtually any beach, whether it be covered with sand, gravel, or even rocks, up to about bowling ball size. Since these lightweight boats are easily picked up and physically carried to the water, they really don't need designated launch ramps. They are usually car-topped, and they may be used almost anywhere a 4WD vehicle can penetrate to within a reasonable distance of the beach--and that's almost anywhere in Baja.

A few examples of some excellent Baja fishing spots most suited for launching this kind of small-sized boat include: the low "bowling ball" bluffs of Punta Rosarito, the steep cliffs of Punta San Pablo, the many little rocky coves around Punta Abreojos and Punta Eugenia, the rough little arroyo of Punta Mechudo, and most of the rocky or sandy open beaches extending south from San Felipe to Gonzaga Bay.

It should be noted that pangas are launched regularly in all of these locations by Mexican fishermen working in gangs. Tourists also launch larger boats in these places. In these, as in all areas of Baja, the dictum holds true: "Any boat can be launched on any beach, given enough time, strength, cash, and patience." However, most visitors working alone in average conditions would find launching and retrieving a larger boat in these locations fairly "challenging" without exceptional equipment, local knowledge, and effort.

Aluminum boats of 14-15 feet may still be car-topped, and they may still be carried to the water by, say, six adult-sized people, but their bulk and weight are starting to be a factor. Some boats in this size range may also have their outboard motors bolted to the transom, rather than merely clamped, and sometimes they may have steering and throttle controls permanently attached. Boats of this type are most easily launched over relatively smooth beaches that allow the use of transom-mounted launch wheels or beach rollers. Beach rocks up to about grapefruit size can be accommodated, if care is exercised, but forget the bowling balls.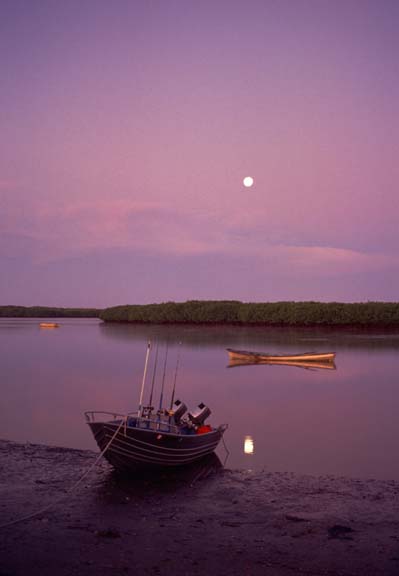 A beautiful evening at a typical small boat launch spot on the shore of Bahia Magdalena.
There are a multitude of excellent Baja fishing spots that fall into this category. Some typical examples of beaches most suitable for 14-15 foot boats (or smaller, of course) include: the sandy shore of Laguna Manuela, the steep launch spot of Bahia Asuncion, the beaches of Laguna San Ignacio, virtually the entire shore of Bahia Magdalena, many East Cape beaches, Ligui and Juncalito in the Loreto area, remote Bahia San Nicolas and Playa San Rafael, and the slippery, "peanut" gravel covered shore of Caleta Calamajue. As before, larger boats are launchable at all of these locations, but with some effort.

When boats get up to around 16 feet long, launching is still possible (just barely) by manhandling over the beach with lots of help, or with sturdy launch wheels, but it's much easier and more practical to launch this size of boat with a trailer. You would probably have a 16-foot boat on a trailer anyway, since its size and weight make it fairly difficult to cartop. (Yes, 20-foot boats, and even larger, are seen being "cartopped" in Baja, usually with the help of custom welded racks and special winches, but that is the exception. Usually, 15 feet is about the practical limit for cartopping.)

Trailer launching beaches for boats in this 16-foot size range must be fairly firm, fairly smooth, and fairly steep. If there isn't enough slope to slide these boats directly onto and off the trailer, they can usually be pushed off by hand, and pulled back on with the trailer winch. A 4WD tow vehicle is handy for this work, but not absolutely necessary. Lowering your tow vehicle and trailer tire pressures to 18-20 p.s.i. will make many beaches doable with care. Removing excess cargo weight from the boat and tow vehicle will double the number of beaches you can launch on.

With boats up to about 18-20 feet, you can still get away without a paved launch ramp as long as all beach conditions are ideal. Even manhandle launching is still possible, but for a visitor without a lot of help available, it becomes difficult enough so that you'll almost always be trailer launching, and you'll want a beach with plenty of slope and a good, firm surface. In this size range, a 4WD launch vehicle will make life much less stressful when maneuvering below the high tide line. Most beach launching with this size boat is on hard shell or gravel beaches that have been at least semi-prepared. It is rare to find a completely natural beach with the right combination of slope and firmness for this size boat.

Some typical Baja spots with "almost perfect" launching beaches suitable for boats in the preceding two size categories include: Campo Rene just inside Estero de Coyote, San Lucas Cove Campground south of Santa Rosalia, remote Caleta de San Francisquito in the Midriff Area, and the equally remote Papa Fernandez village on Bahia Willard (Gonzaga Bay).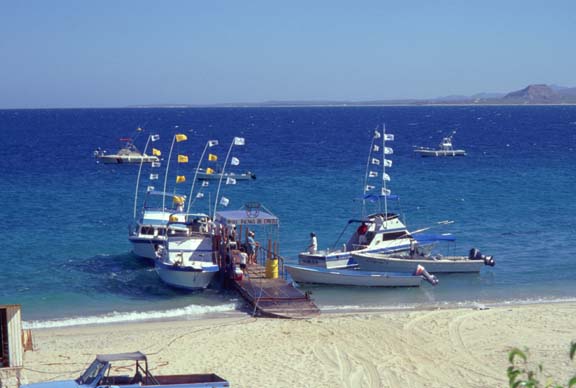 Tuna and dorado flags galore at East Cape. Large trailer boat launching here is done with the help of tractors.
With a good high tide, it is definitely possible to launch boats more than 20-22 feet long on these "perfect" semi-prepared beaches (remember: "time, strength, cash and patience"), but when you get up into the 24-foot size range, or larger, you are usually much better off on a paved concrete launch ramp. The most important limiting factors when attempting to beach launch larger trailer boats in this class include a lack of enough water to float your boat without submerging your tow vehicle to ugly depths, and getting stuck in sand too soft to support the mega-weight of said awesome tow vehicle, or the boat trailer itself.
Paved ramps, varying wildly in design and physical condition, can be found in many places on Baja's eastern, Sea of Cortez side, but on the Pacific side, paved ramps are very few, and large trailer boat access is severely restricted to a handful of very widely separated locations.

Although there are about a hundred paved and dirt facilities that might be thought of as "launch ramps" in Baja, the great majority are only marginally usable by larger trailer boats, due to a number of factors, including a lack of water at low tide, deteriorated physical condition, poor design, rough access, lack of security and parking, tight maneuvering space, exposure to open surf and wind, and hidden sandbars, rocks, and sometimes the rusty, sunken remains of trailers and boats that came before you.

When using any ramp in Baja, it is strongly recommended that a thorough pre-launch inspection be made of the surface, especially at the bottom end where the submerged concrete may be damaged, or currents may have created a sharp drop-off at the end. This drop-off is so common in Baja that it should be routinely expected. Boating around ramp areas should be done with a watchful eye out for hidden shoals or debris that may damage props.

Following here, going from Ensenada to San Felipe, are updated descriptions of some of the better ramps available to the public on both coasts of Baja, plus some marginal "ramps" included because of their strategic locations or other unique factors. All ramps are paved with concrete, unless otherwise noted. Under good conditions, most ramps are suitable for boats up to about 25 feet, unless otherwise noted. Due to the limiting factors mentioned above, most Baja ramps are best used on the top half of the tides, and many are completely dry at low tide. Finally, in addition to the public ramps listed here, there are many private ramps in Baja, sometimes in such enticing locations as Punta Eugenia and Turtle Bay. Typically, these ramps are operated by commercial fishing cooperativas, and it is sometimes possible to gain permission to use them.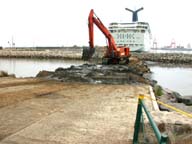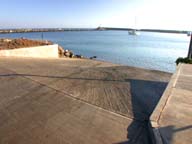 Many of Baja's ramps are in poor condition, here the "Rincon" ramp in Ensenada, near Punta Banda. The Port of Ensenada ramp is surrounded by heavy construction. At right, Ensenada's Marina Coral ramp can handle any trailer boat.
ENSENADA AREA

Marina Coral Ramp: The best quality ramp available in the Ensenada area at this time. Suitable for any sized trailer boat. Forty feet wide, steep, grooved concrete surface. Launching into a protected artificial harbor. Usable at most low tides. Gated access and guarded parking area. Hotel facilities and fuel dock nearby. Located at the Marina Coral hotel as you approach town from the north. Fee of $30 includes semi-secure parking, launching, and retrieval. Free for hotel guests. Inquire at marina office just north of ramp. Telephone 800-862-9020.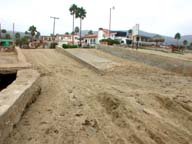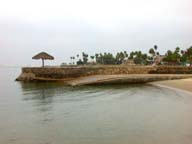 Ensenada's La Jolla Camp ramp gives good access to the north side of Punta Banda on the top half of the tides only. At right, Ensenada's Estero Beach Resort ramp requires caution at low tide.
La Jolla Beach Camp Ramp: The best of the several ramps at the south end of town near Punta Banda. Located in the La Jolla Beach Camp approximately 7 miles west of Mex 1 at Maneadero, on the La Bufadora road. Twin ramps lead directly into the south end of Todos Santos Bay, with close access to the north side of Punta Banda. Usable only on the top half of the tides. Launching is subject to possible wind, surge, and surf conditions. The entire ramp area is high and dry at low tide. Shallow slope and shoal water make this ramp most suitable for boats under 16 feet, although larger boats are launched on high tides. Fee of $3 includes parking, launching, and retrieval. Semi-secure parking inside busy campground. Inquire at office near gate. Telephone 011-52-615-42005.

Estero Beach Resort Ramp: Shoal water across the estero outlet makes this ramp impractical on the bottom half of the tides, but it is conveniently co-located with nearby RV park and resort facilities. Heading south from Ensenada, follow the signs to Estero Beach. Stop at the office and pay a $20 fee, which includes parking, launching, and retrieval. Resort guests pay $8. The inconvenient parking area is distant from the actual ramp. Security is fair in this parking area. The ramp is of moderate slope, grooved concrete. Several shoal sand bars, with occasional surf between the ramp area and the bay, should be eyeballed carefully before departure. Launching is subject to possible winds, surge, and surf conditions. Boats over about 22 feet may have difficulty, except at high tide. Telephone 011-52-617-66225/66230.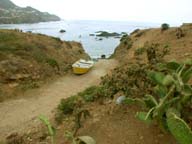 It's super rough, but strategically located. The Bufadora launch "slot" at the tip of Ensenada's Punta Banda.
La Bufadora Dive Camp Ramp: Not really a launch ramp, but more of a rough, concreted launching slot. Located at the end of the La Bufadora road, near the tourist area at the tip of Punta Banda, 13 miles from Mex 1 at Maneadero. Turn sharply left, down the hill, just as you approach the tourist shops. Best suited for kayaks, small inflatables, and very small tin boats, this launch slot is included here because it gives direct access to the tip of Punta Banda. There is a very steep and rough drop onto beach rocks at the lower end. Boats must be carefully manhandled over rocks and into the water. No trailer launching. Some surge is generally present. Check for fee at dive shop. Parking area is not guarded or closed to public.

Port of Ensenada Ramp: Downtown Ensenada, just south of fish market area. Turn off main boulevard at Avenida Castillo. No fee. Minimal maneuvering space. Parking space also minimal and unsecured in densely populated area. Launching is into a protected artificial harbor. This well built ramp is not usable at this time, due to a major construction project and heavy equipment in the area.

New Puerto Salina Ramp: Under construction at new Puerto Salina marina a few miles north of Ensenada. Gives access to kelp beds and a part of the coast not often visited by small boaters. Estimated completion in early 2002. Launching is into a protected artificial harbor. The anticipated launch fee of $10-$15 will not include parking, which will be available at the nearby condominiums on the north side of the approach road. Telephone 888-772-5462.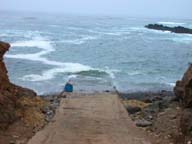 The Puerto Santo Tomas ramp is strategically located, but exposed to open Pacific swells.
PUERTO SANTO TOMAS

Puerto Santo Tomas Resort Ramp: This concrete ramp has a strategic location near very good fishing, but it also has difficult access and marginal launching conditions. Located at the Puerto Santo Tomas Tomas Resort, 20 miles down a washboard dirt road from Mex 1 at Santo Tomas, approximately 25 miles south of Ensenada. Beautiful bay with kelp growing very close to shore in places. Excellent bottom fishing. The ramp is smooth concrete, with a steep slope into the open Pacific. Traction may be marginal without 4WD. Subject to wind, surge and surf on most days. The ramp is narrow. Caution is required. Boats may have difficulty, except on perfect days. Beware of surf rising while you are out on the water, making retrieval difficult or impossible. Emergency anchorage is available amid pangas south of the ramp area. Semi-secured parking at resort, if open. Otherwise, parking is unsecured. Inquire about launch fee at resort.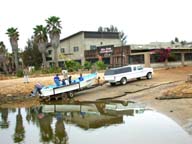 The Old Mill ramp at San Quintin.
SAN QUINTIN

"Old Mill" Ramp: Of recently changed ownership and due to be renamed "Cannery Row," this ramp gives access to the excellent fishing just outside and offshore of Bahia San Quintin. Located 3 miles off Mex 1 at Lazaro Cardenas, the "south half" of the town of San Quintin. Follow signs from Mex 1, at Km 1 leaving the south end of town. Medium slope concrete ramp usable at most low tides. Launching is into a protected area of the inner bay. Caution required when leaving bay. The use of a local guide is recommended. Currently, the restaurant, bar, and tackle shop are undergoing renovation, and are not open for business. There is no launch fee. Parking is unsecured. Semi-secured parking is available at Don Eddie's Landing on the north side of Old Mill complex. Don Eddie's Landing, telephone 011-52-616-23143.

ESTERO DE COYOTE

Campo Rene Ramp: NOT A PAVED RAMP. Strategically located near good fishing around Punta Abreojos. This is an unusually good hard shell beach launch ramp just inside the mouth of Estero de Coyote. Launching is into a protected mangrove lagoon. Best suited for boats up to about 16 feet, but usable by almost any boat at highest tides. The entire area goes dry at low tide. Caution required when exiting Estero de Coyote to fish the Abreojos area. The use of a local guide is recommended. Access is by a 50-mile dirt road off Mex 1, north of San Ignacio. Parking is not secured. If a caretaker is present, inquire about launch fee.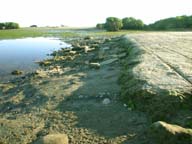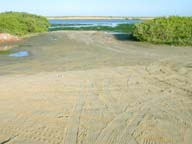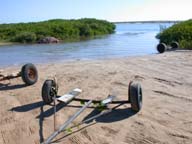 Baja's weirdest launch ramp, at the old Flying Sportmen Lodge facility in San Carlos. Underwater at high tide, dry at low tide, and with a big drop-off at its bottom end. Yet, with perfect timing, any trailer boat can launch here.
SAN CARLOS

"Flying Sportsmen Lodge" Ramp: This is the only available paved launch ramp on Magdalena Bay, but from a tidal standpoint, it is also the weirdest ramp in Baja California. The bay in this area is high and dry at low tide, and yet the whole ramp and all the ground around it is completely inundated by water at extreme high tides. Located at the east end of the town of San Carlos on the old Flying Sportsmen Lodge property, now occupied by a university field station. Short, rough, deteriorated, narrow concrete, with a drop-off at the end. Launching is into a semi-protected area of the inner bay. Possibly wet or soft approaches. Inspect carefully before use. Exit this area on top half of tides only. If caught at low tides, the deepest water channel is straight out and against the mangrove line on the far side of the inner bay area. Watch the route taken by commercial pangueros. Unsecured parking. No fee. This ramp can handle any boat at the perfect tidal stage, but very careful use of the tide tables is required. Best use is at a medium high tide.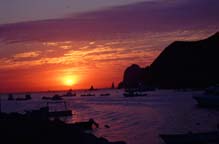 Dawn at Cabo San Lucas. The marina ramp is currently undergoing repairs after sustaining damage during Hurricane Juliette.
CABO SAN LUCAS

Marina Launch Ramp: Located on the harbor marina as you enter Cabo San Lucas. A modern concrete ramp capable of handling any trailer boat. Look for a left turn toward the marina near the Pemex station. Launching is into the protected artificial marina. This ramp is currently closed due to damage from Hurricane Juliette, but it is scheduled to reopen at any time. Check with Norma at the adjacent marina office, telephone 011-52-114-31251. Regular day use fee of $10 includes launching and retrieval, but not parking for your rig. Parking is either on the street, at distant dry storage areas, or at your hotel parking lot. Security and parking regulations may be an issue for rigs left parked on the street. For long term boat storage, contact Juan Angel de la Pena, Bodegas Marinas de los Cabos, at Km 1 on the highway to San Jose del Cabo, 011-52-114-31122, Cell 011-52-117-00917. The ramp itself is wide and well built. However, it has been subject to damage at its lower end. Check carefully before use. Note sign on posted on stone wall beside ramp indicating where it ends.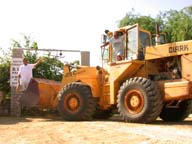 Martin Verdugo's Beach Resort (that's Martin standing in loader bucket), and several other area resorts provide heavy tractors for beach launching of any trailer boat at East Cape.
EAST CAPE

East Cape is a mecca for car-toppers who launch over the beach and fish for marlin, tuna, dorado, wahoo, and a multitude of other species within a few miles of shore. But for owners of larger trailer boats there are no permanent launch facilities available. At East Cape, trailer boat launching is accomplished over the beach, either with your own preferably 4WD vehicle, or with the help of resort tractors. Several fishing resorts will launch boats for guests at no charge, or for a nominal fee, or you may pay a fee to have your boat launched even if you are not staying there. For example, Martin Verdugo's Beach Resort maintains a large skiploader, capable of launching anything you can tow, which will handle your boat for $20 each way. These East Cape operations are not primarily intended for quick morning and afternoon service, but rather as a way for you to get your boat into the water for the duration of your stay. Therefore, you should bring adequate ground tackle and plan to moor your boat at night, or be sure to make prior arrangements if you need to launch early in the morning. Since launching is into the open gulf, you should have adequate ground tackle on board, in case surf conditions prevent pulling your boat in the afternoon and you must leave it in the water overnight. Launching is subject to possible wind, surge, and surf conditions. Contact your hotel to confirm launch services and prices.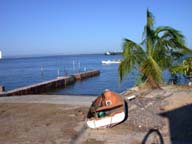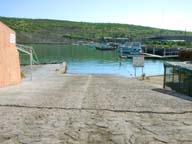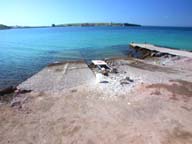 1. An old favorite in a tropically landscaped setting, the Aquamarina RV Park in La Paz. 2. The Club Cantamar ramp in La Paz provides the closest access to the fishing grounds. 3. The Pichilingue ramp at La Paz gives close access to the fishing grounds, but is not in usable condition.
LA PAZ

Aqua Marina RV Park Ramp: This little gem is hard to find. Entering town from the north, look for Nayarit Street and turn left down an "old Mexico" dirt road, one-half mile. As you approach the water, look for a wall and entrance on your right. Go through the jungle-like landscaping of the park and stop at the office on the water's edge. The fee is $7 which includes parking, launching, and retrieval. The ramp is well built of semi-smooth concrete and launching is into a protected part of the bay at any tide. Parking is quite secure, inside a walled compound that is locked at night by a live-in caretaker. This is an excellent place to stay in a camper or RV while visiting La Paz, very quiet, yet close to the downtown area. However, since it is located on the inner part of the bay, a long run is required to reach the fishing grounds. Operated by Richard and Mary Lou Adcock, and home to the historic dive boat, Marisla II. Telephone 011-52-112-23761.

Club Cantamar Ramp: This ramp is located at the opposite (east) end of the city and offers the closest approach to the fishing grounds of any ramp in La Paz. Located at the Club Cantamar dive facility and hotel, just east of the Pichilingue ferry terminal, about 12 miles past the center of the city. Launching is into a protected artificial marina. The 50 peso fee includes parking, launching, and retrieving your boat. Parking is semi-secure on the hotel grounds. The ramp has a roughened concrete surface and a good slope into the water, but its extreme lower end is broken and eroded. Inspect carefully before use, especially on the bottom half of the tide. Telephone 011-52-112-21826.

Pichilingue Public Ramp: Located one mile farther east than the Club Cantamar Ramp, this old fisherman's ramp is at present storm-damaged and not suitable for use. Launching is into a semi-protected part of La Paz bay. Very rough approach. No security.

Marina de la Paz Ramp: An excellent ramp located in a full-service, but very crowded, facility. No parking. You must park outside the marina grounds on the street, so there is no security. The grooved concrete ramp is usable by any trailer boat on almost any tide. Launching is into a very protected artificial marina. The 50 peso fee includes launching and retrieving only. Check at marina office. Telephone 011-52-112-52112.

Marina Palmira Ramp: Another excellent ramp, but in a crowded facility not really intended to service trailer boaters. Although there is a large, gated parking lot adjacent, no parking is allowed for trailers and tow vehicles. You must park outside on the Pichilingue road, so there is no security. Located 2 miles past the Hotel Los Arcos in the center of town, next to the Hotel Marina. The 60-peso fee includes launching and retrieving only. Check at upstairs marina office, in the office building to the right of the launch ramp. Telephone 011-52-112-16159.

Fidepaz Ramp: Physically, this may be the best ramp in La Paz, but it's abandoned and you wouldn't want to leave a vehicle parked here for very long. Located at the west end of the bay, near the Crown Plaza Hotel as you enter town. To find the ramp, go to the far side of the large dirt lot to your right as you approach the hotel. There is no fee to use this excellent, wide, concrete ramp. Usually strewn with trash. Launching is into a very large, protected artificial marina. Plenty of parking on the abandoned grounds, but no security. No facilities.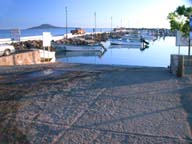 1. Puerto Escondido Ramp: One of the better ramps in Baja. Launching is into the protected baylet of Puerto Escondido, located 15 miles south of Loreto on Mex 1. The ramp area is now fenced and a fee is charged at an entrance kiosk that is open 24-hours per day. The 20 peso fee includes launching and retrieving, and 25 pesos per day is charged for semi-secure parking. The ramp is two rigs wide and can handle any trailer boat at any tide. The nearby Tripui RV Park offers convenient RV hookups and services. The water at the bay exit is 30 feet deep and offers excellent fishing from the old pier. Loreto Port Captain telephone 011-52-114-50656. 2. The strategically-located Buenaventura ramp gives direct access to beautiful Bahia Concepcion.
LORETO AREA

Loreto Municipal Ramp: Located in downtown Loreto. Launching is into a protected artificial harbor used by Loreto pangas. The ramp is well-constructed, but some larger boats may have difficulty at low tide. Boaters should check in at the adjacent Marine Park office for use regulations. Also, it is a good idea to check at the Port Captain's office located one-half block up the street directly opposite the ramp. There are at present no park or launch fees for Loreto waters. There is some parking in the ramp lot, and street parking is easily found nearby. Parking areas are not secured. Loreto Port Captain telephone 011-52-113-50656.

BAHIA CONCEPCION

Buenaventura Hotel Resort Ramp: Located on the shore of Concepcion Bay about 25 miles south of Mulege. Launching is directly into semi-open Concepcion Bay, and subject to occasional winds and waves. All boats may be launched at high tide, but larger boats may be limited at extreme low tides due to the shallow slope of the ramp and shallow water nearby. Fee of $10 includes parking, launching and retrieving. Semi-secure parking available near hotel, restaurant, bar and store. Offers excellent access to the inner bay. Telephone 011-52-115-30408.
The Hotel Serenidad ramp at Mulege.
MULEGE

Hotel Serenidad Ramp: Located at the Hotel Serenidad, off Mex 1, about 2 miles south of the Mulege bridge. This old ramp has seen better days, but it's still the most usable on the river and the closest to the river mouth. The ramp has a good slope, but is narrow, and care should be exercised when backing down. Inspect carefully for holes and broken spots, and for rocks in the water around the base of the ramp. At low tides, use caution launching and negotiating shifting river shoals extending about one-half mile to the open Sea of Cortez. There is no fee to use this ramp. Semi-secure parking is available on the hotel grounds. To reach the ramp, go completely around the wall bordering the left side of the hotel as you appraoch. Telephone 011-52-115-30530.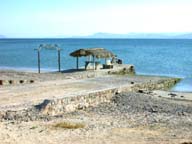 The old Hotel Punta Chivato ramp is now owned by the local ejido. Take a close look at the bottom end before backing down.
PUNTA CHIVATO

"Hotel Punta Chivato" Ramp: Located just south of the old Hotel Punta Chivato, now renovated by its new owners and renamed the Posada de las Flores. This launch ramp is no longer owned by the hotel, and it is experiencing a period of neglect since being over by the ejido, but it is still usable with care. The approach part of the ramp is partly soft sand and may cause traction problems for some rigs. The underwater drop-off at the bottom of the ramp has been partly filled with sacks, but some have washed away, so a close inspection is in order before use. The slope of the ramp is good, especially after it breaks downward at its lower quarter, and any boat may be launched here on the top half of the tides. When backing down, be aware of wooden beams sticking out from the stone wall beside the ramp. There is no fee presently being charged. Parking is unsecured around the ramp area.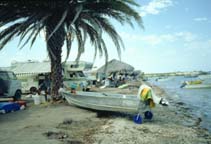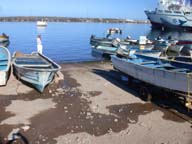 1. San Lucas Cove, 10 miles south of Santa Rosalia, a classic Baja small boat launch spot with excellent fishing nearby. 2. Santa Rosalia's paved downtown ramp provides launching into the protected commercial marina.
SANTA ROSALIA

San Lucas Cove: NOT A PAVED RAMP. Several good hard dirt launching areas are available around the campground, located on the shore of the cove about 10 miles south of Santa Rosalia. Usable only on the top half of the tides, which are mild but sometimes unpredictable in this part of the Sea of Cortez. Launching is into a semi-protected, very shallow bay. Generally, the launch areas at the north and south ends of the main camping area are the most usable. At extreme high tides, boats over 20 feet long may be launched, but at low tides, the entire area goes dry. The deepest channel to the cove exit is against the far shore. There is usually no fee charged for launching here. Parking is semi-secure in an occupied campground. Fishing is excellent just outside the bay, north and south along the coast, and around both ends of nearby Isla San Marcos.

Santa Rosalia Downtown Ramp: This paved ramp is located in the center of the town of Santa Rosalia. About 50 feet south of the small train exhibit on Mex 1, take the long dirt driveway leading east. Launching is into the protected artificial marina. The ramp is about 18 feet wide, made of roughened concrete, and is usable at almost any tide by most trailer boats. Parking around the ramp is co-located together with commercial pangas and fish cleaning areas, and it is unsecured. Watch for underwater debris throughout the area. There is no fee for use of this ramp.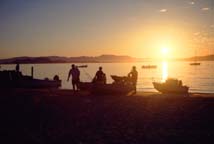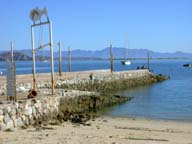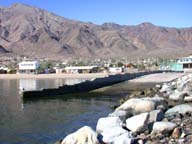 1. A beautiful dawn at Bahia de los Angeles, one of Baja's most popular trailer boat destinations. Many beaches in the Midriff and Northern Cortez are covered with "bowling ball" rocks, suitable for launching very small boats only. 2. The new Guillermo's extended ramp is attached to the "older model." 3. Bahia de los Angeles' Villa Vitta ramp provides good low tide launching.
BAHIA DE LOS ANGELES

Guillermo's "New" Ramp: Located at Guillermo's restaurant and campground in the center of Bahia de los Angeles (L.A. Bay). This add-on to the old Guillermo's ramp offers the best "reach" into the water at lower tides, and the slope can handle most any trailer boat. The new ramp is attached to the left side of the original Guillermo's ramp. There may or may not be a small fee charged for use of this ramp (usually not), so check at the store before use if you're so inclined. Offers a pleasant outdoor restaurant seating area beside the ramp, and the showers and restroom facilities of the campground. Semi-secure parking is in the campground or near the store. Telephone 011-52-665-03206.

Villa Vitta Ramp: Located near the dome-shaped, two-story abandoned restaurant structure at the north end of town. The northernmost of the four main town ramps, this one offers a low tide capability comparable to the Guillermo's new ramp. The grooved concrete surface is steep and extends far out into the water from a long causeway that requires some care in backing up. Check at the Villa Vitta motel to pay the $10 fee, which covers launching, retrieving, and semi-secure parking near the motel. No secure parking near the ramp.

Ejido Ramp: This ramp is used by the commercial pangueros and is good, but not quite as low-tide capable as the Guillermo's and Villa Vitta ramps. To find this ramp, go south through town to the T-shaped intersection at the north wall of the Casa Diaz compound. Turn left and head straight to the beach. There is no fee for use of this ramp, and there is no secure parking.

Casa Diaz Ramp: This original "old timer" is not in a good state of repair at the moment, and the other ramps in town are better options. Located in front of Casa Diaz at the south end of town. Because it is short, launching must be done on the top half of the tide. Rough condition. Inspect carefully for holes and broken concrete if you decide to use it. Check at Casa Diaz for launch fees and semi-secure parking near motel.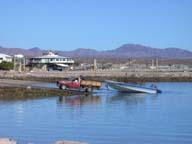 Commercial pangueros launching on the "Ejido ramp" at Bahia de los Angeles.
SAN FELIPE

Commercial Marina Ramp: This ramp, located at the southwest corner of the artificial marina south of San Felipe is steep and offers the best weather protection and low tide capability of any ramp in San Felipe. However, due to the enormous tidal range at the north end of the Sea of Cortez, the entire marina will go dry at extreme low tide, so launching and retrieving should be planned accordingly. There is no fee for the use of this ramp, and there is no secure parking available. Caution should be used when exiting the marina due to sand bars across the entrance.

El Cortez Hotel Ramp: Like all other ramps in the San Felipe area, this one will be high and dry at extreme low tides. The ramp is roughened concrete with a good slope that allows launching of any boat on the top half of the tides. However, it is often covered with light sand or slippery seaweed, and a 4WD rig and/or second helper vehicle with tow strap could be necessary. Launching is into the open Sea of Cortez and is subject to wind and possible wave action, in addition to the ramp being a quarter-mile from the water at low tide. The $5 fee covers launching, retrieving, and semi-secure parking in the hotel lot. Hotel guests pay a one-time fee of $5 for unlimited use of the ramp. Telephone 011-52-657-71055.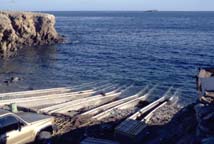 Yes, that's a Baja launch ramp, and five lanes wide, too. The sliders are made of PVC pipe. This facility was found at Punta Eugenia.
(Related Baja California, Mexico, articles and reports may be found at Mexfish.com's main Baja California information page. See weekly fishing news, photos, and reports from the major sportfishing vacation areas of Mexico including the Baja California area in "Mexico Fishing News.")