We still are seeing and catch and releasing alot of sailfish.Just today we caught and released a striped marlin in a heavy seastate so the fish are definitly here.I think once this blows over it's going to break wide open again with the possibilties of more kelp paddies being brought in from this system and more billfish making their way north.
Bait is still solid between pt. coyote and isla danzante in about 150 to 200 ft. of water with mostly greenbacks with a few sardines in the mix.The huge calamari are still around and I heard that a commercial fisherman from ligui landed one the other day that was close to 100 pounds! There's a bait for a big blue or black marlin.
Well it just keeps getting better and better down here and it looks like we may have a somewhat steady bite down here on the dorado that could roll right into the fall and possibly the winter season.That may sound crazy but you have to see what's been going on down here to believe it! Hasta Luego! Tel 714-775-6658; Fax: 714-755-3501; Loreto 011-52-113-30863.
In other mainland Mexico and Baja fishing action this week:
MAGDALENA BAY FISHING REPORTS
ALL ARTICLES, REPORTS AND FISHING INFORMATION FOR MAGDALENA BAY
MAGDALENA BAY, MEXICO: BAJA ON THE FLY, San Carlos, July 15, 2000, Gary Graham. Temperatures: 84-degree high; Low 68 with light winds in the afternoon. Water temperature: 73 - 68 degrees in the mangroves and 69 offshore. STRIPED MARLIN - A few fish reported along the temperature break 10 miles offshore of Magdalena Bay. DORADO - Fair catches reported around the shark buoys west of the entrance. TUNA - Some smaller fish reported below Tasco. SIERRA - While it seems late we are still getting reports of good catches of sierra near Santa Margarita Island. CORVINA - Several fish over 5 pounds. SNOOK -Quite a few smaller fish with a few to 10 pounds reported. YELLOWTAIL - Most of the yellowtail caught have been down deep. QUICK COMMENT - Offshore is looking more promising every week. In the mangroves we tried our Baja Deep Diver. Tied with olive over white Superhair, white hackle and plenty of pearl mirage flash on a 413 3/0 Eagle Claw hook, it has worked so well at East Cape for jacks and pompano and now equally as well for snook and mangrove snapper. It is one of the flies featured in our June Flies on the Inshore Fly page of our website.
CABO SAN LUCAS FISHING REPORTS
ALL ARTICLES, REPORTS AND FISHING INFORMATION FOR CABO SAN LUCAS
CABO SAN LUCAS, MEXICO: JEFF KLASSEN SPORT FISHING, Cabo San Lucas, July 15, Jeff Klassen. Surf fishing at Cabo San Lucas is still tepid at best. I think the really "hot" days might be gone for the year. Certainly most of the Pargo have gone along with most of the yellowtail and amberjack. This is mainly due to the increase in water temps along the shoreline. There are still the odd ones of each of these species being bagged by shore bound fishermen but they are definitely few and far between. By next week's report those three species should be all but gone until next spring. The best fishery these days along the shores is jack Crevalle. Just about every beach along both sides have some resident jacks. They're there in all sizes too with 5 to 15lb fish along the Pacific and fish twice that size in the gulf. Sometimes they're somewhat finicky but they'll hit top-waters eventually, keep casting! There are some roosterfish coming back again along the Pacific side beaches, now that the water has warmed up some. We nailed a couple of them yesterday in the 40lb range. You pretty much have to wait to see them crashing a bait-fish, before you'll get their interest. There's still some good bottom fishing with cut bait and sand fleas for croakers and pompano around the rocks. The best bet for all-around surf fishing now would be around La Laguna and Gordo Point, east of San Jose. There's a bit of everything around there. The other day I was perched up top of the cliff at Gordo Point, looking down, watching the huge jacks and the odd roosterfish crash in to the mullet schools. It was pretty cool. I'm still waiting for the rock fishing to crack open. I'm sure that it's only days away.
Our pangas fishing at Cabo are doing pretty well on roosterfish about 200 yards or so off shore using live bait. They haven't been really big ones with most fish being in the 12 to 20lb range but we've had days with 10 or more in a trip. The best place for them has been just north of the Pedregal, well before the lighthouse. They're also getting jacks and skipjack tuna. Most of the dorado are still too far out for the pangas at this time but they're getting closer each day. Offshore fishing has been pretty good lately. Lots of striped marlin still around along with the odd blue. We had a couple of blues this past week, both about 250lbs and both released. Most boats are still fishing the Gulf side as far away as Gordo Banks but there is some great fishing along the Pacific and hardly anyone is fishing it. I've heard from some reliable sources that there are some buoys out near the Golden Gate banks, loaded with dorado. They're not all big bulls but there are plenty of fish to keep you busy. It's also a good area for stripers. Just about everything caught has been on live bait. I haven't heard of any special lure colors, for the boats that are getting fish on lures. It's kind of a transition time right now. Tel 360-402-FISH; Fax 360-352-6134.
CABO SAN LUCAS, MEXICO: PISCES FLEET, Cabo San Lucas, July 14, 2000, Tracy Ehrenberg. BILLFISH: We didn't have what I'd call a fantastic week, but nevertheless there were some good catches this period. All the indicators are there, for the fishing to really take off, such as higher water temperature, sightings of fish, etc. and we should see a marked improvement on most species in the next couple of weeks. Larry Cohen, from Beverly Hills, Ca - was pleased with his first black marlin, aboard, "Mousetrap" - Larry's fish was released, but was calculated to be 300 pounds, taking 30 minutes to bring to the leader on 40 lb test, after taking a black/green "chicken feather". Bob Young and Louis Quasser, from the Cabo area, were pleased with both a blue marlin and striped marlin release, aboard "Ruthless" on July 12th. They already had their striper on and Bob was retrieving a lure from the water, to avoid tangling with the already hooked marlin, when the blue came from behind grabbing the lure and in the process slicing the dorsal fin off of the striper, as the line passed over him. Both fish were caught and released - the striper still had a better chance with his stump of a fin, than on the back of the boat.
Warren Brown from Hollister, Ca, also released a blue marlin, around 200 pounds on Andrea, whilst contending with rough seas, on July 13th. Mark Eggink from Ferndale, Wa, fished with his eleven-year-old daughter, Stephanie, also aboard Andrea and were able to catch and release three striped marlin - two for dad, one for daughter, on June 10th. We did have rough seas for most of the week, which caused quite a few boats to turn back, without luck. Overall our anglers had an 80 percent success rate for all species combined, with boats concentrating mostly in the Sea of Cortez from Cabeza de Ballena to Gordo Banks. We heard reports of plenty of action at East Cape and 9 year old Michael England, from Petaluma, Ca, - who by the way weighs just 65 lbs - caught and released a 100 lb plus striped marlin as well as two sailfish. Pisces anglers caught a total of 23 striped marlin of which all but one were released, as well as two blue marlin released and six sailfish. OTHER SPECIES: It seems that big tuna are starting to show up, as some reports reached us, of yellowfin close to 200 pounds, as hooked, but not landed, up beyond the Gordo. Aside from these reports, not a great deal of tuna were caught, just the odd one here and there around 30 lbs, though pangas, did pick up quite a few smaller fish inshore. Dorado fishing was pretty good and is gradually increasing week by week. Boats are catching from one to three, whilst trolling for marlin, in the 20 to 50 pound size range. Roosterfish from 10 to 25 pounds were caught inshore, both off of the Lighthouse and Shipwreck. Fair amounts of bonita inshore. LOCATION: Cabeza de Ballena, 95 spot, 18 miles off Redhill, Gordo Banks. WEATHER CONDITIONS: Clear sunny skies; hot during daytime, cooling breezes in the afternoons, seas on the rough side. AVERAGE WATER TEMP. 81 F BEST LURES: Live bait, red/black, green/black. Tel 011-52-114-31288; Fax 011-52-114-30588; pisces@piscessportfishing.com.
SAN JOSE DEL CABO (LOS CABOS) FISHING REPORTS
ALL ARTICLES, REPORTS AND FISHING INFORMATION FOR SAN JOSE DEL CABO
SAN JOSE DEL CABO, MEXICO: GORDO BANKS PANGAS, San Jose del Cabo, July 9, 2000, Eric Brictson. The first week of July has treated Los Cabos anglers to lots of warm sunshine and excellent all around fishing action. The seas have been mostly calm with very minimal swells, the exception was on this past Wednesday and Thursday when a strong wind from the south did pick up, even on the windy days though, the boats that did tough it out came in with respectable catches. The water temperature is slowly climbing back up after having cooled off and is now averaging 76 to 78 degrees through most of the region. Live bait has continued to be abundant off the beaches of San Jose del Cabo, especially off of La Playita, where huge schools of both mullet and sardinas are schooling.
The most consistent fishing has been to the north of Punta Gorda and this is where the fleets from both Cabo and San Jose are now concentrated. The panga fleets have found the most productive area to be the San Luis Bank, this is where they have been loading up on quality pargo (huachinango - red snapper) that are averaging 7 to 10 pounds and yellowfin tuna that are ranging anywhere from 5 to 40 pounds, mixed in the catches at San Luis have been some amberjack, cabrilla, bonita, dorado and sailfish. The pargo and amberjack are striking the yo yo's best, try blue / white, chrome / blue and scrambled egg color patterns, and the yellowfin tuna are being taken on both live bait, trolling lures and yo yo's. Cedar plugs in natural wood color and brightly colored feathers are working on the surface. The water color is still greenish within 10 miles of shore but if the calm weather continues conditions should improve and bring in blue water which would definitely boost the dorado and marlin counts, which have been very spread out. The cruiser fleet did report some excellent action for striped marlin, a few blue marlin and some dorado in the areas of Desteladera and Vinorama, but the panga fleets are mostly opting to fish closer to shore for the smaller but more abundant species.
Average daily panga catches have been anywhere from 4 to 10 pargo, 5 to 10 tuna, maybe a dorado or two and then some sailfish and marlin on occasion. Most everybody has been catching enough fish to be happy and they are also filing the ice chests up with quality eating fillets.
Inshore fishing at San Jose del Cabo has consisted of various reports of action for sierra, jack crevalle and roosterfish, most of these fish have been under 20 pounds but there have been roosterfish to 50 pounds accounted for. One party of anglers reported finding some wide open incredible action for roosterfish at La Fortuna, they caught and released some 30 fish to 25 pounds in a couple of hours. Feeding roosters have been seen along all of the beaches in recent days and with the large schools of bait hanging in the area his should only attract more. Several nice sized snook were caught in the past week off the area of the San Jose Estuary by surf fishermen, including fish of 22, 25 and 28 pounds. Good Fishing, Eric.
HOW TO CATCH SNOOK:
I have seen them to over fifty pounds off the beach of La Playita. The best season seems to be through the summer months and into November. Right now they have been catching some big ones everyday, but not that many, one or two, best bait has been either live sardinas or mullet. The locals do target them now when they are biting and they can sell them for good money because they are a prized eating fish. It is definitely not something our charters could go out and target though. It is always best when there is a large school of baitfish in the area ( like now ) and especially after the estuary breaks open to the ocean. When it broke open a couple of week ago there was one day when about 30 snook were taken in one day, but most were smaller, up to 12 or 14 pounds. I think I am going to give it a try myself when I get a chance. --Eric
HOW TO CATCH TRUE HUACHINANGO:
The best months for huachinango are from April through July, we normally catch most of them on yo yo style lures, but they also will hit mackerel, mullet, sardinas and squid. The best bait is definitely the red crabs but they are rare these days and can only usually be gathered on the surface several times a season, not like in the old days when it was common to see them thick on the surface. We sure are catching some nice pargo now, very healthy, to 12 pounds. --Eric Tel 800-408-1199; Fax 619-447-4098; 011-52-114-21147; gordobanks@cabonet.net.mx.
EAST CAPE FISHING REPORTS
ALL ARTICLES, REPORTS AND FISHING INFORMATION FOR EAST CAPE
EAST CAPE, MEXICO: BAJA ON THE FLY, Buena Vista, July 15, 2000, Gary Graham. Temperatures: High 95 with a low of 81; Humidity = 76%. Cloudy skies, wind in the afternoon until Friday and then clear skies. Water temperature: 76-86. STRIPED MARLIN - Good early in the week and slowed toward the end of the week. BLUE MARLIN - Only a few reported and mostly smaller fish. SAILFISH - Many multiples reported. YELLOWFIN TUNA - Lots of fish up to 20 pounds in front of La Ribera and a few larger ones under the porpoise. DORADO - Not many groups, mostly singles. ROOSTERFISH - Good catches of smaller fish for those targeting them. JACK CREVALLE - Saw several fish over 20 pounds near La Ribera. BARRILLETE OR MEXICAN SKIPJACK - Good catches all up and down the coast. PARGO AND CABRILLA - Good catches along shore near Punta Colorado. OFFSHORE: Most of the boats are starting at the tuna spot in front of La Ribera, then moving offshore later in the morning to look for billfish and dorado with an occasional larger tuna under the porpoise. INSHORE: The tuna bite at East Cape only a few miles offshore has drawn most of the attention. Those choosing to fish nearer to shore are finding small roosters to 15 pounds, some good sized jacks and smaller pargo. BEACH: The beach from Punta Arena to Las Palmas is covered with some kind of sea moss that has made fishing from shore difficult. QUICK COMMENT: The wide-open tuna bite was the center of attention for the fly-rodders this week. When 20 pounds of muscle shaped like a torpedo inhales your fly and heads for the bottom, you better be sure your line isn't wrapped around your leg or you may take an unplanned swim. Pete Davis and his amigo, Les Pearson, both from Tucson, Ariz ., stopped by the office yesterday to tell me how great an Umpqua Hot Flash Minnow Shiner tied on a 3/0 hook worked for them on the tuna. Using a 400 grain shooting head and letting the fly sink for a full 10 count and then a fast two-hand retrieve produced a take almost every time. Look for me on the beach. --Gary. Tel 800-919-2252; Fax 760-746-7260; bajafly@aol.com.
EAST CAPE, MEXICO: BUENA VISTA BEACH RESORT, week ending July 15, 2000, Axel Valdez. Boats out: 65. Weather Temperature: High 80´s-mid 90`s. Water Temperature: Inshore 77°- 80°, Offshore 80°- 83°. Fish counts (kept/released): Blue Marlin 2/0; Striped Marlin 1/23;Sailfish 0/ 75; Dorado 32/0; Shark 0/0; Tuna 339/0; Roosterfish 0/5; Amberjack 1/0; Trumpetfish 0/0; Skip Jack 0/20; Bass/Grouper 5/0; Jack Crevalle 0/0; Red Snapper 19/0; Needlefish 0/10; Pompano 2/0; Triggerfish 0/0; Sierra 0/0; Yellowtail 0/0; Rainbow Runner 0/0. Successful lures: Chivato (orange/yellow), Purpuras (purple/black), green/black and they are also trying the petrolero (black/orange). Very much they are using the same colors as last week. Bait Used: Sardine for the dorado, tuna and inshore fishing. Big bait being used is radadillo, small jacks, and some mullet. Highlights of the Week: Tuna is back, but this time is north, where we are also finding some school dorado. Also yesterday Jesus Araiza found some porpoises with tuna, he captured a nice 60 pounder. A lot of sails this week, and the best part is that we have been very successful releasing them. Week's Comparison: Very much the same average billfish per boat, but this week the good news is that we have found the tuna again. Tel 800-752-3555.
EAST CAPE, MEXICO: RANCHO LEONERO, July 15, 2000, Gary Barnes-Webb and Roy Baldwin. Continued great conditions at the East Cape, with daytime highs in the mid 90's, evening lows in the low 70's, calm seas, afternoon breezes and water temp in the low 80's. The incredible fishing continues, with tuna, billfish, dorado and roosters all feeding aggressively. Yellowfin tuna from 10 to 50lbs are concentrated just off Punta Arena, with as many as you want taking cedar plugs, hoochies and live sardinas. Bigger tuna to over 100lbs are moving with porpoise near Cabo Pulmo, with schools of smaller tuna right in front of Leonero, providing great action for our kayak fishermen. The billfish bite remains hot, with blues, stripers, and sailfish thick throughout the bay. The stripers are a bit lethargic right now, but the sails are still eating anything in the water, with many multiple hookups on green/white and blue/white trolled lures and both live and dead bait. The big bull dorado bite continues, with big pairs nearly all over 50lbs cruising outside, from 10 to 20 miles out, from Leonero to Cabo Pulmo, mostly on live sardinas, caballitos and all patterns of marlin lures. The roosterfish bite continues with fish from 10 to 30lbs (largest this week 40lbs) inshore throughout the bay from Punta Pescadero to Punta Colorado, taking live mullet, caballitos and sardinas. Nowell Barnes-Webb of Kleinmond, South Africa, while fishing 1 day on a Leonero cruiser, released an 80lb sailfish and took a 30lb dorado and an 80lb yellowfin tuna.
EAST CAPE, MEXICO: RANCHO BUENA VISTA, Buena Vista, July 14, 2000, Tamara Moyeous. Anglers, 40. Striped marlin, 15 caught, 5 released. No blues. Sails, 23 caught and released. Roosters, 4 caught and released. Dorado, 10 caught. Tuna, 46 caught. Wide open tuna bite. Wayne Meriwether of Huntington Beach, CA caught a 25# tuna at Los Frailes using live bait. Norm Porter of Nampa, ID caught 2 sails, 1 dorado and 1 yellowfin on 30# test in one day. Tony Vanson of Burbank, CA caught a 12# red snapper on live bait in Los Frailes. We have three large groups coming for the next 10 days, Tag and Brag "no kill-billfish" tournament starts on July 30, with approx. 75 anglers going for the gusto. Tel 800-258-8200.
EAST CAPE, MEXICO: EAST CAPE SPORT FISHING, Los Barriles, July 13, Gil Mendiaz. With daytime air temperatures 92 to 97 degrees and the sea surface temperatures ranging from 82 to 86, fish are busting loose all over the East Cape. Chochies (juvenile gray bottle nose dolphins) are being encountered in various parts of the fishery and producing excellent yellowfin tuna to 150 lbs. Tuna in the (25) to (40) lb. class can be found North in the cooler areas at Punta Sur at Cerralvo Island and Perico, and South close to Los Frailes at Vinorama. With the dolphins, troll natural color cedar plugs and brown/white/silver or blue/silver hoochies. Sailfish, striped, and blue marlin are taking live baits, and sails in particular are being very aggressive eaters. Some of our boats are catching and releasing as many as (7) to (10) sailfish a day. Bull dorado to (65) lbs. are also on the take, and are feeding as aggressively as the sailfish. Look for dorado due east on the troll or check the buoys. As usual the first ones on the buoys are getting the bigger fish. Best colors for the troll are blue/silver, green/silver, bleeding mackerel, and black/white.. Inshore the roosters are crashing baits in all the usual places, with a couple of fish in the (50) lb. class being taken near Punta Arena de la Ventana in the north. Other inshore species are also available, but are not being targeted by the visiting anglers. The tip is: take advantage of the low pressure and bag some toros, pargo, cabrilla and maybe some of the many species of excellent-eating pompanos that are currently available. Tel 800-837-1556; Fax 805-493-5446; gil@eastcapefishing.com.
LA PAZ FISHING REPORTS
ALL ARTICLES, REPORTS AND FISHING INFORMATION FOR LA PAZ
LA PAZ, MEXICO: JONATHAN ROLDAN'S ADVENTURE SERVICES, La Paz, July 11, 2000, Jonathan Roldan. Made it out of Hotel Las Arenas south of La Paz after a great week teaching the Roosterfish School. Humped on back to La Paz and set up the command post once again at La Concha to await my next group of pals. . .Bob Horton and Rabbi Sheldon Donnell from California and his group.
First, let me just say this. . .I FREAKING HATE AERO CALIFORNIA!!!!! Is it really that hard to arrive on time? Is it really that hard to do things right? I swear, I have ridden this airline about a hundred times. I keep giving them a chance. If you ever ever ever have a chance to take their late flight into town, just mark it down in you calendar that you will get in late. That could be an hour or two or three or maybe tomorrow. I have had alot of groups come to La Paz over the past month and if it's a night flight or, worst of all, a night flight on Sunday. . .hey just wave the white flag. Whether you're on the plane or waiting for someone on the plane, you're gonna be grabbing your ankles.
Anyway, onto the fishing. Bob and Shelly's group have had banner days. Two days at Las Arenas. As different as night and day in terms of conditions, but they have already run out of room in their ice chests. First day, it was flatter than a board and hot and steamy as heck. Today, it was probably the bumpiest, windiest day I have ever seen out there. If you ever were to get seasick, today was the day and several people told me they were queasy. It was so bad that not a single boat was able to go outside for the dorado. No matter. Each day, there's a big school fo peanut tuna parked at the mouth of Muertos Bay. I fished with Rabbi Shelly each day. What a great great fun guy. Each day, we took limits of tuna from 8-25 pounds literally in an hour! Every boat was just bendo. Just easy fishing. Biggest fish the first day was Bobby Horton's 55 pound yellowfin he pulled off the South Point of Cerralvo. All of the other boats also took limits of tuna. Shelly and I got our limits then took a run to La Ventana looking for roosters. Not finding any, we were back near Arenas beach and burned up the rest of our bait on kicky toro on light tackle. Great fun day.
Today, with all the bumpy stuff and a pending storm overhead that never materialized, we went back to Muertos and got another limit of tuna in an hour. We then trolled around. Shelly hooked and lost a sailfish and we got another tuna on the troll. Didn't find any roosters or jacks this time, but were back on the beach by noon along with everyone else who had been beaten up by the waves, but all still managed to take limits of tuna and a few dorado. Biggest fish on the beach were Roger McCracken' and Joe Treves who did their own thing away from the mass of pangas at Muertos. Instead they went to the Dome and hooked 5 big 50 pound tuna getting 4 to the boat and also catching and releasing a sailfish. Everyone else got limits.
Tomorrow, headed out on mini-cruisers to El Bajo. I think it's gonna be bumpy again. Gonna bring the windbreaker. El Bajo has not really been happening lately, but several grander class marlin were hooked the past few weeks and the dorado have been going off out there. I'd sure like to get this group some dorado!
Just back right now from one of my taco tours of La Paz. If you've been on any of my taco tours , you know how you feel after 3 tacos el pastor, 2 carne asada tacos, a bowl of frijoles, churros and a stuffed potato relleno with cheese, butter, creme, mushrooms, carne asada, and corn. Top that off with a scoop of cantaloup ice cream and a scoop of fresh strawberries. I feel like the Pillsbury Doughboy! Gotta get to bed. Here's a picture of Joe and Roger's fish today. Not too bad. . . See yaaaa! --Jonathan Tel 626-333-3355; Fax 626-333-0115; Pager 323-349-8111; Message Pager 877-310-7734; Riplipboy@aol.com.
LA PAZ, MEXICO: JONATHAN ROLDAN'S ADVENTURE SERVICES, La Paz, July 9, 2000, Jonathan Roldan. Have been fishing almost daily now since June 21st and with the exception of a day or two here and there, have had good to awesome fishing every day with lots of smiling clients. Have been hosting a number of clients here at La Concha Beach Resort and they've been having a great time. Waters are a little green here and there, but mostly blue, warm and up to 80 degrees in some places. On the La Paz side, there are some pesky winds, especially in the morning on somedays making for a hard charge out of the bay, but wow, what a great dorado bite we're having. El Bajo to some degree, but the best bite for my people has been on the east side of Espiritu Santo where weed lines and current breaks are holding quality sized fish with some nice bulls up to 50 pounds. Boats are averaging half to full limits each day and it's good to see skippers actually pull off the bite when the anglers are at their limits! No complaints, however, from the anglers who, by that time have more than enough meat for the chest. I fished several days with Monte Ehrlich and Roy Furuto and both of them posted personal bests on the dorado and Monte got his first marlin with billfish straying in and out of the dorado schools.
On the Arenas side, there's a nice spot of peanut and football tuna at the mouth of Muertos Bay where the fish go pretty stupid most days. It's alot of fun for first-timers, meat fishermen, fly anglers, and light line guys as the fish are in the 10-12 pound class and just a blast. Dave Castanon and his guys as well as Keith Meehan of Kicker Jigs and his boys came and worked the area big time on everything from bait to iron and feathers to Rapalas! Most days, it's limits before mid-morning. On the few days when the fish had lockjaw, it seemed these were the days when the big cruisers (I counted 32 one day) come marching up from the East Cape and for whatever reason, the fish disappear. No matter, as the dorado straight out on the buoys offer some great alternatives. Some buoys are dead, but if you get the right one, you have a shot at some trophy fish. Unfortunately, I'm seeing some anglers taking 12-18 inch dorado at times which can be wide open on some of this structure. Bob Jackson and his son Robert from San Diego actually found a goat carcass floating and had a dorado rodeo going for awhile and a few guys tried the 88 bank this week and found "hundreds of dorado" under some of the buoys. It will be interesting to see if it holds out.
The better tuna bite continues to be on the west and north side of Cerralvo Island at La Reynita and La Reina. This is fun world-class stuff with slug fish of 35 to 80 pounds taking both dead and live bait and literally towing pangas around the ocean as the anglers battle them (and often lose them) after hour-long fights. Just yesterday, I fished with Hector Manciet of Phoenix and John Manciet of San Jose and both fought fish for close to 2 hours taking personal bests in the 65 pound class.
I'm also currently finishing up the Roosterfish School at Hotel Las Arenas. The largest fish taken has been an estimated 70 pound rooster by writer/photographer Tony Pena, but there were several in the 50 pound class either hooked and lost or released. A number of 10-30 pound fish have also been caught and released. There aren't a tremendous number of the bigger fish, but the most productive areas have been at the Las Arenas lighthouse, south at Boca de Alamo and at El Sargento across Ventana Bay. It has been hit or miss on the pez gallo, but alot might have to do with green waters that got blown in by southern storms which also created some unseasonable swells along the exposed beaches. However, if you want small fish under ten pounds on light tackle, you can have fun all day along just about any of the sandy beach areas of the peninsula or mainland. Tel 626-333-3355; Fax 626-333-0115; Pager 323-349-8111; Message Pager 877-310-7734; Riplipboy@aol.com.
BAHIA DE LOS ANGELES (L.A. BAY) FISHING REPORTS
ALL ARTICLES, REPORTS AND FISHING INFORMATION FOR BAHIA DE LOS ANGELES
BAHIA DE LOS ANGELES, MEXICO: CAMP GECKO, Bahia de los Angeles, July 10, 2000, Abraham Vazquez. Air Temp 92-72F with a couple of hot dry days where it got up past 100F. Winds out of the southeast during the day and out of the west during the night. Humidity 65% to 25%. Seas calms to moderate in the afternoons. Water Temperature 78-81F. Fishing wide open on yellowtail of 20 lb class at Quemado Bay. Deep at 280 ft on dropper loop with live bait. Bite shuts off at 10 a.m. The dorado are finally starting to show up. They are three weeks ahead of schedule, and of nice size 15-35 lb, hanging under sargasso paddies and only taking live bait on the fly line. It promises to be a very good season. Billfish are still here, both sailfish and striped marlin. I guess they must really be catching and releasing down south because it's been many years since the last billfish had made it up this far. Maybe they will even see some make it back. Road conditions very good. Gasoline same $2.60 a gallon. Tel 011-52-515-19454; Fax 011-52-665-03206 (goes to Guillermo's).
BAHIA DE LOS ANGELES, MEXICO: FIRST L.A. BAY DORADO OF THE MILLENNIUM, CAMP GECKO, Bahia de los Angeles, July 9, 2000, Russ Gale-- My wife and I flew into Loreto July 1 to drive our truck and boat back to the SF/bay area. I fished Loreto two days with guide Rigo Davies and the dorado bite was positively obscene. There was no problem catching fish like these all day long (pic 670 Rigo Davies). Caught and released one sailfish while in Loreto and saw at least two dozen tailing sails and one marlin. Also stopped in and saw Pam Boles' darling new daughter. We drove north to Bahia de Los Angeles and stayed at Campo Gecko for several days . I am pleased to announce that Wed.(July 5) Reuben caught a dorado and Thursday Doc and I went north to Isla Alcatraz and fished the sargasso paddies and found frigate birds working over dorado. We kept these and released several smaller ones (756 Doc and Daniel, his deckhand). Doc called them the second, third and fourth dorado of the new millenium in BOLA. All the guides were pretty pumped up about it, so I guess the dorado season will be in full swing in a week or two. --Russ Gale, Martinez, Ca.
SAN FELIPE FISHING REPORTS
ALL ARTICLES, REPORTS AND FISHING INFORMATION FOR SAN FELIPE
SAN FELIPE, MEXICO: TONY REYES FISHING TOURS, 6-day Midriff Islands trip aboard the panga mothership, Jose Andres, trip ending July 14, 2000, Tony Reyes. WATER TEMPERATURE 75-80 degrees F. Fish Count: 107 Spotted Bass/Extranjeras 4-6 lbs; 219 Cabrillas 12-15 1/2 lbs; 130 Squid/Calamares 20-40 lbs; 8 SheepHead/Viejas 8 lbs; 15 Red Snapper/Pargos 8-12 lbs; 2 White Sea Bass/Cabicucho 14-30 1/2 lbs; 61 YellowTail/Jureles 18-26 1/2 lbs; 1 Grouper 29 lbs; 1 Sierra 6 lbs; 1 Broomtail/Cabrillas Cola Escoba 20 lbs. Exclusive booking agent, The Longfin, 714-538-8010.
SAN FELIPE, MEXICO: JIG STOP TOURS, July 14, 2000, Larry Burson, 6-day trip aboard the San Felipe panga mothership, Captain Villegas. Summer has arrived! The larger Cabrilla have moved out of the shallows and into deeper water. The Yellowtail are more available on the shallow reefs, 80-150 feet deep, and less on the surface. The Pargo are larger and Dorado are in the counts. Large Squid were quite plentiful at night under the lights, but they also showed during the day under diving birds as they fed on the Sardinas. White Seabass fishing is still good! There is still good volume around the Enchanted Islands, near San Luis Gonzaga. The winds are calm in all areas now. The strong winds we've had all season along the Baja coast have calmed down to 5-10 knots. Finally that area is fishable and the fishing is good! This trip was put together by Doug Boyd of Mission Viejo. As long time veterans of the Captain Villegas, they were well prepared and had a good trip. They scored 161 Yellowtail to 36 lbs, 163 Cabrilla to 10 lbs, 73 Pargo to 24 lbs, 21 Dorado to 18 lbs and 16 White Seabass to 42 lbs. They had no problem filling the bait tanks at night, so the main method of fishing was using live Mackerel on a dropper loop with a 16 oz sinker, drifting over the reefs. The ship went straight to San Lorenzo, then to San Bernabe. On Wednesday they moved to Isla Smith, then worked their way up to Isla San Luis. Tel 949-496-0960; 800-521-2281; Fax 949-496-1384.
SAN FELIPE, MEXICO: SEA OF CORTEZ SPORTFISHING, 6-day Midriff Islands trip aboard the panga mothership, Celia Angelina, trip ending July 13, 2000, Bob Castellon. With 15 anglers including Bob's daughter, Tiffany Castellon, we enjoyed good fishing and good weather. The water temperature peaked at 79.9 degrees at the Golden Reef, and the coolest water was found at Isla San Lorenzo at 73.6 degrees. Air temperatures ranged from 94 at the Golden Reef to 79 at Puerto Remedios. Chuck (Gato) Worger of Yorba Linda, Calif., captured a 96-pound grouper at the Golden Reef, after trying for 11 years on the Celia Angelina. Chuck is 69 years young. The majority of the fish continue to be caught in the northern part of the Midriff. Fish counts for this trip: 79 yellowtail to 36 pounds; 92 cabrilla to 24 pounds, 66 giant squid; 6 white seabass to 19 pounds; 46 pargo to 12 pounds; 74 dorado to 20 pounds; 1 grouper, 96 pounds; 1 black sea bass, 32 pounds; 187 miscellaneous. Spaces are available on the following prime fishing dates: Aug. 5-10, Sept. 2-7, Sept. 9-13, and Sept. 16-21. Tel 626-333-9012; Fax 626-336-1966; San Felipe 011-52-657-71778.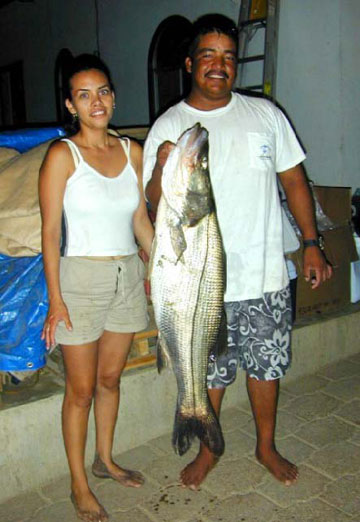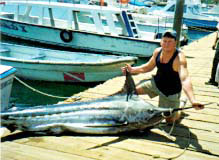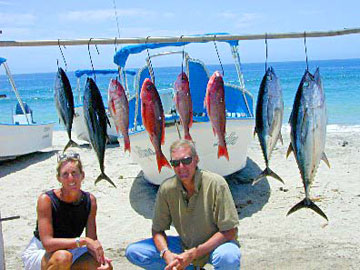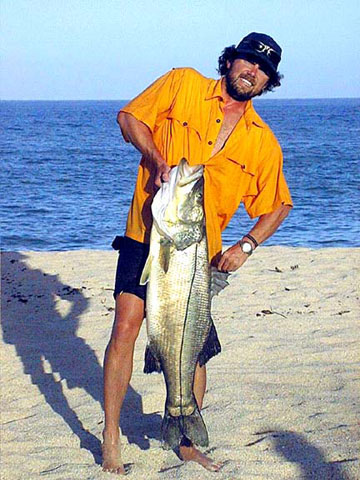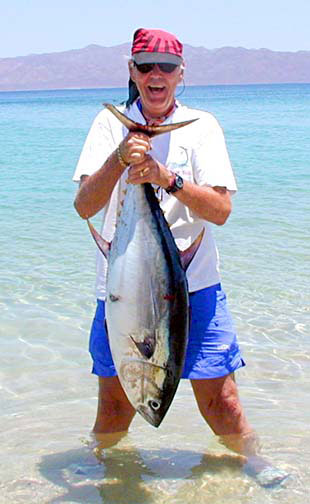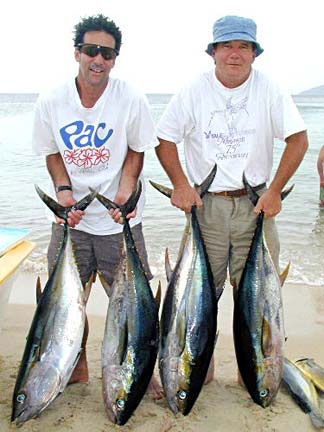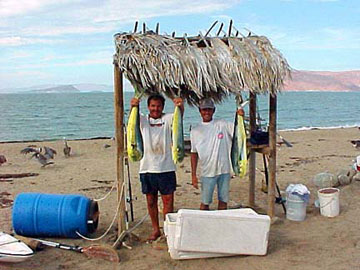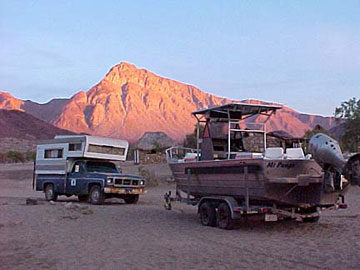 Baja coastal fishing reports and articles.
Ensenada fishing reports and articles.
Puerto Santo Tomas fishing reports and articles.
Erendira fishing reports and articles.
San Quintin fishing reports and articles.
Magdalena Bay fishing reports and articles.
Cabo San Lucas fishing reports and articles.
San Jose del Cabo (Los Cabos) fishing reports and articles.
East Cape fishing reports and articles.
La Paz fishing reports and articles.
Loreto fishing reports and articles.
Mulege fishing reports and articles.
Santa Rosalia fishing reports and articles.
Bahia de los Angeles (L.A. Bay) fishing reports and articles.
San Felipe fishing reports and articles.
Rocky Point (Puerto Penasco) fishing reports and articles.
San Carlos (Sonora) fishing reports and articles .
Mazatlan fishing reports and articles .
Puerto Vallarta fishing reports and articles.
Ixtapa Zihuatanejo fishing reports and articles.
Huatulco fishing reports and articles.
Cancun fishing reports and articles.
Mexico coastal fishing reports and articles.
Mexico Fishing Home Page < Mexico Fishing News Archives < Fishing Report