Also 2 dorados 15 lb. Water temp. 69 degrees. Flat and calm day. Fishing GPS numbers 31.39/117.02, 16 to 18 miles out from Punta Banda. Most of the fish hit in kelp paddies, yellows and dorados albacores in trolling. Five anglers fishing at Ensenada. Amigo, with 4 anglers, 37 yellows same sizes, also 2 albacores on feathers, black and purple. Other boats from Marina Coral caught good number of albacore at 31.39/117.04. Most their catch was albacores in open water. Tel/Fax, 5 to 9 p.m.: 011-52-617-46747; Cell 011-52-618-67485; lilys@telnor.net.
ENSENADA, MEXICO: LILY FLEET, Ensenada, July 20, 2000, Sammy Susarrey. Today the Amigo left at 5.30 am and returned 1.45 pm. with one single fisherman, and they caught 4 halibut 12 to 15lb. Also got limits on sand bass, keeping only the larger ones because so many were caught. Today was an excelent day of fishing. Water temp. 66.4, and the sea was bumpy in the morning. After 8 a.m. the day became flat and still. Some fog in the bay. Bait: small sardine, but, they caught most of the fish on lures, UFO-3 chrome and green, and Scampis. The best line was clear line 20 pound test. Tel/Fax, 5 to 9 p.m.: 011-52-617-46747; Cell 011-52-618-67485; lilys@telnor.net.
ENSENADA, MEXICO: LILY FLEET, Ensenada, July 19, 2000, Sammy Susarrey. Fishing results today: Lily, 24-foot boat, 20 sand bass around 3 to 5 pounds. Amigo, 30-foot boat, 30 sand bass around 3 to 5 pounds, 9 barracudas medium sizes, and 9 calicos at University Point, 6 anglers fishing. Tamara, 40-foot boat with 5 anglers, 1 salmon silver, 22 lb., 28 sand bass, 2 yellows, 10lb., 20 barracudas and 14 calicos, at University Point. Most of the fish were caught from to Estero Beach and Three Brothers, also in from the Paderones Rojos, next place south from Three Brothers. Water temp. 66.0-66.5 at University Point . Weather today was foggy all day and a light wind. Swell, 3 feet . Today's fish hit most on live bait, small sardines mixed with anchovies. Also, plastics, Scampis work good, colors bright purple, pink and rootbeer. Tel/Fax, 5 to 9 p.m.: 011-52-617-46747; Cell 011-52-618-67485; lilys@telnor.net.
ENSENADA, MEXICO: LILY FLEET, Ensenada, July 18, 2000, Sammy Susarrey. Today we were fishing the Three Brothers Spot, and we caught many sand bass, calico bass, and few white sea bass to 12 lb. We caught calicos and sand bass, different sizes, also in front of Estero Beach. Three miles out there were large schools of anchovies, and under the bait, a lot sand bass to good sizes.
Most of the fish hit on live bait with one-ounce sinkers. At Unversity Point we had great fishing on bull bass calicos, with the most fish caught on plastics. Tel/Fax, 5 to 9 p.m.: 011-52-617-46747; Cell 011-52-618-67485; lilys@telnor.net.
In other mainland Mexico and Baja fishing action this week:
MAGDALENA BAY FISHING REPORTS
ALL ARTICLES, REPORTS AND FISHING INFORMATION FOR MAGDALENA BAY
MAGDALENA BAY, MEXICO: MAG BAY TOURS, Punta Hughes, July 22, 2000, Brian Freitag. What's Biting: Halibut, Corvina, Pargo, Sierra, Grouper. Red Hot! Halibut, on flys and small Krocodiles in the mouths of the Magdalena Bay esteros, Pargo, on Scampis and Krocodiles from shore. Note: Dorado and stripped marlin have been spotted at a temperature break about 35 to 45 miles offshore, but, we have not aware of any that have been caught by sportsfishermen, yet. Weather: Days: 80-82 degrees F. Nights: 72- 74 degrees F. Winds: Calm - AM, picking up to moderate some afternoons. Reservations 800-599-8676.
MAGDALENA BAY, MEXICO: BAJA ON THE FLY, San Carlos, July 22, 2000, Gary Graham. Temperatures: 84-degree high; Low 68 with light winds in the afternoon. Water temperature: 73 - 68 degrees in the mangroves and 69 offshore. STRIPED MARLIN - More fish being seen along the temperature break 8 miles outside the entrada. DORADO - We can't call it wide open, but there is fair fishing. TUNA - Few caught this week. SIERRA - Slow. CORVINA - Fair catches throughout the bay. SNOOK -Several fish in the 15-pound class. YELLOWTAIL - Most of the fish caught have been down deep. QUICK COMMENT - Now is a good time to explore the countless mangrove channels for new spots. One of the things to look for is places where the channel is at least 10 feet deep right up against the mangroves. This seems to be where the bigger fish congregate. Look for dead or dry looking mangroves which usually indicate deep channel with strong currents that have washed soil away from the roots. Tel 800-919-2252; Fax 760-746-7260; bajafly@aol.com.
MAGDALENA BAY, MEXICO: BAJA ON THE FLY, San Carlos, July 19, 2000, Gary Graham. Temperatures: 84-degree high; Low 68 with light winds in the afternoon. Water temperature: 73 - 68 degrees in the mangroves and 69 offshore. STRIPED MARLIN - A few being reported 7 - 10 miles offshore outside the Entrada (entrance.) DORADO - Fair catches continue around the shark buoys west of the entrance. TUNA - Some smaller fish reported below Tasco. SIERRA - Only a few reported this week. CORVINA - Good catches near Mario's spot. SNOOK -Fair catches near Devils Curve. YELLOWTAIL - Most of the fish caught have been down deep. QUICK COMMENT - The weather has settled down and it looks like it will be a great summer and fall season. More and more billfish being reported along with dorado and tuna offshore. Inshore rumors abound about larger snook being caught by the commercial fishermen. Corvina, snappers, small halibut all in this week's report. Tel 800-919-2252; Fax 760-746-7260; bajafly@aol.com.
MAGDALENA BAY, MEXICO: MAG BAY TOURS, Punta Hughes, July 16, 2000, Brian Freitag. What's Biting: Corvina, Pargo, White Sea Bass, Halibut, Sierra, Grouper. Red Hot! Halibut, on flys, small Krocodiles, and small leadheads in the mouths of the esteros. Pargo, on Scampis and Krocodiles from shore. Bay Bass on small leadheads inside the bay. Fish of the week: 12# Orangemouth Corvina by Alan Nicoletti of San Diego, on a Krocodile from shore. "This has been the best fishing experience of my life!" - Alan Nicoletti; 15# Pargo by Mag Bay Tours Guide Steve Warren on a Scampi from shore. Surf: 2' to 3' early in the week picking up to 6'+ later in the week. A building swell makes next week look very promising! Weather: Days: 80-82 degrees F. Nights: 70- 72 degrees F. Winds: Calm - AM, picking up to moderate some afternoons. Tel 800-599-8676.
CABO SAN LUCAS FISHING REPORTS
ALL ARTICLES, REPORTS AND FISHING INFORMATION FOR CABO SAN LUCAS
CABO SAN LUCAS, MEXICO: JEFF KLASSEN SPORT FISHING, Cabo San Lucas, July 22, Jeff Klassen. Surf fishing at Cabo San Lucas picked up somewhat this past week, although it was somewhat spotty at times. All of it was along the Pacific side. The gulf side is muerta (dead)! We fished almost all of the beaches between Cabo and La Laguna, east of Playita one day and never even saw a fish, other than the yellowfin croakers that the locals fish for at Playita. The big concentrations of mullet that were there at Playita have either gone or taken a hiatus. We,ll see what happens this coming week. There have been dozens of locals bait fishing with dead sardines and cut squid along that beach. One evening we were there and there were about 200 people fishing. A group of ATVs constantly buzzed by as did one of those mini-plane-kite things with a couple of Gringos in it. It was like "Wally World. Anyway, the beaches around Cabo have been somewhat fish-shy. Outside of the odd Jack being caught along Playa Grande (Solmar Beach) it's been fish-less as has been the Pedregal. In fact, you really do need to get out to Migrino and beyond to start seeing the mullet concentrations, followed by the big roosters and jacks. We've been concentrating on those beaches around there and have had pretty good success. Keith Church from Lake Tahoe fished with us all week, a couple of times along the shore and caught everything he was looking for including 2 roosterfish, two big jacks and a 12lb Sierra Mackerel. What a nice guy too. Allen Armstrong and his "Fresh One wife Collete from Carlsbad, CA also fished with us from shore with Allen getting 2 big roosters and Collete 2 big jacks. I also nailed two nice Sierras this week along there at 11 and 13lbs. It's been pretty much a morning bite. Everything we caught were on Rangers or poppers.
Cabo San Lucas charter fishing pangas are concentrating primarily on dorado, along the Pacific side. See, I told you last week that more ought to be going out that way. Most of the fish have been 15 to 25lb range with some to 40 and even 50lbs. Surf fisherman Keith bagged a few nice ones fishing with us on the Tio Luis 1 along with a single tuna. Tuna is still spotty with only small schools about sporadically. There are still large roosterfish to be had, primarily in the areas I mentioned along the Pacific, as well as a good 300 yards or so off of the shoreline near the hotel Presidente, where I nailed a few the other day. All of the roosters that I heard about were caught on live bait. The bigger boats are heading out further north, as far as Gaspareno and out towards Golden Gate banks at times, looking for the bigger dorado and striped marlin. Boats looking for stripers are getting 2 or 3 to the boat in a trip, seeing lots of others. The water around here has definitely warmed up but we're still a bit blue marlin shy. There's the odd one coming in, in the 200lb range. There are still a number of boats fishing the gulf-side areas as far up as the Gordo banks. 360-402-FISH (3474).
CABO SAN LUCAS, MEXICO: PISCES FLEET, Cabo San Lucas, July 21, 2000, Tracy Ehrenberg. BILLFISH: We couldn't of been happier with the fishing this week, that is up until Thursday, when it was still good, but we had less billfish from this day on. The most unusual thing though, is that we we're fishing in the Pacific at San Jaime, Golden Gate and beyond. It is normally standard at this time of year, to be fishing in the Sea of Cortez, in the complete opposite direction. Fishing was actually very good at East Cape as well as Golden Gate, but in between the water was quite green, with hardly any action. Jimmy Craig and Chris Golden fishing on Cowboy VII, had an unbelievable day, 10 miles off of La Ribera - they released four different varieties of billfish the same day - a 310 pound blue marlin, a 60 pound long-bill spearfish, a striped marlin and a sailfish.
Closer to Cabo we had some great catches too- the Block family from Seattle, Wa. , released one blue marlin and two striped marlin as well as boating three large dorado, aboard, La Brisa. This same day, July 18th, Mark & Heidi Williams, from Fort worth, Texas, had three striped marlin, a hammerhead shark and three yellowfin tuna, aboard Karina. Our catch rate was almost perfect this week, with just one boat getting "skunked" for the whole period. The average catch, was two to three billfish, mostly striped marlin, as well as a few sailfish, along with some sizeable dorado. Once we hit Thursday, the marlin action slowed down, but we were compensated with plentiful dorado. Pisces anglers caught a total of 40 billfish this week - every single fish was released : 36 striped marlin, one blue marlin and three sailfish. OTHER SPECIES: Dorado catches increased substantially this week, with many boats getting up to seven, ranging in size from 20 to 60 pounds. Nearly all are taking feathers and small lures. Yellowfin tuna catches were on the slow side, with just a few small ones, caught closer in than the marlin. Wahoo here and there, not much over 30 pounds. Pangas are catching small dorado, bonita and some yellowfin tuna. LOCATION: Golden Gate and San Jaime. WEATHER CONDITIONS: Currently the Pacific is like glass; the Cortez side is a bit choppier, as there was wind out of San Jose. Skies mostly clear. Hot . AVERAGE WATER TEMP: 84 F. BEST LURES: Live bait for striped marlin, green type lures for dorado, blue marlin red/black lures, sailfish, bait and lures. Tel 011-52-114-31288; Fax 011-52-114-30588; pisces@piscessportfishing.com.
CABO SAN LUCAS, MEXICO: FLY HOOKER SPORT FISHING, Cabo San Lucas, July 16, 2000, George & Mary Landrum. WEATHER: It is starting to get hot down here! I'm using the air conditioning at night about half the time, mostly when there is no breeze. We had one or two cloudy days this week when it looked as if there might be a storm or some rain. Other than that the rest of the week had temperatures in the mid to high 90's during the day and the mid 70's to high 80's at night. The breezes have been light and mostly from the west.
WATER: The temperature is probably the most important factor right now. It seems as if the color is good both offshore and inshore but the temperatures skyrocketed overnight during the middle of the week. One day we had 79-degree water right out front and the next day the temperature was up to 84 degrees. The 80-degree water is now on the Pacific side of the cape. There seems to be a finger of warmer water that is lying right across the tip of the cape, out to about 35 miles. The conditions remain good for fishing, small swells and light breezes on both the Sea of Cortez and the Pacific.
FISHING: BAIT - We are still getting Caballito from the bait pangas and the price is still steady at $2 per bait. No reports of Mackerel and no information on the availability of Sardines. MARLIN - The approach of the warm water earlier in the week brought the Striped Marlin closer to Cabo and then overnight it seemed they had disappeared. They had actually stayed on the edge of the temperature break and passed Cabo, ending up on the Pacific side. After the new location was found the catch rates shot back up for a day, then the Full moon started to have an effect on the catch. Hopefully the influx of warm water will bring in the Blue and Black Marlin, we sure miss tangling with the big boys!
YELLOWFIN TUNA - There seem to be a few of the football size Yellowfin showing up close to home, and I have one report of 90-100 pound size fish being caught 35 miles south of Cabo on Friday. The boat was using live bait on downriggers and working a school they had spotted on the depth sounder. The boat caught three fish and they were all in that weight range.
DORADO - Good news here, it looks as if the Dorado are here and they are biting well. Every boat I have seen has been flying Dorado flags and the fish are decent size, most of them over 15 pounds with a lot of the larger 30+ pound fish being landed also. There has been no specific area where they have been concentrated, but there seem to be more on the Pacific side. That could be just because more boats are working that side for the Marlin! Strikes have been mixed, with success on both live bait and lures.
WAHOO - No reports.
INSHORE - There are still Roosterfish being caught, but not as many as last week. I did see one grouper of about 80 pounds landed and heard reports of others in that size range being caught. Bonito and Skipjack are still being caught by the pangas and there has been an occasional Yellowfin Tuna and Amberjack caught on live bait. Some of the pangas are doing well on the Dorado also. 'TILL NEXT TIME, TIGHT LINES!! Tel 011-52-117-01271; 011-52-114-87452.
SAN JOSE DEL CABO (LOS CABOS) FISHING REPORTS
ALL ARTICLES, REPORTS AND FISHING INFORMATION FOR SAN JOSE DEL CABO
SAN JOSE DEL CABO, MEXICO: GORDO BANKS PANGAS, San Jose del Cabo, July 16, 2000, Eric Brictson.Well summer is definitely here, as the temperature reached the century mark for several days this past week, it also brought some great news to big game anglers, the big marlin have arrived. Weather was very calm and warm offshore, swells were running a slight two to four feet, with no new storms on the horizon either. Plenty of live bait also, caballito, mullet and sardinas. The best action continued to be found in the area of San Luis Bank and this is where the fleets have been concentrating their efforts. Overall catches included yellowfin tuna, black marlin, blue marlin, dorado, amberjack, pargo, bonita, roosterfish and jack crevalle. The dominant action found was for yellowfin tuna in the 5 to 40 pound class, average fish were about 10 pounds, but one monster of 120 pounds was reported. Boats have had from 15 to 25 tuna a day with a couple of dorado mixed in and a handful of quality sized pargo. Dorado were on the small side, most under 10 pounds but there were a few that went as high as 40 pounds. Tuna were hitting best on the live sardinas and on the lighter tackle but many were also taking yo yo style iron jigs and would also hit the smaller surface lures, like hoochies, feathers or cedar plugs. The boats that did scout out the Gordo Banks reported seeing some larger fish feeding but could not get them to bite. Bolito and skipjack are now showing up in greater numbers and this should help attract more gamefish in the coming weeks.
Anglers were very excited in recent days as the season's first real bite on large marlin started, it also was in the area of San Luis, where all the tuna were concentrated. The combined panga fleets from Palmilla and La Playa had as many as 7 marlin that ranged in sizes from 250 pounds up to one monster black marlin that weighed in at 717 pounds. Only one of the larger marlin reported by the pangas was a blue, all of the rest were blacks. The panga Estrella del Mar, skippered by Antonio Guluarte accounted for the 717 pounder, angler was Ron Hutchins from Lompoc, Ca. They hooked the monster on a 5 pound yellowfin and fought the fish on 80 pound tackle for three and a half hours before bringing it to the boat, apparently it broke three gaffs but somehow they managed to pull it into the 22 foot boat. The fish measured out at 12 and a half feet long and provided some good eating for the whole village of La Playa. On Saturday Marcelo Gonzalez who was skippering the Diosa del Mar brought in a black marlin that went close to 500 pounds, it also hit on a small yellowfin tuna and took all of three hours to subdue. Local anglers are all braking out their heavy equipment and anxiously preparing to hook one of these monsters, perhaps this year one of the pangas will finally land a grander.
Inshore fishing was limited to some roosterfish and jack crevalle but the bite was on the slow side, most of the roosterfish were under 15 pounds but one 35 pounder was reported. Most anglers are opting to fish further offshore now for the tuna and marlin. No more large snook reported this past week and surf fishermen are catching mostly some jacks, pargo and croakers.
Good Fishing--Eric. Tel 800-408-1199; Fax 619-447-4098; 011-52-114-21147; gordobanks@cabonet.net.mx.
EAST CAPE FISHING REPORTS
ALL ARTICLES, REPORTS AND FISHING INFORMATION FOR EAST CAPE
EAST CAPE, MEXICO: EAST CAPE SPORT FISHING, Los Barriles, July 22, Gil Mendiaz. A combination of factors has slowed the fishing a bit on the East Cape. The full moon combined with plentiful bait has the big game fish feeding at night, resulting in pickiness during the day. Also, a front moved through last week, generating winds to 15 knots during the afternoons, along with 6 foot seas, which made fishing more difficult. But - this is the East Cape after all, and these things have simply taken fishing from "outrageously good" to merely "excellent". In addition, as often happens during such conditions, those fish taken offshore were definitely on he large side (see notable catches below).
Sea surface temperatures show plenty of warm water in the region, to 89 degrees, with daytime temperatures reaching 100+ on some days. An anomalous pocket of colder, green water did pop up inshore, from Pulmo south, which slowed inshore fishing in this area. However, northern regions were unaffected, and continued to put out quality fish. All the warm water is bringing lots of bait. Large bait balls of bulitos are working outside the Pulmo marine reserve, and attracting lots of mid-sized dorado and football yellowfin tuna to the area. The bait pangas have abundant baracutas (green jacks) and sardinas, both in large size.
Plenty is happening offshore as well. Some striped marlin are still being taken, and numbers on both blue and black marlin are on the rise. Sailfish are highly abundant all over the fishery, to the point of being a nuisance. Large dorado continue to be taken on the troll and from the shark buoys. The big news, though, is the yellowfin tuna. Two large schools of cochis (juvenile gray bottlenose dolphins) have been working either end of the fishery, from 25 to 45 miles out, with yellowfin from 40 lbs. up schooled beneath. Fish to 150 lbs. are being hooked regularly, and one yellowfin of 240 lbs. was taken last week. The bite has been a bit picky due to the moon, but when it goes off, it goes off big time, so find the dolphins early and be patient. Live bait, (both sardinas and baracutas) has been very effective, as have natural cedar plugs and dark-backed rapalas.
Inshore fishing continues to be excellent, with very little pressure. The roosterfish bite has dropped off some, likely from the full moon. Larger pargo and huachinango (red snapper) are being taken on the yo-yo and live bait dropper loops. Big toro (jack crevalle) are also prowling the surf. We spotted several fish between 10 and 30 lbs. not more than 20 feet offshore one day, so these hard fighters are there for the taking for you surf fisherman.
Notable Catches: While searching for the dolphins aboard the El Dorado, Dave Dixon of Riverside, CA got hooked up on a 422-lb. blue marlin. "I had no idea how large the fish was until the first time it came to leader," says Dave, "We had the fish to leader 25 times over three and a half hours, until he finally rolled over and died just before I was ready to collapse. This fish was very strong and tricky, and required the crew to pull off some of the best boat and fish handling I've ever seen to get it landed."
Ken Aioki from Thousand Oaks got onto the dolphins and some big yellowfin while fishing with the Alma Rosa III. After farming several fish, including one estimated at 150 lbs, the swells started to kick up, and Ken's party decided to head inside for calmer waters. Reports Ken: "We had one big bait left, so the deckhand tossed it out on a 30SW with 40-lb. test, just for the heck of it. I didn't even have a swivel on this rig. No sooner had the bait hit the water when a HUGE tuna exploded on it." Ken fought this fish for five hours and at one point was down to two wraps on his reel. In the end, it died and had to be handlined up, fighting six-foot swells all the way. The tuna weighed in at 240 lbs. Tel 800-837-1556; Fax 805-493-5446.
EAST CAPE, MEXICO: BUENA VISTA BEACH RESORT, week ending July 22, 2000, Axel Valdez. Boats out: 54. Fish counts for week (Kept/Released): Blue Marlin 1/4; Striped Marlin1/5; Sailfish 13/13; Dorado 152/18; Shark 0/0; Tuna 289/2; Roosterfish 0/27; Amberjack 5/0; Trumpetfish 0/0; Skipjack 12/37; Bass/Grouper 1/0; Jack Crevalle 0/3; Red Snapper 24/0; Needlefish 3/6; Pompano 0/2; Triggerfish1/0. Water Temperature: Normal for the summer months, ranging from high 70´s to the mid 80's. Weather: The temperature is in the mid 90's, but with the humidity it feels a little more. The water activities such as the pool, bar, snorkeling or diving, plus nice breeze in the evenings and early mornings, and of course good fishing, will let you concentrate on what you came down for, to relax and enjoy your vacation. Fishing Spots and Distance: Most of the fleet is fishing south from the hotel, about 15-25 miles. From La Rivera all the way to Cabo Pulmo. Successful lures: Chivato (orange/yellow), Purpuras (purple/black), green/black and they are also trying the petrolero (black/orange). Bait Used: Same as last week, but a little more mullet and less caballitos. Highlights of the Week: The school dorados are in, and you know what that means, big numbers. Also the number of tuna were very alike last week with a small improvement this week, but fewer boats. Good size roosterfish reported by our fleet captains, and good quantity. Week's Comparison: Even though the billfish percentage per boat was down this week specially due to less quantity of sailfish, the dorado percentage was three times better. Tuna continues to remain hot, with 5 tunas per boat (average). Roosterfish also recover from last week, and with quality fish. Reservations 800-752-3555.
EAST CAPE, MEXICO: RANCHO LEONERO, July 22, 2000, Gary Barnes-Webb and Roy Baldwin. Continued nice conditions at the East Cape, with daytime highs in the mid 90's, evening lows in the low 70's, calm seas, afternoon breezes and water temp in the low 80's. A bright full moon slowed the incredible marlin bite we've experienced the last several weeks, however, tuna, dorado, sailfish and roosters continue to feed aggressively. Yellowfin tuna averaging 15lbs are concentrated just off Punta Arena, with as many as you want taking cedar plugs, hoochies and live sardinas. Bigger tuna from 100 to over 200lbs are outside, taking trolled marlin lures. The dorado bite continues, with big bulls nearly all over 50lbs cruising outside, from 10 to 20 miles out, from Leonero to Cabo Pulmo, mostly on live sardinas, mackerel and all patterns of marlin lures. Limits of schooling dorado averaging 15 lbs are in close from Punta Colorada to Cabo Pulmo, taking mostly live sardinas. The sailfish bite continues, with fish spread throughout the bay, mostly taking trolled marlin lures, with some on live mackerel or sardinas. The strong roosterfish bite continues with fish averaging 15lbs inshore throughout the bay from Punta Pescadero to Punta Colorado, taking live mullet, mackerel and sardinas. David Bush and sons Kevin & Ryan of Denver, CO, while fishing 4 days on Leonero super pangas, took 2 striped marlin, 48 yellowfin and 12 dorado, all taken while fly fishing. Tel 800-646-2252; 011-52-114-10216.
EAST CAPE, MEXICO: BAJA ON THE FLY, Buena Vista, July 22, 2000, Gary Graham. Temperatures: High 95 with a low of 79; Humidity = 86%. Clear skies with some wind in the afternoon. Water temperature: 79-86. STRIPED MARLIN - Only a fair showing this week. BLUE MARLIN - Continues at slower pace than usual for this time of the year. SAILFISH - Not as many groups being seen, mostly singles. YELLOWFIN TUNA - Going off throughout Las Palmas Bay. I heard of three different areas producing excellent catches to 20 pounds. DORADO - Second only to tuna in the numbers reported this week. ROOSTERFISH - Some huge fish seen near the shore from Punta Arena to Bartell Beach. (In case you wondered, Bartell Beach is named for the actor who did those Bartell's & James wine commercials. He has a home here.) JACK CREVALLE - Plenty of smaller firecracker fish tight to the beach, a few larger fish around the boat moorings. BARRILLETE OR MEXICAN SKIPJACK - Plenty of schools seen a few miles offshore Punta Colorado to Buenavista. PARGO AND CABRILLA - Smaller fish biting consistently at the pargo hole near Punta Colorado. OFFSHORE: While the billfish action slowed somewhat this week, tuna and dorado kept everyone busy. INSHORE: Dorado continue to gain momentum and the tuna just keep going and going. BEACH: While the moss I mentioned in the last several reports continues to be a nuisance, fishing has improved. From Rancho Leonero to Punta Arena the smaller jacks and roosters have been showing in the mornings and by mid-day, the larger roosters can be seen swimming closer to shore for sight casting opportunities.
QUICK COMMENT: I find it interesting that sometimes we tend to keep looking for more and more exotic flies when some of the old tried and true patterns work so well. Jim Haas, a local commercial tier, has a sardina pattern that has produced well for us over the years and once again this week produced good results. Tied on a Tiemco 813 2/0 with white bucktail, Krystal Flash, olive bucktail for the back and topped off with peacock hurl, the pattern produced roosters to 10 pounds this week. John Ireland, owner of Rancho Leonero and I were talking the other day about the current fishing and we both concluded that the ideal water temperature, bait and volume of fish in the area could produce excellent fishing like we had last August. If your dance card isn't full for next month yet, we still have a few openings. Give us a call. --Gary. Tel 800-919-2252; Fax 760-746-7260; bajafly@aol.com.
EAST CAPE, MEXICO: RANCHO BUENA VISTA, Buena Vista, July 21, 2000, Tamara Moyeous. A total of 26 boats fished this week. Striped marlin, 4 caught and released. Blues only 3 (all released). Sailfish 4 (all released). Roosterfish counted for 3, but a whopper at 68# was caught by Geoff Griffiths of "Pink Chimneys" Bermuda, on 30# test near the Lighthouse. Dorado were at 87, and 126 tuna were landed. All in all a great week, lots of tuna. Water temperature is 80 degrees, conditions a bit windy. Look for the Tag and Brag "no kill billfish" tournament results. They start on 07/30 - 08/02. Reservations 800-258-8200.
EAST CAPE, MEXICO: HOTELS PALMAS DE CORTEZ, PLAYA DEL SOL, PUNTA COLORADA, East Cape, July 20, 2000, reported by Dave "Smokey" Manuel, East Cape Smokehouse. To make things easy, I should just repost my report from the weekend, because not much has changed. The Tuna fishing is still excellent. Dorado fishing actually has improved significantly. Marlin and Sailfish numbers are disappointing. I'll go to Dorado fishing first. After a gradual slowdown over the past few weeks, then several days of very quiet Dorado action within the past 10 days, they finally are back in force. Great numbers this week with a 3.81 per charter average since Monday, which in looking back is the best average since early May. The most consistent production is from the shark buoys off Punta Pescadero, although Dorado are coming from other areas as well. Sardines, big bait and trolled lures all have hooked fish, many of the big one's on lures. A good share of Dorado continue to be of quality size in the 30's and beyond, but I've also seen many smaller fish mixed in the last few days, running 10-15 lbs. Most of these smaller Dorado are hitting live Sardines. The Tuna fishing just keeps going. Consistent production from the same area off La Ribera down to Cabo Pulmo, mostly on footballs, but a 242 lb Tuna was taken only 6 miles off shore of La Ribera. Other big Tuna have been found mixed in with Porpoise off shore farther.
A 194 lb Yellowfin was landed in just over 4 hours on Monday nearly 50 miles off shore. Several other Tuna taken this week were over the 100 lb mark. A few other charters hit a good Tuna bite off shore of El Cardonal, which is just North of Punta Pescadero. Most ran 20 lbs and under and were taken on Sardines. Not much encouraging news regarding Marlin or Sails, they are still around, but numbers are poor. To compare this week to ten days ago, we averaged 0.40 Billfish combined per boat this week to 2.82 Billfish combined from the weekend of July 7th. It's been straight down hill since then, but luckily due to the great Tuna bite and Dorado fishing, few are complaining. Adios, Smokey Dave, EAST CAPE SMOKEHOUSE, 011-52-114-10294. Hotel reservations, 800-368-4334.
EAST CAPE, MEXICO: BAJA ON THE FLY, Buena Vista, July 19, 2000, Gary Graham. Temperatures: High 93 with a low of 79; Humidity = 86%. Clear skies with some wind in the afternoon. Water temperature: 76-86. STRIPED MARLIN - Good catches reported. BLUE MARLIN - Only a few reported and mostly smaller fish. SAILFISH - Many multiples reported. YELLOWFIN TUNA - Lots of fish up to 20 pounds a few miles offshore in front of La Ribera and a few larger ones under the porpoise. DORADO - Finally starting to show under the shark buoys at Punta Pescadero. ROOSTERFISH - Good catches up to 30 pounds. JACK CREVALLE - Some schools of smaller jacks feeding on sardina in the surf line. BARRILLETE OR MEXICAN SKIPJACK - Good catches all up and down the coast. PARGO AND CABRILLA - Fair catches along shore near Punta Colorado. OFFSHORE: While the largest concentration of boats fishing tuna has been in front of La Ribera, the tuna seem to be spread all along the shore from Muertos to Cabo Pulmo. INSHORE: While the tuna still are drawing most of the attention, the dorado bite is improving daily. BEACH: I checked the beach out early this morning and there was some rooster and jack action in front of La Ribera where the sardina is being caught by the bait boats. We also spotted some smaller jacks feeding on sardina near Rancho Leonero. QUICK COMMENT: Pontoon and pangas produced the best action for us this week. Buzz and Mary Fedorka, Telluride, Colo., taking a few days off for R&R and celebrating Mary's birthday and their 14th wedding anniversary, managed to catch a large number of smaller roosters (up to 5 pounds), pargo, jacks, and other species. Lee Million, research scientist from Winters, Calif., caught a 10 pound rooster on his first cast from a Rancho Leonero panga on Sunday; then, 20 minutes later, was battling his first of several yellowfin tuna on the fly and finished up the day chasing 30 pound++ roosters close to the shore near Punta Arena. He had such a great time he is planning on returning in a couple of weeks with a buddy to pursue the grande roosters again. By the way, Lee's tuna were caught on the Baja Deep Diver. Tied with chartreuse angel hair over white bucktail, white hackle and plenty of pearl mirage flash on a 413-3/0 Eagle Claw hook. It is one of the flies featured in our June Flies on the Inshore Fly page of our website http://www.bajafly.com. Look for me on the beach. --Gary. Tel 800-919-2252; Fax 760-746-7260; bajafly@aol.com.
EAST CAPE, MEXICO: HOTELS PALMAS DE CORTEZ, PLAYA DEL SOL, PUNTA COLORADA, East Cape, July 16, 2000, reported by Dave "Smokey" Manuel, East Cape Smokehouse. The weather and the Tuna fishing are hot! Afternoon temps all weekend in the upper 90's and very little relief at night with lows only down in the mid to low 80's. Air conditioner season is definitely here. The dry weather we're having has kept it reasonably non muggy, you can still actually dry off after a shower, but when you walk out of an air conditioned room and your sunglasses fog over, you know it's a warm one. (I'm not exaggerating, it happens) The Tuna fishing is just as hot. There's lots of Tuna from lots of fishing spots. Most of the boats are heading Southeast and around the corner, anywhere from La Ribera down to the Cabo Pulmo area. Charters fishing in tight are finding mostly footballs mixed with a few up into the 20 lb class throughout this area. A few boats have had some success on respectable 30-40 lb class fish off shore more, but the best bet is in close. Unless you want the big one's. A couple of skippers have opted to look on the outside for Porpoise and bigger Tuna and they were not disappointed. A couple near 100 lbs, one up at 150 lbs and a local boat with one up near 175 lbs, all were taken on the outside mixed in with Porpoise. The Marlin and Sailfish action has not been as good. In fact, compared to the past several weeks it's poor. Very few Blues and a continued slow down on Sails and Stripers. This weekend's average for Billfish per charter was 0.73, compared to the previous weekend's average of 2.82. The lower numbers are not just because many of the charters are fishing for the sure thing on Tuna, skippers targeting Billfish are saying they are seeing fewer and they are not as aggressive on bait. Dorado numbers have rebounded some, with most of the good bites coming from the shark buoys off Punta Pescadero. Many boats are coming back with multiples in the 25-35 lb class and a few are in the upper 40's to low 50's. Adios, Smokey Dave, EAST CAPE SMOKEHOUSE, 011-52-114-10294. Hotel reservations, 800-368-4334.
LA PAZ FISHING REPORTS
ALL ARTICLES, REPORTS AND FISHING INFORMATION FOR LA PAZ
LA PAZ, MEXICO: JONATHAN ROLDAN'S ADVENTURE SERVICES, La Paz, July 20, 2000, Jonathan Roldan. SUMMER LOG 2000. Ok, here it is, amigos, pescadores and pirates! The place where you get all the stuff that doesn't appear in the regular fish reports with all the fish scoop (or goop, as it were)!
Well, this might be the last entry for a bit as I'm done with fishing for about a week or so. Headed back to California on Saturday for a week to re-group and re-load for 7 days then back here to La Paz, hopefully, on August 1st with a bunch of amigos. As you may have read in my fish reports, I'm with my pals in Ted Hustava's group and only 4 of them fished today. I took the rest of the group to La Paz on a fish taco tour and after fishing about 27 of the last 30 days, it was a nice change! No one is fishing tomorrow and I've promised them we'd take a nice drive to Cabo for some shopping and other matters of "civilization." The pirate is going to be in port for a few days. I'm gonna give the fish population a rest!
Anyway, all that aside, I'm in a bit of pain today. Yes. . .Tengo un poco de deule! Let me set this up. Each year, with this group something happens! Last year, I got hit on the noggin by a bat and I also had a 120 pound sailfish dropped on me and had the beak of the sail rip the foreskin off my arm! (Not sure that sounds right. . .maybe I'm supposed to say the skin off my forearm). In any event, I was just waiting for something to happen. Yesterday, I was on a mini-cruiser with Henry and Grace Yoneyama and Mikey Lau. We got into a great dorado bite off the westside of Espiritu Santo Island near La Paz. Grace always seemed to be hooked up and she also had a habit of getting the WORST backlashes at the same time, God bless her! Well, we had two fish going when she got bit and immediately bird nested the reel. I grabbed the rod from her and tried to hold on while attempting to free the backlash. The rod had an old Penn 500 bolted to it. Well, the fish suddenly screamed off. Line went taught and the rod went double bendo. All the slack line that I was working on, suddenly lasers out and moves so fast it cuts the strap off the brand new dive watch that my friends, Roy Firuto and his group gave me as a gift to replace the watch I had lost a few weeks earlier. (now sitting at the bottom of Ventana Bay) I loved this watch they gave me! Anyway, line moves so fast, it cuts the band off the dive watch on my left hand, then the rod jerks and the jagged metal plate that Henry Yoneyama had bolted to the bottom of the reel slices about a third of the ring finger on my right hand off right into the finger nail! Blood comes oozing out. Feels like my hand is on fire and I can see the deep slice like a cresent moon into my finger. On top of it, I've got a pissed off dorado jumping 50 yards off the port bow and the line is still backlashed and not giving an inch turning into a bigger mess by the second as the knots all cinch up into a mother of a birds nest! Well, finally got the thing untangled and line squared away enough to hand the rod back to Grace who landed the 24 pound bull, but yea.... I got my new battle scar. Henry keeps asking me if we want to go back in to the hospital. HECK NO! WE'RE HERE TO FISH! Anyhow. . . I'm checking it all the time to see if I have to go get stitches. I have the chunk of finger compressed and packed with Neosporin hoping it'll fuse back onto the finger. I knew the job was dangerous when I took it. I'm just glad we got the fish!
As for the rest of the report, the Hustava boys hammered about 8-10 dorado per boat with the biggest being about 28 pounds. Not as many fish as the previous few days, but consistently a good bite. They are short on ice chests and zip lock bags! Today, it was pretty much the same although there were more tuna mixed in. Tell ya what, that area on the west side of Espiritu Santo has a scattered body of fish ranging over a 5 mile line where the patches of sargasso weed are hung up. All of a sudden you'll see a 50 pound bull come chasing a flying fish, then 2 or 3 other flashes of color before your rods go off. There also seems to be an inordinate amount of shark activity in the area as well.
Normally, we trail a bonito or skipjack body off the transom a few feet. Twice in the last few weeks I've been in a panga where a shark has come up and literally torn the carcass off the transom rope! In all my years here, I've never seen that happen. The first time several weeks ago, we had the bonito about 2 feet off the stern leaving an oil line and had the rods out slow trolling live bait. I was seated and trailing my fingers in the water as I have a habit of doing when the fishing gets lazy. Suddenly, there was a brief splash behind the motor. We looked and all that was there was our big chunk of nylon rope. No bonito! Gone. Vaporized! I checked to see if all my fingers were still there. This has happened several times the last few days! Hmmmmm. . .Gotta be more careful!
Las Arenas side is still the place for the big tuna. They are in a wide stretch from the north island to the Dome (southwest side); Punta Sur (Rock Highway); Muertos Bay (peanut sized fish) and in front of the Las Arenas Faro (lighthouse). The bigger fish are 40-60. Smaller ones are REALLY small punks in the 10 pound class. Great fun if you have a spinnning reel.
Can't wait to be in California for a few days. Actually, am craving a double-double from In-N-Out with fries and a shake although Chef Linda Ford's food here at La Concha has been awesome! Well, all for now. Regular fish report back on Sunday as usual.
LA PAZ, MEXICO: JONATHAN ROLDAN'S ADVENTURE SERVICES, La Paz, July 19, 2000, Jonathan Roldan. Well, amigos. . .fished just about everyday for the past month and there's only two things it seems to be that we're short of around here. . .ice chests and zip lock bags. I won't say it's wide open, but dang. .. there's alot of fish poundage being taken. Have seen guys literally fill their ice chests in the first or second day with the size if not the quantity of fish. Some days are certainly better than others, but no one seems to be going home empty. More likely, they get hernias from hefting the packed ice chests!
The dorado bite for one seems to have taken it to another level. I am currently with the Ted Hustava/ Tom Lujan group. We spent the day knocking back the dorado along the west side of Espiritu Santo Island all day. It was a little bumpy today which broke up alot of the sargasso weed in the area, but it was still cranking out dorado from 10-50 pounds. Let the wind's settle in a day or two and the weeds will start clumping together and I have a feeling we'll have the kind of bite we had last week where boats averaged more than 20 biters per day! Personally, our boats took about 15 bites per day. .. losing a few. . .and coming back with 8-12 fish each boat. No complaints from anyone. Lots of smiles. The fish weren't congregated, but spread out and willing to chew. Using both feathers and lots of live bait slow trolled behind the white wash of the motor, the dorado would literally come within feet of the boat and start boiling around the boat. Surprisingly, we also got some 20 pound tuna and big time bonito in the same area which isn't really known for that. Don't even bother heading to the Bajo. At least as far as these past few weeks are concerned, not much there except small bonito and yellowfin tuna. There was a 700 pound blue marlin hooked there a few days ago and lost.
On the Las Arenas side, south of La Paz, it's still very much a tuna bite. Again, the tuna are spread out in a wide arc with small fish still eating in front of Punta Perrico and I do mean SMALL tuna. ..like 10-15 pound fun fish. Another group of fish is parked on the Rock Highway at South Point at Cerralvo Island. There's yet another at the Dome on the southwest point of the island and then there's the school we've been hammering at the north side of the island. Except for the school at Perrico, the fish at all these other places are bit time sluggers in the 30-70 pound class. Most of the boats are getting several bites, but coming back to the beach with only 1-2 fish each. As I said, the fish are tough and taking an hour or more to land with most being lost to faulty equipment, inexperience and just plain bad luck. Still at this size, that's ALOT of meat in the ice chest!
Still lots of sailfish around. A few wahoo here and there. Roosters still along the beach. Even have some giant squid as well. It's hot. . .105 or so, but with the cloud cover it has made for some great water days. Water temps are in the low 80s but there's a thermocline at about 60 feet where the water is as much as 10 degrees colder. That's where the tuna seem to be holding coming up to feed on bait schools. Bring a few rubber core sinkers if you're coming down. Also a feather or two. . .one light and one dark feather. We have bait, but it's not real plentiful meaning that after the morning bite you might have to resort to trolling. See yaaaa! --Jonathan. Tel 626-333-3355; Fax 626-333-0115; Pager 323-349-8111; Message Pager 877-310-7734; Riplipboy@aol.com.
LA PAZ, MEXICO: FISHERMEN'S FLEET, La Paz, July 19, 2000, David Jones. Now it's starting to feel like summer. We've had a moist week down here, with no rain, just lots of perspiration. Temps have been at or above 100 and the humidity has not been oppressive, but it's on the rise. Winds have been mild and from the south generally, bringing us warmer waters and the fishes that go with them. Bob Glenn and a group from The Idaho Angler (good website, and there's a guy up there named Dennis Spaulding who puts the trips together, and might even get to go fishing himself someday) have been here for a few days already, whipping the water to a frenzy with their fly rods (and using conventional tackle as well) They have done very well on Tuna at the north point with fish to 50 pounds and Dorados on the buoys to 25 pounds. Bob was into a school today that ended up breaking one of his fly rods ("They weren't all that large, only 15-20 pounds, but there were so many of the darn things I think that the rod just got tired"). Joe Merola and his fellow SoCal firefighters warmed up on some Tuna yesterday and then scored big on the Dorado as well today with fish to 45 pounds coming from the buoys. A good number of Sailfish to 130 pounds have been hooked and most of them released this week as well. A few Blue Marlin are also starting to show as the water warms up. We've seen sporadic Wahoo this week(they're in the same family as the random Wahoo)and have even hooked a couple (long distance release) I wouldn't say that the Wahoo bite is big time, yet. Rooster fish are still hitting along the beaches, with old Rooster Fish Bill besting and releasing 2 25 kilo fish today. A fine summer week in La Paz, and Punta Arena is starting to do it's thing in earnest. At the Bajo, Capt. Juan has been doing his thing on Dorado, with good results. Fish to 45 pounds have been coming regularly on the weed lines and current breaks. He hasn't fished Tuna in a couple of weeks so we have no idea as to Tuna fishing up north. He has started to see a bunch of Marlin. He and I are going to participate in a Tournament from La Paz this weekend and I will report on that next week. We are guardedly confident, but will be without our trusted 3rd man Chris "Bonk 'em Boy" Jones who is exploring the northern California coast at this very time with Merle and Pat Schreiner of Gualala fame. We will struggle on without him, but it won't be the same. Until next week, Have Fun. Tel 011-52-112-21313; Fax 011-52-112-57334.
LA PAZ, MEXICO: JONATHAN ROLDAN'S ADVENTURE SERVICES, La Paz, July 16, 2000, Jonathan Roldan. The bad bump of weather we had earlier in the week seems to have left us and, as of today, other than a little wind it's really great fishing weather. It's just the type I like, hot and flat! I've been fishing almost daily now for a month and the last several days have been so oily flat that you can see the fins of cruising fish like dorado and sailfish lazing on the surface. All of a sudden, like yesterday at the north end of Cerralvo, you'll see schools of exploding 50 and 60 pound yellowfin tuna. . .not just boiling but literally grabbing air and hang time out of the water chasing bait and watching the scramble of pangas to get to the spot. That north end of Cerralvo has been the hot spot the last few days. It's quite a run to the north side for the Las Arenas panga fleets, but that's where it's happening. Some days are better than most, but since the wide open bite of punky tuna at Muertos Bay shut off, the north side of Cerralvo is really the only place to go, especially since there's not much of a dorado bite at the local buoys. Earlier this week, I was with Bob Horton and Rabbi Shelly Donnell's guys and they slayed the tuna at Muertos Bay with Bob trying out his Chubb Tackle Toad Tamer rods which he designed. Now, however, the bite has swung back north. I was with clients this week soaking bait on the outer edge of the panga group. It had been a slow morning on the north side. A few tuna had been caught, but it was already 10 a.m. and it looked like most boats had made a run for nothing. All of a sudden out of flat seas, tuna literally charged the pangas with big toad fish leaping 2 and 3 feet into the air and headed straight for the pangas like bouncing torpedos. I saw 3 fish almost jump into the pangas as guys scrambled and suddenly 30 pangas had all they could handle with bent rods, broken lines, tangles, etc. Great fun pandemonium! In an hour it was done, but so were most of the anglers. It has slowed a bit since then. The past two days with Coach Bob Combs and his former high school wrestlers, the guys averaged about 1-4 fish per boat. All quality fish, but it was a tough pick at times. Maybe it was the full moon. Still a few wahoo being caught. Not the season, but each day it seems that we get zipped a few times. It's a quick "zing powie" and you wind back in a cleanly severed line. One of these days we'll use wire, but if you use wire, you won't catch tuna. It's a trade off.
On the La Paz side, the great dorado bite has taken a hiatus replaced with a mix of tuna, dorado and some sailfish. The tuna on the Bajo have decided to bite, but it can be a pick especially if the bonito don't leave your line alone. Mostly, the tuna are small being under 20 pounds, but still fun. The dorado are not as concentrated, but if you troll around, you'll get 2 to 4 nice keepers per day. By the way, it's great to hear from my clients that skippers are actually pulling anglers off wide open bites when they reach or are close to limits. Hearing many anglers also telling me that they are throwing back the smaller tuna and dorado. Way to go!
LORETO FISHING REPORTS
ALL ARTICLES, REPORTS AND FISHING INFORMATION FOR LORETO
LORETO, MEXICO: EL FUERTE SPORT FISHING, Loreto, July 19, Ty Miller. Hola Amigos, Well, if you didn't made it down here in the last few months, you really missed out on some quality size Dorado. The fish are pushing North and working their way up the Cortez. We still have Dorado in the area but the majority of the fish are small. We fished North last week where all the pangas have been fishing out of Loreto. There were a few 20 to 30 pound class fish but most in the 5 to 12 pound class. It was really a shame to see these guys killing the nursery fish just to get limits! I guess they don't understand the cycle. Yes, it is a wide open bite down here on the Dorado, but don't be fooled by reports of 40 to 50 pound fish everywhere. There are some big guys hanging around but they are few and far between. We are still hoping for a new wave of bigger fish to come in - we'll see what happens.
The Striped Marlin and Sailfish are still going strong and seem to like this area for the time being. The guys here in the Park are catching and reseasing up to 12 fish a day, mostly Sails. Doubles and even triples are still common. We are picking up a few decent size Dorado also, that are mixing in with the billfish, so that makes a nice combo.
The majority of both Dorado and billfish are being caught off the back side of Isla Carmen and out off of Punta Perico. Both species are taking the plastics on the troll and drop-back-live bait.
Bait-making off of Honeymoon Cove (Ballenita on Isla Danzante) is still producing Macks between 6:30 and 7:30AM. Giant squid are still in the area also.
Like I said, Dorado are pushing North on their usual pattern, so get ready for their return trip back this way in the next few months. Who knows, the second time around could be better than the first! Hasta Luego! Tel 714-775-6658; Fax: 714-755-3501; Loreto 011-52-113-30863.
LORETO, MEXICO: BAJA BIG FISH COMPANY, Loreto, July 16, 2000, Pam Bolles. Temperatures: low 80's (F) to 100+ (F). Humidity 65 - 75+% Still really hot! Clear skies all week at Loreto with the exception of overcast on Friday the 14th. Thunderheads form over the mountains and sometimes dump rain in late afternoons, as is typical of late summer weather.
Winds: Prevailing is from the South, very light in the mornings and picking up in the afternoons. Evenings pick up but only slightly, but not enough to cool things down.
Seas: Seas are calm in the mornings and pick up only slightly in the afternoons. Temperatures are 80 - 86 (F) offshore and ~84 (F) inshore.
Summer Season: We are now in Loreto's summer fishing season. Prevailing winds are from the South and the air temperatures will range from over 100 (F) during the day to 80 (F) during the coolest part of the night. Our humidity will range from 45 - 70% and sometimes even higher. This climate will remain with us until about mid October when we'll transition into the Winter season. Yes, this is hot weather, but with hot weather comes hot fishing. This season is proving to be a good one so enjoy it.
Storm season technically already started and we actually were effected by one this past week. Typically we won't see storm activity until late July. Late July through October is when storms will form over the Eastern Pacific off Acapulco. We're effected by these storms when they move to the North and are channeled up the Cortez or pass over the peninsula from the West. The most devestating storms are the ones that come from the West and are strong enough to pass over the 5,000+ foot Sierra de la Giganta mountains. Any of the storms that come within 500 miles of us will effect the condition on our seas. Late August, September, and October are historically notorious for storm activity in our area.
I just opened up my new fly and tackle shop downtown. We're located right in town across the street from the Playa Blanca Restaurant. Come by and see me from 6:00 to 10:00 p.m. every day of the week!
Offshore- Dorado: We're still "big into the fish". There are as many dorado out there as you want. Many of the Dorado coming in are small (20-25 pounds) but there are 40+ pounders out there. Since the limit is only two per person, you will want to catch and release your smaller ones. I would suggest trolling some feathers to make this easier. The fish tend to swallow live bait too deeply which makes releasing difficult. They'll generally take feathers in the side of the mouth. The Dorado are being caught about 5 - 8 miles NNE of Isla Coronado. There are bigger ones way further out (about 30+ miles E of Carmen), but if a storm suddenly comes in that will be too far away from land to wait it out. Many anglers are reporting catch and release of over 50 Dorado a day!
Offshore Billfish: There are lots of Marlin and Sailfish being caught right now. Sailfish are more prevalent though. Stripers are coming in at 150-200 pounds. They're being taken with flylined live bait, but trolled feathers are even more effective. Sailfish are coming in with equal frequency and with the same methods. The sailfish are from 50-90 pounds. They are catching them [the billfish] while searching for Dorado, so they are in various locations all around our area. We encourage the catch and release of billfish whenever possible.
Yellowfin Tuna: The Tuna have proved very elusive this week as I only heard of one (football sized) being caught.
Bonita and Skipjack: There are several schools in the usual spots. Most notoriously about a mile off and extending to the South of Punta Lobos towards Punta Perico, where their schools gather year after year. Most anglers consider them a nuisance but they're a lot of fun on light tackle. If you're trolling through this area, expect to be hit by some of these fish.
Other Species: There are plenty of nice sized Cabrilla over the deepwater reefs off the islands and points to our North, as well as some nice Pargo. The Cabrilla are biting on jigs of various colors- try chrome, chrome/blue, white, white/blue, scrambled egg. They're also taking weighted live or dead bait. Cabrilla are coming in from 5-20 pounds and up.
Bait: You can readily buy bait off the marina and off of the beaches in front of the Hotels La Pinta and Oasis. Live bait is $1/ea (U.S.) for live Mackerel and Caballitos. There are plenty of squid that you can catch before you head out to the fish. The squid are taking large squid jigs, or regular iron jigs of any color. Treble or single hook. I would suggest you buy some macks, catch some squid and have your trolling feathers handy for the day.
Inshore Fishing: The light tackle inshore bite is very good right now but most of the anglers attention has not been focused on it. If you're coming down soon, don't hesitate to bring a light spinning or bass rod. You'll have a blast catching triggerfish, needlefish, pompano, pargo, cabrilla, pinto bass, roosterfish, jack crevalle and other species. Hell, you don't even need a boat to get into this bite- just walk the beaches or fish off rocky points such as the breakwalls off town, the jetty off the Hotel Oasis, and the point to the North of the Eden Resort as well as the Jetties off the Eden Rersort.
Loreto Marina: Fish this location on your last day here if you're not going out fishing, or in the evenings... There's structure just a few yards off the East-facing marina breakwall that holds a wide variety of species. The bite is best between 6:00 and 9am, and again between 7:30pm until dark. The locals are lining up there once again to catch their limits. The most common species you will see will be the Barracuda (2-4 pounds), Mackerel and Bigeye (both under a pound), Halibut (2-10 pounds), Roosterfish (1-5 pounds), Giant Needlefish (3-4 feet, 2-4 pounds), Largo (~1 pounds), Cabrilla (1-10 pounds), Pargo (1-5 pounds), and Jack Crevalle (3-10 pounds). Tel/Fax 011-52-113-50448
LORETO, MEXICO: CHILI PUNTA FLEET, Loreto, July 16, 2000, John "Bubba" Parker. All I can say, If you like to catch Dorado and sailfish and are not in Loreto then shame on you. The only difference from last week is the blue marlin, they have slowed down a little. When you catch one now they are in the 300 pound plus range. It's wild on the Dorado, you can catch and release as much as you would like. They are running in the 15 to 55 pound range. Live bait, strips of dead bait and feathers all seem to work. Weather wise it is HOT and humid. Sunday night at 10 PM was 91 degrees. No winds. The Hotel Mision is open on a limited basis. I understand that they have eight rooms open as well as the bar. No swimming pool as of yet. Rate is around 30 dollars a night. Until next week Tight lines all.
SANTA ROSALIA FISHING REPORTS
ALL ARTICLES, REPORTS AND FISHING INFORMATION FOR SANTA ROSALIA
SANTA ROSALIA, MEXICO: Sportfishing articles, maps, and fishing report archives for Santa Rosalia.
San Felipe Fishing
SAN FELIPE, MEXICO: BAJA SPORTFISHING, INC., trip ending July 21, 2000, Gustavo Velez, 6-day Midriff Islands trip aboard the panga mothership, Erik. Huge dorado bite and yellowtail in numbers. Dorado 127, yellowtail 115, cabrilla 217, 12 pargo. Lot's of squid. No grouper. Reservations Tel 619-523-1822, 800-770-2341; Fax 619-523-9896; fishbaja@pacbell.net.
SAN FELIPE, MEXICO: TONY REYES FISHING TOURS, 6-day Midriff Islands trip aboard the panga mothership Jose Andres out of San Felipe, trip ending July 21, 2000, Tony Reyes. WATER TEMPERATURE 80 degrees F. Fish Count 192 Spotted Bass/Extranjeras 4-6 lbs; 126 Cabrillas 12-18 lbs; 6 SheepHead/Viejas 4-8 lbs; 7 Red Snapper/Pargos 8-12 lbs; 6 White Sea Bass/Cabicucho 45-60 lbs; 70 YellowTail/Jureles 20-27 1/2 lbs; 1 Grouper 37 1/2 lbs; 2 Dolphinfish/Dorados 12-14 lbs; 2 Broomtail/Cabrillas Cola Escoba 8-10 lbs. Exclusive booking agent, The Longfin, 714-538-8010.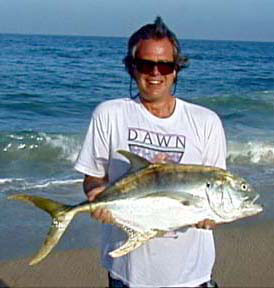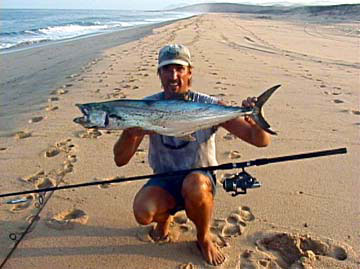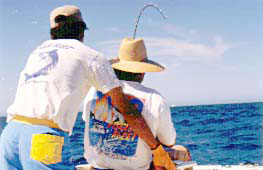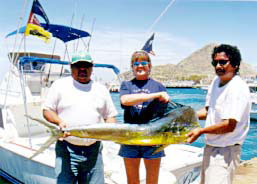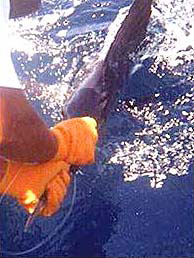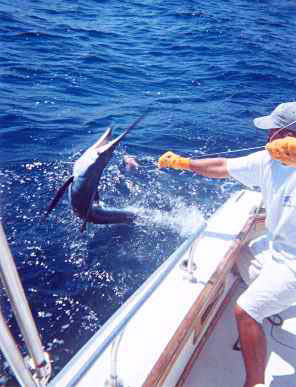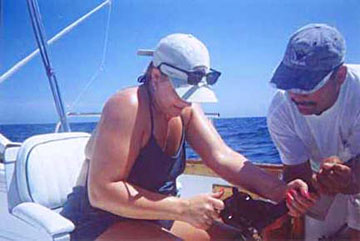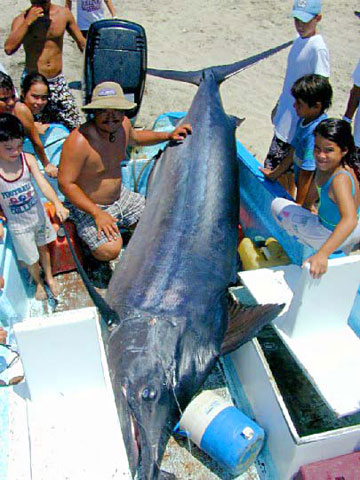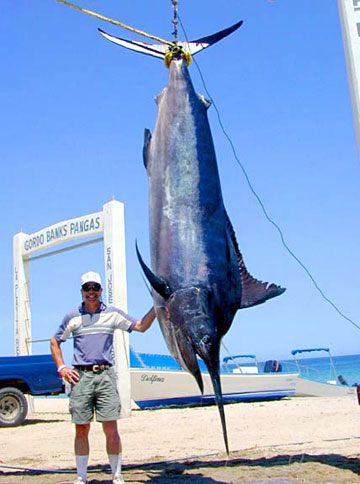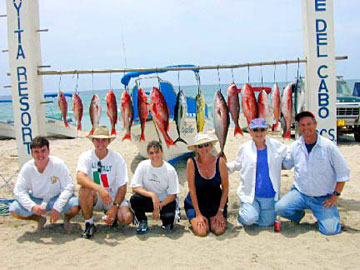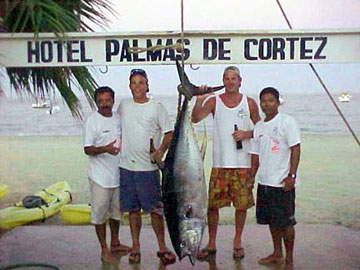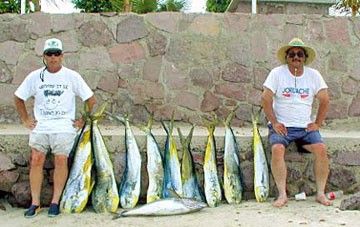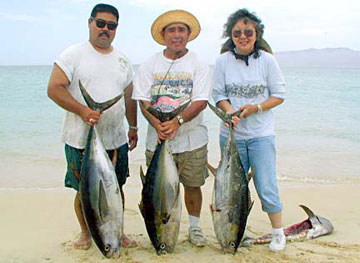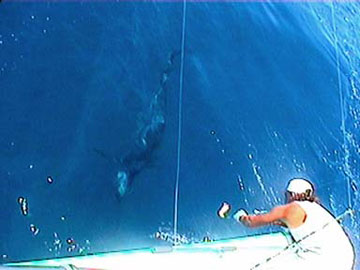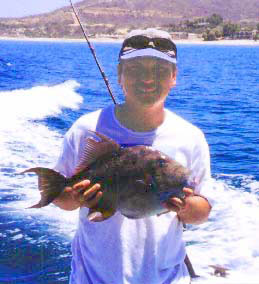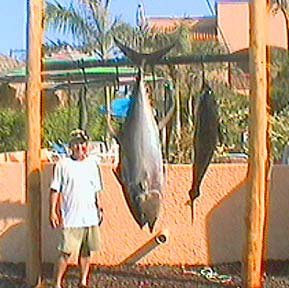 Baja coastal fishing reports and articles.
Ensenada fishing reports and articles.
Puerto Santo Tomas fishing reports and articles.
Erendira fishing reports and articles.
San Quintin fishing reports and articles.
Magdalena Bay fishing reports and articles.
Cabo San Lucas fishing reports and articles.
San Jose del Cabo (Los Cabos) fishing reports and articles.
East Cape fishing reports and articles.
La Paz fishing reports and articles.
Loreto fishing reports and articles.
Mulege fishing reports and articles.
Santa Rosalia fishing reports and articles.
Bahia de los Angeles (L.A. Bay) fishing reports and articles.
San Felipe fishing reports and articles.
Rocky Point (Puerto Penasco) fishing reports and articles.
San Carlos (Sonora) fishing reports and articles .
Mazatlan fishing reports and articles .
Puerto Vallarta fishing reports and articles.
Ixtapa Zihuatanejo fishing reports and articles.
Huatulco fishing reports and articles.
Cancun fishing reports and articles.
Mexico coastal fishing reports and articles.
Mexico Fishing Home Page < Mexico Fishing News Archives < Fishing Report