In the morning conditions were bumpy, but at 10 a.m., swells decreased to a calm conditions. No sun. Most of the fish were caught in kelp paddies. The few fish caught at Ensenada trolling hit Mexican Flag colors, also green and black Zukers. Live bait conditions: sardines, 4 inches, mixed anchovies. Hooks were 2/0 and 3/0; clear line. We spent the night at Soledad Reef where also we caught 26 squid to 5 pounds and 18 red snapper at 250 deep. Tel/Fax, 5 to 9 p.m.: 011-52-617-46747; Cell 011-52-618-67485; lilys@telnor.net.
ENSENADA, MEXICO: LILY FLEET, Ensenada, July 27, 2000, Sammy Susarrey. No boats out yesterday, but today we got limits of yellowtail, 15 to 20 pounds. Most of the fish hit on live sardines, with one-ounce sinkers. The fish are in the kelp paddies. Sardines are four0inch greenbacks. Water temperature 68. Nice blue water. Some fish hit trolled black/green Zukers. The seas are flat and the days sunny. Tel/Fax, 5 to 9 p.m.: 011-52-617-46747; Cell 011-52-618-67485; lilys@telnor.net.
ENSENADA, MEXICO: LILY FLEET, Ensenada, July 25, 2000, Sammy Susarrey. Amigo report for today, 3 anglers on board, fishing at Todos Santos Island. Slow action on barracudas . They reported six log sizes to six pounds. Most of these fish hit in Rapala CD14s, dorado color. Also, they caught limits of sand bass, in from to Estero Beach, 4 to 6 pounds. Sand bass caught mostly on jigs, UFO # 2, chrome and green, 20 feet deep. They saw large schools of send bass on the fish finder. Also 3 calicos, bull sizes, 6 pounds, in the rocks of Punta Banda. Water temp. at the island, 63.2; in from Estero Beach; 66.4; at Punta Banda, 63.5. Bait continues to be 4-inch sardines. Ocean still calm, light wind in the afternoon. Tel/Fax, 5 to 9 p.m.: 011-52-617-46747; Cell 011-52-618-67485; lilys@telnor.net.
ENSENADA, MEXICO: LILY FLEET, Ensenada, July 24, 2000, Sammy Susarrey. Today the Lily fished on a local trip with 3 anglers aboard. Limits on sand bass, 3 to 5 pounds; also got 3 yellows at North Todos Santos Island, trolling live sardines, 2/0 hooks, clear line, 30 pounds test , 12 lb yellows. Water temp. 66.5. The weather turned nice and blue, light wind, still flat and calm ocean. Live bait conditions, same 4-inch sardines. Reports of large schools of barracudas in the top log sizes, but our fisherment didn't want to catch them. Tel/Fax, 5 to 9 p.m.: 011-52-617-46747; Cell 011-52-618-67485; lilys@telnor.net.
ENSENADA, MEXICO: LILY FLEET, Ensenada, July 23, 2000, Sammy Susarrey. Today, fishing inside the bay Amigo reported 25 Sand Bass and 7 barracudas. Sand bass were 4 to 6 pounds, barracudas medium sizes, to 4 lb. Three anglers today aboard. Seas flat and calm. Very sunny day. Hot. Hot. Hot. The Tamara fished outside and we got 17 yellows 10 to 15 lb., also 2 albies by trolling Zukers, black and green; and 2 dorados 15 lb. on live bait in the kelp paddies. Water temp. 69.3. Bait situation, 4-inch sardines. Most of yellows caught in kelp paddies , 2 anglers aboard. We fished on a 260 degree heading from North Todos Santos Island, 14 miles out. Inside the bay, water temp. was 66.3. Tel/Fax, 5 to 9 p.m.: 011-52-617-46747; Cell 011-52-618-67485; lilys@telnor.net.
PUERTO SANTO TOMAS FISHING REPORTS
ALL ARTICLES, REPORTS AND FISHING INFORMATION FOR PUERTO SANTO TOMAS
PUERTO SANTO TOMAS, MEXICO: PUERTO SANTO TOMAS, July 23, 2000, Sam Saenz. The offshore sea winds died down this weekend, lots of birds diving for bait. The ocean is calm and smooth, no surface action , this weekend. Apparently the cold water currents are still in the local area and they spooked the recent hot yellow tail bite. Most panga sport fishermen are catching limits of bottom fish such as rock cod, white fish, lingcod, etc. with a few calicos. The small gillnet fishermen at Puerto Santo Tomas seem to be doing good. They routinely catch white seabass in the 8 to 40 lb category . The prize fish for the week was a black sea bass weighting 105 lbs caught in 20 feet of water on a small gill net, down by the local reef near the Islote ( Rock Pile). I do not know why the gill netters catch so many white seabass, yet the sport fishermen catch very little or none at all. It might be the bait they use or they do not have the knowledge.Tel 714-256-2577; Ensenada 011-52-617-45683.
MAGDALENA BAY FISHING REPORTS
ALL ARTICLES, REPORTS AND FISHING INFORMATION FOR MAGDALENA BAY
MAGDALENA BAY, MEXICO: BAJA ON THE FLY, San Carlos, July 29, 2000, Gary Graham. Temperatures: 80-degree high; Low 67 Cloudy with moderate winds in the afternoon. Light rain expected over the weekend. Water temperature: 73 - 68 degrees in the mangroves and 68 offshore. STRIPED MARLIN - More fish being seen along the temperature break 8 miles outside the entrada. DORADO - Find the right shark buoy and it can be exciting. TUNA - Few caught this week. SIERRA - Fair catches at the entrance. CORVINA - Fair catches throughout the bay. SNOOK -Only a few to 10 pounds. YELLOWTAIL - Most of the fish caught have been down deep. QUICK COMMENT - Water starting to warm up in the Mag Bay mangrove channels and there's a good corvina bite near the power plant. Gary. Tel 800-919-2252; Fax 760-746-7260; bajafly@aol.com.
MAGDALENA BAY, MEXICO: BAJA ON THE FLY, San Carlos, July 26, 2000, Gary Graham. Temperatures: 82-degree high; Low 68 with moderate winds in the afternoon. Water temperature: 73 - 68 degrees in the mangroves and 69 offshore. STRIPED MARLIN - More fish being seen along the temperature break 8 miles outside the entrada. DORADO - We can't call it wide open, but there is fair fishing. TUNA - Few caught this week. SIERRA - Slow. CORVINA - Fair catches throughout the bay. SNOOK -Several fish in the 15-pound class. YELLOWTAIL - Most of the fish caught have been down deep. QUICK COMMENT - Devil's curve produced good catches of pargo, spotted bay bass and a few corvina early this week.
CABO SAN LUCAS FISHING REPORTS
ALL ARTICLES, REPORTS AND FISHING INFORMATION FOR CABO SAN LUCAS
CABO SAN LUCAS, MEXICO: PISCES FLEET, Cabo San Lucas, July 28, 2000, Andrea McDonald. BILLFISH: A good selection of billfish was caught this week in Cabo , sailfish leading the way in catches. Altogether 14 sailfish; all released, 5 striped marlin all but one released and 3 blue marlin. Father-daughter team, Rob and Emily Thompson from Indian Springs, AL had three great days of fishing. They started the week of a bit slow with just one dorado but then on Tuesday they caught and released 4 sailfish, released one striped marlin and 4 yellowfin tuna between 30 and 80lbs. On their third and last day they released 2 sailfish and brought in a nice 400 lb blue marlin . Overall the week started off with great chances of billfish but by the end of the week it was mostly dorado. We had an 82% success rate in all species combined.
OTHER SPECIES: In small game catch it was mostly dorado and impressive number caught, altogether 82 dorados in our fleet. On Tuesday Trent Tarlton from Taylorsville North Carolina, caught a nice 54 lb bull dorado that took him 28 min. Trent caught it on a red and yellow marlin lure. Only 9 tuna were caught this week; including a nice 106 lbs tuna caught by Robert Roe and King Reagan, from Clebourne TX. It took Robert and King one hour and 5 minutes to reel it in on a 40 lb. Test line out in Punta Gorda, great team work! LOCATION: Fishing has been very spotty, at the beginning of the week they were going to Gordo Banks on Sea of Cortez, by the end of the week they were fishing on Jaime Banks, 95 Spot and the Old Light House on the Pacific. WEATHER CONDITIONS: Sunny at the beginning of the week and then mostly cloudy with rain on Saturday morning. Seas mostly flat with the exception on Friday when we had swells. AVERAGE WATER TEMP: 82 to 84 degrees. BEST LURES: Marlin and sailfish caught mostly with lures green & yellow, guacamaya and purple some have been caught on live bait. The dorados and tuna with live bait and feathers. Tel 011-52-114-31288; Fax 011-52-114-30588; pisces@piscessportfishing.com.
CABO SAN LUCAS, MEXICO: FLY HOOKER SPORT FISHING, Cabo San Lucas, July 23, 2000, Capt. George & Mary Landrum. WEATHER: It's been another wonderful week in Cabo ! Sunshine, a slight breeze, daytime temperatures in the 90's, nighttime in the 80's, humidity around 45/50%. We have people coming in from Dallas, Houston and Phoenix to escape the heat and humidity up there! Wednesday was the breeziest of the week with the wind coming from the southeast at 25-35 knots. This was due to the passing of a low-pressure area. Other than the breeze for a day it had no effect on us. The rest of the week the wind has been slight from the northwest or variable. WATER: This is probably they most important part of this weeks report as the water temperatures have had a very strong effect on the fishing. First of all though, the seas were slight all week with the exception of Wednesday. On Wednesday the wind caused a large, uncomfortable and wet chop to form in all areas. The water had a slight green tinge to it early in the week until you managed to get out about 10 miles, then it cleared up and became blue. The green water was also a bit cooler than the rest and was running about 78 degrees. As the week went on this cool water dissipated and the warm 81-84 degree water moved in to replace it. Checking the various sea surface temperature charts it appears that the Sea of Cortez is heating up. Many of the charts are showing temperatures into the high 80's, 86/87-degree stuff from outside Cabo up into the Cortez. On the Pacific side it looks as if the temperature breaks are outside the Banks. Both the north side of Golden Gate and the west side of Jaime have a strong separation, with the break off of Jaime appearing to differ as much as 5 degrees over a couple of miles.
BAIT: Almost exclusively Caballito at $2 per bait and the pangas are working hard to get them. FISHING: MARLIN: Good news and bad news here. It appears that the warm water has put off the bite for the Striped Marlin for now. They are still out there and are still being caught but not in the numbers that we had just started becoming used to. Very few are being hooked on artificial lures; most are being caught on live bait. Most of these fish are being found in 80 to 81 degree water on the Pacific side of the cape. The good news is that the Blue Marlin are starting to appear! There are not a lot yet, but there have been a few caught every day and many more reported hooking up. The focus of the Blue Marlin action has been offshore between 8 and 25 miles on the Sea of Cortez. So far this has been almost exclusively a lure bite. This early in the season not too many boats are carrying loaded Tuna Tubes. YELLOWFIN TUNA: There has not been much action on the Yellowfin this week. I have heard second hand reports of a few boats catching 30-40 pound fish using chunks at San Jaime and Gordo Banks but other than that it has been very slow. A few of the football size fish have been caught in Porpoise but the pods are few and far between, besides being small. DORADO: This has been a bright spot all week for the boats that have been able and willing to make a run. Steady action has been found about five miles to the north and north west of Golden Gate Banks. There have been large floating mats of kelp harboring massive concentrations of Dorado. The number of mats has seemed to dwindle as the week wore on and today we had 21 boats working one mat about 20 feet in diameter. Almost every boat caught fish and many of them were in the 30 pound and up range. Live bait has been doing the trick on these fish but lures have been accounting for a few found away from the weeds. WAHOO: ????????? INSHORE: The action on Roosterfish picked up just a little bit this week with some of the boats finding nice size fish up to 70 pounds off Chileno. Naturally most of the fish are much smaller and the average has been more like 15 to 25 pounds. No reports of any concentrations of Sierra, most of the Panga captains are saying the water has gotten too warm for both them and the Yellowtail. Tel 011-52-117-01271; 011-52-114-87452.
SAN JOSE DEL CABO (LOS CABOS) FISHING REPORTS
ALL ARTICLES, REPORTS AND FISHING INFORMATION FOR SAN JOSE DEL CABO
SAN JOSE DEL CABO, MEXICO: GORDO BANKS PANGAS, San Jose del Cabo, July 23, 2000, Eric Brictson. After stifling hot temperatures last week it was a nice relief to have cooler weather that stayed in the 90 's but this also meant that there was some wind from the south to deal with, crazy unpredictable pattern also, one day it would blow hard and the next day it would be flat calm and then it would repeat the same thing over again. Another factor was that it was the back side of the full moon which typically makes for tougher fishing, this proved true this week as overall catches were down from how it was past week. Although most of the daily catches were enough to keep most anglers busy reeling, the size of the fish and amount landed were less on the average. Bait situation became tough because of the low tides and high surf that made it difficult for the net casters but offshore there were now more schools of bolito and skipjack showing up and these make good bait also. Water has continued to be off color, a bit green and the temperature has been right around the 80 degree mark. Fleets were finding the most productive fishing from Punta Gorda to the San Luis Bank . Most consistent catches were for yellowfin tuna, dorado and pargo. The tuna were hitting on iron jigs , trolled lures and live bait ( when available ) and most of them were weighing 5 to 15 pounds, but everyday there were a few 30 to 40 pound fish accounted for.
Same deal with the dorado, although they are now more numerous, they are mostly smaller fish under 15 pounds with an occasional exception of one reaching 40 pounds. The dorado were hitting on both trolled lures and bait once the schools were located. The pargo ( red snapper ) continue to bite well, most are being taken while working the iron jigs off the bottom, with San Luis being the hot spot, nice size fish too, some as big as 15 pounds. A few nice amberjack being taken from the same area, one 67 pound amber was taken on 20 pound line, the amazing story was that first there was a pargo on the line and then the big jack came up and swallowed it and became hooked itself. The big bite on black marlin also slowed up in the days following the full moon, one of the main reasons being that it became more difficult to catch the smaller tuna for bait. One monster was lost by one of the pangas out of La Playita after a three hour battle in rough seas, the fish jumped onto the line and it gave way, they estimated the marlin to weigh at least 800 pounds. One black marlin was landed from a 20 ft. panga that launched from La Playa, a trio of local fishermen battled the brute from 9 a.m. until 11 p.m. before finally landing it and did not return to the beach until after midnight and this was after their outboard motor failed and another boat had to be sent out to tow them back in. The fish was finally officially weighed in at 1:30 a.m. in front of a large crowd that had been patiently waiting all afternoon and into the late night. The marlin weighed in at 582 pounds and apparently gave the anglers a hell of a fight, never jumped after the initial strike and just went straight down for hours on end. Once again the village of La Playita will be eating well. Good Fishing--Eric. Tel 800-408-1199; Fax 619-447-4098; 011-52-114-21147.
EAST CAPE FISHING REPORTS
ALL ARTICLES, REPORTS AND FISHING INFORMATION FOR EAST CAPE
EAST CAPE, MEXICO: BUENA VISTA BEACH RESORT, week ending July 29, 2000, Axel Valdez. Boats out: 84. Weather: High 80´s-High 90`s. Water Temperature: Inshore 77°- 80°, Offshore 80°- 86°. Fish count for week (#kept/#released): Blue Marlin 0/5; Striped Marlin 2/3; Sailfish 0/19; Dorado 76/4; Shark 1/0; Tuna 266/5; Roosterfish 0/8; Amberjack 0/2; Trumpet fish 0/0; Skip Jack 3/24; Bass/Grouper 1/0; Jack Crevalle0/4; Red Snapper 77/0; Needlefish 0/7; Pompano 17/0;Triggerfish 1/0. This week we found spots with water temperature up to 86 degrees. Otherwise the temperature still remains the same ranging from high 70´s to the mid 80's. Weather Temperature: We are starting to get hot we actually almost reach the hundred mark, still the humidity makes it feel like is a little more. Temperature high 80´s up to high 90´s average. Fishing Spots and Distance: Since the tuna bite is hot down south the fleet is going that direction, and very close to shore also, about 10 to 15 miles. Still some boats are trying new things to look for the Dorado going all the way south to el Rincon and Frailes area. Successful lures: Chivato (orange/yellow), Purpuras (purple/black), green/black and they are also trying the petrolero (black/orange). Baja colors. Bait Used: Little jacks and sardine. We had one day of rain and that day was really hard to get bait, after that day everything came back to normal. Highlights of the Week: Inshore fishing during the week was great, with good number of pompano and a lot of pargo. You must not forget to bring down light tackle so you can go down the beach and try it. We had a few over the normal size tuna this week, with several checking in above 40# weight. Weeks Comparison: For those moon lovers, well this week on the billfish was even slower than the past two weeks. Still we manage to caught some. Today during our Big Game Blowout, a lot of billfish has been reported, even a black marlin, we will have a great turn out for this tournament. Everything should be going back to normal. The tuna continues to be hot, but the rain from yesterday made it drop a little the percentage per boat, still the average per boat is above the 3 per each boat that went out. The dorado average dropped also, but today many dorado has been reported. We'll see next week's report. Reservations 800-752-3555.
EAST CAPE, MEXICO: RANCHO LEONERO, July 29, 2000, John Ireland and Roy Baldwin. Continued nice conditions at the East Cape, with daytime highs in the upper 90's, evening lows in the low 70's, calm seas with afternoon breezes and water temp in the mid 80's. The billfish bite was slow at the beginning of the week, then picked up on Wed. with 3 blues over 300lbs taken by Leonero G.M. Gary, who also lost a fish estimated to be over 800lbs, and took another 300lb blue on Thursday. A 500lb blue was taken on Friday, and Saturday a 820lb black marlin was taken 2 miles off Rancho Leonero by a Palmas boat after a 10 hour fight - the fish was finally landed within a mile of Leonero, in full sight of our guests having dinner. Yellowfin tuna averaging 15lbs are concentrated 2 miles off La Ribera, with as many as you want taking cedar plugs, hoochies and live sardinas. Bigger tuna from 60 to 110lbs are outside, taking trolled marlin lures. The dorado bite was a bit erratic, with one day great, the next so-so. Big bulls nearly all over 50lbs cruising outside, from 10 to 20 miles out, mostly on marlin lures. Lots of smaller dorado averaging 15lbs are in close from Punta Colorada to Cabo Pulmo, taking mostly live sardinas and tuna feathers. The roosterfish bite continues with fish up to 30lbs inshore throughout the bay from Punta Pescadero to Punta Colorado , taking live caballitos, grunts and sardinas. John Schachtnar of Newport Beach, CA, while fishing on the Palmas boat "Billfisher", took a 820lb black marlin on 60lb test, using a live bonita after a 10 hour fight. Tel 800-646-2252; 011-52-114-10216.
EAST CAPE, MEXICO: BAJA ON THE FLY, Buena Vista, July 29, 2000, Gary Graham. Temperatures: High 99 with a low of 84; Humidity = 86%. Partly cloudy skies with strong winds in P.M. Water temperature: 79-86. STRIPED MARLIN - No concentration of fish to be found - mostly singles and blind strikes. BLUE MARLIN - Several larger fish hooked this week. One boat had a double. They lost a large fish and caught the smaller of the two which was estimated to be 350 pounds. No telling how big that big one was . . . but it's still out there. SAILFISH - Slowed down from the wide-open fishing we were experiencing earlier in the month. YELLOWFIN TUNA - Still excellent fishing and you don't have to go far. DORADO - Good catches until yesterday. ROOSTERFISH - Great action in front of La Ribera and Punta Colorado. JACK CREVALLE - Also good showing mixed in with the roosters. BARRILLETE OR MEXICAN SKIPJACK - Plenty of schools seen a few miles offshore from Punta Colorado to Buenavista. PARGO AND CABRILLA - For those targeting them, the catching has been great. OFFSHORE: Billfishing has continued at a much slower pace than normally experienced at this time of year. INSHORE: With tuna as close as one mile off the beach the fishing is hard to beat. BEACH: La Ribera and Punta Colorado have started producing some truly extraordinary early morning action. QUICK COMMENT: With several tournaments going on, I am sure everything from beach to bluewater will be covered well this weekend. On the down side, the storm systems far to the south of us are causing some lightning on the horizon and clouds with strong winds this morning. Regardless of the rain, the entire fleet is on its way out to the grounds. It appears that the front that came through this morning is already on its way out. Look for me on the beach. Gary. Tel 800-919-2252; Fax 760-746-7260; bajafly@aol.com.
EAST CAPE, MEXICO: RANCHO BUENA VISTA, Buena Vista, week ending July 28, 2000, Tamara Moyeous. 7 stripers caught; 2 blue marlin caught, 242# caught by Marie Chavannes from France; 10 sailfish; 37 dorado; 109 tuna; 9 sharks. Exciting fishing with 9 sharks caught this week. Walter Steuri from Switzerland caught a blue marlin and sailfish that he released and dorado and tuna rounded out his day. Stay tuned for results of the Tag & Brag no-kill billfish tournament starting 07/30 for 3 days of wild competition. Beautiful weather, little breeze and 85F water temp. Reservations 800-258-8200.
EAST CAPE, MEXICO: MARTIN VERDUGO'S HOTEL, July 28, 2000, Marisol George. Today we sent 5 of our boats from our hotel and they all got fish. Mostly 2 blue marlin ( released), 1 sailfish, 6 tunas, and the Ronny's boat caught a #572 blue marlin! Nice one! You could even see a tuna tail in the mouth of the big animal!! Tel 011-52-114-10054; martinv@lapaz.cromwell.com.mx.
EAST CAPE, MEXICO: HOTELS PALMAS DE CORTEZ, PLAYA DEL SOL, PUNTA COLORADA, East Cape, July 27, 2000, reported by Dave "Smokey" Manuel, East Cape Smokehouse. This report will be brief. As the Smokehouse expansion continues, the time available and my access to "office space" has become precious. As I write this in my new office, where by the way electrical outlets have been overlooked, I'm hooked up via extension cords to the next room, eyes watering, inhaling toxic paint fumes, probably from ingredients long ago banned in the U.S. and wondering when the Mexican phone company will show to give me a phone line. The concrete sawing and hammering will begin again soon, so here we go. Tuna numbers continue to be the most impressive, although honestly, the sizes aren't. An abundance of small Yellowfin continue to come out of the same area from La Ribera down to Cabo Pulmo for the most part, but no lunkers this week to report. I've seen a few charters bring in a few in the 20's to 40's, but most are running in the 8-14lb class and are hitting mostly Sardines. Some of these same boats are bringing in some nice Pargo also in that same area on Sardines run down to the bottom. After nearly a week straight of good Dorado fishing, I'd have to say it's moved to the back burner. Fewer numbers and the sizes took a drastic drop, many of those brought in this week would barely make the 12lb mark and the consistent 30lb to 40lb Dorado we've been seeing were few and far between. Billfish averages, including Blue Marlin, increased a bit after nearly a two week slide and action is respectable, but definitely not hot. Spot producing the best numbers on Blues has been to the Northeast, off from Punta Pescadero. Adios, Smokey Dave, EAST CAPE SMOKEHOUSE, 011-52-114-10294. Hotel reservations, 800-368-4334.
EAST CAPE, MEXICO: BAJA ON THE FLY, Buena Vista, July 26, 2000, Gary Graham. Temperatures: High 95 with a low of 79; Humidity = 86%. Partly cloudy skies with strong south winds in the p.m. Water temperature: 79-86. STRIPED MARLIN - Only a few caught this week. BLUE MARLIN - Continues at slower pace than usual for this time of the year. SAILFISH - Fewer groups, but still good showing of singles. YELLOWFIN TUNA - Still excellent fishing. DORADO - Second only to tuna in the numbers reported this week. ROOSTERFISH - Several nice fish caught near Punta Arena. JACK CREVALLE - Still seeing larger fish around the moorings in front of the hotels. BARRILLETE OR MEXICAN SKIPJACK - Plenty of schools seen a few miles offshore Punta Colorado to Buenavista. PARGO AND CABRILLA - Smaller fish biting consistently at the pargo hole near Punta Colorado. OFFSHORE: Billfishing is still slow for this time of the year. Tuna and dorado continue to be the crowd pleasers INSHORE: Mostly tuna with some dorado. BEACH: Plenty of fish being see in front of La Ribera. QUICK COMMENT: This is the hottest week we have had this summer and the fishing isn't bad either. Punta Arena is producing some good sized roosters and jacks both from shore as well as from the beach. Nearer Punta Colorado, the pargo have been biting olive Clousers. Look for me on the beach--Gary. Tel 800-919-2252; Fax 760-746-7260; bajafly@aol.com.
EAST CAPE, MEXICO: EL CARDONAL'S HIDEAWAY, El Cardonal, July 24, Eddy. One-half day of panga fishing resulted in 2 tuna to 10 pounds, and 8 dorado very close to shore right in front of the hotel. Another full-day panga hooked and released 3 marlin, one of which was estimated at well over 400 kilos, also a big dorado lost and a small tuna. Lots of fish in front of the hotel every day, and lots of action from the beach. Reservations 011-52-114-10040.
LA PAZ FISHING REPORTS
ALL ARTICLES, REPORTS AND FISHING INFORMATION FOR LA PAZ
LA PAZ, MEXICO: FISHERMEN'S FLEET, Hotel Los Arcos, La Paz, July 26, 2000, David Jones. TUNA, TUNA, TUNA. This last week, and particularly the last 3 or 4 days has witnessed some of the best Yellowfin Tuna fishing that we've seen this year. We began the week taking fish to 60 pounds at the north end of Isla Cerralvo near La Paz and some fish to 40 pounds at the south end. There have also been swarms of 5-12 pounders in front of Muertos Bay. This worked well, with the Tuna taking live bait, dead bait, dead bait with sinkers, Rapalas, Iron, almost everything, well we didn't catch any on Banjo Minnows, but you never know. Towards the end of the week a large school of fish to 80 pounds appeared at Punta Arenas, about 2 miles from out launching site. Those ice chests have been heavy the last few days. When tired of Tuna (there are those that experience this phenomenon, but not I) our fishermen have been going out on the buoys for Dorado. This has been variable with fish taken every day, but some days being spectacular and others only OK. There are still large fish out there, with some this week to 45 pounds. Sardines and small feathers have been the two ways to go. While on the buoys we have taken a lot of Sailfish this week. Pods of 4-6 fish are not uncommon, with the fish being in the 50-80 pound range. Almost all of our clients this week were practicing catch and release, and I'd like to thank them for that. Marlin are in the area with Stripers, Blues, and Blacks all around right now. The Gavilanes Tournament here in town last week was won by a 785 pound Black, and second place was over 600 pounds. A few Wahoo have been sighted by the commercial guys, and I think that we may be a couple of weeks away from a bona fide Wahoo bite. Stay tuned on that one. Weather and bait are both doing very well, and we are generally firing on all cylinders down here. Come on down and check out some of the best fishing on the planet. Reservations 011-52-112-21313; Fax 011-52-112-57334.
LA PAZ, MEXICO: HOTEL LAS ARENAS, Punta Arena de la Ventana, July 24, Linda Glassman-Davis. Las Arenas reports the following catches for the week: 75 Dorado-largest 45 pounds; 45 Tuna- largest 55 pounds; 1 Marlin-110 pounds; 6 Wahoo- largest 88 pounds. The Dorado, Tuna and Wahoo fishing continues to be outstanding. Lots of live bait. Weather 95 degrees during the day. Reservations 888-644-7376.
LORETO FISHING REPORTS
ALL ARTICLES, REPORTS AND FISHING INFORMATION FOR LORETO
LORETO, MEXICO: VILLAS DE LORETO, July 29, Erin Cassandra. The weather today is definitely hot and humid. The temperature is hovering around 100 and the water temperature is about 86 degrees. Usually the water is super calm in the morning and the wind has been picking up around one or two in the afternoon. We have had a few days this week when the wind blew all day, but this isn´t a regular occurrence by any means. The fish (Dorado) are biting like mad and no sooner is the bait in the water and you have a bite (or two). The Sailfish are there, but people are having to go quite far off shore to catch them. Tel/Fax 011-52-113-50586
LORETO, MEXICO: BAJA BIG FISH COMPANY, Loreto, July 29, 2000, Pam Bolles. Current Loreto Weather: Temperatures: A little cooler than last week but not by much...mid 80's (F) to 100 (F). Humidity 55-70%-- ¡Hay calor! Skies: Partly cloudy skies, making for spectacular sunrises each day! Winds: Prevailing is from the South, very light in the mornings and picking up in the afternoons. Evenings may pick up slightly (if at all), but not enough to cool things down. Friday (7/28), the winds were heavier than normal and this caused the seas to pick up on the outside of the islands. Seas: Seas are calm in the mornings and pick up only slightly in the afternoons (with the exception of Friday 7/28 which was pretty rough outside the bay). Temperatures are 80 - 86 (F) offshore and ~84 (F) inshore.
Offshore- Dorado: I know this is relatively unchanged... but not much has changed which is certainly nothing to complain about. There are as many fish as you want out there. Many of the Dorado coming in are small (20-25 pounds) but there are 40+ pounders out there. The Dorado have been caught about 5 - 8 miles NNE of Isla Coronado for the past several weeks. San Bruno was the hot spot yesterday as those that ventured there picked up lots of large fish. Many anglers are reporting catch and release of over 50 Dorado a day! Squid is the hot bait as are pink trolling lures that imitate them. Everyone using squid is having great luck.
Offshore Billfish: There are a lot of Sailfish out there. Right now they're swimming near the same locations as the Dorado. Stripers are coming in at 150-200 pounds. They're being taken with flylined live bait, but trolled feathers are even more effective. Sailfish are coming in with equal frequency and with the same methods. The sailfish are from 50-90 pounds. They are catching them [the billfish] while searching for Dorado, so they are in various locations all around our area. We encourage the catch and release of billfish whenever possible.
Yellowfin Tuna: No Yellowfin Tuna reported this week.
Bonita and Skipjack: There are several schools in the usual spots. Most notoriously about a mile off and extending to the South of Punta Lobos towards Punta Perico, where their schools gather year after year.
Other Species: Although the inshore fishing is definately taking a back seat to the offshore action, the inshore fishing is worth checking out right now. There are plenty of nice sized Cabrilla, Pargo and Grouper over the deepwater reefs off the islands and points to our North.
Bait: You can readily buy bait off the marina and off of the beaches in front of the Hotels La Pinta and Oasis. Live bait is $1/ea (U.S.) for live Mackerel and Caballitos. There are plenty of squid that you can catch before you head out to the fish.
LORETO, MEXICO: ARTURO'S SPORT FISHING, Loreto, July 27, Arturo Susarrey. WEATHER: We have been having very hot weather, approx. 100ºF. DORADOS: We still have a lot of them. They are 1 mile north of Punta Tintorera and Punta Lobos, at Carmen Island. Another place is the San Bruno bajo, 16 miles north of Loreto. The biggest size is 35 lbs. The most common size is 20 lbs. SAILFISH: There are a lot of them in the same places. MARLIN: Same place as the dorado and sailfish, but not as many as the sailfish. BAIT: You can buy it for $1 each. FISHING LICENCES: If you already have it, it is ok. If not ,you can buy it here. The thing is that you need to have it. Tel 011-52-113-5-07-66; Fax 011-52-113-5-00-22.
LORETO, MEXICO: EL FUERTE SPORT FISHING, Loreto, July 27, Ty Miller. Hola Amigos, Some larger Dorado moved into the area this past week. Fish in the 25 to 30 pound class are holding off of Punta Perico and to the North East end of Punta Lobo. The majority of the Dorado that are holding here are still small and slowly working even further to the North. There are still some paddies hanging around the area that are producing some of the larger fish. The Dorado are still taking just about anything you troll or flip in front of them, which makes it seem almost too easy! Don't get me wrong. I'm not complaining. It is just amazing how aggressive these Dorado can be! The billfish have also moved a little North, just off of Punta Lobo and towards Isla Coronado. We still have some good action down here at our end, but it looks like they are going to start stacking up off of Punta Lobo, which they seem to do about this time of the year. Mean Joe Green's and green and silver plastics have been working great for us, and of course, when you see a tailer, chances are that he will take the bait. Remember, if you are going to drop back or cast on a tailer, make sure you go light leader (60 to 80 lb.) for a better presentation, and PLEASE use the circle hooks for a safe release!! Bait is still producing between Punta Coyote and Isla Danzante in about 200 feet of water. Macks are right off the bottom with Sardines suspending in about 100 feet. With this 86 degree surface temperature you are going to lose alot of your live bait in the tank, so don't chug those tanks up or you will be sorry. The Macks can't handle the drastic temperature change and they need a lot of space and flow. You may want to load up with only 12-15, depending on the size of your bait tank.You might want to try a little trick that we use down here when the water heats up: freeze one gallon milk containers with water and put them inside the bait tank as soon as you start making bait to help stabilize them. Trust me, it works. Well the temperature is rising along with the humidity, but I still see new fishermen down here in this heat having a blast with these Dorado and billfish. I hope most of you were able to get in on this action this summer. This has definitely been a season to remember but sitll not over just yet! So if you can take the heat and humidity, the fish are still here! Hasta Luego! Tel 714-775-6658; Fax: 714-755-3501; Loreto 011-52-113-30863.
LORETO, MEXICO: CHILI PUNTA FLEET, Loreto, July 23, 2000, John "Bubba" Parker and Fishmanmark. Dorado, Dorado and more Dorado. What more can I say. They are still here gang and in big numbers. 20 to 40 pounds seems to be the size range. You don't have to travel very far to get into them, around 10 miles north of Coronado and off of Punta Lobos. Live bait, dead baits, strips of dead bait, squid and feathers all seem to work. We are still getting Sailfish and Striped Marlin around Punta Perico. Sails are in the 90 to 110 pound range and Stripers running up to 145 pounds. Live bait and feathers. I think the Blue and Black Marlin have headed for cooler water and are not readily available. Water has been flat, no wind and the outside temp is hot and humid. Remember to bring sun tan lotion and straw hats. We still do not have very many people here. What are you waiting for? The fishing doesn't get much better. Until next week Tight lines all. Tel 925-449-4554; Fax 925-456-2252.
MULEGE FISHING REPORTS
ALL ARTICLES, REPORTS AND FISHING INFORMATION FOR MULEGE
MULEGE, MEXICO: MULEGE, July 29, 2000, Don Johnson & Jens Kolbowski, reporting for baja-web.com. Air Temp: 82º-105º, Water Temp: 77º. Huminity: 75% - 95%. Sea: calm to choppy after 11 am. Skies: cloudy. Wind: slight easterly. Fishing wide open on all species. BILLFISH: Marlin & Sail fish showing up in good numbers. BOTTOM FISH: Triggerfish, Cabrilla, Red Snapper all taken on cut bait or small sardines. DORADO: Still Excellent fishing. Catch your limit in 1 to 2 hours in front of Pt. Concepcion out 3 miles or pick your favorite spot. GROUPER: These are being caught by the Cabrilla fisherman - A few big ones - up to 35 #'s. ROOSTERFISH: Spotty - A few schools have been seen. SIERRA: no reports. SQUID: Big schools of big squid are in the area, for those who like the big ones. Found at the deep reefs with squid jigs, some are 50 #'s. SNAPPERS: excellent biting, good early am and late pm, off rocky points and taken on cut bait, it is easy to catch your limit. YELLOWFIN TUNA: - Some Yellowfin have been caught this week, around the Tortuga Islands area outside of Mulege . Showing signs of an early season here. YELLOWTAIL: The water temperatures are getting warmer, nice Yellowtail can be caught on deep Reefs, Live bait is necessary.
SAN FELIPE FISHING REPORTS
ALL ARTICLES, REPORTS AND FISHING INFORMATION FOR SAN FELIPE
SAN FELIPE, MEXICO: TONY REYES FISHING TOURS, 6-day Midriff Islands trip aboard the panga mothership, Jose Andres, trip ending July 28, 2000, Tony Reyes. WATER TEMPERATURE 80-85 degrees F. Fish Count: 61 Spotted Bass/Extranjeras 2-6 lbs; 71 Cabrillas 10-23 lbs; 3 SheepHead/Viejas 4-6 lbs; 12 Yellowtail 20-29 lbs; 1 Grouper (we broke lines or we would have more!) 95 lbs; 23 Dolphinfish/Dorados 25-29 lbs; 1 Broomtail/Cabrillas Cola Escoba 12 lbs; 4 Pargos 10-14 lbs. Exclusive booking agent, The Longfin, 714-538-8010.
SAN FELIPE, MEXICO: SEA OF CORTEZ SPORTFISHING, 6-day Midriff Islands trip aboard the panga mothership, Celia Angelina, trip ending July 27, 2000, Bob Castellon. Eighteen anglers led by Clarence Becker of Upland, Calif., found bait at the Enchanted Islands south of San Felipe and excellent fishing at the islands. We fished Punta Remedios with excellent an dorado and yellowtail catch on Sunday. San Esteban Island had poor fishing, with winds. Our next stop was San Francisquito where we found dorado to 31 pounds at the Three Sisters. Clarence also caught a 31-pound white seabass. We went back to Punta Remedios and got excellent dorado and yellowtail again. On the way home, we hit the Golden Reef and had excellent fishing on white seabass, pargo, dorado, yellowtail, cabrilla, and a few small sailfish. The best fishing was on the last day of the trip. The weather was hot, 99 degrees or more, and the water temperature was 85+. Bob Castellon got a 36-pound squid that he was very proud of. Fish count for this trip: 109 yellowtail; 86 cabrilla; 8 white seabass; 17 pargo; 46 dorado; 79 giant squid; 192 miscellaneous. Spaces are available on the following prime fishing dates: Aug. 5-10, Sept. 2-7, Sept. 9-13, and Sept. 16-21. Tel 626-333-9012; Fax 626-336-1966; San Felipe 011-52-657-71778.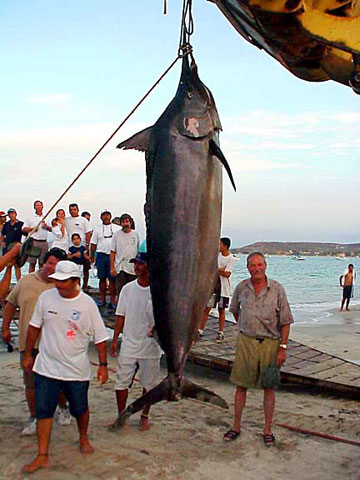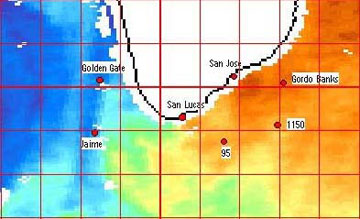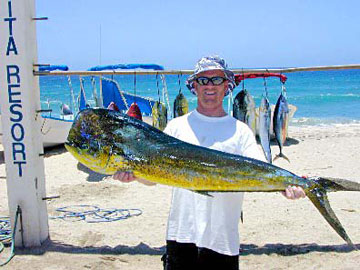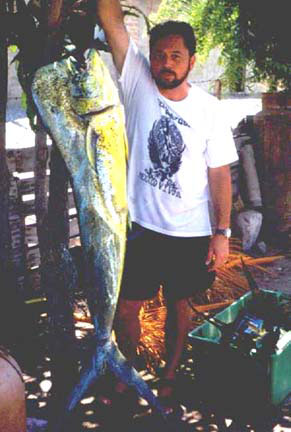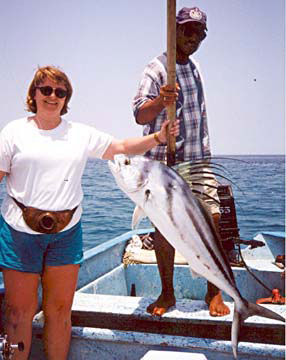 Baja coastal fishing reports and articles.
Ensenada fishing reports and articles.
Puerto Santo Tomas fishing reports and articles.
Erendira fishing reports and articles.
San Quintin fishing reports and articles.
Magdalena Bay fishing reports and articles.
Cabo San Lucas fishing reports and articles.
San Jose del Cabo (Los Cabos) fishing reports and articles.
East Cape fishing reports and articles.
La Paz fishing reports and articles.
Loreto fishing reports and articles.
Mulege fishing reports and articles.
Santa Rosalia fishing reports and articles.
Bahia de los Angeles (L.A. Bay) fishing reports and articles.
San Felipe fishing reports and articles.
Rocky Point (Puerto Penasco) fishing reports and articles.
San Carlos (Sonora) fishing reports and articles .
Mazatlan fishing reports and articles .
Puerto Vallarta fishing reports and articles.
Ixtapa Zihuatanejo fishing reports and articles.
Huatulco fishing reports and articles.
Cancun fishing reports and articles.
Mexico coastal fishing reports and articles.
Mexico Fishing Home Page < Mexico Fishing News Archives < Fishing Report