We were slow trolling and our skipper, Arcangel, sees a finning sailfish. We throw bait into the slightly choppy water. The sail charges and hits Lloyd's trolled sardine. Yeo. . .the fight is on with a leaping diving 100 pound sailfish! Lloyd is gonna go toe to toe with the fish on 40 pound testline! Not much I can do as a deckhand so I'm somewhat coaching Lloyd (he knows what he's doing) so I'm chatting with the skipper and laughing with Elaine as we both snap pictures and video Lloyd. Anyway, the skipper and I are relating billfish stories. Just several days ago, some skipper in Acapulco got speared in his panga by a marlin. Arcangel our skipper tops that one. . .says that just several days ago a sailfish went after a panga and sank it's spike right through the side of one of the fiberglass pangas. Talk about power!
Well, Lloyd is working his fish closer and closer! He now has it only about 3 feet away and about 6 feet down, but it is NOT moving no matter what he does. I take a few shots with the camera and then leap over the bait well onto the little casting platform in the bow of the small panga. I'm leaning over the gunwale trying to get a shot of the sailfish which is now almost within touching of the boat (we were going to release it). Anyhow, Lloyd is trying to help out and make it jump for the cameras. Yours truly is leaning over the side. I'm thinking. . "Whoa. . .wait a minute. . .that guy is too close for. . ."
All of a sudden in an instant, the water explodes and all I see is the spike of a hundred pound sail coming right at me and an eye about 3 inches across coming at my face. I duck and cover into a little ball in a flash at the apex of the bow expecting in the next instant that I'm going to be impaled! Then I hear a huge "BOOM!" and the whole boat is vibrating! I check myself and there's no blood, but YEOW. . .there's a huge sailfish kicking the crap out've everything in the bait tank and beating the hell out of the panga. The fish had launched itself a good 6 feet in the air to clear the gunwale of the panga and whether intentionally or unintentionally had launched itself clear out of the water and into the air towards me and misssing me by inches was now thrashing mercilessly in our bait tank. . .bill and tail thrashing and head slapping! Bait flying in all directions. Blood flying through the air (none of it mine as far as I could detect!) and blood turning the water in the huge tank deep rose. HOLY CRIPES!!!!!! Everyone was yelling and taking pictures. There were lines and rods all over the place. Our skipper kept saying that in 30 years of fishing he'd never seen one seemingly attack a boat and land in the bait tank!
After recovering as quickly as possible and checking my shorts, we pulled the sail out of the water. It had beat itself up too. It didn't look too good and was moving about as slowly and lethargically as my heart was still going like jungle drums. We placed it in the water and I "swam" the fish for about 10 minutes until it got stronger and swam off. But oh my. . .I think my heart is still going. Wow! (Oh, by the way, I didn't lose my watch this time!) Also,if you don't believe me. .. I have the photos and video!
Not ten minutes after this episode, we spot a big fin in the water a distance from the boat. We initially think it's a marlin, but no. . .Wow, it's a big big shark. We promptly rig a heavy outfit and tie on heavy leader with a big 9/0 hook and cut the head off a dead bonito. Bleeding profusely we drag this in front of the big fin. Nothing. Then, Arcangel, our skipper says excitedly. .. no no no it's NOT a shark. We pull closer. . .oh yes. . .it's a shark alright, but turns out to be a big "baby" whale shark! About 20 feet long and 5 feet wide with white spots on a gray body,I have been in the water with 30 and 40 footers and this "little one" just seemed to be lazing on surface. These gentle plankton eaters grow to as much as 50 feet and I ran around the boat cursing that I hadn't brought my fins, mask and snorkel! No matter. . .into the water I dove! Oh, man. .I"m swimming with a whale shark! It was beautiful. I tried to hold onto it's tail, but it was just inches from my reach as I tried to ride it. It bumped the panga then swam under it and down into the depths. Unbelievable day! (and yes, we have the photos!).
Sometimes you just get really lucky!
Oh. . .the fishing. Been great if you like getting your butt whipped. Been rocking Las Arenas all week. 40-50 pound tuna have planted themselves not 300 yards in front of the Las Arenas lighthouse only minutes off the beach.
Today, Friday, I had my fun with the sailfish and whaleshark. However, Lloyd and Elaine also each got their biggest tunas in the 40 pound class that went close to an hour of pulling on each fish with the heavy gear. Unfortunatley, I farmed one nice fish when Elaine handed me her rod. She needed a break to catch her breath and I fought the fish to the boat where the line broke from me trying to wail on the fish so that I could hand the rod back to her. We were joined today by good pals, Sgt. Tim Sanchez and Capt. Dave Jensen who literally ripped limits on tuna and near limits on dorado!
I had Dan Thrasher and his pretty lady, Diana, working the La Paz side where they racked limits of dorado to 40 pounds and several nice tuna.
Well,back onto the water again tomorrow. Taking the show to fish the La Paz side. There's a mess of dorado over there and I'll keep you posted. If any of you see my mom or e-mail her. Tell her I'm really OK! Tight lines! Tel 626-333-3355; Fax 626-333-0115; Pager 323-349-8111; Message Pager 877-310-7734; Riplipboy@aol.com.
LA PAZ, MEXICO: HOTEL LAS ARENAS, Punta Arena de la Ventana, August 2, Linda Glassman-Davis. Las Arenas reports outstanding fishing!!!!! Captain's: Loreto, Román, Manuel, Daniel, Israel, Jorge, Luciano, Ramiro, Johnny, Beto, Valente, Efren, Guicho and Zapata. Fish counts for the week:141 Dorado, largest 80 pounds, averaging 38 pounds; 83 Tuna, largest 70 pounds; 6 Roosterfish, largest 110 pounds (possibly new IGFA record); 10 Pargo, largest 8 pounds; 3 Sailfish, largest 60 pounds. Location: All fish are being caught close to shore. Monster Roosterfish are on the North East side of Cerralvo right now. Lots of live bait. Cooler than expected air temperature at Cerralvo, 90 degrees, low humidity last week, slight on/off showers. Thanks to the Waldum group, fly fisherman from Northern California, we may hold a new world record Roosterfish 110 pounds. We are waiting to verify.... Come and see us now! Saludos. Reservations 888-644-7376.
LA PAZ, MEXICO: FISHERMEN'S FLEET, Hotel Los Arcos, La Paz, August 2, 2000, David Jones. A really good week down here. Good weather, good fishing, good customers, just all around good. Well let me hang my sweater on the hook by the door and we'll detail some of the recent happenings in the neighborhood. The week began with Ray Alvarado, Jim O'Brian (a very retiring guy) and their group down from the greater Los Angeles area. They did very well on Tuna with some Dorado, and in fact were overloaded when it came time to depart. The Tuna have been coming from the old light house on the island, the south point of the island, and in front of the Punta Arena light. Dead bait, live bait, iron, they've all been working. The fish have been in the 30-75 pound range with a solid 50 pound average. Jim and Ray had found their way down here through Cass Tours, and went home all Tunaed out. At the same time we had Srs. Bonno and Hood down from Los Angeles as well, although they came via Harry Gualco at Rod and Reel adventures. They did equally well, with a large amount of Tuna, which ended up causing a problem for them upon their return that both Harry and I thought that you ought to know about. They were flying on Aero Mexico and were charged for overweight luggage, to the tune of $100 a piece. We are used to the very reasonable treatment that we have received over the years from Aero Cal on this issue, but beware, they have rules too. I think that it makes more sense to carry 2 smaller (48-54 quart) chests than one large (100 qt) one as you have more flexibility, and I've had better luck with additional pieces over the years than with overweight. Be forewarned, it's not the perfect ending to a great fishing trip. Joe Fredericks and his boys made the trip down from Minnesota (no they didn't bring Jesse) and did well on Tuna and Dorado, with a few Pargo thrown in.
Steve Holguine and his group from Los Angeles came to town for their first trip to La Paz. They are used to a yearly trip to Loreto, but Mary and the girls from Cass Tours suggested La Paz, and they are already talking about returning to La Paz next year. They did very well on Tuna and yesterday had a great day on Dorado. La Paz it is. We ended the week with Bill Osborne and his group from Phoenix and surrounding areas. On Monday they filled up on Tuna. They then had a couple of really good days on Dorado with yesterday being the best. Fish to 40 pounds were taken on the buoys (in the channel and outside) and the ice chests were once again full upon departure. Ol' Capt. Juan has been doing well on the Bajo as well. He was out with Chris and Ed Luna yesterday and had 6 Tuna to 75 pounds. This week he has scored consistently on Dorado west of Ballena Island, and has been seeing some large Marlin along Espiritu Santo and at the Bajo. A day with Juan is not quite like any other. Adios Amigos. Reservations 011-52-112-21313; Fax 011-52-112-57334.
LA PAZ, MEXICO: JONATHAN ROLDAN'S ADVENTURE SERVICES, La Paz, August 2, 2000, Jonathan Roldan. Well, here it is, pescadores! Doesn't get much fresher than this. Just off the water about 2 hours ago rockin' the tuna population off Las Arenas and it was jamming! Am here with Charlie Edwards, my pal from Texas with 5 of his buds from the East Coast as well as Reverend Ben Meyers from Redondo Beach. These boys are pretty good fishermen and after several years of my yakking to Charlie to come see me down here and sample some of our west coast style Baja fishing, he finally came down with guns loaded. Rolled over the hill to Las Arenas and I have to say I was a bit surprised. Now, if you've been reading my reports, you know I've been down here cranking with friends and clients since mid-June fishing almost every day and the Arenas beach at times looked like D-day with tonnage of fishermen and pangas. Well, today, sheesh. . .beach looked literally empty! I've only been gone about a week, but happened to talk to some of the other skippers who told me that they haven't worked in about 10 days because it just got so slow. Sure, fish are biting, but seems everyone headed back to work and school early this year!
Anyway, seriously, we pulled off the beach into flat water (VERY WARM FLAT WATER at 85 degrees on the surface!) and only ran to South Point to get bait. With a load of sardines we then turned right around and raced back to Arenas beach not 200 yards off the lighthouse and less than 5 minutes from where we departed. Being early we slow trolled early when BENDO! The boat with our friends Marty (hardcore) and Gregg got double bit. One rod was doubled and the other rod was arcing on the end of a jumping dorado. As their skipper Victor tossed bait, I could see the boils. We raced there and I tossed a few baits as well. In their excitement, Charlies and Ben got tangled, but quickly flylined baits as well and WHAM!!!! Babeeeeee. . .we were IN THE ZONE!!!! For the next hour and a half, crashing and boiling tuna. All shapes and sizes. . .a 20 pounder, then a 15 pounder, then a 30 pounder, then Ben breaks the big time with a 50 pound toad on 25 pound test after a 40 minute battle. A few fish are lost, but most of the time, but guys are going round and round over and under as lines zinged and fish hammered the baits. In quick succession, we had 7 tuna and one dorado in the box. . .all quality yellowfin. I could see that Marty and Gregg were also bent and Marty in particular had been pinned at the bow for quite awhile (hard to miss as he's about 6'3" and about 275 pounds with a big shaved head!) and, even at a distance, he was sweating so much it looked like he had gone for a swim! At one point, Ben had fought a fish for quite awhile and it was jacked. . .a real slug fish. . .thick and lit up! I didn't want Ben to lose it so I stabbed with the long gaff and the fish went freaking ballistic! I mean, it went OFF big time! It was like a second motor had been jump started in it's tail and I found myself literally being pulled out of the boat and hanging over the side into the water as Ben frantically grabbed my shorts by the waistband as I hung onto about 50 pounds of pissed-off ahi! Fortunately, got it in, but it was max adrenaline time for a few moments there!
Anyway, bite died by about 9:30 and we trolled around the Ventana buoys for dorado for awhile with no success. For some reason, I've had no luck whatsoever at those buoys all season. One of the skippers said that the commercial guys aren't baiting the hooks so the smaller fish aren't coming in and hence, no dorado. Anyway, true to form, we goose-egged. Went back to the original tuna honey hole and proceeded to get racked again. . first Charlie, then Ben, then Charlie then both of them. Tuna after tuna. . .not wide like in the morning. Nothing on the surface, but using small rubber core sinkers these fish were holding down about 60 feet and were all bruisers. Ended up with 13 in the box and more than 100 pound of fillets for my pangas. The other guys had similar experiences. Checking the other boats on the beach wasn't much different although I saw, unfortunately, a large number of sails that had been killed. I think tomorrow, they guys are headed back but will be working south point for some dorado. My client tomorrow is a first-timer so I"ll take him back to the tuna and my friends Lloyd and Elaine Laine who have traveled Baja and Costa Rica with me showed up today and are ready to slam some tuna tomorrow as well. I'll keep ya posted.
Several things. Bite is still early. Buy your bait if you can. It will save you money. For the tuna, #1 to 1/0 hooks is sufficient. They are NOT line shy and will take 40 and 50 pound line. I can't honestly tell you what's happening on the La Paz side as I"ve been gone for a week, but I"ll be fishing that area at the end of the week. However, one of my friends here in La Paz tells me he fished across the bay earlier in the week and the water in front of San Juan de La Costa is plugged with dorado! We'll have to take a look at that! --Jonathan. Tel 626-333-3355; Fax 626-333-0115; Pager 323-349-8111; Message Pager 877-310-7734; Riplipboy@aol.com.
In other mainland Mexico and Baja fishing action this week:
ENSENADA FISHING REPORTS
ALL ARTICLES, REPORTS AND FISHING INFORMATION FOR ENSENADA
ENSENADA, MEXICO: LILY FLEET, Ensenada, August 5, 2000, Sammy Susarrey. (Evening report.) Today we had a good day, with 6 anglers aboard. Got 2 dorado to 12 pounds at the kelp paddies, and 2 blue fin tuna to 20 pounds, also at kelp paddies on live bait. We got 2 yellowfin tunas to 20 pounds by trolling zucchini Zukers. Got another 22 yellowtail to 12 pounds in the kelp paddies. Seas were windy and bumpyyyyyyyy! Live bait is 3-inch sardines and small anchovies. The yellowfin tuna were caught on a 250 degree heading, 7 miles from Todos Santos Island. Most of the fish were caught 28 miles off Punta Banda on a heading of 220 degrees. Tel/Fax, 5 to 9 p.m.: 011-52-617-46747; Cell 011-52-618-67485; lilys@telnor.net.
ENSENADA, MEXICO: LILY FLEET, Ensenada, August 4, 2000, Sammy Susarrey. (Evening report.) Today, the Tamara had a slow day of fishing with 6 anglers aboard. Only 3 yellows to 15 pounds and 1 dorado, 15 pounds. We had some wind today and most of the kelp paddies were empty. Water temperature is good, but no fish to count. We fished at GPS 31.30 117.00, 22 miles outside of Punta Banda. There are reports of big schools of tuna showing up outside of Punta Colonet. Live bait is 3-inch greenbacks. Note: We have installed a new bait tank. We now carry 12 scoops of bait, plus 2 bags in the back of the boat. Tel/Fax, 5 to 9 p.m.: 011-52-617-46747; Cell 011-52-618-67485; lilys@telnor.net.
ENSENADA, MEXICO: LILY FLEET, Ensenada, August 4, 2000, Sammy Susarrey. Yesterday we fished outside of Ensenada and we got only 4 yellows and 3 dorados. Yellows to 12 pounds and dorados to 15 pounds. All fish were caught at kelp paddies. We had nice weather, calm and very sunny. Water tempurature was 69-70 degrees. All fish were caught on live sdardines. Yesterday was a slow day, with only three anglers, but every day is different. Tel/Fax, 5 to 9 p.m.: 011-52-617-46747; Cell 011-52-618-67485; lilys@telnor.net.
ENSENADA, MEXICO: LILY FLEET, Ensenada, August 2, 2000, Sammy Susarrey. Today's results aboard the Lily with 2 anglers fishing. The day was slow, only calico bass and sand bass, a total of 19 fish, 3 to 5 pounds. We had a nice day in the morning with a little fog, flat and calm seas, and very sunny. Live bait is nice, 3-inch sardines. All bass were caught on live bait. Lots of fish were seen at North Todos Santos Island, big bonitos and a few yellowtail, but they weren't hungry. Water temperature was 68.3 degrees. Tel/Fax, 5 to 9 p.m.: 011-52-617-46747; Cell 011-52-618-67485; lilys@telnor.net.
ENSENADA, MEXICO: LILY FLEET, Ensenada, August 1, 2000, Sammy Susarrey. Today, the Amigo fished for albacore with three anglers aboard, 28 miles out on a heading of 210. We caught 18 albacores, including a triple strike on Mexican flag feathers. After the jig strike, they caught a lot of albacores on bait. Also, 3 yellowtail to 12 pounds. Seas are nice and calm, weather is hot hot hot. Live bait is 3-inch sardines. No kelp paddies today. Tel/Fax, 5 to 9 p.m.: 011-52-617-46747; Cell 011-52-618-67485; lilys@telnor.net.
ENSENADA, MEXICO: LILYFLEET, Ensenada, July 31, 2000, Sammy Susarrey. Today, we fished far outside with 7 anglers, best fishing at GPS numbers 31.32 117.06. Water temperaature was 69 degrees, seas nice and calm, bait was 4-inch sardines and medium anchovies, on 2/0 hooks, with clear line. All fish were caught at kelp paddies. Fish count for the day: 15 yellowtail to 17 pounds; 17 albacore to 20 pounds; 3 dorado to 15 pounds. Tel/Fax, 5 to 9 p.m.: 011-52-617-46747; Cell 011-52-618-67485; lilys@telnor.net.
PUERTO SANTO TOMAS FISHING REPORTS
ALL ARTICLES, REPORTS AND FISHING INFORMATION FOR PUERTO SANTO TOMAS
PUERTO SANTO TOMAS, MEXICO: PUERTO SANTO TOMAS, August 2, 2000, Sam Saenz. We have been having tropical type weather with little wind and calm seas, except for some high surf. There is a lot of bait on the water, all kinds of bird activity, but very few surface trolling bites. We have caught a few barracuda and yellowtail but it is slow. There is evidence the water is warming up and surface action is beggining to show up again at Puerto Santo Tomas. This week end we caught full sacks of bottom fish. The best spot was down by the reef at the entry to Bahia Soledad. We got a variety fish, such as rock cod, white fish and ling cod. Reservations Tel 714-256-2577; Ensenada 011-526-174-5683; Remote Santo Tomas Cell 011-52-617-13364, after 6 p.m. or 6:30-7:00 a.m.
MAGDALENA BAY FISHING REPORTS
ALL ARTICLES, REPORTS AND FISHING INFORMATION FOR MAGDALENA BAY
MAGDALENA BAY, MEXICO: BAJA ON THE FLY, San Carlos, August 5, 2000, Gary Graham. Temperatures: 80-degree high; Low 67 Partly cloudy with moderate winds in the afternoon. Water temperature: 73 - 68 degrees in the mangroves and 68 offshore. STRIPED MARLIN - Thetis bank sounds like the place to be. DORADO - Find the right shark buoy and it can be exciting. TUNA - Fair catches 10 - 12 miles outside the entrance. SIERRA - Good action early morning near the entrance. CORVINA - A few being caught on incoming tide on the deep side of the channels. SNOOK -Some of the usual spots up toward Devils Curve producing a few smaller fish. YELLOWTAIL - Some surface action early in the week near the entrance. QUICK COMMENT - It is amazing the lack of fishing pressure the bay has. We only hear of a handful of people fishing on a regular basis. Considering the magnitude of the bay and the crowded conditions one encounters in many places, I am surprised that more people are not taking advantage of this prolific fishery. Tel 800-919-2252; Fax 760-746-7260; bajafly@aol.com.
MAGDALENA BAY, MEXICO: MAG BAY TOURS, Punta Hughes, August 4, 2000, Brian Freitag. What's Biting: Dorado, Snook, Halibut, Corvina, Pargo. Marlin starting to show interest in feeding. Red Hot! Dorado, at temperature break 6-15 miles out. Halibut, on flys and small Krocodiles in the mouths of the esteros. Corvina & Pargo, on Scampis and Krocodiles from shore. Catch(es) of the Week Jason McNair of San Jose, Costa Rica, Ken Matley, and Jim Davis of Irvine, Ca. brought in a 40# bull Dorado, plus two other Dorado from 15# to 25#, and released a number of smaller Dorado. They also baited, hooked and released a juvenile (100#) Black Marlin. All these fish came from the greater Thetis banks area offshore of Magdalena Bay . The Covich clan from Washington State went flyfishing in the esteros and had a great time catching and releasing numerous Snook and pargo. Surf: Mid week swell was running 8' to 12' with occasional sets of 16' to 18', dropping a bit at the end of the week. Weather. Days: 80-82 degrees F. Nights: 72- 74 degrees F. Winds: Calm -- AM, picking up to moderate some afternoons. Water temp (near shore) 72-74 degrees F. Reservations 800-599-8676.
MAGDALENA BAY, MEXICO: BAJA ON THE FLY, San Carlos, August 2, 2000, Gary Graham. Temperatures: 80-degree high; Low 67 Cloudy with moderate winds in the afternoon. Light rain expected over the weekend. Water temperature: 73 - 68 degrees in the mangroves and 68 offshore. STRIPED MARLIN - This week was the first time that we had reports of marlin at Thetis Bank. DORADO - Find the right shark buoy and it can be exciting. TUNA - Only skipjack this week. SIERRA - Still good catches near the entrance. CORVINA - Only a few caught this week. SNOOK -None reported. YELLOWTAIL - Some surface action early in the week near the entrance. QUICK COMMENT - While conditions have improved somewhat, a trip up in the mangroves yesterday only produced halibut, spotted bay bass and a few pargo. Tel 800-919-2252; Fax 760-746-7260; bajafly@aol.com.
CABO SAN LUCAS FISHING REPORTS
ALL ARTICLES, REPORTS AND FISHING INFORMATION FOR CABO SAN LUCAS
CABO SAN LUCAS, MEXICO: JEFF KLASSEN SPORT FISHING, Cabo San Lucas, August 5, Jeff Klassen. First of all, I want to let you know that the Los Cabos, Mexico information will be moving over to its own website www.loscabosfishing.com, which I've actually had for many years. It will have all the boat charter, surf fishing and flyfishing info for that area. The Costa Rica fishing info will be moved over to its new website, www.costaricanfishing.com shortly also. Both of these sites will have links back to www.jeffklassenfishing.com, where you'll find the merchandise, even more free fishing info, message board and the chatroom. By the way, the chatroom will reopen this week sometime and I'll be on there every Sunday, starting the 13th. Be there at 8:00 pm Pacific time. I hope to see you there and I also hope that you'll like the changes.
Surf fishing has picked up somewhat again. Large roosterfish are still cruising along both coasts. Every beach up the Pacific coast from Migrino on towards Todos Santos is worth exploring right now as the mullet schools are thinning out. As pickin's get slimmer (and they are) the aggressiveness of roosterfish towards lures will improve. A lot of the 40lb fish have left already and headed across the gulf to the mainland, but the bigger ones seem to be lingering around longer. A good one will be 60lbs or better now. I've heard stories of fish approaching 100lbs crashing in at times, right up to the sand. A good place to check out, if you have a car, is Puente Lobos, just before Todos Santos. That is usually the last bay in our area, on the Pacific side, to hold schooling mullet and these big fish know it. It's about an hour to get there from Cabo San Lucas but can be well worth it, this time of year. For those of you near San Jose, you'll have to get over past Gordo Point before seeing any nice roosters, at least from shore anyway. There are pods of Jack Crevalle intermittently along both sides from 10 to 20lbs. As the waves get smaller the bait will hug closer to the shoreline and Ranger lures will have too much action. Switch to the poppers then, with a slower retrieve, keeping them in the water all the way to the sand. There are still quite a few sandbars along the Pacific side, creating some deep pools right at shore. Check them out for snook with small spoons and plastics. El Cajoncito up towards Playa Gaspareno have held snook for several weeks now with 25lbers being small ones. You don't get them every time you fish but when you do it's well worth it. They hit like a Mack truck and head right to the air when hooked. Around all rocky areas, especially near points, there are some nice yellowfin croakers, porgies and Burrito grunts, up to 6lbs or more for those using cut bait (squid) and sand fleas.
Pangas are doing pretty good these days with a number of species being present. I already told you where the roosters were and the only additional spot that can be accessed by boat rather than from shore would be about 300 yards off of the Hotel Presidente in San Jose. Live bait works best there and there are fish ranging from 5 to 40lbs. There are a few more schools of small yellowfin tuna along with Pacific Bonito. These schools are up and down and pop up at various locations. A good bet to check though would be the usual spots such as 1 mile off of land's end, 3 to 4 miles off of Palmilla point in the gulf and just north of the Lighthouse, about a mile or so off, on the Pacific side. Use hootchies, small feathers and live bait for them. Dorado, continue to be thick at times, sometimes in massive schools, especially offshore. There are pockets of them all along the gulf side but the Pacific is where it's really happening. Lighthouse to Cristobal inshore for the smaller 15 to 20lbers and offshore towards Jaime Banks for the bigger fish. Fish in the 30 to 40lb range are common, with some up to 60lbs to be had. Troll blue marlin sized lures, straight runners to get the initial hit, or double hit at times, from larger specimens, then watch as the schooling 40lbers assault the boat, sometimes in huge numbers. At that time you can get them on just about anything thrown in the water. Save your live bait and use any dead ones or strips of dead fish. Believe me, they'll jump on it. This is also a good time to pitch a fly or cast a popper. Both striped and blue marlin are around now, with seemingly equal catches of each at times. We had 2 boats this week with "slams consisting of a striper, a blue and a sailfish. Most boats though targeting billfish are getting one or two a trip. Blue/white (flying fish) and mean Joe green are the best colors. The lighthouse canyon, about 260 degrees off of that point from 5 - 8 miles out is a good spot to work for billfish. I would definitely follow it out though and fish the Jaime for a bit. There are a few frigates scoping things out for you out there. Watch them! Reservations Tel 360-402-3474.
CABO SAN LUCAS, MEXICO: PISCES FLEET, Cabo San Lucas, August 4, 2000, Andrea McDonald. BILLFISH: A slower week here in Cabo not only for billfish, but the amount of anglers in town decreased too, which may be since the East Cape Bisbee's started this week. As last week the sailfish catches were the highest, we had 12 sailfish released and two brought in. Johnny & Stacey Powers from Rockwall, Texas had 3 good days of fishing on board "Rebecca". During their three days Johnny & Stacie caught 2 yellowfin tuna between 55 and 65 lbs, 2 sailfish released between 80 to 100 lbs, one striped marlin that died on them and they had to bring it in and a 250 lb blue marlin, which they released. Altogether this week we had 4 striped marlins released plus one that died. Our overall success rate this week was of 77.5%. OTHER SPECIES: On the small game fish it was dorado on top of the charts again. We didn't see as many as last week but we had 42 overall. Tuna were not plentiful, our anglers only caught 7 with their sizes ranging from 40 to 65 lbs. Roosterfish have been caught surf fishing out on the Pacific side up to 40 lbs. LOCATION: Fishing mostly Sea of Cortez, going to out to Gordo Banks almost every day, Desteladera and 95 Spot. WEATHER CONDITIONS: Seas mostly flat, with increasing winds in the afternoon. We did have a thunderstorm on Sunday and it has remained a bit cloudy every day but very hot and humid. AVERAGE WATER TEMP: 82 to 84 degrees at the beginning of the week and it warmed up to 84 to 86 degrees. BEST LURES: Marlin and sailfish caught mostly with green & yellow, guacamaya and purple lures, while some have been caught on live bait. The dorado and tuna were caught with live bait and feather lures. Tel 011-52-114-31288; Fax 011-52-114-30588.
CABO SAN LUCAS, MEXICO: PICANTE FLEET, Cabo San Lucas, August 3, 2000, Sergio Cortes. Today's results. Fish available: Striped Marlin, Blue Marlin, Sailfish & Dorado. Water Temperature: Approximately 79-81 F. Air temperature: hi 95 / low 73. Humidity: 71%. Wind: 6-7 Knots per hr. Pacific; 6-7 Knots per hr. Sea of Cortes. Luckiest: "Picante Expresso" 31' CABO; Captain: Eulogio Zumaya; Angler: Richard Thompson; Production: 2 Striped Marlin 120-140 lbs.avg.(both released); Hot Spots: 15-25 miles off the old lighthouse ( Pacific side ); Fleet Production (4 boats): 2 Striped Marlin, 1 Sailfish, 10 Tuna and 7 Dorado. Tel 011-52-114-32474; Fax 011-52-114-35969.
CABO SAN LUCAS, MEXICO: PICANTE FLEET, Cabo San Lucas, August 2, 2000, Sergio Cortes. Today's results. Fish available: Striped Marlin, Blue Marlin, Sailfish & Dorado. Water Temperature: approximately 79-81 F. Air temperature: hi 92/ low 73. Humidity: 67 %. Wind: 6-7 Knots per hr. Pacific, 6-7 Knots per hr. Sea of Cortes. Luckiest: "Picoso" 35' CABO; Captain: Hector Winkler; Angler: Mike McPherson; Production: 2 Sailfish, 80-90 lbs.average (both released); 1 Striped Marlin, 130 lbs. (released). Hot Spots: 15-20 miles off the old lighthouse ( Pacific side ); Fleet Production (4 boats): 2 Sailfish, 1 Striped Marlin, 21 Tuna, and 8 Dorado. Tel 011-52-114-32474; Fax 011-52-114-35969.
CABO SAN LUCAS, MEXICO: JEFF KLASSEN SPORT FISHING, Cabo San Lucas, July 31, Jeff Klassen. Congrats to Patrick O'Conner who nailed the last big roosterfish of our guided surf-fishing season. It was somewhat a team effort between Patrick and I. It spooled us to the knot twice and we had major sand bars to contend with but after an hour-long fight we had it. A nice fish, which we released, at about 65lbs. Gary Geddes from Dallas, Texas though took the last fish overall for our season though, that being a 20lb jack Crevalle. Even though I'm done with the surf-fishing trips for this year there is still lots of fish to be had from shore. There are still good numbers of jacks around. You just need to keep up on where the mullet are. At this point they have been hanging around Migrino on north towards Todos Santos. These baitfish are dwindling away somewhat but there are still some around. There are also still some good-sized roosters around. You,ll see them on occasion crashing baits along the shoreline, but they are difficult to trick in to hitting a lure. If top-waters aren,t working for you then you may be better to snag a mullet and leave it out there. There is a good fishery for snook at the moment as well, if you can ever say that it's "good. Let's say "as good as it gets. Ray Ray "the musical fruit called me the other day with a hot tip on a location, that being the north side of "El Cajoncito," which is on the Pacific side at about km marker 88. Locals have been getting them with large spoons (to 6 ounces) but are generally using live snagged mullet. We've also had some nice sierra mackerel these last days with fish over 10lbs being the norm. All the action has been along the Pacific side. I don't think I have ever seen such paltry pickin's along the gulf. It never really did open up along that side.
Pangas are doing well. Lots of dorado, 15 - 20lbers, mainly along the Pacific side, 1 - 3 miles off shore from about the Henhouse Beach, up to Margarita Point. Jeff Klassen (hey, that's me) was fishing the "Fish Tales" along there the other day and shot offshore towards Jaime Banks where he found larger dorado to 50lbs or more. Trolling lures, "Mean Joe Green," would get the first two hooked up, followed by a mad frenzy around the boat by 40lb schoolers, where they would hit anything thrown at them. Thrice we had 4 on at one time. At one point I quickly rigged up my 10-weight fly rod and cast out a popper, which was immediately nailed. At over 40lbs, it was the biggest dodo I ever caught on a fly. We were the only boat out there and it was simply a mahi-fest. We must have caught 25 of them or more, releasing most of them and could have bagged 100. We left after a while to pursue marlin, but every time we'd put the lures out, they'd get nailed by dorado. The next day, in the same spot, the "Fish Tales" nailed a slam on billfish with a sailfish, striped marlin and a blue marlin, again, with not a boat around. Water temps have warmed up big time and the fish are coming in much closer than they have in recent weeks. Small schools of football yellowfin tuna are showing up now and several pangas did well after locating them. There are several large schools of porpoise around the area and they seem to be surfacing right around these tuna, as per normal. A handful of sailfish were caught this past week along with about the same amount of blue marlin. Stripers have continued to be a bit finicky with very few on the surface. This past week most were caught on lures as opposed to bait. In fact, they've even been snubbing a live bait on a drop and switch. Work the lures a little longer on a strike and a miss. No wahoo to speak of yet, any time now. Tel 360-402-3474.
CABO SAN LUCAS, MEXICO: PICANTE FLEET, Cabo San Lucas, July 31, 2000, Sergio Cortes. Fish available: Striped Marlin, Blue Marlin, Sailfish & Dorado. Water Temperature: Approximately 79-81 F. Air temperature: hi 92 / low 73. Humidity: 62 %. Wind: 6-7 Knots per hr. Pacific; 6-7 Knots per hr. Sea of Cortes. Yesterday's Luckiest: "Picante Expresso" 31' CABO; Captain: Eulogio Zumaya; Angler: Julie Bernard; Production: 1 Blue Marlin 250 lbs. ( released ), 4 Dorado 40-50 lbs. Hot Spots: 20-25 miles off the old lighthouse ( Pacific side ). Fleet Production (3 boats): 2 Blue Marlin, 1 Striped Marlin and 8 Dorado. Tel 011-52-114-32474; Fax 011-52-114-35969.
CABO SAN LUCAS, MEXICO: PICANTE FLEET, Cabo San Lucas, July 30, 2000, Sergio Cortes. Fish available: Striped Marlin, Blue Marlin, Sailfish & Dorado. Water Temperature: Approximately 79-81 F. Air temperature: hi 94 / low 73. Humidity: 62 %. Wind: 6-7 Knots per hr. Pacific, 6-7 Knots per hr. Sea of Cortes. Yesterday's Luckiest: "Express" 31' CABO; Captain: Jaime Gonzalez; Angler: Cannon Gpe. Production: 1 Striped Marlin 140 lbs.average ( released ); 5 Dorado 40-50 lbs. Hot Spots: 20-25 miles off the old lighthouse ( Pacific side ). Fleet Production (3 boats): 1 Blue Marlin, 1 Striped Marlin, and 10 Dorado. Tel 011-52-114-32474; Fax 011-52-114-35969.
CABO SAN LUCAS, MEXICO: FLY HOOKER SPORT FISHING, Cabo San Lucas, July 30, 2000, Capt. George & Mary Landrum. WEATHER: This has been a great week as far as the weather has been concerned. The weekdays were partly cloudy and both Saturday and Sunday morning we received a bit of rain! This came from some thunderstorms we had move through which were generated by tropical storm Dan. The rain washed the dust off of everything and I bet that in a week we will have a green desert out here again and all the plants will start blooming! The daytime highs are still in the 90's and it has been dropping to the 70's and 80's at night. Humidity is running around 48-53%.
WATER: The water is getting warmer as the weeks go by. Early in the week there were temperatures as high as 88 degrees 25 miles south of Cabo and this band of warm water wrapped it's way up the Pacific coast out to a distance of 20 miles as far north as Todos Santos. The farther north it got the cooler it was and for the most part Golden Gate and San Jaime Banks had temperatures in the 84-degree range. On the Sea of Cortez side Gordo Banks was presenting temperatures of up to 88 degrees on the surface as well. In closer to shore the temperature was a cooler 82 degrees out to about 3 miles. Patches of green water were encountered on both the Pacific and Cortez side but were not large in size. The passing of tropical storm Dan caused some large swells on Friday and Saturday but they were spaced far apart and disappeared by Sunday. The wind was varying from westerly to southerly all week but was never heavy or sustained.
BAIT: Ditto ya'll. $2 per Cavallito or Lisa, no reports on Sardines or Mackerel.
MARLIN: The Blues are finally starting to show up! Several large Blue Marlin were caught this week, including at least one that scaled at 700 pounds. Almost all these fish have been caught on artificial lures as very few people are yet carrying loaded Tuna Tubes. I can almost guarantee that will change this week! The Striped Marlin are still out there but the numbers being found have decreased. Those that are being caught have been found either near shore or at the temperature breaks.
YELLOWFIN TUNA: On sometimes and off sometimes describes the action for Yellowfin Tuna this past week. Footballs were found up the Sea of Cortez close to shore and out to about 3 miles. The schools would occasionally surface and the foamers would stay up for a few minutes. Boats working chunks and deep dropping live bait found larger fish at Gordo Banks. Most of these fish were running 25 to 50 pounds, with an occasional larger one. The deep live bait accounted for some nice sized fish in front of the arches on Wednesday and Thursday late in the afternoon. The porpoise are showing up but the Tuna bite with them has not been too great. A couple of boats tied into 60-90 pound fish out about 35 miles in porpoise on Tuesday so there might be some better action soon. Keep your fingers crossed.
DORADO: The average size of the fish being caught has dropped this past week. This is most likely due to the disappearance of the seaweed patches they had been found on the week before last. There are still plenty of 10-15 pound fish out there and a slug of small 5-8 pound peanut Dorado. Best bets were close in for the most quantity and at the Banks for the occasional larger Bull. Live bait dropped back behind a hooked fish resulted in a lot of the larger fish that were caught. Hopefully the number of smaller Dorado portends a great summer catch as they get larger.
WAHOO: Sorry Jeff, but if things don't change soon I'm going to start leaving this section out. Are there really such fish here this time of year?
NEARSHORE: Pargo and Roosterfish seem to be the dominant inshore catch and the nearshore focus has been on the chicken Dorado and Bonito. Catches on all these species have been consistent on the Sea of Cortez and the larger Roosterfish have been caught on live bait. This is where having some of the Mullet (Lisa) in the live tank pays off.
NOTES: We have a new Port Captain and he is really cracking down on all those boats that have been going out without having the anglers purchase fish licenses first. Make sure you have your license, they are available for 1 day, 1 week or 1 year. They have your name on them and the day, week, year they are good for. You can buy them ahead of time at the office by the main dock or stop at the Plaza Las Glorias or Main dock on the morning of your trip. If you come down often during the year I suggest you buy a year license as the prices are said to be going up soon. Tight Lines! Capt. George Landrum. Tel 011-52-117-01271; 011-52-114-87452.
SAN JOSE DEL CABO (LOS CABOS) FISHING REPORTS
ALL ARTICLES, REPORTS AND FISHING INFORMATION FOR SAN JOSE DEL CABO
SAN JOSE DEL CABO, MEXICO: GORDO BANKS PANGAS, San Jose del Cabo, July 30, 2000, Eric Brictson. As we get deeper into the summer the weather is steadily becoming more tropical, this past week saw several storm fronts pass through the area. Tropical storm Emilia passed with 330 miles of Cabo San Lucas but only brought some cloud cover and one day of high swells. Saturday morning there was a local rain squall that passed through in a matter of a couple of hours leaving some much needed rainfall on the area. It continued to be an unpredictable weather pattern of one nice day and then followed by a rough one. Water temperature is now in the low 80 's and seems to be warming up a little each day. Although the water color is still a bit greenish it is showing signs of turning blue in recent days. The large schools of mullet have for the most part moved on but there are still plenty of sardinas to be netted off the beach of La Playita. Fleets found the action to be most consistent from the Gordo Banks to San Luis and over the weekend pangeros reported finding the first real bite for nicer sized yellowfin tuna on the Inner Gordo Bank off San Jose del Cabo. Overall catches included dorado, tuna, pargo, amberjack, cabrilla, bonita and skipjack. More numbers of dorado are definitely now moving into local waters, though the sizes are down the quantity is there, and most boats targeting them are finding anywhere from 10 to 20 fish, average size is 5 to 15 pounds but there are also dorado up to 30 pounds mixed in. They are hitting on a variety of trolled lures and once the schools are located it has been a field day casting bait to the following fish. One of the hottest spots has been close to shore off of Punta Gorda, the water there was cleaner than it was further offshore and was attracting big schools of the acrobatic fish.
Next to the dorado the second most common species of the week was the yellowfin tuna and the great news is that the size of them is getting larger by the day. The action for football sized tuna that was happening between Iman and San Luis slowed but the bite on the Gordo Banks turned wide open over the weekend. This is the first real action for the panga fleets on the Banks for months and has everyone excited, it has been a long boat ride fishing near San Luis for the most of the winter and spring season and this is great news that the fish are finally starting to bite at the closer spots. The tuna on the Gordo Banks were taking trolled or drifted sardinas and were running in sizes from 30 to 60 pounds with many larger fish also being hooked and busted off. It was best to use at least 50 or 60 pound line and the anglers using even heavier 80 pound line were having the best luck landing the larger fish. Average catches were 5 to 10 of these tuna, which did a good job filling up the coolers. Another good sign is that more skipjack and bolito are showing up on the Banks and this should be good news for anglers in the coming weeks as the black and blue marlin will most certainly be attracted by all of the baitfish.
The bite for the billfish was slow this past week but with the favorable moon cycle now coming up this situation should change for the better in the next couple of weeks. Off the bottom the anglers that worked the iron jigs did catch some quality amberjack, pargo and cabrilla but most anglers are preferring to troll because the weather is now hot and when you are just drifting and working the yo yo lure at a fast rate up and down you can over heat in a hurry. Not much going on inshore besides a few big snook in the 20 to 30 pound class being taken by surf anglers off of the San Jose Estuary. Good Fishing, Eric. Tel 800-408-1199; Fax 619-447-4098; 011-52-114-21147.
EAST CAPE FISHING REPORTS
ALL ARTICLES, REPORTS AND FISHING INFORMATION FOR EAST CAPE
EAST CAPE, MEXICO: EAST CAPE SPORT FISHING, Los Barriles, August 5, Gil Mendiaz. Despite pockets of green water appearing throughout the fishery, we are still seeing a consistent bite on a variety of species. Yellowfin tuna to 25 lbs. are being taken at the Bajo in front of La Rivera using sardinas. Larger fish to 50 lbs. can be found at Los Meganos, out past Los Frailes, again using fly-lined sardinas. If the bite slows, add a sliding egg sinker to get the bait down -- you'll sustain the bite and attract bigger fish. A number of excellent releases on "carboneros" (blue and black marlin) and sailfish were had this week. Gregory Hubbard of Dexter, MI fought a 375-lb. blue marlin that unfortunately died after 2 1/2 hours. Many large dorado are also being taken by those trolling for billfish. Roosters are providing good action inshore, with a couple of fish in the 50-lb. class being taken last week. The toros (jack crevalle) are on a tear, with fish to 40 lbs. being taken on live bait both from boats and shore. In the deep water (150 to 300 ft) at the Bajo at La Rivera, red snapper, amberjack, large cabrilla and Cortez whitefish are being taken, all good size, both on bait and the yo-yo. Use a Mexican dropper loop with large sardinas or caballitos. Good yo-yo colors have been chrome & red and blue, at least 6 oz. to get down in the currents. Bait supply is good with medium to large sardinas, caballitos, and a few mullet. Best trolling colors for marlin: mean Joe Green, chivato and baby dorado. Try hoochies and natural wood cedar plugs for the yellowfin. Reservations Tel 800-837-1556; Fax 805-493-5446.
EAST CAPE, MEXICO: RANCHO BUENA VISTA, Buena Vista, week ending August 5, 2000, Tamara Moyeous. This week's fishing was off a bit with the weather being somewhat iffy on a couple of days. Water temperature is about 70 which is down from last week's 85. A total of 138 fish caught with only 16 boats this week. Striped marlin came in at 15, blues 6, sailfish at 15, 23 dorado, 79 tuna and 4 pompano. Dave Huston of Burbank, California caught a 40# tuna. That's all for this week. More info next. Reservations 800-258-8200. Reservations 800-258-8200.
EAST CAPE, MEXICO: RANCHO LEONERO, August 5, 2000, John Ireland and Roy Baldwin. Continued typical summer conditions at the East Cape, with daytime highs in the upper 90's, evening lows in the low 70's, calm seas with afternoon breezes and water temp in the mid to upper 80's. The billfish bite was off most of the week, as warm green water prevailed, with cooler bluer water starting to return at week's end, along with the marlin. Inshore fishing remains strong with yellowfin and roosterfish providing limits of good sized fish. The Bisbee East Cape Tournament took fewer marlin than expected -- only two fish over 300lbs. 1st place went to local Mark Rayor with a 460lb black, while a 382lb black marlin took 2nd place (both fish taken on live tuna). A 157lb yellowfin and a 49lb dorado won their respective divisions. Over $200,000 in prize money was distributed among the four winners. Yellowfin tuna ranging from 6 to 60lbs remain concentrated 2 miles off La Ribera, with as many as you want taking cedar plugs, hoochies and live sardinas. The roosterfish bite continues with fish averaging 15 to 20lbs (largest 62lbs) inshore from Leonero to the lighthouse, taking live caballitos, lisas and sardinas. Leonero manager Gary Barnes-Webb, while fishing one day on his boat "La Reina Africana", took a 97lb swordfish, a 41-lb bull dorado, and released a 250lb blue marlin. Reservations 800-646-2252; Hotel 011-52-114-10216.
EAST CAPE, MEXICO: BUENA VISTA BEACH RESORT, week ending August 5, 2000, Axel Valdez. Boats out: 84. Air Temperature: High 80´s-mid 90`s. Water Temperature: 76°-83°. Early in the week water temperature was as usual during summer, but during mid-week the water started to cool down, whereas areas in front of La Rivera were green, and the boats from the Bisbee Tournament went north or all the way south to Frailes or Meganos Blancos (white hills) to look for the big ones. That carried on until the last part of the week, where we had a small 2 hour storm that cooled the water even more. The water now is starting to go back to normal as Jesus Araiza reported. Still with all cloudy days we are having a lot of humidity. But it seems like we are cursed, because it had rained a lot in the mountains and we have had very little rain in our bay. Weather temperature ranges from High 80´s to some time getting close to the low 100´s, but with the breeze that we have had, it has been cooling the day off.
Fish count (kept/released): Black Marlin 0/2; Blue Marlin 0/5; Striped Marlin 2/3; Sailfish 0/19; Dorado 76/4; Shark 1/0; Tuna 266/5; Roosterfish 0/8; Amberjack 2/0; Trumpetfish 0/2; Skipjack 3/24; Bass/Grouper 1/0; Jack Crevalle 0/6; Red Snapper 77/0; Needlefish 0/7; Pompano 17/0; Triggerfish 4/0.
Fishing Spots and Distance: Early and Mid-week the fleet was splitting between going 2 hours south Los Frailes for tuna or going north to the Tuna Hole in front of Cerro Verde, both in the morning, later on they were trolling to find some dorado or billfish. Successful lures: Chivato (orange/yellow), Purpuras (purple/black), green/black and they are also trying the petrolero (black/orange). Best pick of the week for dorado, small lures green/black. Bait Used: Most of the fleet is fishing with sardine, for tuna and dorado, sometimes living the biggest of them in case a sail comes up. If they are fishing for billfish they will recommend to get a bigger bait, like caballitos or small jacks.
Highlights of the Weeks: The name of this week is tuna and pargo (snapper) boats are fishing a small area to find big schools of tuna, bottom fishing (none reported big schools of tuna in the area). As you probably fished while here, the tuna continues to be very steady, with good numbers reported by the fleet. The weight ranges from 8-55 lbs, later on the week the average size decreased. Weeks Comparison: I consider this past week a slow one, since the all the other weeks were quite decent. The tuna continues to be as good as it has been all year, but the dorados weren't and the big Bisbee tournament only had two blues that qualified for the tournament, still they had 41 boats and not many marlin were reported. Reservations 800-752-3555.
EAST CAPE, MEXICO: BAJA ON THE FLY, Buena Vista, August 5, 2000, Gary Graham. Temperatures: High 94 with a low of 82; Humidity = 80%. Clear skies with light breezes in the afternoon, which helps cool things off a little bit. An "unannounced" and unexpected storm came whipping through here this morning (8/5) about 7:30 and departed nearly as quickly. Most of the fishing boats came in, anglers hung out for 2 hours, and then headed back out to the fishing grounds by 10. Water temperature: 80-88. STRIPED MARLIN - Slow, slow, slow. BLUE MARLIN - Very few fish seen this period. SAILFISH - Not being seen in any numbers to speak off. YELLOWFIN TUNA - Plenty up to 50 pounds and right on the surface, too. DORADO - No bonanza, but a few being found under the shark buoys in front of Punta Pescadero. ROOSTERFISH - Still good action from Scott Glenn's house to Punta Arena close to shore. JACK CREVALLE - Also good showing mixed in with the roosters. BARRILLETE OR MEXICAN SKIPJACK - Plenty of schools seen a few miles offshore from Punta Pescadero to Cerro Blanca. PARGO AND CABRILLA - Several in the 5 - 8 pound class near Punta Pescsdero. OFFSHORE: 41 boats, fishing three days in one billfish tournament yielded only a handful of billfish. INSHORE: The tuna continue to be the crowd pleaser, with plenty of fish to 50 pounds and enough feeding on the surface to make it interesting. BEACH: The amount of sardina on the beach has definitely diminished this week. We're still seeing some of the larger roosters cruising close to shore near Punta Arena. QUICK COMMENT: Big tuna, little tuna, take your pick. These 10 - 50 pound hunks of muscle will help you remember the next day how many you caught the day before. Sore muscles, not to mention banged up thumbs from spinning reel handles, are the norm. Matt Waters, Simi Valley, Calif., found out the hard way how bad a tuna's attitude can be. It took him almost an hour to best 42-pound bruiser on his 13-weight flyrod. Our good friend Mark Rayor, owner of Vista Seasport here at East Cape, took time off from his diving to fish the First Annual Bisbee's East Cape Blac and Blue Tournament on his boat "JenWren". He and his crew managed to capture a 460 pound blue marlin which puts him in first place, with prize money exceeding $200,000 you can understand why he and his crew are smiling. So what does one do after winning the largest tournament ever held at East Cape? They hired Baja on the Fly to take them out to fly-fish for fun while the tournament officials prepare their check. Look for me at the Tuna Hole. Gary. Tel 800-919-2252; Fax 760-746-7260.
EAST CAPE, MEXICO: HOTEL PALMAS DE CORTEZ, July 30, Carlos Jose "Chucky" Van Wormer. Hi my friend. The fishing is excellent. I think that all the effort we have done is finally is paying off. Yesterday, a friend of mine(John Schachtner) caught an 820lb black marlin, right in front of La Ribera, just about 4 miles from the beach were the tuna bite was going on. He was trolling two bonitas with the outriggers and suddenly this big marlin hit one of the bonitas. He fought the fish for 9 hrs and finally landed it. The fish measured 150 inches in length and 72 inches in girth. I am attaching a picture of this fish for your reports (see photo below). Hotel reservations, 800-368-4334.
EAST CAPE, MEXICO: MARTIN VERDUGO'S HOTEL, August 2, 2000, Marisol George. Our fleet had a very good day on yellowfin tuna today, up to 195 pounds caught by the Adelaida, with skipper Alfredo, plus three more of 60 pounds, and some 35-40 pounds. Lots of tuna. The Pescadory Too, with skipper Miguel caught a 420-pound blue marlin. We could say that today was a good day for fishing. Marisol. Reservations Tel 011-52-114-10054; martinv@lapaz.cromwell.com.mx.
EAST CAPE, MEXICO: BAJA ON THE FLY, Buena Vista, August 2, 2000, Gary Graham. Temperatures: High 90 with a low of 79; Humidity = 80%. Clear skies with light breezes in the afternoon, which helps cool things off. Water temperature: 80-88. STRIPED MARLIN - Slow, but better than last week. BLUE MARLIN - A few larger fish lost this week and few caught in the 250-350 range. Also several blacks caught this week - one weighing more than 800 pounds. (No, it was not caught on the fly.) SAILFISH - More action close to shore in front of Punta Colorado. YELLOWFIN TUNA - Smaller fish, less fish and mostly down deep. DORADO - More schoolies under the buoys outside of Punta Pescadero. ROOSTERFISH - Great action in front of La Ribera and Punta Colorado. JACK CREVALLE - Also good showing mixed in with the roosters. BARRILLETE OR MEXICAN SKIPJACK - Plenty of schools seen a few miles offshore from Punta Colorado to Punta Pescadero. PARGO AND CABRILLA - We caught several from the pontoon boat yesterday (8/1) the largest about 7 pounds. OFFSHORE: With several tournaments this weekend that focused on billfish, the returns were pretty slim. INSHORE: The close-in tuna bite is finally starting to fizzle out. A few larger tuna to 35 pounds caught up toward Cerralvo. BEACH: Only a few areas have any of the moss left and there is a fair showing of sardina from Rancho Leonero to Punta Colorado. This morning, I spent an hour or so on the beach and caught roosters, ladyfish, jacks and a few needlefish. Not a bad morning. QUICK COMMENT: If you are at East Cape with a flyrod in your hand forget about offshore and take advantage of some of the spectacular inshore fishing. Colin Waters and his son Matt, from Simi Valley, Calif., did just that. After spending his first day on a panga and only catching a needlefish, they went out and spent five hours trying to raise a billfish with no success. Yesterday, they went out on the pontoon boat and caught nine different species ranging from roosters to trumpet fish. Both agreed with what I have been saying all along - that the pontoon boat is hard to beat as platform for fishing the beach and inshore. I tried a new fly provided by San Diego Flyshop and tied by Glenn Starr of Coronado, Calif., this week. He calls it a "Puget Sound Deceiver." It is a sparsely tied olive and white with angel hair on a 1/0 Gamakatsu hook. Was it any good? I dropped the fly in the water while stripping line off for my first cast and it was literally bit instantly. A 10 pound jack inhaled the thing. After that, I caught two more fish on the next few casts! We have ordered more and they will be available on our Flyshop page on the web-site in the near future. Look for me on the beach. --Gary. Tel 800-919-2252; Fax 760-746-7260.
LORETO FISHING REPORTS
ALL ARTICLES, REPORTS AND FISHING INFORMATION FOR LORETO
LORETO, MEXICO: ARTURO'S SPORT FISHING, Loreto, August 4, Arturo Susarrey. WEATHER: We have been having really hot weather approx. 100º F, sun, with a few breezzes in the afternoon. DORADOS: There still are a lot of them . They are north of Punta Lobos (Carmen Island) and north of Coronado Island. The best size is between 35 to 38 lbs. and the regular size is between 18 to 25 lbs. SAILFISH AND MARLIN:There are more sailfish than marlin and they are in same places as the dorado. BAIT:We recommend that you buy it for $1.00 usd each. FISHING LICENCES:This is not included in the boat price. You can buy it in at home or here. Check with your travel agency. Reservations Tel 011-52-113-50766; Fax 011-52-113-50022.
LORETO, MEXICO: BAJA BIG FISH COMPANY, Loreto, August 4, 2000, Pam Bolles. Temperatures: It's cooled off some but not much. Highs in the high 90's to just over 100 (F), lows in the low-mid 80's. Humidity is in the 50% range. Skies: Partly cloudy skies, making for spectacular sunrises each day! Winds: Prevailing is from the South, very light in the mornings and picking up in the afternoons. Evenings may pick up slightly (if at all), but not enough to cool things down. Sunday night (7/31) we had a thunderstorm which dumped about two inches of rain on us in the span of about four hours. The seas picked up and became quite rough but by about 7:30 am on Aug 1st, it calmed and was fishable again. Several boats went out late and had great success fishing. Don't be surprised if you lose a day of fishing to a storm. Its that time of year again.Water temperatures are 80 - 86 (F) offshore and ~84 (F) inshore. Offshore- Dorado: The Dorado are still very plentiful at Loreto but getting larger now as is typical of August fish. They're averaging in the 30 pound range and larger 40, or 50+ pounders are not uncommon. The boats are heading off Punta Lobos to get to the fish, or they're catching them off San Bruno. No matter where you go to get them, they'll take trolled live bait (macks, caballitos), feathers, squid, or cast sardinas, squid chunks, lures... This is still as good as fishing gets, wide open! Offshore Billfish: There are still a lot of billfish out there mixed in with the dorado, but the sailfish are more plentiful than the marlin. Sails are weighing between 50-100 pounds and striped marlin are in the 150 pound range. They're mainly hitting trolled artificials (plastic trollng lures). They're numbers depend on your luck, you need to be in the right place at the right time as you may not see any one day, and you may consider their large numbers a nuisance the next. Yellowfin Tuna: No Yellowfin Tuna reported this week. Bonita and Skipjack: There are several schools in the usual spots. Most notoriously about a mile off and extending to the South of Punta Lobos towards Punta Perico, where their schools gather year after year. Most anglers consider them a nuisance but they're a lot of fun on light tackle. If you're trolling through this area, expect to be hit by some of these fish. Reservations Tel/Fax 011-52-113-50448.
LORETO, MEXICO: VILLAS DE LORETO, August 2, Erin Cassandra. The fishing is not only great, but it keeps getting better. This is definitely a banner year for Dorado. I went out on the water this morning and the Sea of Cortez was like a lake, smooth and placid... that is until the Dorado, Sailfish and Marlin started jumping. The Dorado were literally swarming the boat and we were getting to choose which fish we wanted before throwing the bait in. Today we reeled in a few thirty pounders. As for the Sailfish, they are becoming more difficult to catch, not because they aren´t there, but because the Dorado snatch the bait before the Sailfish can get a hold of it! As for the Marlin, same story... the Dorado are so plentiful that they swarm the bait and grab hold before the trophy fish get a chance. We were nearly hitting the Sailfish and Marlin on the head with the fish as we cast out and still we couldn´t shake the Dorado. Who would have thought we´d be complaining that there was too much Dorado? The captains here are tremendous though and they certainly know where to find the type of fish that you want to catch. Over and out. Tel/Fax 011-52-113-50586.
LORETO, MEXICO: EL FUERTE SPORT FISHING, August 2, Ty Miller. Temp. 94. Water temp. 87. Sea State, flat. Winds, none. Hola Amigos, We still have a decent bite going on down here with the Dorado. Most fish are in the smaller range of 12 to 20 pounds but are still a kick in the pants. Every once in a while a nice big bull Dorado seems to come cruising in when you least expect it. When the fish are this size it's time to go to light line and have some fun. The majority of the fish seem to be holding around the Pta. Lobo area but we did come accross some decent fish just off the backside of Isla Carmen off Pta Perico. Believe it or not, there are still paddies hanging around and just about every one you come on to has fish under it. Speaking of paddies, remember guys that when you come up on one, you don't have to step all over it and fish so close that you hang the props in it. We had a LOADED paddie this past week when we called in a bunch of other boats and in no time these anglers just about sunk this paddie with their boats. There is NO reason for this. Just hang back about 30 to 40 feet from the paddie and have fun, the fish will come to you! I guarentee it! The billfish bite has tapered down with most of the Striped Marlin moving north but still a good number of Sailfish working the areas from Pta. Perico to Pta. Lobo. Now is the time to break out the teasers and put everything in the water to raise the billfish. Isn't it amazing how only a month ago or so it was easy to hang doubles and triples on billfish? Hopefully these guys will come back this way in the next month or so after they make their turn-around from the North. Bait is still steady between Pta. Coyote and Isla Danzante with Sardines in about 100 ft and Macks right off the bottom in about 200ft. We pulled into the Loreto marina the other day and bought bait for the first time and was very impressed with the operation and how lively the bait was. The weather at this moment is wonderful and the clarity of the water is something you need to see for yourself. Don't forget that it's not just about fishing down here, you need to find yourself in the water and experience your own personal aquarium with hundreds of fish at your fingertips! You have to see it to believe it! Hasta Luego! Ty Miller. Hasta Luego! Tel 714-775-6658; Fax: 714-755-3501; Loreto 011-52-113-30863.
LORETO, MEXICO: CHILI PUNTA FLEET, Loreto, July 30, 2000, John "Bubba" Parker and Fishmanmark. If Dorado is what you are after then Loreto is the place to look. We are still ripping lips on Dorado like mad here. The numbers are the same as before but the size has gotten a little smaller. They are now in the range of 15 to 40 pounds with a good average in the 25 to 30 pound range. The only problem is keeping the small ones away until you hook a big one. Live bait, strip bait, dead bait, squid and feathers all work. Best bet is around 10 miles north of Coronado Island and about 5 miles northeast of Punta Lobos. The water is flat with a little bit of a breeze in the late mornings or early afternoons. Sailfish are no problem off of Punta Perico, but the marlin have pretty much left for the cooler waters. Live bait is available at the marina. Weather wise it is still very humid and temps have been in the high 90's so remember your tropical gear. Until next time, Tight Lines. Tel 925-449-4554; Fax 925-456-2252.
LORETO, MEXICO: VILLAS DE LORETO, July 30, Erin Cassandra. Wow... what a thunderstorm Mother Nature supplied us with last night! We had about two and a half hours of solid rain and this made for a bit of choppiness on the water this morning. All cleared up by 8:30 a.m., however and people starting reeling in the Dorado once again. We were told by one guest that all it took to catch a Dorado was for their captain to dangle a mackerel about six inches above the water and not one, but about three Dorado would jump out of the water for the bait. Incredible. Everyone is still limiting out and if you go out early enough, you can catch yourself a pretty big squid to go along with the days catch. Weather today has brightened up after last night's blast, but still some clouds lingering and the temperature is approx.. 98 degrees Fahrenheit. Happy Fishing. Tel/Fax 011-52-113-50586.
BAHIA DE LOS ANGELES (L.A. BAY) FISHING REPORTS
ALL ARTICLES, REPORTS AND FISHING INFORMATION FOR BAHIA DE LOS ANGELES
BAHIA DE LOS ANGELES, MEXICO: CAMP GECKO, Bahia de los Angeles, August 1, 2000, Abraham Vazquez. Air temp 94-82. Humidty 65%. Winds have been mostly out of the southeast during the day and for the past week stormy during the night getting completely overcast and with lightning shows and a little bit of rain even. Skies clear for the most part with the exception of a couple of days of cloudiness. Seas moderate to rough. Water temp has remained 80-83 F. with some water even colder the last few days. Water conditions changed from the cobalt blue water to slightly green water, but very clear still. With the new moon there have been very strong currents with strong tides which slowed down the bite for a few days, and it is now again getting good. Fishing has stayed great for most of the time. The main catch is dorado 15-40 pound range now being caught, average 8-10 per boat with many long line released (farmed). Most of them still caught on live bait flylined or slow trolled, but a few nice fish have been hitting trolled feathers. The yellowtail have all but disappeared with very few of them being brought back from around the Coronadito area, 40 pound range, and also a few from Guadalupe Reef north of Bahia de los Angeles on live bait on dropper loops, very deep. The sailfish are still around and the bite is very consistent with at least one hooked per boat every other day, mostly on bait also. Bait is fairly easy to catch east of the lighthouse at the drop-off in about 20 feet of water, mostly mackerel. Road is in the best condition in recent history. Gasoline $2.25 per gallon. The whale sharks are very abundant inside the bay. There are also humpback whales, Bride's whales, and lots of dolphins in the area. The town fiestas are to take place starting tomorrow and lasting to the weekend. Tel 011-52-515-19454; Fax 011-52-665-03206 (goes to Guillermo's).
SAN FELIPE FISHING REPORTS
ALL ARTICLES, REPORTS AND FISHING INFORMATION FOR SAN FELIPE
SAN FELIPE, MEXICO: TONY REYES FISHING TOURS, 6-day Midriff Islands trip aboard the panga mothership, Jose Andres, trip ending August 4, 2000, Tony Reyes. WATER TEMPERATURE 80-85 degrees F. Fish Count: 34 Spotted Bass/Extranjeras 3-6 lbs; 46 Cabrillas 14-16 lbs; 3 SheepHead/Viejas 8-10 lbs; 38 Yellowtail 20-36 1/2 lbs; 3 Grouper 24-28 lbs; 42 Dolphinfish/Dorados 20-31 1/2 lbs; 2 Broomtail/Cabrillas Cola Escoba 8 lbs; 4 Pargos 10-14 lbs; 7 Red Snapper 8-12 lbs. Exclusive booking agent, The Longfin, 714-538-8010.
SAN FELIPE, MEXICO: JIG STOP TOURS, August 4, 2000, Larry Burson, 6-day trip aboard the mothership, Captain Villegas departing from San Felipe. This report will cover the last two trips. Reports were delayed due to a communication problem in Mexico. Just when we thought the big Cabrilla had moved to deeper water for the Summer, we were proved wrong. The spring surface bite continues! Toss a live Mackerel in the shallows, along the shoreline rocks, and the 10-15 lb Cabrilla may attack your bait, intent on getting it before another fish does. The two trips boated 272 and 259 Cabrilla respectively. The best fishing was on live Mackerel but lures worked well also. For those who enjoy casting the iron, the large light jigs, such as a Tady 45 and Iron Man Lt., are very productive. Fire lure #5, Salas 6XJR, Iron Man #5 also work well and are better for working deeper on shallow reefs. Of course, trolling the Cabrilla Killers and Mirrolure 111's is always productive. Live bait was not easy to get. The Jumbo Squid are abundant everywhere, especially at night under the lights, making the Mackerel nervous. The limited supply of bait effects the Yellowtail counts the most. Live baiting Yellowtail is the best way to get the larger fish and it's a lot less work the Yo-Yo Iron in the hot weather. The two trips each reported 72 Yellowtail. The fish are all sizes. In some areas, such as San Lorenzo, they run 22 to 40 lbs. In other zones they may be 12 to 20 lbs. The respective fish counts of other species reported are: Pargo, 88 and 39. White Seabass, 17 and 12. Dorado, 7 and 19. Grouper, 2 and 3. The weather was generally very calm and not too hot. The water temperature was 70 to 71 degrees. Tel 949-496-0960; 800-521-2281; Fax 949-496-1384.
SAN FELIPE, MEXICO: SEA OF CORTEZ SPORTFISHING, 6-day Midriff Islands trip aboard the panga mothership, Celia Angelina, trip ending August 3, 2000, Bob Castellon. We found cooler waters this week, but the fishing was red-hot, easily the best of the season so far, with plentiful bait and lots of quality fish everywhere, including 5 totuava, to an estimated 130 pounds, that we released.
This was the eighth charter on our boat led by Quenton Murphy of Alta Loma, Calif. David Yarilah, fishing on Quenton's skiff, caught the 126-pound jackpot black sea bass. The bigger cabrilla were found in the shallows with MirrOLures. Yellowtail and dorado were plentiful. The giant squid and cabrilla were in 3 areas: south of Isla San Lorenzo, at Isla San Esteban, and at Punta Final. Winds were normal for this time of year. On this trip, we got the best result by trolling the MirrOlures for cabrilla, fishing the reef bottoms for yellowtail, pargo, grouper and black sea bass, and flylining for the dorado. We went from from Punta Remedios to San Francisquito, to San Lorenzo, and we fished the Golden Reef the last day. We had a lot of yellowtail at the Golden Reef. Bob Castellon caught a 61-pound black sea bass. We had a great trip with excellent results. Water temperature was 76-78, and air temperatures 92-96. Fish count for this trip: 117 yellowtail to 38 pounds; 146 cabrilla to 15 pounds; 29 dorado to 33 pounds; 9 white seabass to 41 pounds; 5 black sea bass to 126 pounds; 4 grouper; 4 hammerhead shark to 145 pounds; 3 pargo; 54 giant squid to 40 pounds; 345 miscellaneous. Reservations 626-333-9012; Fax 626-336-1966; San Felipe 011-52-657-71778.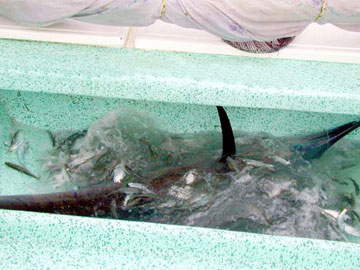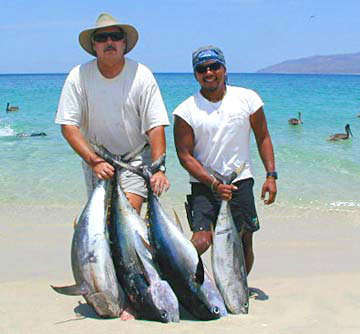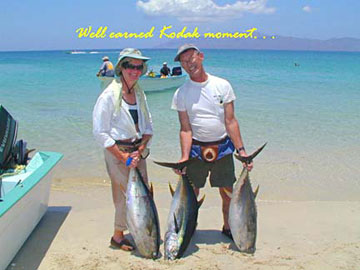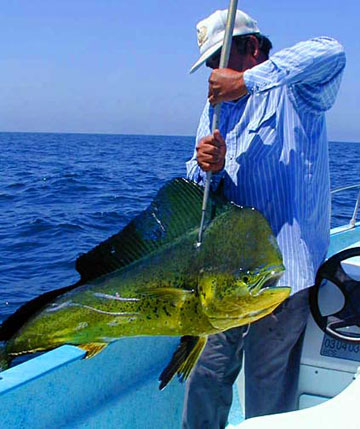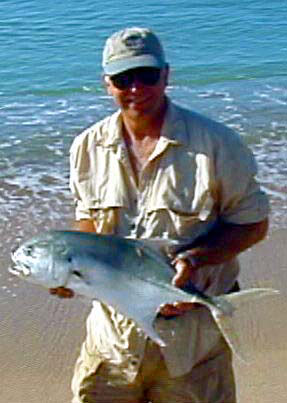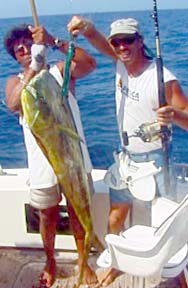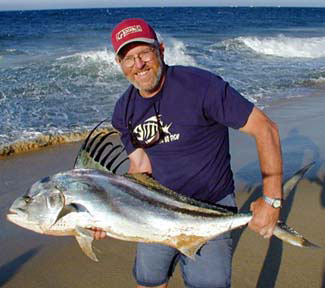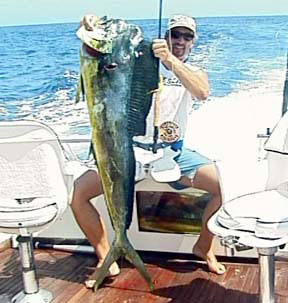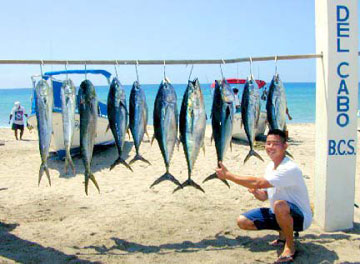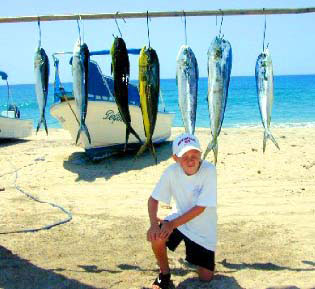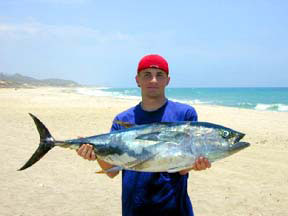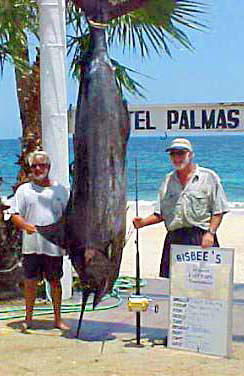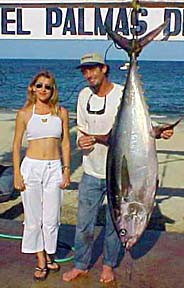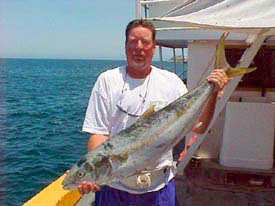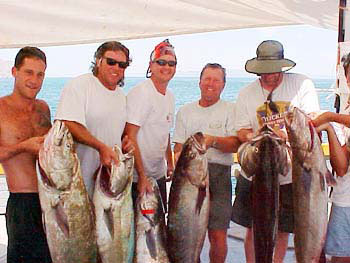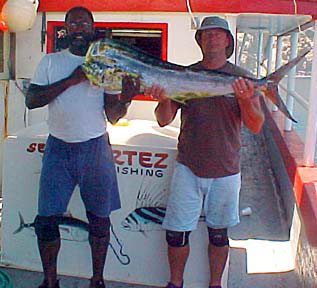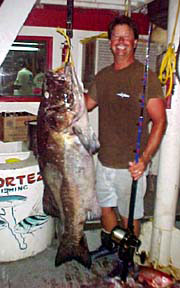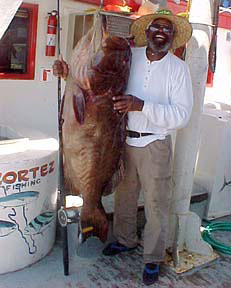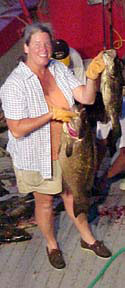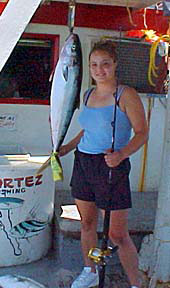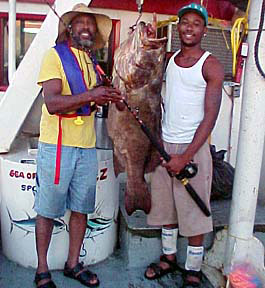 Baja coastal fishing reports and articles.
Ensenada fishing reports and articles.
Puerto Santo Tomas fishing reports and articles.
Erendira fishing reports and articles.
San Quintin fishing reports and articles.
Magdalena Bay fishing reports and articles.
Cabo San Lucas fishing reports and articles.
San Jose del Cabo (Los Cabos) fishing reports and articles.
East Cape fishing reports and articles.
La Paz fishing reports and articles.
Loreto fishing reports and articles.
Mulege fishing reports and articles.
Santa Rosalia fishing reports and articles.
Bahia de los Angeles (L.A. Bay) fishing reports and articles.
San Felipe fishing reports and articles.
Rocky Point (Puerto Penasco) fishing reports and articles.
San Carlos (Sonora) fishing reports and articles .
Mazatlan fishing reports and articles .
Puerto Vallarta fishing reports and articles.
Ixtapa Zihuatanejo fishing reports and articles.
Huatulco fishing reports and articles.
Cancun fishing reports and articles.
Mexico coastal fishing reports and articles.
Mexico Fishing Home Page < Mexico Fishing News Archives < Fishing Report