ENSENADA, MEXICO: GORDO'S SPORTFISHING, Ensenada, August 11, 2000, Erick. Yesterday the Constellation went out about 18 miles at 225 and brought in 65 Yellowtail 35-45 pounds, and Dorado 25-30 pounds. The boats Gordo II and Linda stayed in the bay and brought in Barracuda, Bonito, Calico Bass, White Seabass, and Mackerel. The fishing is good and we have live sardines and anchovies for bait. Reservations 011-52-617-83515; 011-52-617-82377.
ENSENADA, MEXICO: LILY FLEET, Ensenada, August 10, 2000, Sammy Susarrey. Today the Tamara fished offshore with 2 anglers aboard. We caught 9 albacore 30-35 pounds, 6 dorado 12-15 pounds, and 7 yellowtail 12-15 pounds. All albacore hit on live bait, except for two that hit trolled purple/black and Mexican flag colors. The dorado and yellowtail were caught at kelp paddies. We fished at GPS 31.38 117.14, heading 240 from Todos Santos Island. The San Diego fleeet was working the same area. Water temperature was 69-70 degrees. Bait is nice small mackerel. It was a windy and choppy day. Reservations Tel/Fax, 5 to 9 p.m.: 011-52-617-46747; Cell 011-52-618-67485; lilys@telnor.net.
ENSENADA, MEXICO: LILY FLEET, Ensenada, August 9, 2000, Sammy Susarrey. Today, the Amigo fished with 5 anglers at GPS 31.25 116.58. Water temperature was 69 degrees. We caught 14 yellowtail to 15 pounds, 5 dorado 12-15 pounds, 7 bluefin tuna to 20 pounds. The yellowtail and dorado were caught at kelp paddies on live bait. The bluefin were caught trolling Rapala CDs. Windy day. Reservations Tel/Fax, 5 to 9 p.m.: 011-52-617-46747; Cell 011-52-618-67485; lilys@telnor.net.
ENSENADA, MEXICO: LILY FLEET, Ensenada, August 8, 2000, Sammy Susarrey. Today, the Lily fished with 3 anglers with the following results: 12 sand bass 3-5 pounds; 4 calico bass to 4 pounds; 11 barracuda to 3 pounds; 1 yellowtail 12 pounds; 1 bonito 10 pounds. All fish hit on jigs, mackerel colors, single hooks. Most fish hit about 2 miles inside Punta Banda. Water temperature 68.5 degrees. Bait is nice, medium-sized anchovies. Water is good, calm day. Reservations Tel/Fax, 5 to 9 p.m.: 011-52-617-46747; Cell 011-52-618-67485; lilys@telnor.net.
ENSENADA, MEXICO: LILY FLEET, Ensenada, August 7, 2000, Sammy Susarrey. Yesterday's fishing results aboard the Tamara, with seven anglers. We caught 7 yellowtails 12-15 pounds in the kelp paddies. At Soledad Reef, we caught 10 red snappers, 3-5 pounds, 350 feet deep. The Amigo also fished the kelp paddies with 5 anglers, catching 3 yellowtail and 1 dorado, 15 pounds. The Lily fished locally with 4 anglers aboard, limits of sand bass 3-5 pounds, and 1 yellowtail, 15 pounds, a few log bonitos, 10 pounds. Most fish were caught on plastics, Fish Trap. Tel/Fax, 5 to 9 p.m.: 011-52-617-46747; Cell 011-52-618-67485; lilys@telnor.net.
In other mainland Mexico and Baja fishing action this week:
MAGDALENA BAY FISHING REPORTS
ALL ARTICLES, REPORTS AND FISHING INFORMATION FOR MAGDALENA BAY
MAGDALENA BAY, MEXICO: MAG BAY TOURS, Punta Hughes, August 12, 2000, Brian Freitag. What's Biting: Dorado, Snook, Halibut, Corvina (slowing down), Pargo. More Marlin starting to move in and feed, one 150# striped marlin landed and released by one of our guides. Yellowfin starting to show inside the Thetis banks. Small Jack Caravelle moving inshore. Red Hot! (Still) Dorado, at temperature break 3 - 15 miles out.
Halibut, on flys and small Krocodiles in the mouths of the esteros. Pargo, on Scampis and Krocodiles from shore. Surf: A swell started on Wednesday and should last well into next week, running a consistent 6' to 10' - SUPER GLASSY CONDITIONS! Weather: Days: 85-95 degrees F. Humidity: low. Nights: 72- 74 degrees F. Winds: Calm - AM, picking up to moderate some afternoons. Water temp (near shore) 72 - 74 degrees F. Comments: We need these guys to quit surfing so much, and get out and fish so that we can get a better handle on what is really biting. The sportfishing pressure is so low here that we are sure that we are not targeting all the available species of gamefish.
As an example: we have nearby a 14 mile long sandy beach with a good shorebreak that just screams "ROOSTERFISH TERRITORY". And, we have seen some BIG Roosters caught by the local commercial fisherman. But, we have never heard of, or seen a sport caught Roosterfish. Anybody want to come down and go on a "rooster hunt"? Reservations 800-599-8676.
MAGDALENA BAY, MEXICO: BAJA ON THE FLY, San Carlos, August 9, 2000, Gary Graham. Temperatures: 82-degree high; Low 70. Partly cloudy with moderate winds in the afternoon. Water temperature: 73 - 68 degrees in the mangroves and 68 offshore. STRIPED MARLIN - A few seen near the shark buoys outside the entrance. DORADO - Still providing the best offshore action. TUNA - Light catches 10 - 12 miles outside the entrance. SIERRA - Good action early morning near the entrance. CORVINA - A few smaller fish near the power plant. SNOOK -No one seemed to be targeting them this week. YELLOWTAIL - Some surface action early in the week near the entrance.
QUICK COMMENT - Dorado provided the best action offshore and up in th mangroves the corvina and halibut were the best bet. Reservations Tel 800-919-2252; Fax 760-746-7260; bajafly@aol.com.
CABO SAN LUCAS FISHING REPORTS
ALL ARTICLES, REPORTS AND FISHING INFORMATION FOR CABO SAN LUCAS
CABO SAN LUCAS, MEXICO: PICANTE FLEET, Cabo San Lucas, August 12, 2000, Marco Arechiga. Fish available: Striped Marlin, Blue Marlin, Sailfish & Tuna. Water Temperature: Approximately 80-82.5 F. Air temperature: hi 95 / low 77. Humidity: 77 %. Wind: 7-8 Knots per hr. Pacific; 6-7 Knots per hr. Sea of Cortes. Yesterday's Luckiest: "Picante Dream" 35' CABO. Captain: Genaro Winkler. Angler: B.J. Underdown. Production: 1 Striped Marlin 155 lbs. ( released ), 1 Sailfish 90 lbs. ( released ). Hot Spots: San Jaime Bank, 95 Spot. Fleet Production (5 boats): 3 Striped Marlin, 2 Dorado, 2 Tuna & 1 Sailfish. Reservations Tel 011-52-114-32474; Fax 011-52-114-35969.
CABO SAN LUCAS, MEXICO: PISCES FLEET, Cabo San Lucas, August 11, 2000, Tracy Ehrenberg. BILLFISH: To be honest we had a pretty poor week billfish wise, of course there was the odd exception here and there, but only sixty-nine percent of boats caught fish in the past seven days. Normally August is considered one of our best months, were hot weather is offset by great fishing. That's just not the case at the moment. Seas are not as blue or as calm as they should be and a good part of our low success rate this week, was due to boats turning back with queasy anglers. The only blue marlin we had this week was aboard "Seamint" that weighed close to 250 pounds and was released by Frank Zemer, from New York. Top catch this week was a 290 lb swordfish, caught by Tom Moertl from Milwaukee and Mike Moertl from Phoenix - these guys spotted the broadbill seven miles out from Pozo de Cota, that threw out a live bait and then were very patient, waiting for the fish to resurface and take their bait, in all about twelve minutes, which paid off with a hook-up. This beauty took two hours to bring to the boat on 40 lb test. Otherwise sailfish dominated the billfish front and were at times found as close at 100 meters to shore. We had a total of six sailfish this week, all released, most on live bait. Just one striped marlin for us, that was also released, one blue marlin and one sword. The fish are not in any set location, so basically captains had to decide with their clients what to opt for, chance going offshore for blue marlin and possibly draw a blank, go for tuna, which could be found most days, or risk inshore to pick-up some sails, so there wasn't a lot to choose from. Live bait was scarce part of the week.
OTHER SPECIES: The biggest fish this week was not a billfish; it was a yellowfin tuna, caught by Don Souther and Ward Adams from Cave Creek, Arizona. Their prize yellowfin tipped the scales at 310 pounds. Luckily for them it took both anglers baits, meaning they were both fighting the fish at the same time, which is a good thing or the fish would probably have won.
They were fishing 20 miles south of Cabo aboard "Adriana" a 28 ft Uniflite, when they hooked up, using 30 lb test, taking 1 hour and a half to bring to the boat. This is the biggest tuna we've seen come off of a day charter in several years. Other anglers that did really well, were Robert Greene from Roanoke Va, Jason Ward, from Boston, William Shockley and Chad French from Atlanta - they fished aboard "Ruthless" and were very pleased with their catch of three yellowfin tuna ranging in size, at 24 pounds, 60 pounds and 182 pounds, respectively. One of the better overall days was had by Joe Horwitz and family from Springfield, Ill, aboard "Rebecca", totaling one sailfish, one dorado and four tuna ranging in size from 55 to 70 pounds. Other boats got tuna in ones and twos, but of average size around the 20-30 pound mark. Dorado were not as plentiful this week, either being tiny and released, or of a fair size in the 30 to 40 pound category and kept. Pangas caught small tuna and dorado inshore as well as the odd sailfish here and there. LOCATION: No one set place- ranging from San Jaime, Old Lighthouse, 95 Spot, 15 miles off of Chileno, San Cristobal. WEATHER CONDITIONS: Hot with some humidity. Captains comment that the sea conditions are changing every day, quite a bit of green water, where flying fish are being found; blue water found is a little colder than the green water, which is unusual. Seas on the choppy side and mid-week they were rough. AVERAGE WATER TEMP; 81-86 F. BEST LURES: Live bait, green/yellow colors. Reservations Tel 011-52-114-31288; Fax 011-52-114-30588.
CABO SAN LUCAS, MEXICO: PICANTE FLEET, Cabo San Lucas, August 11, 2000, Marco Arechiga. Fish available: Striped Marlin, Blue Marlin, Sailfish & Tuna. Water Temperature: Approximately 79-81.5 F. Air temperature: hi 95 / low 79. Humidity: 85 %. Wind: 6-7 Knots per hr. Pacific; 6-7 Knots per hr. Sea of Cortes. Yesterday's Luckiest: "Picante Pride" 35' CABO; Captain: Antonio Romero; Angler: B.J. Underdown; Production: 3 Striped Marlin 150 lbs. average ( all released ), 1 Sailfish 110 lbs. Hot Spots: San Jaime Bank, 95 Spot. Fleet Production (5 boats): 1 Blue Marlin, 6 Striped Marlin, 9 Dorado and 12 Tuna. Reservations Tel 011-52-114-32474; Fax 011-52-114-35969.
CABO SAN LUCAS, MEXICO: PICANTE FLEET, Cabo San Lucas, August 9, 2000, Sergio Cortes. Yesterday's results: Fish available: Striped Marlin, Blue Marlin, Sailfish & Dorado. Water Temperature: Approximately 79-81 F. Air temperature: hi 95 / low 73. Humidity: 74%. Wind: 6-7 Knots per hr. Pacific; 6-7 Knots per hr. Sea of Cortes. Yesterday's Luckiest: "Picante Pride" 35' CABO Captain: Antonio Romero. Angler: Bobby Joe Underdown. Production: 1 Striped Marlin 140 lbs. avg. (released), 1 Yellowfin Tuna 230 lbs., 2 Yellowfin Tuna 40-50 lbs. Hot Spots: 20-25 miles south of the old lighthouse. Fleet Production (4 boats): 1 Blue Marlin, 2 Striped Marlin, 5 Dorado and 4 Tuna. Reservations Tel 011-52-114-32474; Fax 011-52-114-35969.
CABO SAN LUCAS, MEXICO: FLY HOOKER SPORT FISHING, Cabo San Lucas, August 7, 2000, Capt. George & Mary Landrum. WEATHER: This has been a very interesting week, it looks like I am going to have to get around to sealing my roof real soon! We are starting to get an occasional shower now and then due to the feeder bands of tropical depressions and tropical storms passing to the south. An occasional burst of rain for a couple of hours has kept the dust down and cleaned the plants off. I can only imagine how beautiful it will be here in another week when everything starts to bloom! There has been some cloud cover at least part of every day this past week and that has kept the temperatures in the mid 90's for the most part. Humidity has been in the mid 50's and the nighttime temperatures have not really dropped a lot, only into the low 80's. The southeasterly breezes have made it feel cooler and it has actually been quite comfortable most of the week.
WATER: The swells have been from the south and southwest due to the passing storms and they have been good for surfing. They have not had any effect on the fishing and being storm swells they are spaced far enough apart they are not uncomfortable. The water has gotten choppy on occasion as a thunder storm moves through the area but it mellows out within a few hours. The water temperature has been increasing steadily as water from the northern Sea of Cortez has moved down but by Saturday there were some cool spots showing up. The Sea of Cortez side has maintained a fairly consistent 88-90 degree range with the exception of Gordo Banks on the 4th and 5th when up-welling currents dropped the temperatures into the low 80's and high 70's. The same thing is occurring on the Pacific side at San Jaime and Golden Gate Banks but the cool water has been on the western side. On Sunday the cool water on the Sea of Cortez side had started to move down into our area while staying out about 20 miles. Boats are reporting green water up to the cool areas, which have been deep blue color.
BAIT: Surprise, surprise, there are still Cavillito available, we have not had to go to mullet yet. Prices remain the same at $2 per bait. Sardines have been available on most mornings if you are early and they have been charging $25 a scoop, the bait being 3-4 inches. This is good news for those wanting to target Tuna.
MARLIN: It's that time of year. The Striped Marlin are on the decline and the Blue Marlin are making a showing! The boats looking for Striped Marlin are still able to find them at the temperature breaks but with the moon phase we were in last week they were not biting well. There was a bit of better luck with the Blue Marlin and the majority of Marlin being hooked seemed to be in the 200-300 pound range. There were a few released that were between 300 and 600 pounds, but the majority of large Blues are still to come. The best luck on the Blues has been around the tuna schools and they have not been particular as to lure colors. Many of those being hooked have been going for the Tuna feathers and are getting hooked on the lighter tackle, so hang on!
YELLOWFIN TUNA: Early in the week some very nice 70-100 pound fish were being found 45 miles to the south of the Cape, and they were being found with the porpoise. As the week progressed more fish and porpoise were found closer to home. The closer fish were in the 50-70 pound range and on Friday a large school was found just 22 miles out. Most of the boats caught at least one and many of them had multiple hook-ups. Hopefully this type of action will continue through the remainder of the summer! Most of the fish were taken on feathers and cedar plugs and a few of the larger ones were hooked up on live bait by the gun-and-run boats.
DORADO: The Dorado bite has tapered off, probably due to the warm water this week, but as these cool spots move through I am sure the catch will increase. There were good catches reported just off the beach on the Cortez side. Many of the boats trying for Roosterfish with live bait reported cool water and good action for Dorado in the 15-25 pound class. Later in the week Gordo Banks kicked out a few nice catches as well.
WAHOO: No reports this week but I am starting to get optimistic. As the currents force up cool water at the Pacific Banks I think the bite will happen. Wait for a combination of cool up-welling and the full moon, we may be in for a treat.
INSHORE: The action was slow for most of the week as there was green water in most of the areas fished. Dorado were the surprise on the Sea of Cortez side mid-week but there was not much else happening.
That's it for now, more information next week! Until then, Tight Lines! Capt. George Landrum. Reservations Tel 011-52-117-01271; 011-52-114-87452.
CABO SAN LUCAS, MEXICO: PICANTE FLEET, Cabo San Lucas, August 7, 2000, Sergio Cortes. Fish available: Striped Marlin, Blue Marlin, Sailfish & Dorado. Water Temperature: Approximately 79-81 F. Air temperature: hi 95 / low 73. Humidity: 74 %. Wind: 6-7 knots per hr. Pacific; 6-7 knots per hr. Sea of Cortes. Yesterday's Luckiest: "Picante Dream" 35' CABO. Captain: Genaro Winkler. Angler: Richard Bechuenturian. Production: 1 Blue Marlin 350 lbs. avg.; 3 Dorado 40-60 lbs. Hot Spots: San Jaime Banks (Pacific side). Fleet Production (4 boats): 2 Blue Marlin, 1 Striped Marlin, 7 Dorado and 2 Tuna.
CABO SAN LUCAS, MEXICO: BAJA ANGLERS, Cabo San Lucas, August 6, 2000, Grant Hartman. Hi Folks, Water temperatures are in the low 80's and the seas are calm, with a small chop in the afternoons on the Pacific side. Again, the Dorado have been the highlight for the last week. Especially for fly fisherman, as we have some large schools roaming the lighthouse area. Most of the fish are under 20-lbs, but a few big brutes over 40-lbs are hanging around the smaller fish. It's the same old problem, when you find big dorado in with the smaller more aggressive fish, the smaller dorado always beat the bigger ones to the fly. Billfishing is slow right now. Sailfish are around, but still not here in any numbers. Some striped marlin, but they won't be around in any numbers until later this fall, especially in November. A few really big Black Marlin have been caught at the Gordo Banks, and a few smaller Blue Marlin are being caught daily. Conventional fisherman are catching Yellowfin tuna up to 50-lbs off the Gordo Banks, with most boats catching 2 to 5 fish in a day. The action hasn't stared yet, normally there is a good yellowfin tuna bite by now off the Gordo banks. Inshore fishing is slow, and will remain that way until early fall when the water starts to cool. SPECIES OVERVIEW (0-to-10 Scale): DORADO (6-7) Mostly off the Pacific side, only 1/2 to 2-miles offshore. WAHOO (0-1) Soon, (we hope!) but not yet! JACK CREVALLE (1-2) The jack fishing is usually slow during the summer months and will pick back up in the fall. TUNA (2-3) Starting to show. SAILFISH (3-4) They are around, in the Pacific and sea of Cortez side. MARLIN (Blues & Blacks) (3) Just starting, I am hoping that the full moon in August is going to be hot. STRIPED MARLIN (2-3 ) Here and there, but we won't see any numbers until this next fall. CUBERA SNAPPER (0) Gone until next fall. ROOSTERFISH (2) Some fish still around, but most are gone until next fall. SHARKS (3-4) Inshore shark fishing is just picking up. In the summer months I generally have very good shark fishing. I wish more guys would target them. A big blue can be like a railroad engine fast, but a steady pull that will make you wish for a bigger rod. Makos are just plain awesome. SKIPJACK & BONITO (3 ) Slow on flies right now, but you can pick up half a dozen on lures. SPANISH MACKEREL (0) Gone until next fall.. A timeless reminder Baja Anglers proudly supports a catch & release policy on all billfish and all roosterfish, with the exception of world record-potentials. Reservations 888-588-3446.
SAN JOSE DEL CABO (LOS CABOS) FISHING REPORTS
ALL ARTICLES, REPORTS AND FISHING INFORMATION FOR SAN JOSE DEL CABO
SAN JOSE DEL CABO, MEXICO: GORDO BANKS PANGAS, San Jose del Cabo, August 6, 2000, Eric Brictson. This past week saw much improved weather conditions despite there being several tropical storms brewing in the Pacific, these storms are tracking off to the west and only caused a slight increase in the size of the swells. Seas were very calm with the exception of Saturday when a local squall moved in from the east and brought with it very strong winds and some heavy rain showers, only the hard core anglers continued to fish in these dangerous conditions, even the larger cruisers were calling it an early day on Saturday. Overall the water is continuing to improve, mostly blue and averaging between 82 and 85 degrees. With the increased angling pressure the supplies of sardinas off of the beach of La Playita are not what they once were and on certain days anglers have had to have patience waiting for their daily rations. The fish were hungry though and a lot of extra chum in the water was not necessary. The hot bite for the past five days or so has been for the yellowfin tuna on the Gordo Banks, both the Inner and Outer Banks are producing quality fish. Average size tuna was around 40 pounds and everyday there are fish up to 60 pounds being landed and other stories of even larger ones breaking off. There were two yellowfin over one hundred pounds taken, the largest being a 130 pounder. Fishing with the live sardinas proved to be the hot ticket to success, the problem is with the smaller bait many anglers were fishing with lighter lines and when they hooked into the larger fish they did not have much of a chance. Most serious anglers were using 80 pound tackle and they were the ones that landed the larger fish. For the panga fleets out of La Playa it was just a 10 mile run to the Gordo Banks and this seemed very close compared to where the fleet was fishing for the past few months, they had been concentrating around the San Luis Bank and that is an 18 mile ride. Boats were averaging anywhere from 3 to 12 tuna a trip, depending on the size of the fish and the endurance of the anglers. Dorado counts were down but they were still be taken daily, average was two or three fish per boat and in the 10 pound class. Also there were a couple of wahoo reported from the area of Iman, one of them was in the 75 pound class, it hit on trolling feather. Other catches included a mix of pargo, amberjack and cabrilla, these were taken off of the various rock piles to the north of Punta Gorda.
After a slow period for the billfish, near the area o the Gordo Banks on Tuesday, the first day of August the marlin did become more active and at least two large black marlin were hooked near the Outer Bank, one that hit a 30 pound tuna that had just been followed to the boat by a monster marlin and was quickly rigged on a heavy leader was lost after the line became wrapped around the rod and broke everything. The other was landed, anglers Billy Chang and Richard Chen from the San Jose, California area were fishing with Gordo Banks skipper Marcos Arista when the big black hit the live skipjack that they were trolling, the fish weighed in at 461 pounds and took four and a half hours to land. Good Fishing. Reservations Tel 800-408-1199; Fax 619-447-4098; 011-52-114-21147.More fishing reports and information for San Jose del Cabo, Mexico, can be found in the Mexico Fishing News archives.
EAST CAPE FISHING REPORTS
ALL ARTICLES, REPORTS AND FISHING INFORMATION FOR EAST CAPE
EAST CAPE, MEXICO: RANCHO BUENA VISTA, Buena Vista, week ending August 12, 2000, Tamara Moyeous. Fishing with 12 boats this week, the catch was excellent. Water temperature in the 70's. A total of 185 fish caught; 5 stripers, 4 blues, 18 doroado, 155 tuna and 3 pargo. Weather was nice with some days cloudy. Reservations 800-258-8200.
EAST CAPE, MEXICO: BUENA VISTA BEACH RESORT, week ending August 12, 2000, Axel Valdez. Boats out: 70. Weather, High 80´s-Low 100´s. Water Temperature: Inshore 79°- 83°, Offshore 80°- 84°. Early in the week the water temperature dropped. We weren't able to find the blue water close. During the week the water started to go back to normal, but still the color was not blue. By the end of the week the blue water started to flow in closer. But still the boat ride to find the water was about 1:30 minutes. This week the weather reached its hottest days. Early and during the week the temperature was kept under the 100´s due to a nice breeze blowing most of the day, but the last two days of this week it really got hot, together with a high humidity average. Still to have dinner in the patio was very nice, and other ocean activities other than fishing are very popular now, especially tours to snorkel and diving.
Fishing Spots and Distance: Due to the water conditions and the excellent tuna and pargo fishing in front of La Rivera, only some boats tried to find some other areas to fish, most of everyone will stay fishing for tuna for about 3 hours and then tried to find some dorado or come inshore to find some roosterfish or pompano. Later on in the week and since we hosted the 3rd Annual Neil Kelly Fishing Tournament, some captains went out to find some billfish, they went south past Los Frailes and they reported the billfish biting back again.
Successful lures: Chivato (orange/yellow), Purpuras (purple/black), green/black and they are also trying the petrolero (black/orange). Baja colors, while fishing for dorado they were using small dorado lures, and also the very famous hoochies. While trying for blue marlin, Captain Victor Sandez on the Mosca IV was trolling live tuna, and he had a nice 400 lbs. (estimated) Black marlin for about 5 minutes until the black broke off.
Bait Used: Little jacks and sardine. Some live Bonito or tuna is being used for baiting of the blue and black marlin.
Highlights of the Week: For the third week and a row, the highlight goes to the tuna, we had some nice tuna over the 50 lbs. range, but most of them are in the 10 to 20 lb. range. Also later on in the week several boats reported that south by the Vinorama the billfish were starting to come back to normal. Inshore fishing is good, with some good numbers on roosterfish. Most of the inshore is being done flying fishing, which have had very good results.
Weeks Comparison: Tuna Fishing this week improved from last week with 5 per boat average, billfish average per boat was not able to come back, still we have very good expectations for next week. And for dorado we are down from last week numbers and way down from last year catch, still this is just half of the month, we are expecting the dorado to return in big numbers, most of the dorado fishing this year has been really good, and these two hot months are the exception.
Fish Count (kept/released): Blue Marlin 0/5; Striped Marlin 1/0; Sailfish 0/3; Dorado 63/3; Shark 0/0; Tuna 378/29; Wahoo 1/0; Roosterfish 0/12; Amberjack5/0; Trumpet fish 0/4; Skip Jack 19/156; Bass/Grouper 0/0; Jack Crevalle 0/5; Red Snapper 53/0; Needlefish 0/28; Pompano 4/0; Triggerfish 5/6; Rainbow Runner 1/0. Reservations 800-752-3555.
EAST CAPE, MEXICO: RANCHO LEONERO, August 12, 2000, John Ireland and Roy Baldwin. Continued typical summer conditions at the East Cape, with daytime highs in the upper 90's, evening lows in the mid 70's, calm seas with afternoon breezes and water temp near 90. With green water throughout the bay, the billfish bite was off most of the week, however on Saturday we found blue water about 3 miles off Punta Colorada, and the return of the billfish bite, with blues, lots of sails and some stripers, mostly on green/black trolled lures. The big bull dorado bite was off this week, however schools of smaller fish (average 10-12lbs) were providing lots of fun for our light tackle fishermen. Inshore fishing remains great with limits of yellowfin and roosterfish close in. Yellowfin tuna ranging from 15 to 60lbs remain concentrated 2 miles off La Ribera, as well as 2 miles off Cabo Pulmo, with most fish taking weighted live sardinas. The roosterfish bite continues with fish averaging 10 to 20lbs (largest 51lbs) inshore from Leonero to the lighthouse, taking live caballitos, lisas and sardinas. Big pargo to 30lbs also inside, taking live sardinas and caballitos. Dirk Swierczynski of Solana Beach, CA, owner of Baja Directions (map company), while fishing one day on a cruiser, took an incredible 247lb yellowfin tuna, south of Los Frailes. The fish took a slow trolled live bait while fishing for blue marlin. Reservations 800-646-2252; Hotel 011-52-114-10216.
EAST CAPE, MEXICO: HOTELS PALMAS DE CORTEZ, PLAYA DEL SOL, PUNTA COLORADA, East Cape, August 10, 2000, reported by Dave "Smokey" Manuel, East Cape Smokehouse. Things progressively improved throughout the past week after a slow start. The previous Saturday we experienced an early a.m. squall that blew through which sent most boats immediately back to the beach. Rain, very strong winds and huge surf were the result of the quick storm and it seemed to slow things down for a few days after. The preceding week had very good Tuna bites in many locations, but boats out on Sunday and Monday found things a bit slower and the size range mostly under 15 lbs on Yellowfin Tuna. By Wednesday, larger Tuna were back, being found mostly off the Cabo Pulmo area and running 30 to 50 lbs. Two other bites are still producing, one is off Punta Pescadero, no more than a 15 minute boat ride from the hook in Los Barriles, where small 7-15 lb Tuna are hitting on Sardines in the early a.m. The other is that same spot off La Ribera, which has been producing Tuna for several weeks. Sizes from that bite aren't much different, mostly under 20 lbs. Dorado fishing has seen little improvement. They're limited mostly to smaller fish under the 15 lb mark and besides a few charters finding a school that was active, most are the loner type hitting an occasional trolled lure now and then. The consistent sizes in the 30's and 40's we've seen for a good part of the summer are history, at least for now. I fished two days this week and after hitting the early a.m. Tuna bites, on both days went trolling for Dorado. I trolled off Punta Colorada the first day and off Punta Pescadero the second and of the 4 Dorado caught the biggest may have been 15 lbs, maybe! Charter boats are having the same luck, some Dorado action, but small on the size range. Billfish numbers remain down also. One large Blue Marlin was caught on Sunday over the 660 lb mark and it appeared possibly on Thursday the action would improve with more reported hookups and sightings, but it's still quiet. --Smokey Dave, EAST CAPE SMOKEHOUSE, 011-52-114-10294. Hotel reservations, 800-368-4334.
EAST CAPE, MEXICO: BAJA ON THE FLY, Buena Vista, August 9, 2000, Gary Graham. Temperatures: High 94 with a low of 79; Humidity = 80%. Cloudy skies with strong breezes in the afternoon, which helps cool things off a little bit. Water temperature: 80-88. STRIPED MARLIN - Slow, slow, slow. BLUE MARLIN - Most of the fish caught were big bruisers over 350-pounds. SAILFISH - Not being seen in any numbers to speak off. YELLOWFIN TUNA - Still good fishing, but down deep which is not good for fly fishing. DORADO - Still slower than last year at this time. ROOSTERFISH - Still good action from Scott Glenn's house to Punta Arena close to shore. JACK CREVALLE - A few smaller fish. BARRILLETE OR MEXICAN SKIPJACK - Plenty of schools seen a few miles offshore from Punta Pescadero to Cerro Blanca. PARGO AND CABRILLA - Fair catches in front of Punta Colorado. OFFSHORE: So far, it has been disappointing for August . INSHORE: Tuna continue to dominate the catches. BEACH: Only a few roosters and jacks caught this week. QUICK COMMENT: This week has only produced fair fishing overall. After the rapidly-moving storm front moved through on Sat., conditions continued to be unsettled. The amount of sardinia has diminished at La Ribera resulting in less fish being seen. Weather seems to be getting back to normal and we expect the fishing to normalize as well. Reservations Tel 800-919-2252; Fax 760-746-7260.
LA PAZ FISHING REPORTS
ALL ARTICLES, REPORTS AND FISHING INFORMATION FOR LA PAZ
LA PAZ, MEXICO: JONATHAN ROLDAN'S ADVENTURE SERVICES, La Paz, August 11, 2000, Jonathan Roldan. The bad turned good this week. Had a few wild incidents of "torito" winds come up that literally had boats running for cover a few days back with waves and even rain. They were almost like mini-chubascos that came and left rather quickly, but shortened the fishing days and a real shame when fish were literally busting the surface. However, things were back to normal pretty much this week happy to say. Attorney Eric Gowey and his pals as well as Orange Co. officer Tim Sanchez and his group got caught big time in a torito at Las Arenas and ended up back at the hotel early with a busted day of fishing. Eric and his group however, waited and found another pangero in town willing to take them out for a few hours and in the now calm water, they still nailed 8 dorado. Both groups took several other shots however at Las Arenas and found the fishing had bounced back quickly. Big tuna were again the story with a mix of some smaller pee-wee fish just in front of the Arenas lighthouse as well as at Punta Sur off the island. Yellowfin in the 40-80 pound class were the ticket if you had the muscle in your arms as well as your tackle as some of the fish were taking over and hour only to be lost at or near color when gear, line or angler took a dive. Dorado were still sporadic, but it seems more hit the beach this week and the count on sailfish hook ups continued with seemingly everyone getting at least one sailfish hookup a day. That's a bit of an exaggerations, but the sails are definitely there and can be taken on light tackle. Happily, most are getting released. If you want dorado, the place to rack them is still straight out of La Paz. The bay right in front of Ballandra into the channel between the peninsula and the island as well as that west side of Espirtu Santo Island has been the "zone" for mahi these past few weeks as well as some chunky 20-40 pound tuna. Slow trolling a bait, feather or jig around birds or near any kind of temperature or color break seems to almost guarantee a hook up. Not all the fish are quality. Some seriously look like giant zuchini they are so small and should be released, but there's a darn good number of quality fish in the 20-30 pound class that will hit just about anything in the area. If you're running feathers, I've had great success with pink and white Zukers as well as the Ballyhood TNT heavy head feathers. You'll also want to nail a bonito, slice it and tie it off behind your boat. The dorado will follow that scent right up into your motor! Tel 626-333-3355; Fax 626-333-0115; Pager 323-349-8111; Message Pager 877-310-7734; Riplipboy@aol.com.
LA PAZ, MEXICO: FISHERMEN'S FLEET, Hotel Los Arcos, La Paz, August 9, 2000, David Jones. Another very nice week here in La Paz. With the exception of one day this week, last Saturday we had a storm front move through and the boats came in early, the weather has been hot (to 100), humid, and light breezes have kept the whole thing in the "not so bad" zone. The fishing has been very good to excellent with Tuna and Dorado dominating the catch. The week began with some excellent Dorado and Sailfish action as experienced by Ed and Chris Luna, from out near Hemmett California. They have been coming for many years and had what they said was one of their best trips ever. Dorado to almost 50 pounds, one day surrounded by a pack of 10 Sailfish, and Tuna to 70 pounds rounding out the catch. Rich Conway and his group of intrepid fire fighters from the Los Angeles area did very well on Sunday and Monday on Tuna to 60 pounds and some Dorado to 30. The Punta Arena light, El Faro Viejo at the SE corner of Cerralvo, and the area a couple of miles off the SW corner of Cerralvo are all holding Tuna right now. Jim and Kay Stark came down from Phoenix to enjoy some fishing before Kay has to start teaching school again next week. After enduring the weather glitch on Saturday they had 2 good days with Javier. While all of this action was going on at Cerralvo the John Dillen Sportfishing Co. was heading out of La Paz bay with Capt. Juan. They had a couple of good days for Dorado and Tuna up north on the west side of Espiritu Santo and one phenomenal day of Dorado fishing that was topped by a 52 pound (that's on a scale) Bull that's no bull. Fishing is good on all fronts, the weather is just as it should be and we've got a very good late summer run going that you should seriously consider sampling. Have Fun. Reservations 011-52-112-21313; Fax 011-52-112-57334.
LORETO FISHING REPORTS
ALL ARTICLES, REPORTS AND FISHING INFORMATION FOR LORETO
LORETO, MEXICO: VILLAS DE LORETO, August 11, Erin Cassandra. We have been very busy lately as the hotel has been full the past few nights. The fishing is still great. Our fishermen are catching lots of Sailfish off of Punto Lobos and we´ve had some clients catching Tuna. Everyone is limiting out easily by 10 am. The weather is getting hotter (into the 100s again). Humidity hasn´t been too bad and the Sea of Cortez is a bathtub. I´ll keep you posted. Reservations Tel/Fax 011-52-113-50586.
LORETO, MEXICO: EL FUERTE SPORT FISHING, August 9, Ty Miller. Temp: 100. Water Temp: 87. Winds: None. Seastate: Flat. Hola Amigos, Looks like things are winding down around these parts with just a hand full of boats launching out of Puerto Escondido. The daily temperatures are heating up and becoming a little uncomfortable. If you are planning to come down, please bring plenty of sunscreen and hats, especially if you are going to fish in an open Panga with no shade. The Dorado are still holding on the backside of Isla Carmen near Pta. Perico with fish in the 18 to 30 pound class. Most fish are being caught in open water, but there are a few paddies being spotted here and there that are holding fish. These Dorado are still taking just about anything on the troll with "Mean Joe Green" and hot pink plastics being our favorites. Remember to get these fish on ice as soon as possible or you are going to quickly loose them to the heat! Billfish are still hanging around but not nearly in the numbers we had in the past months. We haven't taken a Striped Marlin since last week. Sailfish are loading up off of Pta. Lobo with "wolfpack" sightings of 8-12 Sails together at one time. Just the other day we had 5 plastic lures out on the troll and immediately there were two billfish per lure fighting for first take! This was out of site!! Luckily only one hung on -- from there it was a piece of cake, thank God!! Bait is still a snap off of Honeymoon cove on Isla Danzante with Macks being taken off of the bottom while Sardinas are suspending at about 100 feet. There is one thing I want to remind you guys of if you plan on coming this way to fish: PLEASE posses a valid Mexican Fishing Permit!! Times are-a-changin' down here and if you get caught without one you will be VERY sorry! I personally am tired of hearing the stories of these fishermen telling me that they have been coming down here for years and "NEVER needed one before". I have also heard that the boats will tell you that they are included. If you fish on their boats, please don't be fooled by this or you will be taking a big risk! If you read the Mexican Sportfishing Regulations and what you stand to loose as a result, trust me, you won't want to take that risk. Besides, if you look at all the expense for airfare, hotel, restaurants, etc., you cannot afford not to purchase a license. What are they now, a whopping $38 dollars a year? Have some respect! As a last note: El Fuerte will be closed from August 15th through September for the Chubasco season. We want to thank all of you who have fished with us this year and helped to make it such an incredibly memorable season. You guys are the reason we love this business!! Hasta Luego. Reservations Tel 714-775-6658; Fax: 714-755-3501; Loreto 011-52-113-30863.
LORETO, MEXICO: CHILI PUNTA FLEET, Loreto, August 6, 2000, John "Bubba" Parker and Fishmanmark. It has been a number of years since we have had a rain here, but it finally came in and lasted for a couple of hours. The rain caused a lot of debris to be washed down the Arroyo's and out to sea. All this did was give a wake up call to the Dorado, which love to hide under debris or seaweed to start with. The Dorado fishing is very good and has been so since May. They are ranging in size from 15 to 40 pounds. Live bait, dead bait, strip bait, squid and feathers are doing the trick. They are being found about 15 miles north of Coronado Island. We did find a few larger Dorado about 22 miles northeast of Punta Lobos. Sailfish are off of Punta Lobos and are in the 60 to 110 pound range. Live bait and feathers have worked well for them as you can tell they have moved from Punta Perico. Marlin have taken off for cooler water. The Dorado and Sailfish are here where are you? You should try to get down here to get in on some excellent fishing. The water has been super calm and the weather is hot!, but so is the fishing. Until next time tight lines. Tel 925-449-4554; Fax 925-456-2252.
MULEGE FISHING REPORTS
ALL ARTICLES, REPORTS AND FISHING INFORMATION FOR MULEGE
MULEGE, MEXICO: MULEGE, August 7, 2000, Don Johnson & Jens Kolbowski, reporting for baja-web.com. Fishing continues to be very good in this area. Lots of Dorado and sails and small yellowfin tuna 12 to 18 lbs. are being caught 2 to 4 miles east of the Santa Inez islands.
SAN FELIPE FISHING REPORTS
ALL ARTICLES, REPORTS AND FISHING INFORMATION FOR SAN FELIPE
SAN FELIPE, MEXICO: TONY REYES FISHING TOURS, 6-day Midriff Islands trip aboard the panga mothership, Jose Andres, trip ending August 11, 2000, Tony Reyes. WATER TEMPERATURE 80-85 degrees F. Fish count: 142 Spotted Bass/Extranjeras; 59 Cabrillas 8-14 lbs; 4 SheepHead/Viejas 8-10 lbs; 18 Yellowtail 18-30 lbs; 11 Grouper 70-110 lbs; 26 Dolphinfish/Dorados 18-27 lbs; 5 Black Sea Bass 80-260 lbs; 19 Red Snapper 8-12 lbs; 1 Leather Fish 35 lbs; 1 White Sea Bass 75 lbs. Exclusive booking agent, The Longfin, 714-538-8010.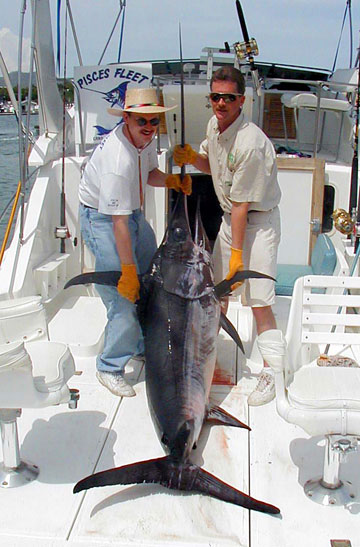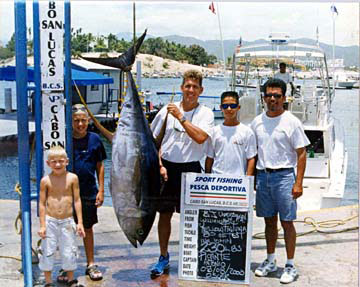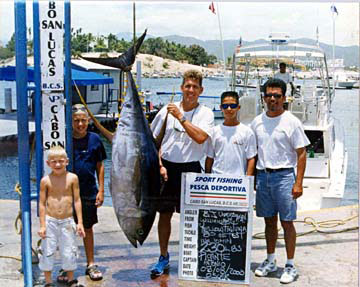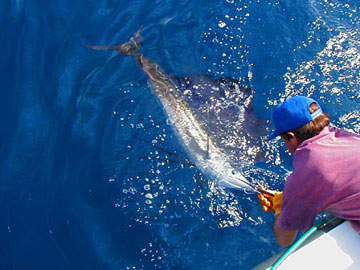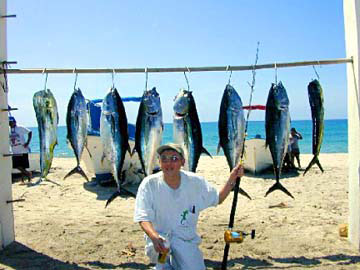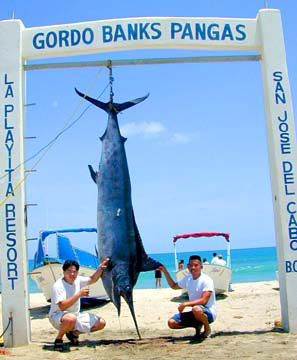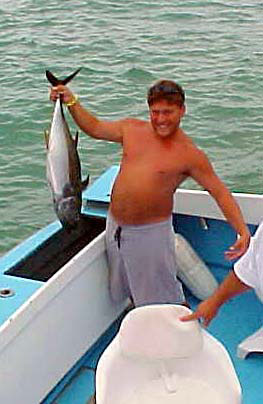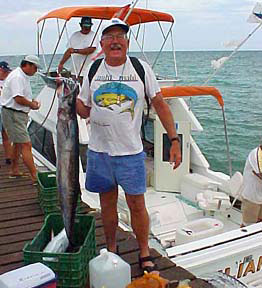 Baja coastal fishing reports and articles.
Ensenada fishing reports and articles.
Puerto Santo Tomas fishing reports and articles.
Erendira fishing reports and articles.
San Quintin fishing reports and articles.
Magdalena Bay fishing reports and articles.
Cabo San Lucas fishing reports and articles.
San Jose del Cabo (Los Cabos) fishing reports and articles.
East Cape fishing reports and articles.
La Paz fishing reports and articles.
Loreto fishing reports and articles.
Mulege fishing reports and articles.
Santa Rosalia fishing reports and articles.
Bahia de los Angeles (L.A. Bay) fishing reports and articles.
San Felipe fishing reports and articles.
Rocky Point (Puerto Penasco) fishing reports and articles.
San Carlos (Sonora) fishing reports and articles .
Mazatlan fishing reports and articles .
Puerto Vallarta fishing reports and articles.
Ixtapa Zihuatanejo fishing reports and articles.
Huatulco fishing reports and articles.
Cancun fishing reports and articles.
Mexico coastal fishing reports and articles.
Mexico Fishing Home Page < Mexico Fishing News Archives < Fishing Report