We fished 15 miles out from Punta Banda south of Ensenada on a heading of 220 degrees, GPS 31.38 116.53 and 31.36 116.53. Most of the fish caught were yellowtails, 20 of them 12-15 pounds, all on live bait, nice 4 inch sardines mixed with anchovies. Today we had no jig strikes all day on the troll. No hits. We also found a lot of kelp paddies loaded with yellowtail and dorado that were not hungry today. Some San Diego boats were in the same area. Water temperature was 69.5 degrees. Reservations Tel/Fax, 5 to 9 p.m., 011-52-617-46747; Cell 011-52-618-67485.
ENSENADA, MEXICO: LILY FLEET, Ensenada, August 22, 2000, Sammy Susarrey. Today the Amigo fished with 2 anglers aboard, catching 19 yellowtail 12-15 pounds, 2 dorado 12 pounds, and 5 yellowfin tuna 15 pounds. Tuna caught on the troll. Yellowtail and dorado in the kelp paddies. Water temperature 69.5 degrees. Seas good, with a nice breeze. Today was slow compared to the other days. Maybe tomorrow. We have trips booked Wednesday through Monday, all for tuna fishing. Will let you know what happens. Bait is nice sardines and anchovies. Reservations Tel/Fax, 5 to 9 p.m., 011-52-617-46747; Cell 011-52-618-67485.
ENSENADA, MEXICO: LILY FLEET, Ensenada, August 20, 2000, Sammy Susarrey. Today, the Lily fished locally with 2 anglers aboard, catching 7 yellows and 6 calico bass. The Amigo caught 10 yellowfin tuna with 3 anglers aboad. The Tamara, with 6 anglers aboard, caught 27 yellowfin tuna, 3 yellowtail, and 2 dorado. Water temperature is 70 degrees. Seas still flat like glass. We have nice anchovies and sardines, 4 inches. Best feather trolling today was Mexican flag and purple-and-black. In the morning, the hot feather was Zuker black-and-red. Best fishing spot was 22 miles out from Punta Banda on a heading of 220. Very few kelp paddies today. Most fish hit on the troll and anchovy live bait. Reservations Tel/Fax, 5 to 9 p.m., 011-52-617-46747; Cell 011-52-618-67485.
ENSENADA, MEXICO: SERGIO'S ENSENADA SPORTFISHING CENTER, week ending August 20, Sergio Susarrey. What a week for the Ensenada fleet this past week has been! Since Tuesday (8/15/00) our local boats have been scoring on yellowfin tuna, dorado and yellowtail; all this only three to five miles from Todos Santos Island. It has been a few years since this game fish has gotten so close to the coast. The tuna being caught range from 12 to 15 pounds in weight, the dorado from 12 to 18, and the yellowtail from 15 to 20 pounds. Incredibly the fishing has remained strong even till today (8/19/00) when all local boats again got into tuna action. To the surprise of the fisherman the tuna were much bigger with some of them from 35 to 50 pounds of weight. There were also nice size yellowtail and mahi mahi found under the paddies. On Friday (8/18/00) there was a charter for the CLIPPER II which told the skipper that they were not interested in anything but bass. Skipper Mario Payen found the bass for them. The count about 200 pieces for eight anglers. There is also fine barracuda and bonito fishing found in the inner areas of the bay but with all the game fish action who cares. The bigger boats fishing the outer banks found also great fishing activity anywhere from 15 to 25 miles of the island. Today Saturday (8/19/00) two of our boats fished the banks. They were the ENSENADA CLIPPER 85' which besides a fine catch of medium size yellowfin tuna, dorado and yellowtail also managed to bring aboard a 100-pound yellowfin tuna and a 200-pound marlin. The other vessel EL CAZADOR limited out with the boat returning three hours before schedule because of the excellent fishing from very early in the morning. Most likely the fishing will remain like this all the way into late October and who knows even until November. Hurricanes generated in the east Pacific keep a good stream of hot water up north which in turn generates all this good fishing. Reservations Tel 011-52-617-82185; U.S. Rep 800-336-5454.
SAN QUINTIN FISHING REPORTS
ALL ARTICLES, REPORTS AND FISHING INFORMATION FOR SAN QUINTIN
SAN QUINTIN, MEXICO: SAN QUINTIN SPORTFISHING, August 21, Gene Allshouse. The fish report is very simple. Limits of Yellow Fin, Yellowtail and many Dorado are being caught at San Quintin. The yellow Fin are from 15# to 70# and wide open. Reservations 011-526-162-1455.
SAN QUINTIN, MEXICO: PEDRO'S PANGAS, San Quintin, August 13, 2000, Pete Hillis. Louis Verdoza and group fishing 13 miles off the point on a 240 heading brought in limits of yellowfin tuna, 20 to 25 lbs. Came back to the island and San Ramon and picked up yellowtail, 15 to 20 lbs. They were trolling with rapallas and feathers. Juan Cortez and a friend from Riverside fished the same areas. They also brought in limits of yellowfin tuna, 20 to 25 lbs. and yellowtail, 15 to 20 lbs., at the same areas. William Aparra and a friend from San Quintin settled for rock cod at the 210 spot and got limits of large reds. Water temperatures remains about 68 degrees. Air temperature is in the high 70's to mid-80's. Reservations 888-568-2252.
SAN QUINTIN, MEXICO: EL CAPITAN SPORTFISHING, Saturday, August 12, 2000, Capt. Kelly Catian. The fishing here in San Quintin has busted WIDE OPEN. For the past week we have been taking limits of yellowtail on the high spots on every trip. These are quality fish in size, On the outer banks the tuna bite has also gone into HI gear with Albacore limits and more Yellowfin Tuna coming over the rails. Throw in Yellowtail & Dorado being taken from paddies, we have got GREAT FISHING with beautiful weather here in San Quintin. Reservations 011-52-616-21716.
MAGDALENA BAY FISHING REPORTS
ALL ARTICLES, REPORTS AND FISHING INFORMATION FOR MAGDALENA BAY
MAGDALENA BAY, MEXICO: BAJA ON THE FLY, San Carlos, August 23, 2000, Gary Graham. Temperatures: 82-degree high; Low 68. Partly cloudy with light winds in the afternoon. Water temperature: 73 - 68 degrees in the mangroves and 68 offshore. STRIPED MARLIN - The locals have been taking advantage of the improving billfish fishing 7/8 miles out from Magdalena Island. DORADO - Good action outside the entrance to Santa Maria Bay outside Magdalena Bay. TUNA - Few smaller fish caught this week. SIERRA - As the water warms up, the fishing for this species has slowed down. CORVINA - Good catches at Devils Curve. SNOOK - Fair catches of smaller fish and a few larger ones lost. YELLOWTAIL - Some surface action early in the week near the entrance. QUICK COMMENT - John Bridges, Salt Lake City, Utah, along with his daughter Sarah and son Peter, had great fishing both in the bay near Magdalena Island and up in the esteros near Devil's Curve. In the bay, they caught halibut, barracuda, and even one yellowtail. Up at Devil's Curve they caught a number of jacks, corvina, and one 5 pound snook on a green and yellow deceiver. Reservations Tel 800-919-2252; Fax 760-746-7260; bajafly@aol.com.
MAGDALENA BAY, MEXICO: MAG BAY TOURS, Punta Hughes, August 19, 2000, Brian Freitag. What's Biting: Dorado, Marlin, "Football" Yellowfin tuna, Halibut, Pargo. Red Hot! (Still) Dorado, at temperature break 5 - 20 miles out; Football Yellowfin at the Thetis; Striped Marlin on bait. Surf: A south swell combined with the nearby tropical storm sent continuous double-overhead swells our way from Sunday through Tuesday, dropping to a very consistent overhead plus 1 - 3 feet for the rest of the week. The shifting winds from the storm had little effect on the surf, and winds shifted to on-shore for only about 5 hours. Weather Days: 85-95 degrees F. Humidity: medium Nights: 72- 74 degrees F. Winds: Calm - AM, picking up to moderate some afternoons. Water temp (near shore) 72 - 74 degrees F. Comments: The great surf kept any of our clients from fishing this week, and the tropical storm kept all but the local commercial fishermen from venturing offshore, but those that did reported that it was "easy pickings" on Dorado, and football sized Yellowfin. Reservations 800-599-8676.
CABO SAN LUCAS FISHING REPORTS
ALL ARTICLES, REPORTS AND FISHING INFORMATION FOR CABO SAN LUCAS
CABO SAN LUCAS, MEXICO: FLY HOOKER SPORT FISHING, Cabo San Lucas, August 20, 2000, Capt. George & Mary Landrum. WEATHER: Once again it has been a fine week in Cabo San Lucas! We got a scare early in the week from Hurricane Illeada. She developed southeast of us on the 13th and headed directly for Cabo. Tuesday morning we began to get strong gusty winds and heavy downpours from the outer edge of the storm. It only lasted for two hours and then the storm headed directly west! It was enough to knock down the dust and water the plants, plus give downtown Cabo a coating of sand and mud. For the rest of the week it has been hot and dry, as usual. The temperatures have been in the high 90's to low 80's and the humidity from 68% to 85% most of the time. The winds for the remainder of the week have been slight and from the southeast or southwest. Occasional scattered clouds have given some relief from the sun, but it has been a good idea to keep the sunscreen refreshed. WATER: Water temperature has been the clue to getting good fishing in instead of a boat ride this week. Hurricane Illeada brought some cooler water into the area and that seemed to make the bite happen for the Dorado and Tuna. Temperatures off the cape out to about 25 miles were running from 80 to 83 degrees. A little farther south and about 10 miles west of San Jaime Banks we were noticing temperatures in the mid to low 70's. The Hurricane forced the warm water that had been sitting out front up into the Sea of Cortez and around Los Frailles the temperatures were in the high 80's, up to 91 degrees. Naturally the port was shut down on Tuesday at the approach of Hurricane Illeada, and we did observe some very large swells and confused water in San Lucas bay. By Wednesday the water had sorted itself out and while the swells remained large, they were spaced far apart. By Sunday the water was almost flat. The surfers riding at Monuments on Friday and Saturday after the large stuff had died down had great times. Since the Hurricane approached us from the southeast the water on the Pacific side remained fairly calm on Wednesday and Thursday. BAIT: There is still no problem getting Cavallito in the mornings and it is $2 per piece. There are sardines around but you almost have to reserve in advance to make sure of getting them. Price is about $25 a scoop, depending on how well you know your supplier!
MARLIN: I should label this section Billfish for last week and the one before! There have been more Sailfish caught than anything else, but the Blues are starting to gain a foothold. There were a lot of strikes from Blue Marlin this week, but not a lot were hooked up. A few boats were seen with multiple Marlin flags flying and I did talk with a few Captains and anglers who reported catching and releasing two Blues in one trip, but they were the exception to the norm. There are still Striped marlin being sighted and having baits tossed to them, but there will be a few seen all year round here. The point is that there are not as many around and the season is changing. You are more likely to find a Blue or Black Marlin now than to find a Striped Marlin. The best lures have been Blue/White, Blue/Black/Purple, Dorado or Petrelero in the larger sizes. A few boats are starting to slow troll larger live baits like football Tuna and Bonito.
YELLOWFIN TUNA: The bite on larger Yellowfin dropped off a bit this past week, but it may have been due to the Hurricane and the fact that the full moon was on the 15th. There are still a few in the 80-150 pound range being caught but the majority of the Yellowfin being landed are football fish. The Sardines have been a blessing for the boats that have been lucky enough to have some on board when the Yellowfin are found and for those that have not had any, slow trolled Cavallito have worked at times. Naturally the first boats on the scene have had the best luck and they are the only ones having any luck with the larger fish on lures. Best lures have been cedar plugs and 7 inch feathers for the football fish and without a doubt Sardines for the larger fish.
DORADO: The Hurricane brought out a fresh batch of Dorado in the 10 to 25 pound range and they have been a blessing for the boats that have anglers wishing for fillets to take home. The bite dropped off later in the week, but just after the storm had passed excellent fishing was found near shore on the Pacific side. A few large, single fish were found offshore and every other day someone found floating debris that held a school of Dorado. Anything pulled in the water was working, but when the schools were found, both live bait and chunks were taking the majority of the fish.
WAHOO: Good news for Jeff, The Wahoo Hunter! There are now Wahoo being found at the banks! There are not a lot of fish yet, but they have been pretty good sized, most in the 50-70 pound range. A few are striking marlin lures in the open water but naturally the majority of these have been lost. Just think, only a month ago I was thinking that these might have become an extinct species here in Cabo! Marauders and Wahoo bombs have been producing fish for the guys that are trying to target them, but most of the fish have been incidental catches and the fish have been hooked on a wide variety of lures.
INSHORE: The best news here is that the Dorado were pushed in by the Hurricane, the Tuna in the football range are schooled just off the beach and that there are Marlin being caught as close in as one Mile! This is good news for those that can only afford to go out in a Panga. You can have a good chance at a variety of fish. The usual inshore fare of Roosterfish and Sierra have been a bit of a non event for the past week, perhaps due to the large swells caused by the Hurricane making the water green and cloudy just off the beach.
NOTES: I have said this before and I am saying it again, just because you see flags on a boat doesn't mean that they caught the fish that the flags indicate. If you want to know what was really caught ask the anglers getting off the boat. I had some friends of mine come down to Cabo last week and my boat was already booked. They went out and booked someone else (didn't ask my recommendation and they regret it now) and went out for the day on Saturday. Not a strike all day, the lures were only changed once and as they came back into the Marina the deckhand placed a Marlin flag on the outrigger and hoisted it. My friend Ron asked him why he was doing that when they hadn't even seen a fish and the deckhand just shrugged his shoulders. Enough said! Thanks for reading this weeks report and I hope you have TIGHT LINES! Every time you go fishing. Until next week! Reservations Tel 011-52-117-01271; 011-52-114-87452.
CABO SAN LUCAS, MEXICO: PISCES FLEET, Cabo San Lucas, August 18, 2000, Tracy Ehrenberg. BILLFISH: We have had an improvement in all fishing areas this week, I'm glad to report. The water is now looking like it should for this time of year and all the indicators are here, for the fishing to take off in a big way. Tropical storm Illeana, cruised by on Tuesday, causing the port to be closed, this day, but we suffered no ill-effects from this storm and fished the next day. Sailfish again dominated this week, but we are now starting to see a few blues here and there and the odd striped marlin still hanging around. Catherine Dunn, from Hewitt, Tx, released two sailfish and boated a 35 lb wahoo aboard La Brisa on Friday, August 18th. Both billfish took live bait 8 miles out from Chileno. Dennis Hall and Andrew Sibilla, from Martinez Ca. had a great day on Andrea, on August 14th, releasing an approx. 200 lb blue marlin, that took one hour to bring to the leader after it took a red/black lure, on 50 lb test and boating two yellowfin tuna around 50 lbs and a medium sized dorado. It's just a question of time, for the blues to start showing up here in numbers. We heard of a 540 lb black and 420 lb black, caught within two days of each other, by Manuel Diaz in La Paz, so if things continue as they are we can expect this kinds of catches here in Cabo soon. Most of the action was on the Pacific side between the Old Lighthouse and Pozo de Cota, but there were other days, when Chileno, 95 spot and Red Hill produced nice catches. Pisces anglers had a total of 6 sailfish released, one blue marlin released and one striped marlin released - nice no billfish killed this week! Our overall catch success rate for all species combined (billfish and small game) jumped to 90 percent this week.
OTHER SPEICES: Frankly there has been more happening on smaller game than on billfish this past week. Nine-year-old Buddy Smith, from Myrtle Beach, South Carolina, caught a beautiful 42 pound roosterfish on 30 pound test line, aboard "La Brisa" on August 16th, which will be submitted for a junior world record. This same boat headed out later the same day and hooked up with a large tuna that took 5 and half hours to boat. Bill Hitzke, accompanied by Deana Boatwright, from Brewton, Alabama, returned well after dark, tired after battling their fish on 30-pound test. Their tuna measured 6 feet and weighed between 180 and 200 pounds. They also landed two others that weighed 45 and 25 pounds respectively, this day -- all were on live bait. After fishing two and a half days, their tally was 778 pounds of yellow fin tuna, collectively, 1 roosterfish and two dorado. Throughout the week, most boats averaged a couple of yellowfin, averaging, 20 - 50 pounds and dorado in the same size category. We are seeing an increase on dorado now and size is also moving up. Several wahoo this week, but small at around 30 pounds, also several large roosterfish, 30 - 50 pounds.
LOCATION: Old Lighthouse, Chileno, 95 Spot, Red Hill, 18 miles straight out. WEATHER CONDITIONS: We barely noticed Tropical Storm Illeana, despite what was said on the Weather Channel, we did not have torrential rain, in fact it rained on Tuesday morning for a little over an hour, some wind, seas were rough for about six hours, but by the afternoon, we had sunny skies and seas were practically back to normal. Since then calm seas, sunny skies. AVERAGE WATER TEMP: 84 F. BEST LURES: Live bait, red/black, green combos. Reservations Tel 011-52-114-31288; Fax 011-52-114-30588.
CABO SAN LUCAS, MEXICO: JEFF KLASSEN SPORT FISHING, Cabo San Lucas, August 13, Jeff Klassen. Weather played a big part in the fishing this past week, both in the surf and offshore. At times it has been rough offshore, especially along the Pacific-side. Unfortunately the Gulf side hasn,t made a very good alternate fishing area, as the water has been very green and over 90 degrees at times. If you can get to the Pacific-side when the water is nicer, or if you can handle the seas, you'll get in to the good stuff. There have been some good tuna days, with average ones being in the 60 - 80 lb range. Several anglers nailed them at sizes approaching 200lbs. Unfortunately you have to get around 20 miles out to find the bigger schools. Start from pretty much straight out, up the San Lucas Canyon and work your way in to the Pacific.
There are also still pockets of yellowfin along the Cabo Falso canyon. Fred Archer had a double on nice tuna with 122 and 95 pounders. The fight was complicated when a Blue marlin came up between the two tuna and hit a lure being reeled in. They lost the marlin but boated the tunas. The Blue marlin bite has also been great at times. If you follow these tuna you'll find them. Most have been between 250 and 300lbs but there have been break-offs on much larger ones. There hasn't been any lure color preferences that I have heard of. The Dorado bite has waned somewhat with most boats getting only a couple in a days outing. The Dorado don't generally hang with the tuna however, where everybody has been fishing, which could explain the decrease in numbers. Pangas have been having a bit rougher of a time as they have been limited to fishing inshore most of this past week. Smaller dorado, skipjacks, Jack Crevalle and the odd roosterfish have been their quarry. Not a lot of people surf fished this past week due to the winds and surf but the ones that did picked up Jack Crevalle and the odd roosterfish. I heard of several 30 -40lb Pez Gallos being had, 2 near the old lighthouse on the Pacific-side and 1 near Playita at San Jose. Once the surf lays down somewhat it should pick up. Reservations Tel 360-402-3474.
CABO SAN LUCAS, MEXICO: GAVIOTA FLEET, Cabo San Lucas, August 11, 2000, Larry Edwards, Cortez Yacht Charters. The action was superb and the hot bite area was on the Pacific side (Jaime Bank). Some sizable tuna being taken, 70-230 pounds. Picante had the 230-pounder. Many fish over the 100 mark. An approx. 150-pound swordfish was taken by a Pisces Fleet angler aboard the Gaviota X. Overall catches: 1 swordfish, 3 blue marlin (1 released); 7 sailfish (6 released); 22 stripers (14 released), 60 dorado and 54 yellowfin tuna. Reservations 619-469-4255.
CABO SAN LUCAS, MEXICO: PICANTE FLEET, Cabo San Lucas, August 23, 2000, Marco Arechiga. With water temperatures averaging 83ºF, Blue and Striped Marlin fishing will be good, as well as the pacific Sailfish. Fish available: Striped Marlin, Blue Marlin, Sailfish, Dorado and Yellowfin Tuna. Water Temperature: Approximately 82-86.3 F. Air temperature: hi 95 / low 77. Humidity: 72 %. Wind: 6-7 Knots per hr. Pacific; 6-7 Knots per hr. Sea of Cortes. Yesterday's Luckiest: "Picante Pride" 35' CABO. Captain: Emiliano Arenas. Angler: Scott Jordan. Production: 1 Sailfish 80 lbs. (released), 2 Yellowfin Tuna 60-70 lbs., 8 Dorado 30-40 lbs. Hot Spots: 15-20 NM north of the old lighthouse ( Pacific ). Fleet Production (5 boats): 1 Blue Marlin, 1 Sailfish, 30 Dorado & 4 Tuna. Reservations Tel 011-52-114-32474; Fax 011-52-114-35969.
CABO SAN LUCAS, MEXICO: BAJA ANGLERS, Cabo San Lucas, August 22, 2000, Grant Hartman. Hi Folks, I want to thank all my friends and clients for all the nice letters and support on the birth of my daughter Louise Gisel. Louise was born on July 17th. Louise is one month old and she and her mom are doing great. I hate to say it, but I wanted a boy. I figure all men do. My motives were to do the same thing my Pop did which was to create his own personal fishing buddy who was ready to go fishing at the drop of a hat. Now that I have a girl, I wouldn't change a thing. She is just so beautiful. She gave me her first smile the other day, talk about your heart melting. I am now very happy that I had a girl; she will probably grow up surfing and fly fishing with her father. Think about it, some lucky future fly fisherman is going to thank me big time for creating the perfect wife.
Fishing over the last few weeks has been a bit slow. Water color has been a bit off, and the fish are spread out over a large area. We have caught some big fish on light conventional tackle. Jay Nelson and his father Jack hooked into an estimated 300-lb Blue marlin on a G. Loomis light rod rated for 20-lb line with 25-lb test line winded on a Shimano TLD 20 reel (This is very light tackle for big marlin, most use the minimum of 50-lb test with a stout rod and that's considered light). The fight lasted 4 hours and 45 minutes and the fish was released unharmed. Jack who is in his late 60's fought the fish for over a hour and half then passed the rod to his son Jay. He fought the fish for over a hour, and couldn't hold on to the rod anymore, then passed the rod to Jaun our captain for a break then Jay finished off the fight.
Gary Butts and Jerry Butts hooked some very large yellowfin tuna on the same gear a few days later. Four fish were hooked, and the 150 to 200-lb tunas finally broke the lines, but they did manage to land a 90-lb tuna.
The dorado fishing has slowed down, but we got some rain from tropical storm "Iliana", and hopefully we will start to see a improvement in the dorado fishing with the fish congregating near the floating debris caused by the heavy rains.
The yellowfin tuna are starting to show up, with some real big fish. Fishing live bait off the Gordo Banks is the best bet. Heard of a 300-lb plus tuna caught last week. Talk about passing the rod. We haven't had much of a Blue marlin season yet, but maybe August will be the month.
Inshore fishing remains slow, but rumors of huge snook up to 40-lbs in the surf intrigue me. Reservations 888-588-3446.
SAN JOSE DEL CABO (LOS CABOS) FISHING REPORTS
ALL ARTICLES, REPORTS AND FISHING INFORMATION FOR SAN JOSE DEL CABO
SAN JOSE DEL CABO, MEXICO: GORDO BANKS PANGAS, San Jose del Cabo, August 20, 2000, Eric Brictson. It looked like Southern Baja might take a direct hit from Tropical Storm Ileana but instead we were spared, as the storm just slid by to south and headed west. All that was felt was some moderate rainfall and stormy seas, by Wednesday conditions had settled down and anglers enjoyed some great fishing on calm seas. Sunny days prevailed with some scattered cloud cover and high temperatures in the mid 90,s. The water appears that it has finally turned nice and blue, even within one mile of shore and is averaging 85 degrees. Schools of sardinas became scattered and were very thin along the beaches of San Jose, although anglers that were patient could find limited supplies. Local panga fleets have been concentrating efforts around the Gordo Banks, yellowfin tuna, dorado, skipjack, amberjack and black and blue marlin are being found on both the Inner and Outer Banks. During the recent full moon the fishing did slow way down and the fish that were caught averaged only 5 to 15 pounds but now that the moon has become a bit smaller and the water even cleaner the action has improved to how it was the week prior to the full moon. Average daily catches per boat included 3 to 12 yellowfin tuna, 2 or 3 dorado and a couple of nice sized marlin were accounted for by the combined La Playita and Palmilla fleets. Anglers found the yellowfin tuna to be most cooperative, sizes raged from small bait size footballs, up to 80 pounds and in recent days the average fish was around 40 pounds. They were taken on live bait, chunk bait and even on hoochie skirts, live chihuil seemed to be their favorite, but the problem was they were not easy to come by, as the season for them is just starting. There are also more bolito appearing on the Banks and this with the small skipjack and tuna have made good chunk bait, many of the larger fish landed did hit on the small chunks. Dorado also were more numerous, in the same area as the tuna and hitting on the same methods, most of them weighed under 10 pounds but then there would also be a few in the 20 to 30 pound class found everyday. An occasional amberjack also was being hooked up from the Banks, up to 60 pounds. The marlin bite continues to show signs of improvement, each day there has been one or two marlin being accounted for the combined panga fleets, a mix of both blues and blacks. Trolling or drifting with the larger live baits around the perimeter of the Banks has been most effective. There was a blue marlin taken from a panga out of La Playita that was not officially weighed but was estimated to be in the 450 to 500 pound class and then there was a black taken from a panga out of Palmilla on Saturday that was right around 400 pounds. Good Fishing. Reservations 800-408-1199; Fax 619-447-4098; 011-52-114-21147.
SAN JOSE DEL CABO, MEXICO: JIG STOP TOURS, August 22, 2000, Larry Burson, San Jose del Cabo, Victor's Fleet. The Super Pangas fishing out of San Jose del Cabo are scoring well on both Yellowfin Tuna and Dorado, using live Sardinas for bait. The bait is available to purchase at the landing for an early AM departure. Each boat is averaging 4 to 6 Tuna, 25 to 35 lbs, and 3 to 5 Dorado, 25 to 30 lbs. The Gordo Banks area is best for Yellowfin Tuna. The school size fish will readily take the Sardinas. There are some big Tuna at the Outer Gordo, but they want larger bait. If you catch some Bulito for bait, you will have a good chance to hook one of the 60 to 90 lbs fish, unless a big Dorado takes your bait first. The best Dorado fishing is further north at the Iman or Vinorama. They like the Sardinas also, but, of course Dorado always take trolled lures or feathers. Stan Woodward of Manhattan Beach brought in 9 Yellowfin Tuna to 35 lbs and 8 Dorado to 30 lbs, in two days fishing. The weather is hot and humid, but calm. Reservations Tel 949-496-0960; 800-521-2281; Fax 949-496-1384.
EAST CAPE FISHING REPORTS
ALL ARTICLES, REPORTS AND FISHING INFORMATION FOR EAST CAPE
EAST CAPE, MEXICO: BAJA ON THE FLY, Buena Vista, August 23, 2000, Gary Graham. Temperatures: High 93 with a low of 79; Humidity = 86%. Partly Cloudy skies with some strong wind in afternoon. Water temperature: 80-90. STRIPED MARLIN - A few caught each day. BLUE MARLIN - Several smaller fish this week. SAILFISH - A few mixed in with the tuna. YELLOWFIN TUNA - Punta Pescadero and La Ribera continue to produce great catches. DORADO - Fair catches mixed in with the tuna and also closer to shore. ROOSTERFISH - Plenty of smaller fish at Scott Glenn's house and also at Punta Colorado. JACK CREVALLE - Some smaller fish in front of La RIbera. BARRILLETE OR MEXICAN SKIPJACK - A few mixed in with the tuna. PARGO AND CABRILLA - Close to shore it was difficult to fish because of high surf on Mon. and Tues. OFFSHORE: Tuna still the best early morning game with a fair showing of sailfish 8- to 10-miles outside the tuna spot. INSHORE: Yellowfin tuna, skipjack, and dorado still providing remarkable action only a few miles off shore in front of La Ribera. BEACH: While we have been seeing lots of fish, but high surf for the last few days has prevented us from fishing the beach effectively. QUICK COMMENT: David Pauley and Bill Doggett, Albuquerque, New Mexico, had a great day on one of our cruisers, "Eclipse" on Sun., catching and releasing in excess of 20 tuna in less than two hours before catching a midday flight back home. Reservations Tel 800-919-2252; Fax 760-746-7260.
EAST CAPE, MEXICO: EL CARDONAL'S HIDEAWAY, El Cardonal, August 22, Eddy. Hi Gene, We have black and blue marlin close, about 3 miles. Dorados and tuna, some big ones. One angler is still on the water after 3.5 hours of fighting. Other fish were lost. Yesterday lots of dorado. Lots of red snappers, tons of them. Reservations 011-52-114-10040.
EAST CAPE, MEXICO: RANCHO BUENA VISTA, Buena Vista, week ending August 19, 2000, Tamara Moyeous. Hi Gene: Fifteen anglers took a total of 284 fish this week. Mike Booth, Orange Co. Register took a 300# blue marlin on 50# test. It took him 2 hours and 45 minutes to haul in the big fish. Matt Booth also from the Orange Co. Register took 45 minutes to pull in a 40# yellowfin on 30# test. Daniel Rose from Los Osos, Calif. took 18 tuna in a day ranging from 15 to 35#. Five stripers were caught with 4 released. Eight blues with 6 released. Four sails released. Twenty-six dorado, 3 pargo and 238 tuna. Great weather with a few clouds. Water temp. in the 80's. Best regards, Tami. Reservations 800-258-8200.
EAST CAPE, MEXICO: BUENA VISTA BEACH RESORT, week ending August 19, 2000, Axel Valdez. Boats out: 30. Air Temperature: High 80´s-Low 100´s. Water Temperature: Inshore 78°- 82°, Offshore 80°- 84°. Over all the weather has been very nice, still it is very hot reaching continually the 100´s mark. The breeze has cooled the days a little, and if you are in our pool bar, diving or snorkeling, you probably wont feel it that much.Water very much like last week, small storms during the night which cool the water a little inshore, but we are still finding the blue water in the 20-35 mile range.Fishing Spots and Distance: This week our fleet split: Some of them went south starting at La Rivera going all the way to Los Frailes; Some also tried the tuna hole in front of Cerro Verde. Also going for dorado all the way to El Cardonal. Successful lures: Not much change in the Baja colors (But the hottest are in red). Chivato (orange/yellow), Purpuras (purple/black), green/black and they are also trying the petrolero (black/orange). Bait Used: Little jacks and sardine. Some live Bonito or tuna is being used for baiting of the blue and black marlin.Fishing conditions are starting to become normal for the summer months. More sails, blues, and dorado are starting to show, and if you add the steadiness of the tuna, you will have several great experiences. Fish Count (kept/released): Blue Marlin 0/1; Striped Marlin 0/0; Sailfish 0/6; Dorado 36/0; Shark 0/0; Tuna 208/2; Wahoo 1/0; Roosterfish 0/24; Amberjack 0/0; Trumpet fish 1/4; Skip Jack 3/15; Bass/Grouper 2/0; Jack Crevalle 0/9; Red Snapper 5/0; Needlefish 0/11; Pompano 0/0; Triggerfish 5/6; Sierra 1/0. Weeks Comparison: I DO INSIST, FEWER BOATS, BETTER
FISHING/PER BOAT. This week we went up to 7 tunas per boat and almost 2 dorados per boat. The billfish rate is a lot better than last week, and all together it seems that we are getting back to normal, for what we consider the best months to fish. Reservations 800-752-3555.
EAST CAPE, MEXICO: RANCHO LEONERO, August 19, 2000, John Ireland and Roy Baldwin. Continued typical summer conditions at the East Cape, with daytime highs in the upper 90's, evening lows in the mid 70's, calm seas with afternoon breezes and water temp near 90. The wide open tuna bite continues, with the 4th straight day of limits for all boats, with fish from 15 to 60lbs all taken in a concentrated area off La Ribera, with live sardinas and caballitos working best. With blue water having returned, the billfish bite is back, with lots of sailfish, some blue marlin and and occasional striped marlin located from 3 to 10 miles offshore, throughout the bay, taking mostly green/black trolled lures and live caballito. The dorado bite is here, with schools of smaller fish (average 10-12lbs) located inside, with some big bulls to 63lbs outside mixed in with the sails. The roosterfish bite continues with fish averaging 20lbs (largest 68lbs) with lots of fish in the 30 to 45lb range inshore from Leonero to the lighthouse, taking live mullet and sardinas. John Wilson, of Cordova, AK, while fishing 2 days on a Leonero cruiser, released 2 sails and a striped marlin, and took dorado to 50lbs, roosters, pargo, tuna and jacks. Reservations 800-646-2252; Hotel 011-52-114-10216.
EAST CAPE, MEXICO: EAST CAPE SPORT FISHING, Los Barriles, August 15, Gil Mendiaz. Some good fishing despite the impending storm. Here's the report:
Please note: as of this writting a large tropical depression, TROPICAL STORM ILEANA has moved in just on the outside of the tip. All boats on the East Cape have been pulled out of the water, pending the all clear on the weather reports. Here is the advisery as of today: THE GOVERNMENT OF MEXICO HAS ISSUED A HURRICANE WARNING FOR BAJA CALIFORNIA FROM LA PAZ AROUND THE PENINSULA TO TODOS LOS SANTOS...AND A TROPICAL STORM WARNING FOR THE REMAINDER OF THE SOUTHERN BAJA CALIFORNIA PENINSULA SOUTH OF 25N LATITUDE.
Good to very good fishing can be found throught the East Cape from one end of the fishery to the other. Mid-sized tuna & dorado near shore, within (2 to 5) miles, with larger fish on the outside 15 to 35 miles with the dolphins. Tuna are currently dominating the catch. Striped marlin have pretty much departed for cooler waters, and sailfish seem a more scarce as compared to the same time last year. The blues and blacks are very active with most fish being caught and released over the 300-lb. mark. The conditions still seem to be affected by the front that moved through here last week, so fishing has slowed somewhat from the norm, but is improving every day. The onshore fishing continues to provide good action with roosterfish and a few jack crevalle, pargo, cabrilla and decent numbers of skippies. Bait is holding up as well with sardinas, caballitos and a few mullet. Fishing for (3) days aboard Alma Rosa II, Jim Jenson from Henderson, NV was able to get limits of both dorado and tuna, including a 55-lb. bull he picked up on the troll. "This is my second trip this year to Hotel Los Barriles and East Cape Sportfishing Charters. These guys did everything I asked of them, and that is the secret. Let them know what you want and you won't be disappointed. I got all the tuna and dorado I came for, and hope to be back in October". Reservations Tel 800-837-1556; Fax 805-493-5446.
EAST CAPE, MEXICO: HOTEL PALMAS DE CORTEZ, August 15, Carlos Jose "Chucky" Van Wormer. Everything down here has slowed down a bit. This past week the water turned a little green, and the fish moved out to the north, so La Paz was having a very good week. This past Saturday, things began to get normal again. The marlin, dorado, tuna and roosterfish were hitting the jigs and the live bait with the same intensity as they did before. The marlin came in close to shore and people were catching them with in 4 miles from the hotel, but the best bite was the tuna. We are just starting the hurricane season and people are kind of watching on the weather, but if there is nothing in the Pacific, there is nothing to worry about, the fishing is still excellent. Hotel reservations, 800-368-4334.
EAST CAPE, MEXICO: HOTELS PALMAS DE CORTEZ, PLAYA DEL SOL, PUNTA COLORADA, East Cape, August 13, 2000, reported by Dave "Smokey" Manuel, East Cape Smokehouse. Really not much of a change in our conditions this weekend. We still have an abundance of small size range Tuna and a few bites producing some bigger Yellowfin. Several spots producing mostly the 15 lb and under variety; North at Muertos Bay, North at Punta Pescadero, Southeast off Rancho Leonero, down at Cabo Pulmo and the same spot off La Ribera which has been active for sometime now. The hard part is deciding on which direction to go today. All of these bites are hitting Sardines for the most part, although the Sardine supply seems to be getting smaller, the Sardines that is, not the supply. I fished on Sunday and after two bait boat stops had an ample supply, but very few big Sardines. I think growing up we used to call them minnows. All these spots have had a spurt or two of 20 lb to 30 lb class Tuna come out, but most remain small. A few skippers I talked to had luck with big bait on larger Tuna after spotting those bigger fish mixed in with the school. Neither Dorado fishing nor Billfish numbers have done much in the way of improvement. A little bit better action on Sailfish, mostly from the Lighthouse down to Los Frailes on live bait, but still not returning to the good numbers we had back in early July. Blues and Stripers are around, but it's more of a chance encounter than that of having an active area to target. The few being caught have come mostly off Cabo Pulmo and Los Frailes, with some also from the outside of Punta Pescadero. A good share of the Dorado brought in have come from the same spots as the Tuna bites. Dorado have been mixed in with the smaller Tuna and are feeding on the same Sardines offered up for the Tuna. Size range continues to be mostly under 15 lbs with very few going over the 20 lb mark. --Smokey Dave, EAST CAPE SMOKEHOUSE, 011-52-114-10294. Hotel reservations, 800-368-4334.
LA PAZ FISHING REPORTS
ALL ARTICLES, REPORTS AND FISHING INFORMATION FOR LA PAZ
LA PAZ, MEXICO: FISHERMEN'S FLEET, Hotel Los Arcos, La Paz, August 23, 2000, David Jones. Well, as usual the beginning of this week was very much like the end of last week (philosophic or silly?), with Tuna and Dorado continuing to bite at Las Arenas. Steve Quist, assisted by brother Jerry and friend Bob, from La Paz's sister city, Gridley, Ca., had a good trip (except for the day that he fished with me) with some 60-65 pound Tuna and Dorado into the 30 pound range. The Dorado are coming in the Cerralvo Island Channel, from the buoys, on Sardines. Some days the bite is first thing, sometimes later. Jerry Hein brought and expedition down here from the Sun Valley, Ca. area, including sons Justin and Paul. These guys also did well on Tuna and Dorado. The Tuna are still coming from in front of the Punta Arena lighthouse, mostly using live bait with a small rubber core sinker. Mark Slowack and the boys from Los Angeles also made it down (but not easily) this week and did well on Tuna and Dorado as well. A good time was had by all as they say. The weather yesterday was different. We had a moderate (15-20mph) north wind over at Las Arenas and that made it impossible to launch boats. An unscheduled holiday. But we're back at it today, with no wind and blue skies. The Felix Tournament, mentioned last week, was a bit of a bust, but we had a good time in that as well. For a more detailed account, check out The Fishermen's Fleet's website. Have Fun Reservations 011-52-112-21313; Fax 011-52-112-57334.
LA PAZ, MEXICO: JONATHAN ROLDAN'S ADVENTURE SERVICES, La Paz, August 20, 2000, Jonathan Roldan. Honestly. . .I can't give you a Baja report this time simply because I'm not in Baja. I'm about as far from Baja as can be as this report is coming at you from Sitka, Alaska. . .that's right. . the Great White North and I am soooo dang cold! I can't remember the last time I wore this much clothes!
I"m up here with my pals, Ed Robison, from Whopper Stopper Rods and Lance Aquasanta from Aquaman Video Productions. We're the guests of Mike and Karen Keating of Big Blue Charters doing a recon on their great operation and also filming to produce a video for a Big Blue promotional video. Tell ya what....we are getting treated like kings here! What a super operation they have going!
We arrived here at little Sitka airport in southeastern Alaska on Monday morning in the middle of beautiful islands and sooooooo much water! There's water everywhere, unfortunately, the sky is full of it as well! Windy, rainy and misty. Everyone keeps saying, "You shoulda been here yesterday!" I used to hear that all the time when surfing. . .Shawn Arnold, our friend and publisher of the fishing magazine, "Fish Taco Chronicles" is here with his wife and everyone is blaming it on him. Seems everytime he comes up here, the weather turns into poop. Anyway, Sitka is still an awesome place. Tucked into about a million islands full of spruce trees and the equivalent of steep Alaskan fjords, this little town was originally settled by Russian fur traders and local natives and still retains that 200-year-old feel. Actually, it's alot like a tiny New England fishing village or being small enough to be part of one of those little ceramic villages that are so popular at Christmas time! There's the little church, the quaint stores, the tiny hotels and post office. . .well, you get the idea. Just an awesome place!
Well, first day out was like "Victory at Sea!" We shoulda known when we visited the docks the day before and lots of "green" anglers were wobbling off the boats. Words like "rough,""snotty", "crappy," "puke", and " damned ugly," peppered the conversation. Uh-oh. . .
Anyway, not knowing any better, owner and skipper, Mike Keating said we were still going fishing if we wanted to so we decked out in full rain slickers, boots, and about 10 layers of clothes we pounded through about a 12 foot swell, 30 knot winds and perpetual rain and mist. (Hell, I looked like the guy on the Gorton Fish Sticks box!) We got 2 small salmon and Ed kept catching rockfish and sole (Hey, folks. . this is quite the rockfish place, but no one fishes for them!). Anyway, about noon, Mike said, "We're outta here! I'm tired of getting beat up!" Turns out he didn't want to fish, but didnt' want to say anything to us. We really didn't want to fish either, but no one wanted to be the wussies and cry "chicken!" first. We were all pretty glad to be headed in, but it was still fun. Very cold, but fun. Mike, took one of my mantras and kept reminding us that there were people going to work on freeways. It made us laugh. Yea. . .and they were in WARM DRY cars. . .
Second day, we got a phone call about 5 a.m. in our hotel room. .."Stay in bed. Don't come down here. We're not fishing. . .(click). That was Mike. A quick look out the window confirmed the weather had gotten worse. OK, cool. We ended up taking Mike's Suburban and a mess of trout gear into the mountains and doing a recon of the local freshwater fisheries. Wow....every single stream and waterway was just plugged with salmon! Amazing just to watch these great fish moving up the gin clear waters and leaping upstream. National Geographic doesn't lie! Additionally, the rugged spectacular scenery of vertical cliffs, mountain mists, snow and millions of trees like giant evergreen bristles covered every square inch of land as densely as any jungle I've ever seen dripping with water and carpeted by ages of moss, ferns and vibrant green everywhere!
Of course, as usual, Jonathan has his usual adventure. We had hiked about 1 mile up to one lake. . .I think it was Thimbleberry Lake. Mush and bogs all the way through the brush making LOTS of noise to scare away any grizzly bears (yes, they have them here. . .even saw a deer carcass that had served as someone's entree and they sell little bells to tie to your shoes too!). As we walked, Ed Robison and I had a converation that went something like this:
Jonathan: Ed, if we run into a big grizzly bear, we should work out what we're gonna do. I hear that climbing a tree is no good, but if you run parallel to a hill, a bear won't be able to chase you? What are you gonna do?
Ed: Heck, I'm just gonna kick you to make you fall down. I don't need to outrun the bear. I just need to be FASTER than you!
Jonathan: Thanks, Ed. Love you too. . .funny guy.
Anyway, we decided that we'd do the preventative thing and just make sure we made alot of noise. We were whisling "Bridge on the River Quai" and talking at the top of our lungs getting covered with mud. Reaching the lake, it was overgrown with timber and weeds along the banks and I had to walk across a 12 inch log partially submerged in order to make a cast to some rising fish. Well, that log had probably been in that water for several decades. It was skinny, but "looked" dry enough to walk along. Well, two steps across it on my mud-slicked hiking boots and WHAM! Oh God. ..I didn't want to fall into that icy water so instead of toppling over. .. I did the splits! As I slipped and my feet went out from under me, my fear of falling into the water prevailed. Unfortunately, my instincts for other parts of my "anatomy" failed. I fell with both legs straddling the log and hit with a thud. That "thud" was the nub of a branch and the whole tree whacking me between the legs in the. . . uh. . ."testicular region"! Ohhhhhhhh. . .as I now groaned forward like a drunken cowboy suddenly grabbing his horse's neck, I started to now roll off the log causing me to grip my legs around the log even tigher as I moaned. . .both legs knee deep in the water and one hand still trying to hold onto my fishing rod! That made it hurt even worse. I'm stuck. I'm in pain. I realize my hand is also bleeding. My nuts hurt. My legs are starting to get numb from the cold water. I'm hugging a damned tree in Alaska and it's starting to rain again! Ed is watching from the shore. Instead of offering aid and sustainance, he's laughing and grabs his camera to take photos!
Obviously, I finally scooted off the log, battered, bruised, bleeding and walking rather gingerly. Ed couldn't stop chuckling. . .
Finally made it out fishing on the 3rd day! What a difference! Flat calm like the Sea of Cortez. Sun is out and locals are taking their shirts off. No wind. Can't believe this is the same place. We head outside. Salmon come to chew. We have Kip McKeever with us from Washington. We get a few silvers, then a king. Now another hefty king. Then more silvers! Bite's on! Using very light gear, we have a blast. Mike is busy netting fish after fish. The entire fleet is bit! Lance is getting awesome footage. Ed had been a little quiet, but now he busts his first salmon and it's a big king salmon too. On Mike's 26-foot Osprey, he's got Jimmy Buffet and Bob Marley playing in the CD. Easy limits on the salmon. Yea, Mon. . ."Weather is here, wish you were beautiful" sings Jimmy B in the background. . .
Then, it's off to the the "halibut zone!" This consisted of putting a hunk of fish guts on a huge 12/0 sized circle hook and dropping it about 300 feet down. Using Ed's Whopper Stopper Lip Ripper short rods, it wasn't long before we started getting bites. In short order we got several nice halibut in the 10-25 pound category! Mike kept saying those were junk. Incredulously, Ed kept saying just about any of those would win the Santa Monica Halibut Derby! Then, taking a break from his camera chores, Lance suddenly goes bendo and gets pinned to the rail. He screams for a harness and rod belt. Of course, we clown him and tell him to put down his purse and just PULL! Mike yells back that Lance has a serious fish so we kinda shut up. Lance is in pain, but 15 minutes later, as I'm now handling the cameras, Lance hoists up what turns out to be a 205 pound flattie! Holy. . .the thing had to actually be harpooned and tied off to the boat as it came up green, mean and ready to do some damage! None of us could believe it! It was probably 7 feet long and 5 feet wide. World class halibut fishing in Sitka.
Our last day, much of the same. ..more fine weather. Even nicer! Mike took us up the channel on an island exploration filming tour. Saw eagles and whales and little tree encrusted islands surrounded by jumping fish and commercial net boats chugging up the current. Made it to the salmon hole and the kings bit again. One, two, three. . .easy limits of kings to 40 pounds mixed with coho in the 20 pound category! On Big Blue's light tackle, it was a hoot! Again, off to the halibut grounds and although we didn't get any barndoors, we again limited on salmon before heading back into Sitka on flat seas and under sunny Alaska skies.
Topped that off with dinner last night at Mike's place. His super wife, Karen, had gone to Seattle, so Mike threw a party for his skippers, crew and various clients. I have NEVER seen something like this. . .venison burgers cooking on the grill and a mound of whole crabs sitting on the dining table. No plates. . .no forks. . .just big bowls of melted garlic butter...newspaper and a bunch of nut crackers...Everyone just dug in. As Petey, one of Mike's skippers said..."This is Alaskan style!" Beer flowed with Crown Royale straight from the bottle. Sizzling venison burgers were topped with cheese. Smoked octopus and pickled clams were busted out. Chips and dip of course and the crab frenzy was on! This was fresh stuff. Never frozen and the sweetest meat I have ever had in my life. All you can eat crab! When it was over, we literally just turned the table on it's end and let gravity sweep the whole table into the trashcan! I think I could live here. . .
Hey, if you wanna try something new...Big Blue Charters up here in Sitka is a killer operation. First class all the way. Great 26 foot Ospreys with heated cabins, downriggers and all the electronics. Cleanest boats I have ever seen. I looked. After a long season, there MUST be some rust somewhere. Couldn't find a single smudge of rust or blood. Looks new. Equipment? I'll never bring stuff again. . .Shimano; Calstar; Loomis, Gamakatsu (Need to show them some Lamiglas next time!) fully tooled and tricked out. You're met at the airport and all your meals are covered. Within minutes of catching your fish, it's cleaned and already chilling on ice (wish we could do that in Baja!) then processed, filleted, smoked or steaked into vacuum packs and labeled for your trip home. Wow...
Next report will be from 100 degree Baja, but for now. . .I'm sold on being here in Alaska! Tel 626-333-3355; Fax 626-333-0115; Pager 323-349-8111; Message Pager 877-310-7734; Riplipboy@aol.com.
LA PAZ, MEXICO: HOTEL LAS ARENAS, Punta Arena de la Ventana, August 14, Linda Glassman-Davis. Monster Roosterfish are on the North East side of Cerralvo right now. All fish are being caught close to shore. Lots of live bait. Typical August temperatures, highs in the upper 90s to low 100s. Low humidity with a slight breeze. Captains: Loreto, Román, Manuel, Daniel, Israel, Jorge, Luciano, Ramiro, Johnny, Beto, Valente, Efren, Guicho and Zapata. Fishing results: 64 dorado to 56 pounds; 38 tuna to 64 pounds; 3 roosterfish to 60 pounds; 6 pargo to 8 pounds. Reservations 888-644-7376.
LORETO FISHING REPORTS
ALL ARTICLES, REPORTS AND FISHING INFORMATION FOR LORETO
LORETO, MEXICO: VILLAS DE LORETO, August 22, Erin Cassandra. A fair bit of rain this afternoon. We had ourselves a little thunder and lightening too. No harm done to the fishermen, as Mother Nature hit after everyone was safely back in from fishing. The small storm sure cooled everything down nicely. Reservations Tel/Fax 011-52-113-50586.
LORETO, MEXICO: CHILI PUNTA FLEET, Loreto, August 21, 2000, John "Bubba" Parker and Fishmanmark. The water is in the high 80's and the air is in the high 90's and the Dorado fishing is somewhere in between. There are some Dorado that go to forty pounds but they are hard to catch because of the small one's (12 to 25 pounders) get to the bait first. What a problem. Live bait, Squid and feathers will work. The Dorado are north of Coronado Island about 11 to 12 miles by an area known as San Bruno. Sailfish are still here and are in the 80 to 130 pound range. The only thing that is not here right now is cool weather and Fisherman. We did have some wind on the 20th that started around 8 AM and laid down around noon, but everybody caught fish anyway. It is still HOT and Humid here, but the fishing more then makes up for the heat. So what are you waiting for "Come on down" and get in on it. Until next week tight lines. Tel 925-449-4554; Fax 925-456-2252.
LORETO, MEXICO: ARTURO'S SPORT FISHING, Loreto, August 21, Arturo Susarrey. WEATHER:Last 3 days we have had very good weather, occasionally we had a local storm with some winds and thunderclaps, anyway fishermen went fishing after the storm, when calm weather came back, and they had a good fishing days. Temperature approx. 100º F. DORADO:A lot of them are still here, and most of the boats are coming back with the limit. The best places for fishing are north of Carmen Island and San Bruno, north of Loreto. Regular size is 18lbs. Some bulls still in the area yesterday Mr. Steve Sokolowski in Arturos 8 boat with Roberto as a captain caught one, 48 lbs. on scale and the best size today was 26 lbs. on same boat and same clients. Sailfish: Occasionally in same dorado areas, but best side is east of Carmen Island like 4 miles off Punta Perico area. TUNA: Some of them are in Bajo San Bruno. BAIT:They can buy it for $1.00 each. Or they can catch it at Coronado Island. If they want to buy sardines $10.00 dlls is enough for a fishing day. Reservations Tel 011-52-113-50766; Fax 011-52-113-50022.
LORETO, MEXICO: BAJA BIG FISH COMPANY, Loreto, August 14, 2000, Pam Bolles. It's been very hot lately. Yesterday and the day before saw highs at 105 (F). The lows have only dropped to the mid 80's (F). Humidity is in the 50% range. Partly cloudy skies, making for spectacular sunrises each day! Last night we saw a little rain and the seas got rough. This morning we thought we'd see more rain but it has since cleared and the seas have calmed again. As I write this though, the skies are clouding up again to our west. Loreto may see some needed rain after all. Prevailing is from the South, very light in the mornings and picking up in the afternoons. Evenings may pick up from the East slightly (if at all), but not enough to cool things down. Don't be surprised if you lose a day of fishing to a storm. Its that time of year again. Offshore- Dorado: If you're not going for the schoolies, you'll find larger Dorado which is typical in August. The loners are averaging in the 30 pound range and larger 40, or 50+ pounders are not uncommon. The boats are heading off Punta Lobos and a few miles NNE of Isla Coronado for the bigger ones. The schoolies (15-20 pounds) are consistent off San Bruno. No matter where you go to get them, they'll take trolled live bait (macks, caballitos), feathers, squid, or cast sardinas, squid chunks, lures... This is still as good as fishing gets, wide open! Offshore Billfish: There are still a lot of billfish out there mixed in with the dorado, but the sailfish are more plentiful than the marlin, but they are way offshore from Punta Lobos. Sails are weighing between 50-100 pounds and striped marlin are in the 150 pound range. They're mainly hitting trolled artificials (plastic trollng lures). They're numbers depend on your luck, you need to be in the right place at the right time as you may not see any one day, and you may consider their large numbers a nuisance the next. Yellowfin Tuna: No Yellowfin Tuna reported this week again. Bonita and Skipjack: There are several schools in the usual spots. Most notoriously about a mile off and extending to the South of Punta Lobos towards Punta Perico, where their schools gather year after year. Most anglers consider them a nuisance but they're a lot of fun on light tackle. If you're trolling through this area, expect to be hit by some of these fish. Other Species: There are plenty of nice sized Cabrilla, and Grouper over the deepwater reefs off the islands and points to our North. Bait: You can readily buy bait off the marina and off of the beaches in front of the Hotels La Pinta and Oasis. Live bait is $1/ea (U.S.) for live Mackerel and Caballitos. There are plenty of squid that you can catch before you head out to the fish. Reservations Tel/Fax 011-52-113-50448.
MULEGE FISHING REPORTS
ALL ARTICLES, REPORTS AND FISHING INFORMATION FOR MULEGE
MULEGE, MEXICO: MULEGE, August 7, 2000, Michael Melton & Jens Kolbowski, reporting for baja-web.com. Air Temp 82º-105º, Water Temp 77º Huminity 75% - 95%. Sea: calm to choppy after 11 am. Skies: cloudy. Wind: slight easterly. Fishing still wide open on all species. Still plenty of dorado and sails from San Marcos Island to Punta Concepcion and beyond. Small tuna being caught off Punta Concepcion. Overall, the fishing is still excellent. BILL FISH: Marlin & Sailfish showing up in good numbers. BOTTOM FISHING: Trigger fish, Cabrilla, Red Snapper all taken on cut bait or small sardines. CABRILLA: Very good. DORADO: Still Excellent fishing. Catch your limit in 1 to 2 hours in front of Pt. Concepcion out 3 miles or pick your favorite spot. Grouper: These are being caught by the Cabrilla fisherman - A few big ones - up to 35 #'s. Pompano: Schools are showing up in local areas, trolling with crocodiles. Roosterfish: Spotty - A few schools have been seen. Sierra: - no reports. Squid, Calamari: Big schools of big squid are in the area, for those who like the big ones. Found at the deep reefs with squid jigs, some are 50 #'s. TRIGGER FISH: Snappers, excellent biting, good early am and late pm, off rocky points and taken on cut bait, it is easy to catch your limit. YELLOW FIN TUNA: Lots of Yellowfin have been caught this week. The season is here.
BAHIA DE LOS ANGELES (L.A. BAY) FISHING REPORTS
ALL ARTICLES, REPORTS AND FISHING INFORMATION FOR BAHIA DE LOS ANGELES
BAHIA DE LOS ANGELES, MEXICO: CAMP GECKO, Bahia de los Angeles, August 10, 2000, Abraham Vazquez. Air temp 103-80. Winds very light out of the southeast, to no wind at all. Humidity 60%. Seas calms to moderate. Water temperature 82-85. Fishing great for dorado, as the abundant schools are now getting replaced by bigger fish 25-40 pound range. The 20-30 fish per day is over. Instead it is 6-10 dorado a day, hitting feathers and slow trolled live bait. The yellowtail fishing is still slow, but not many are trying. Still catching about 1 sailfish per day, and there is plenty of sierra inside the bay. The bait has gotten scarcer because the dorado are all the way in to the bait grounds, and some days you can catch both in the same place. Road conditions excellent. Gasoline $2.65 per gallon. Bring some mosquito repellant if you are coming down because we have had them for the last 5 days big time. Tel 011-52-515-19454; Fax 011-52-665-03206 (goes to Guillermo's).
SAN FELIPE FISHING REPORTS
ALL ARTICLES, REPORTS AND FISHING INFORMATION FOR SAN FELIPE
SAN FELIPE, MEXICO: TONY REYES FISHING TOURS, 6-day Midriff Islands trip aboard the panga mothership, Jose Andres, trip ending August 18, 2000, Tony Reyes. Water temperature 80-85 degrees F. Fish count: 129 Cabrillas 8-14 lbs; 80 Yellowtail 18-27 lbs; 41 Spotted Bass; 35 Pargos 10-14 lbs; 8 Dolphin Fish 12-22 1/2 lbs; 6 Broomtail 12-14 lbs; 3 Grouper 1 - 70lbs, 2 -80lbs, 3-15 lbs (released); 3 Shark 45-145 lbs; 3 Sheephead 6 lbs; 1 White Sea Bass 50 lbs. Exclusive booking agent, The Longfin, 714-538-8010.
SAN FELIPE, MEXICO: BAJA SPORTFISHING, INC., trip ending August 11, 2000, Gustavo Velez, 6-day Midriff Islands trip aboard the panga mothership, Erik. Fishing was good at the south end of the Midriff, San Esteban, San Pedro Martir, San Francisquito, and San Lorenzo. Fish count: 162 dorado, 216 cabrilla, 5 grouper, 3 white seabass, and 250 miscellaneous. Reservations Tel 619-523-1822, 800-770-2341; Fax 619-523-9896; fishbaja@pacbell.net.
SAN FELIPE, MEXICO: JIG STOP TOURS, trip ending August 11, 2000, Larry Burson, 6-day trip aboard the mothership, Captain Villegas. Ted Whittmayer, from Roseville, of the Sacramento County Firefighters Assn. put this charter together. They scored big time on the large Yellowtail, 20 lbs and up. Each night they topped off the bait tanks as Mackerel was easy to get. At night, under the lights, the big Squid would put on a show and give the anglers some extra fun and some good eating. One day, cut squid was best for the Yellowtail bite, but mostly they used live Mackerel, on dropper loops, on the 100' to 150' reefs. The largest Yellowtail were taken on iron, such as Salas 6XJR or Fire Lure #5, but most anglers stayed with live bait, being less work in the hot sun. The ship reported 397 large Yellowtail for the trip. Tuesday was a great day at San Esteban Isle for Yellowtail. Jeff Routsong from Shingle Springs, CA, said "Most of us couldn't raise our arms to make bait after a smoking day long bite." This group also had some very good Cabrilla fishing. The "grande Cabrilla" are still in the shallow water, along the rocky shores of the islands. Live Mackerel worked the best but they also landed many large Cabrilla, trolling Cabrilla Killers and Mirrolures. They scored 127 big Cabrilla. Dorado were found at Bay of Los Angeles, along with more Yellowtail. Three Dorado were released, but one released himself as he jumped out of the boat as the hook was removed. They also boated one Sailfish at 72 lbs., 2 Grouper to 47 lbs, 8 White Seabass, and 53 Pargo. The weather was calm for the whole trip. Reservations Tel 949-496-0960; 800-521-2281; Fax 949-496-1384.
SAN FELIPE, MEXICO: SEA OF CORTEZ SPORTFISHING, 6-day Midriff Islands trip aboard the panga mothership, Celia Angelina, trip ending August 10, 2000, Bob Castellon. This was an ultra-light trip with 10 anglers aboard, led by Marcy Rodriguez of West Covina, Calif. We found out what "torito" means in Baja, the "little bull" of winds and rains that usually lasts 3 to 8 hours. The first 2 days of our trip was slow. But we mananged to fish two full days at Isla San Lorenzo and Isla San Esteban, and our last day at the Golden Reef. After a slow start, we ended up with a good trip after all. Air temperature was 99+ and water temperature 86-89. Chartermaster Marcy was worn out by a 175 pound bat ray at Punta Final, and Bob Castellon caught a 26-pound dorado by "flylining" a chuck of squid. Bait was plentiful, but larger than normal. The hot tickets were the MirrOlures in orange and fire tiger. Fish count for this trip: 110 yellowtail, 87 cabrilla, 9 dorado, 74 giant squid, 1 white seabass, 4 pargo, and 260 miscellaneous. Reservations 626-333-9012; Fax 626-336-1966; San Felipe 011-52-657-71778.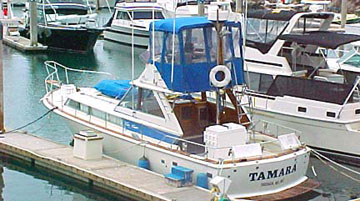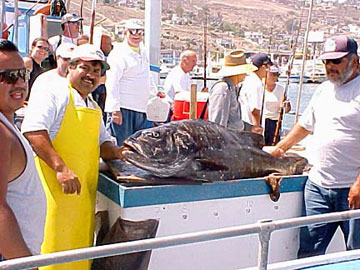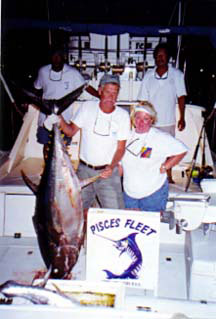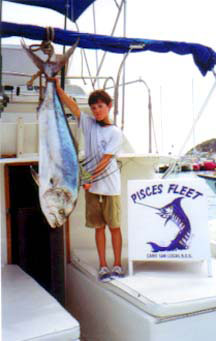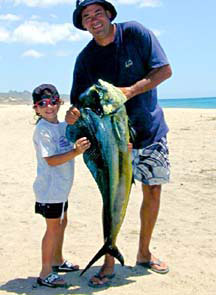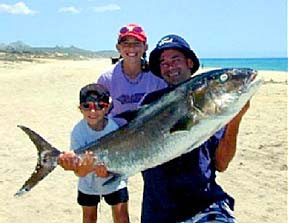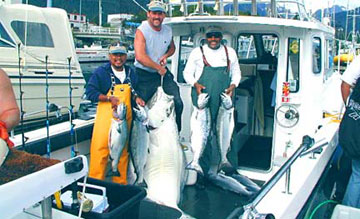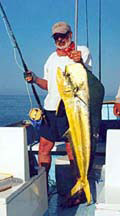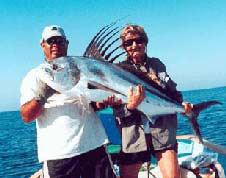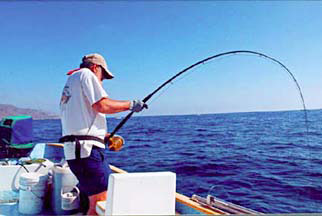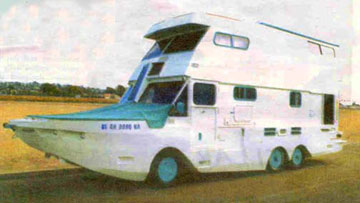 Baja coastal fishing reports and articles.
Ensenada fishing reports and articles.
Puerto Santo Tomas fishing reports and articles.
Erendira fishing reports and articles.
San Quintin fishing reports and articles.
Magdalena Bay fishing reports and articles.
Cabo San Lucas fishing reports and articles.
San Jose del Cabo (Los Cabos) fishing reports and articles.
East Cape fishing reports and articles.
La Paz fishing reports and articles.
Loreto fishing reports and articles.
Mulege fishing reports and articles.
Santa Rosalia fishing reports and articles.
Bahia de los Angeles (L.A. Bay) fishing reports and articles.
San Felipe fishing reports and articles.
Rocky Point (Puerto Penasco) fishing reports and articles.
San Carlos (Sonora) fishing reports and articles .
Mazatlan fishing reports and articles .
Puerto Vallarta fishing reports and articles.
Ixtapa Zihuatanejo fishing reports and articles.
Huatulco fishing reports and articles.
Cancun fishing reports and articles.
Mexico coastal fishing reports and articles.
Mexico Fishing Home Page < Mexico Fishing News Archives < Fishing Report